The Lakers have their eyes on Dwight Howard and Chris Paul, according to Chris Broussard. Will this Hollywood dream become reality? Our 5-on-5 analysts (and fans) react:
1. 1-to-10 scale: How plausible is Paul and Howard to the Lakers?

J.A. Adande, ESPN.com: 1. The Lakers don't have the assets to get both. For instance, I hear Orlando wants Pau Gasol and Andrew Bynum in exchange for Dwight Howard. What would that leave for New Orleans? The Magic and Hornets should use the Lakers to drive up the bidding on Howard and Chris Paul.
Kevin Arnovitz, ESPN.com: 2. The question isn't whether the Lakers have the assets to trade; it's whether those assets can top the stream of other offers. Assuming the team owned by 29 other franchises would sign off on a deal that would send Paul to the Lakers for Bynum (who has only two years left on his deal), would Magic GM Otis Smith deal Howard for Gasol and cap relief solely because Howard wants to live in a zip code starting with 9-0 when there are far more attractive packages on the table?
Dave McMenamin, ESPNLosAngeles.com: 4. The Lakers certainly have better pieces to offer than most teams do (that's why they've won two of the past three championships), but I see two things holding it up. (1) The Lakers would have to commit to continue being a heavy taxpayer under the new CBA and gobble up all that extra local TV revenue that is set to roll in to sign both those guys. (2) Whoever is second between Dell Demps and Otis Smith will feel tremendous pressure not to pull the trigger on the final deal and be known as the man responsible for the Lakers' juggernaut.
Brian Windhorst, ESPN.com: 2. I have no doubt Paul and Howard are intrigued by playing together, but they are not free agents and cannot just threaten to sign with the Lakers next summer without a trade now. That's elementary, but it's also the major difference between this situation and what happened with Carmelo Anthony last year. The Lakers have some nice pieces to offer, but I seriously question whether it's enough to satisfy both Orlando and New Orleans.
Royce Young, Daily Thunder: 7. It's plausible, sure. Not likely, though. It would take some luck for the Lakers to be in a position to make both offers. Basically, both Howard and Paul would have to be of the mind that the Lakers were the only team for them, therefore watering down the offers to the Magic and Hornets. But it's not hard to picture Bynum and Lamar Odom going to Orlando while Gasol and Metta World Peace go to New Orleans. Better than a lot of deals being floated right now, I'd bet.
---
VOICE OF THE FAN (via Google+)
Adam Henebury: 3. The Lakers have a lot of desirable assets and could likely get one of them, but there's no way they can get both. Neither trade partner would be satisfied with whoever is left over once Bynum is out of the picture.
---
2. 1-to-10 scale: How plausible is Paul and Howard to the Clippers?

J.A. Adande, ESPN.com: 5. They have the pieces (cheap young talent and that Minnesota draft pick) to make a trade and are looking at about $18-20 million in cap space next summer. Trade for one; sign the other as a free agent.
Kevin Arnovitz, ESPN.com: 3. The Clippers have accumulated the young talent, high draft pick and expiring contract to sculpt this kind of deal. But even if the Clippers parted with everything from Eric Gordon to large swaths of Donald Sterling's real estate holdings, they'd have to get the ironclad trust of both superstars that they'll both sign extensions to stay with the team in the long term.
Dave McMenamin, ESPNLosAngeles.com: 4.5. Although a deal to the Clippers would seem less plausible from a financial standpoint because Sterling's pockets don't know nearly the depths that Dr. Jerry Buss' do, one thing this scenario has going for it is a better chance of Howard's consent to a long-term deal. A source close to Howard told me that while Howard likes L.A. as a city, he doesn't want to go to the Lakers and just become a "copycat" of Shaquille O'Neal by following in Shaq's footsteps from Disney World to Disneyland.
Brian Windhorst, ESPN.com: 3. The Clippers are the more attractive trade partner because they have more assets: cap space to absorb other contracts, younger prospects and Minnesota's unprotected pick in next year's draft. Not to mention that when considering a long-term commitment for Paul and Howard, Blake Griffin is more of a draw than Kobe Bryant. But I just don't think they have the ammo to pull off both deals.
Royce Young, Daily Thunder: 3. Unlike their roommates, the Clippers don't have a pile of stars to give away. Gordon isn't just trade bait but a serious player who is worth a package to get CP3 or Howard. But after that, you're not going to get one of them just off picks, Al-Farouq Aminu and Chris Kaman's expiring deal. Unless Blake Griffin's on the table, the Clips won't be able to pull that off.
---
VOICE OF THE FAN (via Google+)
Raffaele Terracciano: 0. D12 and CP3 want the best possible shot at a ring. They are not interested in building something from scratch. They already tried that; now they want to win. They will join big teams with big players.
---
3. Will Paul and/or Howard be traded before New Year's Day?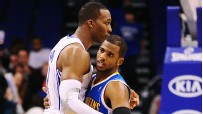 J.A. Adande, ESPN.com: It sounds likelier for Chris Paul than for Dwight Howard. The Hornets seem to be more resigned to moving him. I still say it makes more sense for the Magic to follow Denver's lead and hold out as long as possible to draw the best possible offers.
Kevin Arnovitz, ESPN.com: For the players, financial incentives support a trade earlier rather than later. For the teams, it's a little dicier. They'll want to time the market for maximum return, avoid a MeloDrama and demonstrate to their fan base that they at least tried to retain the cornerstone of the franchise. In 2011, it's the players' priorities that take precedence, which is why at least one -- if not both -- will be dealt.
Dave McMenamin, ESPNLosAngeles.com: Yes. If Paul has already told the Hornets brass he won't sign an extension, it will behoove Demps to put together a package in the next 25 days to save the Hornets from the daily churn of a "See Ya, CP3" story that surely would consume the team. Once Howard informs Smith of the same intentions, he gets put on the same clock.
Brian Windhorst, ESPN.com: I think it's likelier that Paul is moved because the Hornets are better positioned to rebuild and have come to terms with their situation. The Magic should act fast because using another team's cap space to offload a bad contract with Howard in a deal is a must, and those windows could close if they wait. But Orlando has so much invested that it might have a harder time pulling the trigger to start an unpleasant process.
Royce Young, Daily Thunder: It makes the most sense for them to be, but I don't think so. Nuggets GM Masai Ujiri heard from everyone that the earlier you trade Carmelo Anthony, the more you'll get. He waited until the last minute and got a pretty good return from New York. I think the Magic and Hornets are going to operate off that same model and look to hear all offers leading up to the deadline.
---
VOICE OF THE FAN (via Google+)
Dylan Conley: I say yes, both players will be traded before New Year's Day. I'd say even before Christmas. New Orleans and Orlando don't want this to drag on through the season.
---
4. Where will Chris Paul be playing a year from now?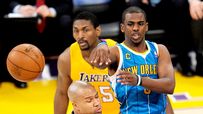 J.A. Adande, ESPN.com: With the Clippers, throwing alley-oops to Blake Griffin. I don't see a team giving the Hornets a better package of talent and payroll flexibility than the Clippers would.
Kevin Arnovitz, ESPN.com: He could end up with one of the riverboat gamblers, a team willing to fork over talent, draft picks and cap flexibility without a vow from Paul that he'll re-sign next summer. Why would a team do such a thing? It would be able to offer Paul nearly $25 million more in guaranteed money than any other suitor -- that's called the power of persuasion.
Dave McMenamin, ESPNLosAngeles.com: With the Clippers. Paul would like to play for the Knicks, but New York doesn't have the pieces to make it happen without breaking up Carmelo Anthony and Amare Stoudemire. Paul would like to play with Howard, but that becomes extremely complicated unless he agrees to just go to Orlando and join him. Why not still get to enjoy big-city life in L.A. while still benefiting from a freak-of-nature big man in Blake Griffin who he could pick-and-roll teams to death with?
Brian Windhorst, ESPN.com: The odds-on favorite is the Knicks right now, although it's doubtful he'll be traded there.
Royce Young, Daily Thunder: Dallas. The Mavericks are trying to be prudent with their cap space right now by stringing along Tyson Chandler and J.J. Barea, and it's to seemingly set up a run at Deron Williams. But Williams said he's 90 percent sure he'll be in New Jersey/Brooklyn next season. Williams has the hometown connection with Dallas, but if the Mavs have that space, you know Mark Cuban's going to throw everything at getting CP3. And with a good roster and winning history in his pocket, he'll have a pretty good shot at him.
---
VOICE OF THE FAN (via Google+)
Mike Reynolds: With the Knicks. He is theirs to lose, but the Knicks of the last decade have been pretty good at losing.
---
5. Where will Dwight Howard be playing a year from now?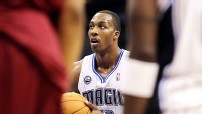 J.A. Adande, ESPN.com: With the Lakers, taking his place in the franchise's storied succession of big men. The Lakers can send two quality big men to Orlando, and they can afford to take back Hedo Turkoglu's contract.
Kevin Arnovitz, ESPN.com: 1111 S. Figueroa Street.
Dave McMenamin, ESPNLosAngeles.com: With the Nets. As long as Mikhail Prokhorov can keep Deron Williams in the fold, it's the perfect place for Phase 2 of Howard's career. He would have a top-15 teammate to contend with the concentrated talent pools in Miami, Oklahoma City, Chicago and Los Angeles. He would have the New York media in his lap, feeding his love of the spotlight. He would have an owner who has made it clear that he'll do whatever it takes to win. And, did I mention, he'll have the New York media lapping up the Amare/Melo versus Dwight/Deron in a bid for city basketball dominance storyline? Plus he won't have the whole "Shaq copycat" monkey on his back, and he'll be able to make a boatload of endorsement cash playing in a major market to offset the $25 million or so in salary he will be leaving on the table by departing from Orlando. It's a perfect fit.
Brian Windhorst, ESPN.com: The odds-on favorite is the Lakers. They have enough to make a deal with Orlando and can afford to wait until the process unfolds. Eventually, Howard might just try to force his way there anyway.
Royce Young, Daily Thunder: Los Angeles. It seems like a foregone conclusion that Howard will join Kobe at Staples playing in the forum blue and gold. It all seems like we're just sort of wasting time and effort before that happens. The Nets will make a run, for sure, but the Lakers are about to have to turn over the franchise with a new batch of players, and you know they aren't going to be empty-handed. They'll get someone, and Howard will be the prize.
---
VOICE OF THE FAN (via Google+)
Cedric Pashi: Dwight will join Deron Williams and be the face of the Brooklyn Nets.


ESPN.com and the TrueHoop Network
J.A. Adande is a senior writer for ESPN.com. Kevin Arnovitz writes for ESPN.com. Dave McMenamin writes for ESPN Los Angeles. Brian Windhorst writes for ESPN.com and the Heat Index. Royce Young contributes to the TrueHoop Network.
• Follow ESPN's NBA coverage on Twitter | On Facebook | On Google+