How will the Utah Jazz fare in their first full season without Deron Williams?
John Hollinger has weighed in on each player. Now it's our five-man team's turn:
1. For which Jazz player is the 2011-12 season most important?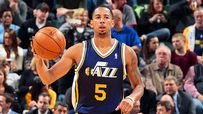 Graydon Gordian, 48 Minutes of Hell: Devin Harris. It was only a couple of seasons ago that Harris looked poised to enter the ranks of the NBA's elite point guards. But he's failed to reach his potential. It's time for Harris to recommit himself on the defensive end, pass a bit more willingly and spearhead a playoff berth for a team that has the talent to make it there.
Spencer Ryan Hall, Salt City Hoops: Both C.J. Miles and Mehmet Okur are free agents after this season and need big years. Okur is out to prove he can still compete at a high level after recovering from brutal Achilles tendon injuries, but Miles is surprisingly only 24 years old and needs to prove he deserves to get paid big.
Zach Harper, Daily Dime Live: Devin Harris. It's not that Harris is a bad point guard. I just don't know whether he's the right point guard. He's so good at finding his own scoring opportunity, but this season he's going to have to figure out how to turn that into setting up his teammates. He will need to let teammates make the defense pay for rotating over.
Devin Kharpertian, Nets Are Scorching: Devin Harris. When the Jazz dealt away Deron Williams, they traded in their offensive identity in the hopes of starting anew. To do that, Harris has to run the show. His ability to get to the basket and draw contact defines him, but his assist percentage dropped precipitously after the trade. He's got to do more than score to succeed.
Jeff Lind, Salt City Hoops: Paul Millsap. He's done everything the Utah brass has asked, provided one of the most memorable performances in 2010-11 and beat nearly all odds in landing a starting spot in the NBA, but this season stands as the pivotal moment in Millsap's career. Millsap has declared himself the starter at power forward, but with a glut of young talent better suited for the position (Derrick Favors, Enes Kanter and Al Jefferson), it might be too much to ask of Paul.
---
2. Who is the most intriguing player on the Jazz roster?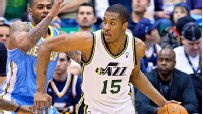 Graydon Gordian, 48 Minutes of Hell: Derrick Favors. Given Al Jefferson's lack of quickness and height, he would be best playing alongside an elite interior defender. By all accounts, Favors should become that guy. I'm intrigued to see whether he makes that leap this season.
Spencer Ryan Hall, Salt City Hoops: Rookie Alec Burks showed glimpses of being a special player in exhibition play this summer. Jazz fans are still mourning the departure of Wesley Matthews, so anything that even approximates that kind of magic will make Burks a fan favorite. Hollinger gave high praise, too, calling him "one of the few players drafted outside the top five whom one could imagine playing in an All-Star Game someday."
Zach Harper, Daily Dime Live: Derrick Favors. He has all the size, strength and athleticism you'd ever want in a big man prospect. In his short time with Utah, he was second on the team in rebounding rate and seemed to get his timing down on challenging shots. But he fouls so much that it's hard to keep him on the court to develop. Need him to adjust so he can blossom.
Devin Kharpertian, Nets Are Scorching: Derrick Favors. Following an up-and-down tenure with New Jersey, Favors came a little more into his own after settling in Utah. The 19-year-old rookie averaged 15 points and nine rebounds per 36 minutes after being dealt to the Jazz at last season's trade deadline. As he adjusts to the speed of the game, you can only imagine those numbers will shoot up.
Jeff Lind, Salt City Hoops: Gordon Hayward. After letting his nerves settle (not an easy task with an ornery D-Will around), Gordon began to show flashes of greatness. He finished the season by leading a stunning upset of the Lakers and by scoring a 34 points in a win versus Denver. After a season riddled with pouty superstars, abrupt coaching changes and unexpected trades, Hayward (nearly) single-handedly gave Utah something to be excited about.
---
3. What's the most surprising take in Hollinger's Jazz profiles?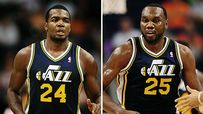 Graydon Gordian, 48 Minutes of Hell: I was surprised to read how much Jefferson improved after Jerry Sloan's unceremonious exit. Jefferson was never the best fit for Sloan's pick-and-roll-centered offense, but the fact that he improved so notably in almost every category after the coaching change is still a little surprising.
Spencer Ryan Hall, Salt City Hoops: Everyone knows about Paul Millsap the rebounding machine, but I was unaware he led all players in shooting accuracy from 10 to 15 feet, making 51.6 percent last season. His incredible midrange game and step-back jumper seemed to take a cue from Karl Malone's career transition from power player to deadly shooter.
Zach Harper, Daily Dime Live: Kyrylo Fesenko's defensive presence. I knew Fes had a positive effect on defense, but I had no idea he was so suffocating. He makes you grind everything out inside and does a great job of playing the pick-and-roll. The Jazz frontcourt is extremely crowded already, so some other team might end up with a diamond in the rough.
Devin Kharpertian, Nets Are Scorching: That Millsap, in his first season as a full-time starter, led the NBA in field goal percentage on shots from 10 to 15 feet. Millsap isn't a natural scorer, but his ability to make open shots out of the pick-and-pop provides a huge boost to his value. His 46-point barrage against Miami in November made all the headlines, but it's easy to miss that Millsap put together a great overall season.
Jeff Lind, Salt City Hoops: This team is inexperienced. We all knew it coming out of last season. But it really stands out in Hollinger's breakdown. There's a lot to look forward to with Gordon Hayward, Favors, Burks and Kanter, but that upside is completely blue sky at this point.
---
4. Based on Hollinger's profiles, what do the Jazz need most?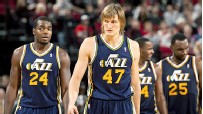 Graydon Gordian, 48 Minutes of Hell: A quality shooting guard. C.J. Miles is a decent player, but given his defensive limitations and questionable shot selection, he's more suited to come off the bench. It's the only position at which they don't have both a solid starter and a promising backup.
Spencer Ryan Hall, Salt City Hoops: The Jazz frontcourt is stacked with talent, but everything else among positions 1, 2 and 3 is a big question mark. Turnovers, poor shooting and ridiculously high foul rates plague nearly every Jazz player at the guard spots and on the wings. It's crucial that Utah gets big seasons from Hayward and Miles.
Zach Harper, Daily Dime Live: Favors to become a defensive monster. Millsap and Jeffeson are fantastic scoring options on the low block, but you can't rely on them to play much defense. This won't be a problem moving forward if Favors can continue his defensive play from the second half of last season. If he can cover the shortcomings of Millsap and Jefferson, it will be huge.
Devin Kharpertian, Nets Are Scorching: Wings! Their main building blocks are Harris, Millsap, Jefferson, Favors, Kanter, Hayward and Burks. That's one proven point guard, two proven bigs, two unproven bigs and two unproven wing players. With Andrei Kirilenko likely gone, the Jazz need to find someone competent to complement Miles.
Jeff Lind, Salt City Hoops: Defense. For a team built on the back of Sloan's hard-nosed (read: hard foul) defense, it has quickly morphed into a group of mediocre stoppers. It's not from lack of speed (Harris) or size (Jefferson). It's lack of heart. Hopefully the long, locked-out offseason gave these guys time to rework their collective defensive mindset and they come back ready to protect Energy Solutions Arena.
---
5. Will a shortened season help or hurt the Jazz?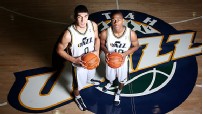 Graydon Gordian, 48 Minutes of Hell: Hurt. This team is made up of a complex combination of underachieving vets and still-emerging youngsters. A full-length training camp and a longer season would have given this team more opportunity to find its rhythm.
Spencer Ryan Hall, Salt City Hoops: Help. The helter-skelter season will equalize the playing field for the young and inexperienced Jazz. With no superstar and a fairly homogenous roster, the team likely will use every available player and attempt to compete by committee, giving it a slight advantage over teams riding their vets through the daily grind of a compact season.
Zach Harper, Daily Dime Live: Help. With the depth this team has in the frontcourt (I haven't even mentioned Kanter yet!), the Jazz should be able to push around other teams' tired big men like bullies. They can really take advantage of this by playing at a slower, grind-it-out pace.
Devin Kharpertian, Nets Are Scorching: Hurt, but not too much. New coach Tyrone Corbin has got a lot to teach a relatively green roster in a shrinking window of time. But the young Jazz should have more bounce in their legs than most teams as the season begins to wind down and the stress of multiple back-to-backs sets in.
Jeff Lind, Salt City Hoops: Help. On the day Williams was traded, 2011-12 was written off as a rebuilding season. The Jazz aren't going to win any championships immediately, so they should focus on the playing time and chemistry of their inexperienced team. With an abundance of young legs and guys vying for minutes, this season is exactly what Corbin needs to prepare his rookie squad for the future.


ESPN.com and the TrueHoop Network
Zach Harper hosts the Daily Dime Live chat on ESPN.com. Graydon Gordian, Spencer Ryan Hall, Devin Kharpertian and Jeff Lind are part of the TrueHoop Network.