The Washington Wizards/Bullets haven't won more than 45 games since the Carter administration. With a 66-game schedule on tap this season, that's not likely to change anytime soon. But is something promising cooking in the nation's capital?
John Hollinger gave his take on each player on the club. Now our 5-on-5 crew weighs in on what lies ahead for Washington in 2011-12.
1. For which Wizards player is the 2011-12 season most important?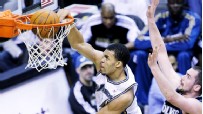 Brett Koremenos, HoopSpeak: JaVale McGee. His combination of size, length and athleticism are incredibly rare, so if he can match that with even average court awareness on both ends of the floor, we could be looking at one of the best young players in the league. However, if the head-scratching decisions continue at the same rate during his fourth campaign, "maddeningly inconsistent" is probably the career arc for McGee.
Rashad Mobley, Truth About It:
John Wall, and it isn't close. He was injured last season and still managed to average 17 points, eight assists and numerous athletic plays per game. Now he's healthy and confident after a string of impressive summer exhibitions, and he's ready to take that Derrick Rose-like leap.
John Converse Townsend, Truth About It: Rashard Lewis, a player many believed would be a victim of the CBA's amnesty provision, has plenty to prove this season. Word from Wizards camp is that the 31-year-old Lewis will be a big part of the team's plans over the next few seasons. However, with declining abilities and a bloated contract, I'm not convinced Lewis' leadership qualities will be enough to keep him rostered.
Michael Wallace, ESPN.com: John Wall. We know he's fast. We know he's athletic. We know he can get to the basket at will. But we'll find out this season if he can be a leader. It's unfair to expect Wall to make the same meteoric rise to MVP candidate in three seasons the way Derrick Rose did. But with the weight of the Wizards' franchise on his shoulders this season, Wall could jump from promising star to elite status.
Kyle Weidie, Truth About It: Whomever doesn't answer Andray Blatche here is just trying to be different. We enter the fourth consecutive "time for Blatche to step up" season here in Washington. (Or is it the fifth? I've lost count.) Over this time, because of non-basketball related transgressions, as well, fan disenchantment with him has increased. Meanwhile, team management continues to stand behind him like a parent mired in indiscipline and denial. Blatche is once again saying all the right things. Something's just gotta give.
---
2. Who is the most intriguing player on the Wizards' roster?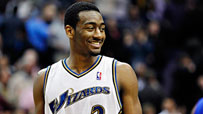 Brett Koremenos, HoopSpeak:
Hard to choose one from this group, but I'll go with Wall. A productive rookie season despite a lingering knee issue left questions about how high his ceiling actually is. Not sure a truncated season with a compacted schedule is the best evaluation tool, but it should provide more insight into whether Wall will be in the running for MVP awards on an annual basis going forward.
Rashad Mobley, Truth About It: Nick Young, while he remains on this Wizards roster, intrigues me the most. When he's on, he's Jamal Crawford with better defense. When he's off, his head goes down, he turns the ball over and forces bad shots. Now coach Flip Saunders has to convince Young that his job is to be a sixth man and a closer.
John Converse Townsend, Truth About It: Jan Vesely, the 6-foot-11 wing from the Czech Republic who has been playing professionally since the age of 16. Vesely is a weapon in transition and has the length, quickness and athleticism to be a reliable rotation player right away. If he continues to develop his perimeter game, Vesely could become a game-changer for the Wizards.
Michael Wallace, ESPN.com: Blatche. Few players possess his combination of size, tools and talent. But there's too much of a knucklehead factor involved that prevents him from taking his game and team to the next level. We should be talking about Blatche the way we talk about Dirk Nowitzki, Kevin Garnett, Chris Bosh and Pau Gasol. But so far, he seems to rival Derrick Coleman and Lamar Odom in untapped potential.
Kyle Weidie, Truth About It: Chris Singleton, the 18th pick in the 2011 draft out of Florida State. Known for his multi-positional defensive ability with the potential quickness and solid size (6-9 in shoes, 7-1 wingspan) to check the likes of LeBron and Kevin Durant, Singleton has a chance to make an immediate impact. The Wizards are starved for someone with the ability to disrupt the opposing team's star. Question is, will he show enough offensive confidence and defensive rotation competency to keep him on the court for longer spells?
---
3. What's the most surprising take in Hollinger's Wizards profiles?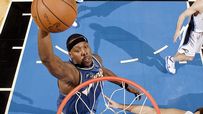 Brett Koremenos, HoopSpeak: The phrase "he's solid" in reference to Blatche's defensive ability.
Rashad Mobley, Truth About It: Blatche filling the top spot as the worst shooter from 3-9 feet was a bit surprising. Seeing Blatche share that list with Russell Westbrook, Carmelo Anthony, DeMarcus Cousins and Tyreke Evans was even more shocking. I would take that starting five against any other in the league, and I'd instruct them to stay away from the basket.
John Converse Townsend, Truth About It: I'm encouraged by Hollinger's profile of rookie Chris Singleton. Singleton is best-known for his lockdown defense and rebounding, but Hollinger believes he will become a "serviceable long-range sniper" and a long-term starter in D.C. Wouldn't that be nice?
Michael Wallace, ESPN.com: There seems to be a disparity between JaVale McGee's efficiency and his usage rate. The freakishly athletic center saw his shot attempts double from his second season to last season. But that still left him with fewer than eight FGAs per game despite shooting a career-high 55 percent. Getting more touches is tough on a team of chuckers, but McGee should be a bigger part of the game plan.
Kyle Weidie, Truth About It: Not sure if Nick Young's acquisition of spot-up shooting skills is what mostly helped to relieve his turnover rate, as Hollinger indicates -- 2.9 turnovers per 36 minutes to 1.8 to 1.4 to 1.6 in his first four seasons, respectively. Methinks the horse blinders simply work to Young's benefit in this regard, sometimes. Otherwise, no real surprises. I will say, with Young, that he made more strides (defensively) under the direction of Saunders over the past two seasons. Whether he can take that next step as a complete player remains to be seen.
---
4. Based on Hollinger's profiles, what do the Wizards need most?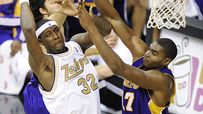 Brett Koremenos, HoopSpeak: Time, experience and shooting. Given the number of players whose profiles boasted some form of the phrase "needs to refine decision-making," this season in D.C. needs to be all about teaching and development. Also, apart from a declining Rashard Lewis, the youthful and uber-athletic Wiz will eventually need to find someone who can consistently take and make good shots from outside the arc.
Rashad Mobley, Truth About It: Hollinger's profiles exposed the Wizards' lack of low-post players who can score and defend. Blatche can score but is lazy on defense. McGee is a great shot-blocker and chases every shot, but he takes bad shots. The newly acquired Ronny Turiaf is an above-average defender but poses no offensive threat, and Jan Vesely is just a rookie. The answer to this problem? Dwight Howard, of course.
John Converse Townsend, Truth About It: An offensive presence in the post. When the Wizards' frontcourt players aren't forcing shots in the paint, they're settling for jumpers -- which they regularly miss. Last season, Blatche was the league's worst shooter from 3-9 feet (24.5 percent); while McGee shot almost 20 percent better than Blatche from short range (43.4 percent), he sank less than a quarter of his shots beyond 10 feet.
Michael Wallace, ESPN.com: A healthy, motivated and productive Lewis could be the intangible who carries Washington from entertainingly competitive to surprising contender for one of the final playoff spots in the East. Lewis is the lone player on the roster who has significant playoff experience and the ability to step into the role of a veteran leader, which this team sorely lacks. His stability and leadership will be critical.
Kyle Weidie, Truth About It: The Wizards have long needed a consistent threat to score from the block, a body who can move other bodies. Of course, most teams are perpetually looking for such an option. On the current roster, Blatche, because of his hands and natural skill, and Kevin Seraphin, quite the bruiser, might provide the most potential. McGee, too, if he can ever take advantage of his length. Otherwise, this grouping indicates that Washington needs to keep looking.
---
5. Will a shortened season help or hurt the Wizards?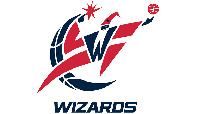 Brett Koremenos, HoopSpeak: Hurt. Washington needs its young guys to gain as much good experience as possible. A brief training camp followed by a shortened season with even less practice time than the normal 82-game schedule contains is an unfortunate combination for this franchise.
Rashad Mobley, Truth About It: No effect. This is Year 2 of Wiz owner Ted Leonsis' three-year plan to build talent and financial flexibility, and GM Ernie Grunfeld has hinted that he has no plans to exercise amnesty rights on Lewis this season. If the youthful Wizards make the playoffs, it's a bonus. If they struggle, it is still part of the plan.
John Converse Townsend, Truth About It: Help. The Wizards might not have the wins to show for it, but the modified schedule and extra minutes will facilitate the development of new talent. The premium on young legs will be higher during the shortened season, which should favor the Wizards -- more than half the roster is 23 years old or younger.
Michael Wallace, ESPN.com: On the surface, it hurts. The young legs will come in handy with so many games squeezed into a short window of time. But this team also needs valuable practice time to develop. The process of learning on the fly, especially under a stickler for details like coach Saunders, could lead to many frustrating nights this season. There is talent. There is potential. But this team needs time in the lab.
Kyle Weidie, Truth About It: I'm sure their young legs will give them more of a spark versus older teams in back-to-backs or three-game sets. But in terms of development -- which is the ultimate goal this season, even while the Wizards reasonably gun for an outside shot at the playoffs -- the shortened season will be a detriment. Games in any amount will help, but this team really needs all the training camp and further non-game instruction it can get. At some point midseason, I bet Saunders will be complaining about lack of practice time, and he won't be the only NBA coach doing so.


ESPN.com and the TrueHoop Network
Michael Wallace covers the NBA for ESPN.com. Brett Koremenos, Rashad Mobley, John Converse Townsend and Kyle Weidie contribute to the TrueHoop Network.
• Follow ESPN's NBA coverage on Twitter | On Facebook