Are the Minnesota Timberwolves ready to crawl out of the NBA's basement? With new coach Rick Adelman leading the way, rising up from a 17-65 mark would make for happier times at the Target Center.
John Hollinger gave his take on each player on the club. Now our 5-on-5 crew weighs in on what lies ahead for Minnesota in 2011-12.
1. For which Timberwolves player is the 2011-12 season most important?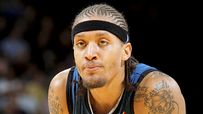 D.J. Foster, ClipperBlog: Michael Beasley. Is he a small forward or a power forward? Is he a good shooter who made the leap last season or just a high-volume scorer? Is he this generation's Antoine Walker? Would that even be a good thing? Either way, Beasley has the unique chance to make himself less of an enigma and more of a known entity.
Zach Harper, Daily Dime Live: I want to say Ricky Rubio because his leadership of the team's offense will be instrumental, but I'll say Michael Beasley is the most important player. Beasley is exactly as good as he wants to be in every way. He has the talent and tools to be an All-NBA guy in this league. After a semi-tumultuous offseason, it's up to him to let his maturity match his potential.
Benjamin Polk, A Wolf Among Wolves: Michael Beasley. Even though he's still young, this might be his last chance to prove that he's something, anything, more than a high-usage, ball-stopping, low-efficiency scorer. Oh, and also that he can go three months without, like, being arrested or getting into an altercation with a fan.
David Thorpe, Scouts Inc.: Rubio was the apple of many experts' eyes just two seasons ago, including mine. But he has been simply horrid for at least a full season. If that continues, it becomes hard to imagine he'll ever recover. However, even with just some improvement, we can all begin to believe he'll get back to being a scintillating playmaker. More importantly, he can start to believe it.
Royce Young, Daily Thunder: Rubio. All eyes are going to be on Rubio, with most of those eyes fully expecting failure. Rubio is kind of walking into a lion's den here. Most everyone has already given up on him and the word "bust" has been lobbed without his even playing a game yet. Rubio has an uphill battle, and any kind of major struggle this season could ramp the noise to a deafening level.
---
2. Who is the most intriguing player on the Timberwolves' roster?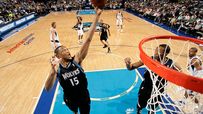 D.J. Foster, ClipperBlog: Talks of Anthony Randolph's rise to prominence used to be prefaced with when -- now it's if. If Randolph can combine his size, athleticism and unique skill set while figuring it all out above the shoulders, he'll be special. At this point in his career, though, that has to be considered an awfully big if.
Zach Harper, Daily Dime Live: OK, now I'll gush over Ricky Rubio. After a weekend of training camp, his teammates have proclaimed how special and contagious his passing is. If his passing game can inject life into an offense that wasn't exactly... well ... alive last season (24th in offensive efficiency), then his hype becomes justified. His role isn't to be an All-Star point guard right away. It's to galvanize this team.
Benjamin Polk, A Wolf Among Wolves: That's easy: Ricky Rubio. He has mystical floor vision. Watching him pass the basketball is like taking a bath in warm brandy while Jimi Hendrix plays "The Star-Spangled Banner" right there in the tub with you. But for some reason he shoots like my dad. Can someone fix that?
David Thorpe, Scouts Inc.: Rubio, Derrick Williams, Wes Johnson -- they all bring intrigue. But I'm picking Martell Webster. He of the beautiful shooting stroke, the ability to get fouled, a willingness to defend, but not someone who's ever put together a season saying "I must be a starting wing in the NBA." If he can return after the New Year and play to his potential, Minnesota has the perfect complement to Rubio, Williams and Kevin Love -- a scorer with range and a plus defender.
Royce Young, Daily Thunder: Rubio. What do the Wolves have in Rubio? Is he going to light up "SportsCenter" with Maravich-style no-look passes and alley-oops? Is he going to show off ball-handling skills like he's Bob Cousy? Or will he just be Jose Calderon but without a jump shot? It's hard to know what Rubio is or will be, but he certainly is someone that people will be excited to watch.
---
3. What's the most surprising take in Hollinger's Timberwolves profiles?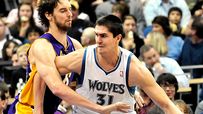 D.J. Foster, ClipperBlog: That Martell Webster could work as a small-ball 4. That makes nine players who could very realistically play power forward for the Wolves this season. The positional revolution will not be televised, apparently.
Zach Harper, Daily Dime Live:
Darko Milicic had a higher usage rate than Luke Ridnour last season. I guess this is something I could have easily looked up on my own, but it would have never occurred to me to even look for such an anomaly. I mean ... how does that happen? How does the point guard not have a usage rate higher than a center without any discernible post skills?
Benjamin Polk, A Wolf Among Wolves: It's true that Darko is "genuinely useful" as a rim protector. But just as often, his cluelessness caused entire defensive schemes to break down, leaving his teammates scrambling. And his massive troughs in effort and energy were truly awful to behold. His problems were symptomatic of the Wolves' rotten defensive culture last season.
David Thorpe, Scouts Inc.: Nothing jumped out at me (maybe because I call the Professor regularly to soak in his views) except this -- why does he know that Darko was awful as a low-post player and no one in Minnesota's franchise either knew or did anything about it? That's all I have to say about that.
Royce Young, Daily Thunder: That Kevin Love might be better defensively at center. It's no secret that Love didn't succeed defensively at the 4, and as Hollinger wisely points out, with Derrick Williams likely fitting more as a power forward, it would be unconventional, but it might make more sense for this Wolves roster to fully embrace the unconventionality team president David Kahn so desperately wants and go all-in with Love at center.
---
4. Based on Hollinger's profiles, what do the Timberwolves need most?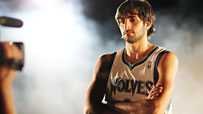 D.J. Foster, ClipperBlog: The Timberwolves desperately need defense. Beasley doesn't seem to care about it, Love can't contest shots and Derrick Williams is an undersized rookie. Those are the guys getting the bulk of the minutes in the frontcourt this season, and with Rubio adjusting to the speed of the NBA in his first season, the Timberwolves are primed to be a defensive disaster.
Zach Harper, Daily Dime Live: Can I answer with two things? The team badly needs an athletic defensive presence alongside Love inside, and they need a scorer at the shooting guard position. If Wes Johnson has actually improved his guard skills this offseason, the latter necessity could be temporarily solved. If Darko can use his length as a help defender, the former will be temporarily solved, as well.
Benjamin Polk, A Wolf Among Wolves: Especially given Martell Webster's back injury, the Wolves are seriously thin at the two. Despite all of the swingmen that have cycled through over the past year, the Wolves still lack both grown-up scoring and (especially) real defense on the wing.
David Thorpe, Scouts Inc.: I'm sure this is the easiest team to pinpoint than any in the league. "I'll take shooting guards for 10, Alex." That's 10, as in the average PER for Minnesota's shooting guards last season. The Wolves consistently played small forwards in that role the past two-plus seasons and that may not change this season, based on the current roster. It's why I named Webster as the most intriguing guy -- he's a small forward who actually could make an easier transition to a full-time 2 guard this season than any of their other wings.
Royce Young, Daily Thunder: Depth. From just a talent standpoint, the Wolves have as bright a future as any young team. They're a mess in terms of having that talent well structured, but they have some exciting young players. But it's all on the surface. Behind Love, Williams and Rubio is kind of a smattering of players that won't give you any kind of consistent production. Signing J.J. Barea helps, but again, it's not really a "need" player. What makes average teams good or even bad teams average is having a well distributed roster. Unless you're the Heat.
---
5. Will a shortened season help or hurt the Timberwolves?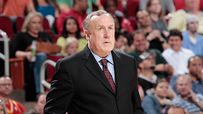 D.J. Foster, ClipperBlog: Help. It's a popular underdog strategy -- limit the amount of possessions in the game in order to pull off an upset. The Timberwolves won't do that on the actual court under Rick Adelman, but the shortened season will help any underdog team lucky enough to start off hot.
Zach Harper, Daily Dime Live: It will both help and hurt them. The biggest thing they need is time and experience together to get used to Adelman's system and learn how to play together within it. So not getting precious practice time will hurt them. But they have a lot of young legs and some surprising depth with a full roster. They may be able to run a few teams ragged this season.
Benjamin Polk, A Wolf Among Wolves: It's very bad. Three rookies, a brand new coaching staff, the newly acquired J.J. Barea in the backcourt, lots of players who still don't really know how to play NBA basketball. These guys badly need a grueling, game-heavy schedule with minimal practice time. Oh wait, I meant "training camp."
David Thorpe, Scouts Inc.: I think Adelman's offense can be the most beautiful thing to watch in the NBA since "Seven Seconds or Less." But it's going to take a while to learn. With no real camp and 16 fewer games, by the time they really get things in gear (if they do), it will be time to start working out potential lottery picks because the season will be over.
Royce Young, Daily Thunder: Hurt. It's simple: A compressed season means less practice time. Games are a great place to develop and grow, but Adelman is a great teacher, and with a scrambled training camp and less downtime between games, the Wolves will be left to learning on the fly instead of having real teachable moments with a great basketball mind.


ESPN.com and the TrueHoop Network
David Thorpe covers the NBA for Scouts Inc. D.J. Foster, Zach Harper, Benjamin Polk and Royce Young contribute to the TrueHoop Network.
• Follow ESPN's NBA coverage on Twitter | On Facebook