After a season saddled with poor performances and a player mutiny, can the Detroit Pistons shift to a new era under new owner Tom Gores and new coach Lawrence Frank? John Hollinger has broken down each Pistons player. Now our team of six takes a look at the next phase of Deeeetroit basketball.
1. For which Pistons player is the 2011-12 season most important?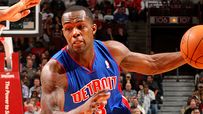 Kevin Arnovitz, ESPN.com: The Pistons lead the league in versatile, but not fully formed, skills-to-size guys -- Austin Daye prime among them. Daye enters his third season with Detroit with a sweet shot and soft hands. Unfortunately, he gets pushed around a lot in Norris Division matchups, but the Pistons need a forward who can bang. Will he graduate into an all-purpose player or become a marginal stretch-big?
Dan Feldman, PistonPowered: Rodney Stuckey. Stuckey -- especially if he re-signs with the Pistons -- can start playing for his next contract, the big-dollar deal he apparently believes he now deserves. His player efficiency rating (PER) has risen each season -- 13.76 to 14.83 to 15.62 to 18.46 -- but, in four seasons, he still hasn't proved that a contender can rely on him as a starter.
Zach Harper, Daily Dime Live: Rodney Stuckey. Regardless of where the restricted free agent ends up this season (he should re-sign with Detroit, right?), he needs to continue to grow in his role with the team. He's not a future star, but his ability to cause mismatches in the backcourt gives any team a much-needed advantage.
Patrick Hayes, PistonPowered: Ben Gordon. When he came to Detroit, Gordon's production immediately fell and excuses became rampant. Everything from injuries to coaching to sharing the 2-guard spot with Rip Hamilton were used to explain away is poor play. Hamilton is finally gone, and this might be Gordon's last chance to prove he's a starting-caliber player.
Eddy Rivera, Magic Basketball: Brandon Knight. It'll be interesting to see if Knight will be able to stand out from the crowd with the Pistons' influx of combo guards. Because the NBA lockout eliminated summer league and condensed both training camp and the preseason, Knight's learning curve is going to be steeper than usual. The hope is that he doesn't get lost in the shuffle.
Graham Simmington, PistonPowered: Opinions on Rodney Stuckey have been divided for years and the long offseason didn't help settle the debate. If he wants out of Detroit, as some recent reports suggest, he' has an opportunity to take the Pistons' qualifying offer and prove his worth in a contract year.
---
2. Who is the most intriguing player on the Pistons' roster?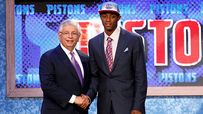 Kevin Arnovitz, ESPN.com: While we're on the topic of skills-to-size guys ... there's Greg Monroe. There isn't a young big man who can execute a post-to-post pass more effortlessly than Monroe. His outstanding rebounding numbers from the Big East have translated to the pros. Defensively, Monroe gets lost on pretty simple actions. Is that curable? The Pistons have to hope so.
Dan Feldman, PistonPowered: Brandon Knight. Knight hasn't skipped a shootaround, hasn't refused to enter a game and hasn't laughed while his coach got ejected. That alone makes him more intriguing than this sad sack of Pistons. Add Knight's impressive tools -- smarts, athleticism, shooting stroke -- and lack of elite production at Kentucky (relative to other draft prospects), and I'll eagerly watch his progress.
Zach Harper, Daily Dime Live: Brandon Knight. I've been lukewarm on Knight as a prospect, mainly because I'm not positive what position he will play on the team. In fact, in Stuckey, Ben Gordon and Knight, you have a backcourt of all combo guards. I was never impressed with Knight's performances at point guard in college, but it's obvious he has the talent to do whatever he decides to concentrate on.
Patrick Hayes, PistonPowered: Brandon Knight. The Pistons have a talented big man in Greg Monroe, but after his great rookie season, Monroe is less of a question mark. Knight is raw and there are notable things he needs to work on to be an elite pro, but if he lives up to his billing, the Pistons will have potential All-Stars at point guard and center -- the two most essential positions in basketball.
Eddy Rivera, Magic Basketball: Greg Monroe. Monroe is already a double-double big man in the league. The question is, how much further can he develop in his sophomore season? If Monroe can expand his repertoire on offense (developing a midrange jumper would be nice) and gain more strength so he isn't overwhelmed defensively at times, that'd be a good start.
Graham Simmington, PistonPowered: Jonas Jerebko showed such promise in his rookie season before being forced to sit out last season with a torn Achilles tendon. He wisely skipped the mess that was last season in Detroit and focused on recovery. It will be interesting to see how he fits into the lineup and whether or not he can improve on the strong start to his career.
---
3. What's the most surprising take in Hollinger's Pistons profiles?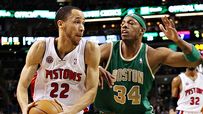 Kevin Arnovitz, ESPN.com: Somehow, Tayshaun Prince converted a higher percent of his attempts at the rim than Dwight Howard. For a 6-foot-9 guy who looks like he's spent six weeks on a juice diet, that's incredible.
Dan Feldman, PistonPowered: Tayshaun Prince led the league in shooting percentage at the rim. He's not a banger in the paint, and the Pistons didn't run enough to get him easy baskets. Prince expertly recognizes mismatches, and when he can post up subpar defenders, he milks it -- apparently better than I thought.
Zach Harper, Daily Dime Live: Let me be completely honest with you. I watch an obscene amount of basketball. You could even say it's an unhealthy amount. I watch over 1,000 regular-season games per season and rarely miss a game for most teams. I had no idea Ben Wallace was still in the NBA. That was a surprise to me.
Patrick Hayes, PistonPowered: Charlie Villanueva is a useful player. I don't mean to be insulting to Villanueva, it's just that his greatest strength -- scoring in bunches -- is less useful on a bad team. At this point, I don't expect Villanueva's poor defense and rebounding to improve, but if his teammates improve in those areas and Villanueva can focus solely on his offense, he could become a more valuable player.
Eddy Rivera, Magic Basketball: One of the things that stood out to me is that the roster is littered with players at every position who have glaring weaknesses in their games. For example, Monroe is a poor finisher at the rim, Stuckey is a poor shooter from the perimeter and Villanueva is a poor defender. Yikes.
Graham Simmington, PistonPowered: After all his time in Detroit, a part of me was sad to see Rip Hamilton waived last week. But the rest was looking forward to seeing Ben Gordon get more minutes. While I still think eliminating some of the gridlock at SG is a step in the right direction, Hollinger's assessment of Gordon as "just not very good anymore" has tempered my excitement a bit.
---
4. Based on Hollinger's profiles, what do the Pistons need most?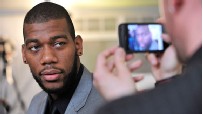 Kevin Arnovitz, ESPN.com: Someone who can protect the rim and the defensive glass. The Pistons were dead last in the league in opponent's effective field goal percentage and were near the bottom in defensive rebounding rate.
Dan Feldman, PistonPowered: An athletic, defensive-minded big man. Because Greg Monroe can play either center or power forward, the Pistons can add someone at either position. Monroe is skilled and smart on the glass, but he has neither the athleticism to protect the rim nor the stature to defend elite interior players. Detroit's wings would appreciate a better interior helper, too.
Zach Harper, Daily Dime Live: Multiple amnesties? Either Gordon is playing dead to trick opposing defenses into not guarding him, or he's heading down an awkward spiral of underperforming and being overpaid. Villanueva is a decent bench player who can't defend and gets paid handsomely for it. If the Pistons could clear both guys off the salary cap, how flexible and attractive would this roster be?
Patrick Hayes, PistonPowered: For all of Monroe's promise, he's not a rim-protecting presence, and Ben Wallace is no longer a shot-blocking threat as his career nears its end. The Pistons could desperately use a defensive-minded big man who can block shots and rebound. But hey, who couldn't use a player like that?
Eddy Rivera, Magic Basketball: Everything. First and foremost, Detroit needs better players. Lawrence Frank is not in an enviable position because he has a lot of players who aren't very good at specific things on a basketball court. It's hard to improve as a team when you're trying to plug up holes at almost every position. A near-total rebuilding effort is needed.
Graham Simmington, PistonPowered: Quality leadership. Former coach John Kuester, who was never able to command the respect of his players, and Richard Hamilton, who seemed to lead the team only in rebellion, are both gone. Wallace is aging rapidly. Will veteran Tayshaun Prince step up and fill the void or will Detroit have to rely on a younger player to emerge as a leader?
---
5. Will a shortened season help or hurt the Pistons?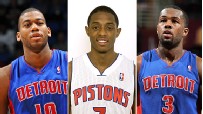 Kevin Arnovitz, ESPN.com: Hard to say. They have a new coaching staff under the direction of Lawrence Frank, but will bring back a lot of familiar faces.
Dan Feldman, PistonPowered: Help. Most importantly, they'll have to pay their roster full of bloated contracts only a prorated portion of their salaries. A 66-game season will also increase variance, and if the Pistons catch all the breaks, they could sneak into the playoffs.
Zach Harper, Daily Dime Live: Hurt. I'm not crazy about the Pistons' depth; they seem to have a few guys under enormous contracts who don't seem to give enough effort in the needed aspects of the game; and their backcourt players could self-inflict as many headaches as they give out to opposing teams. They need time to jell and to learn what Frank asks them to do.
Patrick Hayes, PistonPowered: Hurt. The Pistons' young players simply need playing time. The team might not win a lot of games in the near future, but the more players like Knight, Monroe, Jonas Jerebko and Austin Daye get on the court, the better the Pistons will be in the long run. Losing not only regular-season games, but all of summer league and most of the preseason, hurts.
Eddy Rivera, Magic Basketball: Hurt. With a new coaching staff and a bevy of young players, a shortened season is going to do more harm than good for the Pistons. Frank will have the difficult task of trying to teach on the fly, while the players will have the difficult task of learning on the go. If there was ever an example of a collective baptism by fire, Detroit may be Exhibit A.
Graham Simmington, PistonPowered: It certainly won't help. New coach Lawrence Frank brings with him an entirely new staff to a place that ran the last two guys out of town after short auditions. He'll need to work fast if he wants to get this team on the same page before too much of the season slips away.


ESPN.com and the TrueHoop Network
Kevin Arnovitz covers the NBA for ESPN.com. Zach Harper is the host of Daily Dime Live. Dan Feldman, Patrick Hayes, Eddy Rivera and Graham Simmington contribute to the TrueHoop Network.
• Follow ESPN's NBA coverage on Twitter | On Facebook