John Hollinger broke down each player on the Warriors' roster. Now our 5-on-5 crew weighs in on what lies ahead in Oakland in 2011-12.
1. For which Warriors player is the 2011-12 season most important?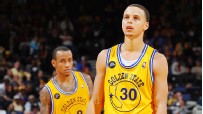 Henry Abbott, ESPN.com: Stephen Curry. Around the NBA, people are rooting for him to enter the pantheon of great, young players, and rightly so. To make the case convincing, though, the Warriors will have to win some games, which won't be easy without vastly improved defense.
Ryan DeGama, CelticsHub: David Lee. His contract is long and increasingly atrocious, especially if, as Hollinger notes, he continues to mail it in on defense. What's really irritating about Lee is not that he is terrible on defense, but that he refuses to make real efforts in its pursuit.
J.M. Poulard, Warriors World: From the moment that word came out that there would be an amnesty provision in the new CBA, everyone assumed that the Warriors would use it on Andris Biedrins. The Dubs instead used it on Charlie Bell, which means the team still has hope and expectations for the Latvian center. Potentially his last chance to prove he can still play.
Noam Schiller, Hardwood Paroxysm:
Basketball players don't come more polarizing than Monta Ellis. Either you celebrate his impressive numbers, knack for scoring and startling athleticism, or you decry his horrendous defense, low efficiency and ball-hogging ways. In 2011-12, with former hindrances to Ellis' development such as injuries and Don Nelsons out of the picture, it's time Ellis settles the debate himself.
Ethan Sherwood Strauss, Warriors World: Ellis, but not for conventional reasons. Since GSW struck out in free agency, Ellis is their one big way to get better via a trade. Monta's perceived value is higher than his ability to help the Warriors. Trading him could mean (a) actual defense at the 2, or (b) cap room, which is otherwise known in Warrior Land as "Kwame inducements."
---
2. Who is the most intriguing player on the Warriors' roster?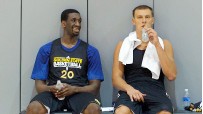 Henry Abbott, ESPN.com: Ekpe Udoh. If Coach Mark Jackson is serious about defense, Udoh has to play.
Ryan DeGama, CelticsHub: Biedrins. Biedrins needs to get his head straightened out (a recurring theme with this roster). His contract is big man reasonable at $9 million per season through 2013-14, so if Mark Jackson can turn him around, the Warriors can either move Biedrins or make use of him.
J.M. Poulard, Warriors World: Curry's shooting numbers have increased in each of his seasons, so it's possible he may become an even more efficient scorer, which is scary; but now Jackson will probably lean on him to be a more pure point guard to make plays for others and orchestrate the offense. Will he be up to the challenge?
Noam Schiller, Hardwood Paroxysm: I watched Jeremy Tyler try to play basketball in Israel, and he gave me the impression of an incorrigible pogo stick. Then again, that's basically DeAndre Jordan, and the Warriors narrowly escaped giving him a $43 million contract. If Tyler actually learns how to play, he could be one of the highest-value picks the Dubs have made in years.
Ethan Sherwood Strauss, Warriors World: Curry tends to adroitly deflect my questions, and I've never found him personally compelling. As a player? I'm riveted. Is he a point guard? Is he a future All-Star? Is he eventually headed to the Bobcats? If the spindly kid stood on my head, I wouldn't feel it, but he weighs heavily on my mind.
---
3. What's the most surprising take in Hollinger's Warriors profiles?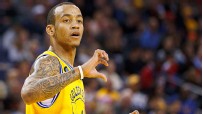 Henry Abbott, ESPN.com: Didn't know it was possible for just about every player on a team to hurt that team on defense, but it feels that way reading these profiles. The phrase "often didn't get in anything even resembling a defensive stance" resonates.
Ryan DeGama, CelticsHub: Curry's shooting gets all the ink but what interests me is Hollinger's note that such a smart, committed player suffered sophomore regressions in turnovers and assists. Is that just a function of Golden State's organizational malaise, or is he more limited than we currently think?
J.M. Poulard, Warriors World: It's a well-documented fact that Biedrins has struggled with confidence issues and thus hasn't been aggressive around the basket for fear of getting fouled. But for the big man to attempt only 56 free throws in the last two seasons is simply unforgivable. I hate to use a cliché here, but he needs to regain the eye of the tiger.
Noam Schiller, Hardwood Paroxysm: That Klay Thompson, drafted for being a lights-out shooter, is more of a lights-romantically-dimmed shooter. College stats are hard to translate: The longer distance to the 3-point arc predicts lower percentages, while less focus from defenses should give guys a boost. If those two cancel out and Klay's biggest strength remains 36 percent marksmanship, he'll struggle in this league.
Ethan Sherwood Strauss, Warriors World: I don't want to seem sycophantic, but I was mostly shocked by how eerily on point Hollinger's profiles were. While reading, I murmured, "Why yes, Curry DOES play a doggedly detrimental brand of defense. Biedrins DOES shy away from contact so as to avoid FTs. Udoh DOES compensate for poor stats with spectacular defense." John might be watching 82 GSW games a year, in which case ESPN owes him a bonus, a vacation and a psych evaluation.
---
4. Based on Hollinger's profiles, what do the Warriors need most?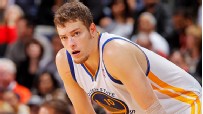 Henry Abbott, ESPN.com: Defensive effort across the board, minimal offensive wherewithal from the bigs not named David Lee, and for that advertised Biedrins renaissance to be real.
Ryan DeGama, CelticsHub: Let's see … the offense is mediocre, the defense an embarrassment, the big men overpaid underperformers and the scoring guards duplicative. I'd say the Warriors need a complete cultural shift followed by major personnel changes -- or the other way around.
J.M. Poulard, Warriors World: A big man capable of defending the post, blocking shots, finishing at the rim, rebounding and drawing fouls. The answer is not Kwame Brown; but oddly enough the Warriors need a player who has all the talents of Biedrins, Lee and Brown combined into one. Their big men are one-dimensional and fail to complement their backcourt.
Noam Schiller, Hardwood Paroxysm: A motivator on defense. Reading the previews, phrases such as "lack of effort" and "lazy" scream with the fervor of fans who just saw their team sign Brown. Hopefully, Jackson can not only remind his players that a lowered extremity equals an absent defender, but make them abide. Just knowing the rules isn't enough.
Ethan Sherwood Strauss, Warriors World: They need a real starting NBA center. Hollinger currently has Udoh listed as the starter, which only makes sense because Biedrins is an orphaned shadow of his former self. And by "former self," I mean, "former self even on his worst day, and that day could involve getting his hands superglued to his knees."
---
5. Will a shortened season help or hurt the Warriors?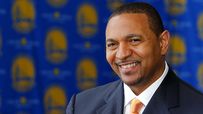 Henry Abbott, ESPN.com: They need a cultural shift, and surely that's what Jackson is trying to impose now. But that takes time -- which is in short supply this season.
Ryan DeGama, CelticsHub: I'm convinced this condensed, chaotic season is terrible for every team. So, it's just a matter of what the specific pain is for Golden State. My lingering question: How does Jackson instill any kind of defensive mindset in this questionable bunch with so little practice time?
J.M. Poulard, Warriors World: Given the new coaching staff and the new defensive philosophy (as opposed to none last season), one has to think that the short amount of time to prepare for the season will hurt the Warriors. Jackson will have to quickly get acclimated with his roster and will probably only truly get a great feel for the team by midseason.
Noam Schiller, Hardwood Paroxysm: Hurt. Young legs are an asset in condensed schedules, and the Warriors have plenty of them; then again, with the exception of the Kings and Wizards, they were the team with the least on-court discipline in the league last season. With a new coach and virtually no training camp, that will be hard to change.
Ethan Sherwood Strauss, Warriors World:
It helps their playoff chances. I don't think the Warriors are a playoff team, but a smaller sample size reduces the odds that fairness will triumph. I'm certainly rubbing a monkey paw in hopes that this will happen.


ESPN.com and the TrueHoop Network
Henry Abbott covers the NBA for ESPN.com. Ryan DeGama, J.M. Poulard, Noam Schiller and Ethan Sherwood Strauss contribute to the TrueHoop Network.