John Hollinger broke down each player on the Cavaliers' roster. Now our 5-on-5 crew weighs in on what lies ahead in Cleveland in 2011-12.
1. For which Cavaliers player is the 2011-12 season most important?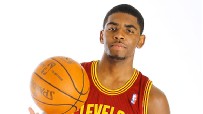 John Krolik, Cavs: The Blog: Kyrie Irving. Irving won't be a franchise savior like Blake Griffin, Dwight Howard, Derrick Rose, or other No. 1 overall picks have been, but he is the player who will lead the Cavaliers into the future, and it would be great for both him and the franchise if he hits the ground running in his first NBA season.
Keith Lipscomb, ESPN.com Fantasy: With so few to choose from, I'll say Irving, because the city of Cleveland needs a reason to get excited about the Cavs again. He should be given plenty of opportunity and hopefully will improve as the season progresses.
Colin McGowan, Cavs: The Blog: Anderson Varejao. If he has an impressive first half of the season and shows that the ankle injury he sustained last season is fully healed, Cavs GM Chris Grant will likely field a few offers from contenders before the trade deadline, and Varejao will have a chance to reassume his proper role: that of a sixth man on a playoff team.
Kyle Weidie, Truth About it: It's gotta be the No. 1 pick, Irving. He's not trying to fill LeBron James' shoes, no one reasonably expects that. No, the simple hope is that he makes Cavs fans feel better about themselves. Could be a tough challenge.
Brian Windhorst, ESPN.com: Everything with the Cavs is now about Irving. He's only played 11 real games since he left high school and that was two years ago. This season, no matter the length and no matter the Cavs' record, is about how he adapts and the health of his foot. Irving has impressed his teammates in the early stages of training camp and they are optimistic about his rookie season.
---
2. Who is the most intriguing player on the Cavaliers' roster?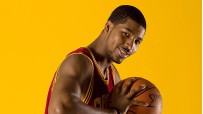 John Krolik, Cavs: The Blog: Tristan Thompson. Thompson will either completely transform the Cavaliers with his defense, shot-blocking, energy, and offensive rebounding, or look like a complete bust because of his inability to shoot, score in the post, grab defensive rebounds, or shoot free throws. Color me intrigued.
Keith Lipscomb, ESPN.com Fantasy: Thompson, not only because of his athleticism and shot-blocking ability, but also because of his offensive shortcomings. If he can make improvements at the offensive end, especially at the free throw line, the sky's the limit.
Colin McGowan, Cavs: The Blog: Thompson. Irving is more or less a known quantity, but Thompson is a physical freak with a ceiling at satellite height and a basement somewhere near the Earth's outer core. His rookie season will narrow that spectrum of potential, for better or for worse.
Kyle Weidie, Truth About It: I'm intrigued by Omri Casspi. Cleveland once refused to include J.J. Hickson in a trade for Amare Stoudemire, but then shipped J.J. for Sacramento for the native Israeli just before the lockout. Nonetheless, any pressure for Casspi to legitimize the trade is nowhere near the level of hope his home country has for him.
Brian Windhorst, ESPN.com: Christian Eyenga. All you need to know about him is he's probably got one of the top five vertical leaps in the NBA and during the lockout he actually grew two inches, from 6-5 to 6-7. He's still quite raw and just what to expect for his long-term development is hard to predict because he's quite literally still growing. But he's a highlight-maker who's worth tracking. Sooner or later, you will see him on "SportsCenter."
---
3. What's the most surprising take in Hollinger's Cavaliers profiles?
John Krolik, Cavs: The Blog: That Daniel Gibson shot 39.6 percent at the rim, which was worse than his mark on 3s and a full 10 percent worse than the second-worst finisher in basketball. I knew Boobie was bad around the basket, even horrifically bad, but I didn't know he was that much worse around the basket than every other player in the league.
Keith Lipscomb, ESPN.com Fantasy: How well Varejao ranked as a defender, albeit in a small sample size, last season. With so many poor defenders on the roster, it was interesting to see Andy's value quantified.
Colin McGowan, Cavs: The Blog: Wait, Ramon Sessions was eighth among point guards in PER last year? This is good news for the Cavs, who in the wake of Baron Davis' departure will likely hold on to Sessions and use him at both guard spots. I would worry about his ability to defend 2s, but then his ability to guard 1s is pretty nonexistent already.
Kyle Weidie, Truth About It: Hollinger indicated that Antawn Jamison stopped trying on defense last year. Most would not argue with this. What's surprising is how a player renowned for his professionalism would reverse the effects of leading by example, at least defensively. Jamison says he's comfortable coming off the bench, a point of contention he made with his past teams; will he now add more effort on D to that?
Brian Windhorst, ESPN.com: Just how poor of a shooting team the Cavs were last season. They had periods where they struggled to score; much of it was blamed on learning Byron Scott's Princeton offense. But it would've helped to have a guy who could hit some jumpers. Hollinger points out that they had all sorts of issues with long 2s and they were one of the worst 3-point shooting teams. One of the reasons they re-signed Anthony Parker was because he and Gibson were only two perimeter players who were able to hit an outside jumper.
---
4. Based on Hollinger's profiles, what do the Cavaliers need most?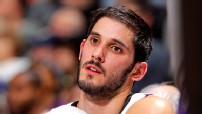 John Krolik, Cavs: The Blog: In short, everything. Irving and Thompson will make the Cavs better in both the short and the long term, but this team isn't going to be rebuilt in just one season. It's going to be a long, painful rebuilding process, and it's going to require patience from both the front office and the fans.
Keith Lipscomb, ESPN.com Fantasy: Talent, plain and simple. They have very few players with special skills in any particular area, which makes them in need of everything. It's going to be another long season at The Q, so hopefully we'll get to see a lot of the youngsters.
Colin McGowan, Cavs: The Blog: Though Casspi is an improvement over nearly everyone else the Cavs started at the 3 last season in that he has skills other than turning the ball over and missing jump shots, he won't make anyone in Cleveland forget about that guy in Miami. Look for the Cavs to address this problem in the first round of the 2012 draft.
Kyle Weidie, Truth About It: Aside from hope in their most recent draft picks, the Cavs need a little bit of everything. But it's more evident that a top-notch shooting guard would really help.
Brian Windhorst, ESPN.com: The Cavs need wing players who can create their own shot and be a legitimate threat to hit jumpers. Frankly, they don't have any. They brought in Casspi in the offseason to help but they still have a hole at shooting guard. For seven years this was not an area of concern for the Cavs and over the last year they have been focused on shedding pieces to pick up future draft picks. As they continue the rebuilding process, the wing is an area they will focus on.
---
5. Will a shortened season help or hurt the Cavaliers?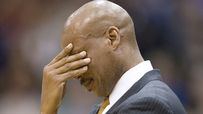 John Krolik, Cavs: The Blog: Hurt. Thompson and Irving are probably the two most important players on the Cavaliers, and with this brutal schedule, they might end up slamming into the "rookie wall" pretty darn hard.
Keith Lipscomb, ESPN.com Fantasy: Hurt. Considering Varejao's ankle issues, the compressed schedule can only be a bad thing for the Cavs from a defensive standpoint. In addition, the "rookie wall" could be that much tougher to plow through with less time to catch their breath.
Colin McGowan, Cavs: The Blog: Hurt. It's difficult enough to make the adjustment from college to NBA ball without dealing with a compressed schedule. Irving and Thompson are going to have to be in outstanding shape to bust through the "rookie wall" on the third night of back-to-back-to-backs.
Kyle Weidie, Truth About It: Hurt. As I suspect with most young teams, especially ones trying to integrate a 19-year-old point guard into the NBA, the Cavs need all the time they can get. A brief training camp could quickly turn to sloppiness, and then frustration. Could be a long, short season.
Brian Windhorst, ESPN.com: Help. This has the potential to be a transitional year for the team -- they have so many young players fans want to see play together, especially Irving, Thompson and Casspi. But it is also going to be a season with a lot of growing pains, which means a lot of losses. The faster they can get to the draft and potentially get another quality piece the better. Also the shorter the season, the fewer losses to suffer through.


ESPN.com and the TrueHoop Network
Brian Windhorst covers the NBA for ESPN.com. Keith Lipscomb is a fantasy games expert for ESPN.com John Krolik, Colin McGowan and Kyle Weidie contribute to the TrueHoop Network.