John Hollinger broke down each player on the Rockets' roster. Now our 5-on-5 crew weighs in on what lies ahead in Houston in 2011-12.
1. For which Rockets player is the 2011-12 season most important?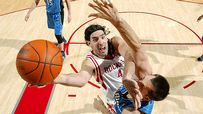 Graydon Gordian, 48 Minutes of Hell: Luis Scola. Scola's already played above what some thought was his ceiling and, as Hollinger pointed out, is continuing to do so past the age many undersized forwards begin to slip. But the Rockets are thin up front and can't afford for Scola to slip now. He needs to play very well for Houston to challenge for a playoff spot.
Tom Haberstroh, ESPN.com: Pau Gasol … errr … Kyle Lowry. We know what we're getting with Kevin Martin and Luis Scola, but can Lowry continue his ascension in the league's point guard ranks? His player efficiency rating has climbed steadily the last three seasons from 14.4, to 15.5 to 16.5. At age 25, is he ready to establish himself as a top-10 point guard?
Rahat Huq, Red 94: All indications are that under new head coach Kevin McHale, Terrence Williams will get his chance. With his ballhandling, vision and athleticism, Williams has all the tools for stardom. Does he have the right attitude? If he fails here, under a players' coach, that might be all she wrote for T-Will in the NBA.
Rob Mahoney, The Two Man Game: Jordan Hill. Saturday's preseason affair against the Spurs highlighted just how perfectly the stars have aligned for the third-year big man. Chuck Hayes, the Rockets' previous starting center, has relocated to Sactown. Pau Gasol was very nearly a Rocket, but saw his ticket to Houston nixed by David Stern. The Rox signed Marc Gasol to an offer sheet and heavily pursued Nene, but neither free agent could ultimately be had. All of those missed opportunities for Houston will only translate to more of an opening for Hill, and the entire trajectory of his career could change as a result.
Eric Todd, Red 94: Jordan Hill. And in the Rockets' first preseason game, he played like he knows it, too, putting up 17 and 13 in 28 minutes. Hill is on the last year of his deal and has thus far shown very little of the potential that made him a 2009 lottery pick. If he doesn't improve his focus and prove he can make good decisions on both offense and defense, he may not sign another NBA contract.
---
2. Who is the most intriguing player on the Rockets' roster?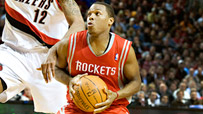 Graydon Gordian, 48 Minutes of Hell: Lowry. After proving his value on both ends of the court, Lowry finally earned a starting job he's deserved for some time. He's not an All-Star. But if he keeps up his defensive intensity and stays aggressive but slightly more in control on the offensive end, he can finish his transformation from backup to linchpin.
Tom Haberstroh, ESPN.com: Patrick Patterson. This former McDonald's All-American has more talent than his 2010 draft slot suggests and his string of double-doubles in March proves that he can bring it at this level. He's still 22 years old and if Scola is moved midseason, I smell a breakout campaign from Patterson.
Rahat Huq, Red 94: Marcus Morris. As a 4, he's average, but at the 3, where the Rockets intend to play him … we might be on to something more. If you have no stars, roll the dice, defy conventional roles and create mismatches in whatever way you can. I like the gamble.
Rob Mahoney, The Two Man Game: Terrence Williams. It's hard not to go gaga over Williams' natural athleticism and collection of skills, but he hasn't quite had the opportunity to utilize that arsenal in a meaningful way. Williams' role and relevance are still very much up in the air, but with chances to prove himself and a resolve to make better decisions, his production could explode.
Eric Todd, Red 94: Lowry is the easy answer with the strides he made last season after the All-Star break, averaging 20 and 8 for the month of March, but I'm most interested in watching Williams. The Rockets' management seems very intent on developing Williams. Some have even speculated that his benching last season played a significant part in the Daryl Morey/Rick Adelman split. I'm curious to see what effect the team's confidence has on his progression.
---
3. What's the most surprising take in Hollinger's Rockets profiles?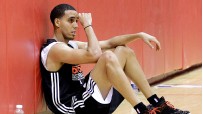 Graydon Gordian, 48 Minutes of Hell: I always knew Martin was a bad defender, but I'm not sure I knew just how atrocious he was until Hollinger pointed how easily he was dominated in the post by players such as Arron Afflalo and Vince Carter.
Tom Haberstroh, ESPN.com: I was stunned to learn about Jeremy Lin's propensity to tally steals and blocks. As Hollinger points out, Lin recorded 4.6 steals per 40 minutes in his rookie campaign -- which is a full two steals better than the mighty Chris Paul. I think Hollinger is right: Lin is capable of being a backup point guard.
Rahat Huq, Red 94: I pride myself in knowing bad defense when I see it. After all, I watched all 82 the year Matt Bullard and Carlos Rogers manned the 4 for this team. That's why it came as quite the shock that Jordan Hill was among the worst in the league. I knew he struggled, but those figures made me grimace.
Rob Mahoney, The Two Man Game: I was a bit surprised that Chase Budinger's defense withstood statistical scrutiny, but Hollinger's insight on the visual assessment of long, athletic defenders is what really sticks with me out of these particular profiles. The numbers have their flaws, but even the eye test -- which tends to favor spectacular steals and blocks as well as obvious hustle -- can similarly overlook the defensive impact of the dialed-down athlete.
Eric Todd, Red 94: Patterson's free throw rate. From watching the games last year, I knew he got a lot of his points off putbacks and midrange jumpers and that his post-up game, like Scola's, is more wily than forceful. But considering how physical he is on defense, it's certainly a surprise to read that Patterson had the seventh-lowest free throw rate among NBA power forwards.
---
4. Based on Hollinger's profiles, what do the Rockets need most?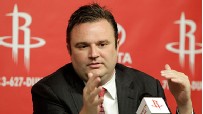 Graydon Gordian, 48 Minutes of Hell: A superstar. The Rockets are a good team: terrific role players and a bevy of guys who would make excellent second or third options on a contender. But they need to get their hands on a top-10 talent if they want to get in the title hunt.
Tom Haberstroh, ESPN.com: A superstar. The capsules underline the fact that they have a collection of good players, but not great ones. But they could have had one in Gasol had David Stern not hijacked the agreed-upon deal. Until GM Daryl Morey gets that elite player, I'm afraid the team will be stuck in NBA purgatory.
Rahat Huq, Red 94: This team has a lot of needs. Not among them? Another bust from the draft class of 2009.
Rob Mahoney, The Two Man Game: More plus defenders. Lowry does top-notch work on the perimeter, but otherwise the Rockets' best defenders are only so on relative terms. They do good work for their size or in relation to their NBA experience, but not many of Houston's rotation players are good defenders on a universal scale.
Eric Todd, Red 94: A defensive center. The loss of Chuck Hayes will be a bigger blow to the team than most casual fans realize. The Rockets are left without a single player who can guard an effective scoring big one-on-one. Hasheem Thabeet has the size and strength but still plays every possession like he just woke up from a really relaxing nap. Patterson is probably the team's next best option, and while he might passably check power forwards, he'll be overmatched against genuine centers like Nene.
---
5. Will a shortened season help or hurt the Rockets?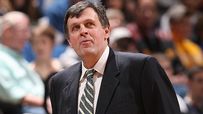 Graydon Gordian, 48 Minutes of Hell: Help. The Rockets are good enough to make the playoffs but by no means are they a lock. A shortened season will give teams such as the Rockets a chance to stay close to the playoff pack. A nice winning streak or two at the right time and Houston will be back in the postseason.
Tom Haberstroh, ESPN.com: Help. Although had they traded their roster for Gasol, the first month or so of the season would have been a fascinating meet-and-greet on the basketball court. But alas, the maintained familiarity and continuity will be the silver lining of the infamous trade-that-never-was.
Rahat Huq, Red 94: A season, period, hurts them. Speculation was that with a canceled season, draft order would have been determined on some basis of total recent playoff appearances. Owning New York's pick, the Rockets could have had two lottery selections from the loaded class of 2012. Instead, with an improved Knicks team, they could have none.
Rob Mahoney, The Two Man Game: The length of the season itself may not impact the Rockets much, but their scheduling assuredly will. Houston ties Indiana and Charlotte for the most back-to-back games this season, and faces a daunting number of three-games-in-four-nights scenarios. That's a rough slate, and though the Rockets aren't particularly old or injury-prone, the lockout will take its toll.
Eric Todd, Red 94: Hurt, without question. Only Kevin Martin, Luis Scola, Kyle Lowry and Marcus Morris have contracts guaranteed beyond this season. Courtney Lee and Goran Dragic are free agents. Everyone else has a team option that Morey/Leslie Alexander/team-stat-nerd must decide if they want to pick up. The fewer games/minutes they have to evaluate the roster, the more difficult their decisions will become.


ESPN.com and the TrueHoop Network
Tom Haberstroh covers the NBA for ESPN.com. Gradon Gordian, Rahat Huq, Rob Mahone and Eric Todd contribute to the TrueHoop Network.