Chris Paul has finally arrived in L.A. ... Now what?
John Hollinger analyzed each player on the Los Angeles Clippers' revamped offense. Now, our crew plays a little 5-on-5 on what to expect in Lob City.
1. For which Clippers player is the 2011-12 season most important?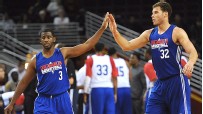 Kevin Arnovitz, ESPN.com: Blake Griffin. The Clippers just secured Chris Paul to be Griffin's on-court tour guide. To optimize Paul's services in the pick-and-roll, Griffin needs a proficient 18-footer. When Griffin can get that shot north of 40 percent -- and his free throw clip at 70 percent -- the Clippers will win some important basketball games.
Jovan Buha, ClipperBlog: Chris Paul. He forced his hand this offseason and chose the Clippers as his team. Now he has to back up his claims and make them a winning team. A successful season would likely keep coach Vinny Del Negro and Chauncey Billups around for one more season, as well as increase the likeliness that Paul and Griffin sign extensions.
D.J. Foster, ClipperBlog: Blake Griffin. Are you the total package or not? It feels ridiculous to ask the question this soon, but the fact remains that Griffin neglected the defensive end almost entirely last season. We've seen the offense, but now it's time for Griffin to hedge on screens, rotate on defense and contest shots. It's up to him -- he'll choose how good he wants to be.
Justin Verrier, ESPN.com: DeAndre Jordan. He's now getting paid to be the third star in the Clippers' new troika, and if there's anyone who can get the third-year center to play like it, it's Chris Paul. But if Jordan continues to churn out 7-and-7 seasons and shoot less than 50 percent from the free-throw line, their shiny pre-Christmas point-guard present has one fewer reasons to stick around the franchise with the second-worst winning percentage in NBA history for the long haul.
Charlie Widdoes, ClipperBlog: Chris Paul. Plenty of Clippers fans think the team gave up too much in the trade for CP3. It'll be up to him to win enough to show it was worth it.
---
2. Who is the most intriguing player on the Clippers' roster?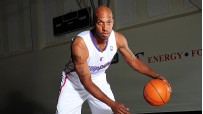 Kevin Arnovitz, ESPN.com: This slot is usually reserved for the raw young player with potential (read: DeAndre Jordan), but the Clippers' most intriguing player is also their most accomplished -- Chauncey Billups. If Billups can get comfortable with the idea of playing off the ball, he'll be a lethal spot-up threat for the Clippers and score a ton of points as the kickout option on the Paul-Griffin pick-and-roll.
Jovan Buha, ClipperBlog: Blake Griffin. It's tempting to pick Eric Bledsoe or Jordan, but we already know that they have limited ceilings offensively. For Griffin, the sky is the limit. With his athleticism, hustle and desire to win, he can easily become one of the best two-way players in the NBA.
D.J. Foster, ClipperBlog: DeAndre Jordan. Last season, 158 of his 344 field goals were dunks. He didn't shoot outside of 10 feet once. He's left-handed, but he says he's more comfortable with his right. Even Chuck Hayes doesn't shoot free throws like him. He is ... the most interesting man in the NBA.
Justin Verrier, ESPN.com: Chauncey Billups. The 35-year-old's proclivity to pull up from deep and his past life as a scoring-focused combo guard should make him a sufficient starter at 2-guard, at least as a stopgap. But can such a dominant personality handle being moved off the ball in his 15th season in the league? Recent comments -- such as saying the Clips will be "starting two point guards," and, "I'm a lead guard and playmaker, and so is Chris" -- raise questions.
Charlie Widdoes, ClipperBlog: Trey Thompkins. Jordan's new deal makes him one of the league's few second-round success stories. The team has liked what it has seen from the rookie Thompkins, a second-rounder himself from Georgia, early in camp. With no depth whatsoever in the frontcourt and a suddenly packed cap sheet, it would be an enormous boost for GM Neil Olshey if he could pitch in.
---
3. What's the most surprising take in Hollinger's Clippers profiles?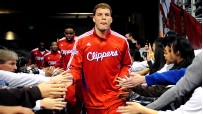 Kevin Arnovitz, ESPN.com: That Donald T. Sterling would ever gift frequent-flyer miles to a lowly NBA scout.
Jovan Buha, ClipperBlog: That Paul is below average in "assist quality." It's bizarre that one of the game's best passers doesn't create higher-percentage plays for his teammates. As Hollinger points out, the Hornets' scorekeepers likely decreased the "quality" of the assists by upping his totals. But even with that observation, it's perplexing as to why Paul's passes don't create more efficient opportunities.
D.J. Foster, ClipperBlog: Although one is 35 years old and the other is 22, Chauncey Billups and Eric Gordon score in extremely similar ways. Both guys base their offensive games around getting to the rim, drawing fouls and shooting a lot of 3-pointers while ignoring all the other stuff. A very efficient scorer, Billups' low field-goal percentage is, indeed, misleading.
Justin Verrier, ESPN.com: Aside from how shocking it still is to see Paul lumped in with the Clippers? How about that Caron Butler can still pack some scoring punch. The deficiencies in the rest of his game certainly won't help justify the $24 million the team shelled out for him, but, as Hollinger notes, the reigning champs played "extremely well" before a knee injury claimed Butler's season. The NBA's 23rd-most efficient offense last season will at least welcome the boost he'll bring from midrange.
Charlie Widdoes, ClipperBlog: The potential home cooking of Chris Paul's assist total. You hear this kind of thing happen in lower levels of basketball, but the fact that the New Orleans scorekeepers may have impacted his assist numbers came as a surprise to me.
---
4. Based on Hollinger's profiles, what do the Clippers need most?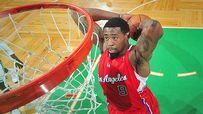 Kevin Arnovitz, ESPN.com: Some insurance in the frontcourt behind Griffin and Jordan. If the starters stay healthy, they don't need more than 12-15 minutes of yeoman's work from a capable backup who knows how to bang. Jordan can be foul-prone and his limited range might necessitate an adjustment on a fateful afternoon in May. Who gets that call from the bench?
Jovan Buha, ClipperBlog: Good defenders. According to Hollinger's profiles, the Clippers basically have no perimeter defenders other than Bledsoe (injured), Travis Leslie (not a rotation player) and Paul (undersized and a step slower). In the paint? Try the inconsistent Jordan, the barely above-average Griffin and the incompetent duo of Trey Thompkins and Brian Cook. Uh-oh.
D.J. Foster, ClipperBlog: How about the Phoenix Suns miracle-working training staff? Barring that, bringing in a defensive-minded big man to come off the bench seems absolutely necessary.
Justin Verrier, ESPN.com: Frontcourt depth. Any would do. Behind its starting line, L.A. has only unknowns (Thompson) and undesirables (wings-in-disguise Brian Cook and the Pride of Waterbury, Ryan Gomes) filling out the depth chart. The Clips will likely rectify this to some degree before Santa comes to town, but absent a major upgrade, they'll be pinning a lot of hope on the injury-prone (Butler) and unproductive-prone (Jordan).
Charlie Widdoes, ClipperBlog: A shooting guard of the future and some big bodies to back up Griffin and Jordan. Given the age and injury history of the current roster, the success of this season could come down to how many minutes the starters are able to log.
---
5. Will a shortened season help or hurt the Clippers?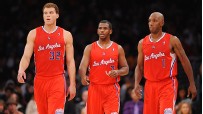 Kevin Arnovitz, ESPN.com: With Paul and Billups running the show, I don't think the turnover in personnel matters much. And, besides, you can fit Del Negro's offensive playbook on the back of a take-out menu.
Jovan Buha, ClipperBlog: Hurt. With the acquisitions of Paul, Billups and Butler, the Clippers traded in youth and athleticism (Gordon, Al-Farouq Aminu) for leadership, experience and aging knees. After they sign another free agent (likely a big man), half of the Clippers' main rotation will have been practicing together for less than two weeks. That's a recipe for early disaster.
D.J. Foster, ClipperBlog: Hurt. Ideally the Clippers would have training camp and preseason to get used to playing with one another. Instead, they'll have to do it on the fly in meaningful games. At least alley-oops are a good team-building exercise, right?
Justin Verrier, ESPN.com: Hurt. Despite the influx of star power, these Clippers are light on both chemistry and knees.
Charlie Widdoes, ClipperBlog: Hurt. A week ago, the Clips' roster had injury concerns, but at least it was packed with young legs and depth. They'll likely round out their rotation in the next few days, but there is reason to question how they'll handle this grueling schedule.


ESPN.com and the TrueHoop Network
Kevin Arnovitz covers the NBA for ESPN.com. Justin Verrier is an NBA editor for ESPN.com. Jovan Buha, D.J. Foster and Charlie Widdoes contribute to the TrueHoop Network.
• Follow ESPN's NBA coverage on Twitter | On Facebook