The Kings fired coach Paul Westphal. Now what? Our writers take a look at what's wrong in Sacramento and which other coaches are on the hot seat.
1. Who or what is most to blame for Paul Westphal's demise?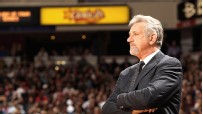 Henry Abbott, ESPN.com: Paul Westphal picked a public fight with DeMarcus Cousins. Meanwhile, as the coach of a team that on many possessions jogs back lamely on defense, it's unclear what kind of leverage he had. If the Kings had kept him, what reason was there to expect they'd be good?

J.A. Adande, ESPN.com: The fit, which was bad from the beginning. Westphal was at his best coaching a veteran, self-motivated team in Phoenix. Putting him with a bunch of youngsters in Sacramento was never going to work.

Kevin Arnovitz, ESPN.com: Westphal didn't exactly have a full set of china in Sacramento, but he lacked the vision and salesmanship to make the most of what he had. A team in desperate need of a system, the Kings took the floor without any operating principles about how to get smart looks at the basket and a defensive blueprint.

James Ham, Cowbell Kingdom: The easy answer is Westphal, but the real answer is more complex than that. This is the youngest team in the NBA, and the three veterans GM Geoff Petrie brought in missed almost all of a lockout-shortened training camp. Having Cousins on the roster didn't help, either.

Zach Harper, Daily Dime Live: First and foremost, the blame should fall on Westphal. His leadership, youth cultivation and system were extremely behind the curve. He clashed with mouthy big men a couple of times and left fans feeling as though progress hadn't been made since December 2009 passed. The organization is in rough shape in a few ways, but he is responsible for not getting this team headed in the right direction.
---
2. Your take on how the DeMarcus Cousins situation goes from here?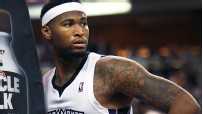 Henry Abbott, ESPN.com: He's the same guy he ever was: a prickly and passionate character who likely will frustrate everyone daily. Along the way he also might average 20 and 10, or not, depending on whether the coaching staff can build a bridge to the place he lives.

J.A. Adande, ESPN.com: Since they came down on his side instead of Westphal's, they have to keep Cousins. But the Kings have to realize that they just empowered him, so how can they expect him to change? I maintain that by the time we see a mature Cousins, he will be wearing a different uniform.

Kevin Arnovitz, ESPN.com: Someone with a measure of credibility in Cousins' life will kindly but forcefully remind him that a player's first four seasons in the NBA are an audition for one of the most lucrative service contracts known to man. How Cousins responds to the arrival of Westphal's replacement will influence the weight of that deal.

James Ham, Cowbell Kingdom: Cousins is an amazing talent. I expect the Kings to hold on to him for now, but they have a lot of time and energy invested in Tyreke Evans. If he and Cousins can't coexist, I expect the Kings to choose Evans over Cousins, purely on personality.

Zach Harper, Daily Dime Live: Cousins is a volatile, young player. He doesn't appear to have a filter in what he says or how he reacts on the court. But the talent and matchup problems are there for the team/coach who can figure out how to help him progress. I'd imagine he'll eventually move on and try new scenery. He might take a couple of tours before he harnesses his potential.
---
3. What does Keith Smart or the next Kings coach most need to do?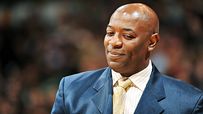 Henry Abbott, ESPN.com: When coaching tough characters like Cousins, the tendency is to say, "It's my way or the highway." That approach is guaranteed to fail with some players, including Cousins. The drama level needs to come down, and there must be patience and understanding. If that won't happen, let another team try.

J.A. Adande, ESPN.com: The next coach needs to let the players try things their way ... so they can learn that their way won't work. If they thought they knew more than a guy who won a championship as a player and went to the Finals as a coach, let them try to prove it. Because the next coach won't be around when they get good anyway, they might as well experiment.

Kevin Arnovitz, ESPN.com: Figure out how to move the ball when the roster's best passer is a 6-foot-6 center. Evans has too much strength and ability to subsist off the table scraps he's been settling for in the Kings' offense. Solving that one challenge instantly would make the Kings a more dangerous team.

James Ham, Cowbell Kingdom: Whoever takes over this team needs to rule with an iron fist. Westphal's laid-back demeanor didn't work. This team needs to play with more energy and more pride and stop with the isolation basketball.

Zach Harper, Daily Dime Live: Put in a system to get this team some structure. There is too much freewheeling and rec league basketball on the court most nights. It's fine when everybody is on, but against your tougher opponents in the West, they're dead in the water most nights. This team needs so much structure and discipline.
---
4. Fact or Fiction: The Kings are a talented team with a bright future.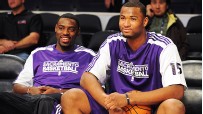 Henry Abbott, ESPN.com: Fiction. When you draft as high as they do, you can't help but acquire some talent. But despite those lottery picks, they're nowhere near attracting a big-name free agent. Meanwhile, the team with the most maligned GM in NBA history -- the Timberwolves -- is must-see TV all of a sudden. The Kings are where very talented players like Tyreke Evans and Jason Thompson go to achieve 75 percent of their potential.

J.A. Adande, ESPN.com: Fiction. There's talent, but how can we be optimistic about the future when they don't have a permanent coach in place, they don't have a leader in the locker room and they don't even know where they'll be playing next year?

Kevin Arnovitz, ESPN.com: Fiction. They're talented, but that bright light you see might be an oncoming train -- or it might be a beacon of hope. It's not crazy to suggest the Kings have the makings of a respectable defensive club, and we know the roster is stacked with one-on-one scorers. But there's no indication that anyone has the keys to the safe.

James Ham, Cowbell Kingdom: Fact. They need a few more pieces, but the talent on this team is undeniable. Someone needs to fit these pieces together on the fly, but the Kings have a young, talented roster. They are a year from competing for a playoff spot.

Zach Harper, Daily Dime Live: Fact. This organization was great before and can be great again. But you can't just keep making moves as though you're running a fantasy basketball team. Players need to complement one another within an offense.
---
5. Which, if any, other coaches are in the most trouble so far this season?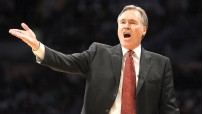 Henry Abbott, ESPN.com: Can't say I'd feel great being Flip Saunders right now.

J.A. Adande, ESPN.com: Mike D'Antoni. The Knicks are regressing, and they can't even beat the Raptors and Bobcats in the Garden ... which cost too much money to remodel for them to be stinking it up like this. Combos like that cost jobs.

Kevin Arnovitz, ESPN.com: Saunders and D'Antoni should certainly fear for their sanity. It might be a little too early to heat the seats on the rest of the coaching carousel -- but give it a couple of weeks.

James Ham, Cowbell Kingdom: D'Antoni and Saunders are two coaches who stick out to me. The Knicks are underachieving so far this season. D'Antoni has a very young backcourt that will need time, but this team was supposed to win now. Saunders is off to an 0-6 start. He's in a similar situation Westphal was in with a ton of youth but no clear identity.

Zach Harper, Daily Dime Live: D'Antoni has to be feeling some heat under that seat. Whether it's fair or not to blame him for just now getting a decent team to coach, this organization wants to be a serious contender now, and he'll be the first to take the blame if they don't reach that status. Such is life for the coaching ranks.


ESPN.com and the TrueHoop Network
Henry Abbott, J.A. Adande and Kevin Arnovitz cover the NBA for ESPN.com. Zach Harper hosts Daily Dime Live. James Ham contributes to the ESPN.com Network.

• Follow the NBA on ESPN on Twitter | On Facebook | On Google+