The Heat are on a three-game losing streak, have been struggling in late-game situations again and might lose Dwyane Wade to injuries for some time. Should Miami be concerned? What's its biggest problem? We put the Heat under the microscope:
1. Fact or Fiction: The Heat should be concerned by their three-game skid.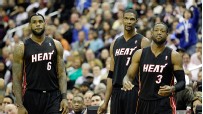 Graydon Gordian, 48 Minutes of Hell: Fiction. Nearly every championship-caliber team has a rough stretch during the season. Two of the three losses were in overtime, and the other was to a playoff-caliber team. Miami had much worse stretches last season. When the Heat roll into the Eastern Conference finals in a few months, no one will remember this losing streak.

Tom Haberstroh, Heat Index: Fiction. It's January. The Heat weren't going to stumble out of the gate as badly as they did last season, but they weren't going to be immune from the effects of the lockout, either. They've lost three straight, yes, but they also have a better winning percentage than they did last season. They have thorns, but who doesn't?

Beckley Mason, HoopSpeak: Fact. Any losing streak is cause for concern, but not necessarily alarm. Although the Heat returned almost all of their key players, those guys are experimenting with some new looks and philosophies. Erik Spoelstra will figure out what works (early offense post-ups) and what doesn't (abandoning their high-post motion offense), just like he did last season.

Michael Wallace, Heat Index: Fact. But not because of what you're thinking. The main reason the Heat should be concerned is the three-game skid could easily balloon to six, considering Dwyane Wade's injury status timed with this week's visits from the Spurs, Lakers and surprisingly hot 76ers. Two of those three losses came in overtime on the road. Most teams would consider that a significant moral victory. The Heat don't have that luxury.

Brian Windhorst, Heat Index: Fact. Not because of the losses but how they happened. Late-game offensive execution was an issue off and on last season, especially in the NBA Finals. The Heat can push the pace all they want, but their most important offense is their under-pressure offense. It hasn't been good.
---
2. Fact or Fiction: Miami's late-game troubles are its biggest problem.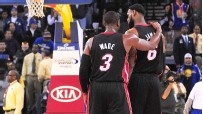 Graydon Gordian, 48 Minutes of Hell: Fact. While you could argue certain holes in the roster are a bigger concern, the Heat's late-game struggles
will haunt them in the postseason. And while Spoelstra's adoption of a more wide-open style has improved the team's offense, it hasn't helped solve this issue.

Tom Haberstroh, Heat Index: Fiction. At this stage in the season (the Heat have played only a dozen games), the Heat shouldn't get too wrapped up in a few late-game struggles. Dwyane Wade's health, however? That's the team's biggest problem. We always wondered when Wade's crash-test-dummy playing style would catch up to him. Has that time finally come?

Beckley Mason, HoopSpeak: Fiction. The biggest problems right now are health and turnovers. But looking long-term, it's doubtful that "Pace and Space" will be enough to win without fresh legs each game. LeBron in the post plus four shooters is a devastating look, but the Heat need a reliable half-court offense when Wade and LeBron share the court.

Michael Wallace, Heat Index: Fiction. Health is Miami's biggest problem. These Heat can never seem to get whole. There's always a revolving door between the training room and the playing rotation. Last season, Mike Miller and Udonis Haslem were out for most of the run to the NBA Finals. This season, Wade and LeBron James have already missed games, Miller is still not back and Shane Battier is just getting his legs back after a quad strain led to a slow start to the season.

Brian Windhorst, Heat Index: Fact. They've got some issues at center and some games that are going to be problems. But with players such as Wade and LeBron, it should be opponents who fear defending the Heat at the end of games, not the Heat worried about their execution. That hasn't been the case since they became teammates.
---
3. Fact or Fiction: LeBron will be the leading MVP candidate at season's end.
Graydon Gordian, 48 Minutes of Hell: Fact. James was the best player in the NBA last season, but Derrick Rose won the expectations game. Now that so much more is expected of Rose and Durant, James will rightly be back at the head of the MVP race.

Tom Haberstroh, Heat Index: Fact. He's the best player in the league and if Wade misses significant time this season, he'll keep pumping up his statistics to eye-popping levels. He placated the critics by working on his post game and outwardly appearing more humble, which will have a positive effect on voting, even if it shouldn't.

Beckley Mason, HoopSpeak: Fact. Thus far, LeBron is authoring the greatest individual performance of his career by relentlessly bullying his way to the paint. Whether his accomplishment is acknowledged with a trophy may depend on whether he can make a few jumpers in close games, but it's looking less likely that he'll split votes with Wade if Dwyane is in and out of the lineup.

Michael Wallace, Heat Index: Faction. As Tom Haberstroh once said, I'm the only person granted the right on these panels to play the "faction" card. I'd call it a fact that LeBron would be the clear MVP favorite only if Wade misses a significant amount of time to injuries, something that would force a prolonged return to "Cleveland Mode" for James. But anything short of that constitutes fiction in my book, because this season's MVP award is essentially Kevin Durant's to lose.

Brian Windhorst, Heat Index: Fiction. It is going to be hard for James to win another MVP, regardless of whether he's earned it or not, until he wins a title. He's fighting a stigma now that can't be cured by regular-season greatness.
---
4. Fact or Fiction: The Heat can win a title without Wade.
Graydon Gordian, 48 Minutes of Hell: Fiction. Miami is one of the league's most top-heavy teams. It could still make a deep playoff run without Wade, but it's hard to imagine Miami losing such a disruptive defender and its best crunch-time scorer and still hanging a new banner.

Tom Haberstroh, Heat Index: Fiction. I guess it's possible, as in "it's possible that I win the lottery tomorrow by stumbling upon a lucky ticket in the shower" but that doesn't mean I'm going to reply with "Fact." The Heat probably could absorb the loss of Wade if they used his money for a legitimate center, but I don't think that's part of this hypothetical.

Beckley Mason, HoopSpeak: Fiction. James and Bosh will be fine on offense without Wade, but Miami needs Wade's defense to play championship-quality basketball. With Wade, the Heat put four players on the court who can protect the rim. Without him, they can't play their signature frenzied switching and rotating defense at an elite level.

Michael Wallace, Heat Index: Fiction. That's really enough said. But I'll even take it a step further: The Heat wouldn't reach the NBA Finals without Dwyane Wade. There, I said it. And I can't imagine there would be a Heat player, coach, administrator or fan who would clamor for the chance to prove me wrong on this one.

Brian Windhorst, Heat Index: Fiction. Loaded question. Where'd Wade go in this scenario? Was he traded? If it's because he's hurt, then no. LeBron and Wade don't fit perfectly together, but their ability to trade off is what got the Heat to the Finals last year.
---
5. Fact or Fiction: The Heat will finish with the East's best record.
Graydon Gordian, 48 Minutes of Hell: Fiction. Chicago will have the best record, even though Miami is the East's best team. Tom Thibodeau's style helps ensure that the Bulls will play with more intensity night-in, night-out, while it's much easier to imagine Miami sleepwalking its way through a few games it probably should have won.

Tom Haberstroh, Heat Index: Fiction. With Wade's batch of injuries and a healthier Bulls roster, I give the reigning regular-season champs the slight nod. Then again, the Heat haven't played the Wizards yet.

Beckley Mason, HoopSpeak: Fiction. This will come down to whose foot is healthier, that of Derrick Rose or Dwyane Wade. I don't even play a doctor on the Internet, much less TV, but I can guess that Rose will be less likely to afford himself the necessary rest without a superhuman teammate to carry the load in his absence.

Michael Wallace, Heat Index: Fact. And that's assuming a reasonable level of decent roster health, which certainly isn't a given for this team. But these early bumps will be cleared up by the end of this month, which includes a stretch in which the Heat will play eight of their next nine games at home. It will be a far more competitive fight at the top of the conference standings than most anticipated. But winning the No. 1 seed isn't as big a goal for the Heat as entering the playoffs healthy and hungry for another Finals run.

Brian Windhorst, Heat Index: Fiction. The Bulls appear to be headed for that mantle again this year unless Rose can't stay healthy.

ESPN.com and the TrueHoop Network
Tom Haberstroh, Michael Wallace and Brian Windhorst cover the Miami Heat for ESPN.com's Heat Index. Graydon Gordian and Beckley Mason contribute to the TrueHoop Network.

• Follow the NBA on ESPN on Twitter | On Facebook | On Google+