Kobe is averaging 30.8 ppg, 5.7 rpg and 5.5 apg with a 26.80 player efficiency rating. LeBron is averaging 29.8 ppg, 7.9 rpg and 7.6 apg with a 34.25 PER. So we can all agree that the two superstars are pretty good at basketball. But who's better? With the Lakers playing the Heat in Miami on Thursday (ESPN Radio, 8 p.m. ET), we choose sides.
1. Who's better right now: Kobe or LeBron?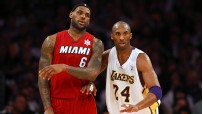 Henry Abbott, ESPN.com: LeBron. The competition is close as hell and not worth arguing about in a rational world. But ... James scores more efficiently. He rebounds far better. He gets way more assists. And he uses the ball less and plays better defense. He does turn the ball over slightly more, but not enough to tip the scales.

J.A. Adande, ESPN.com: Kobe. LeBron can do more things, but Kobe is the one who seems willing to do anything to win. Kobe also is better at one specific thing: hitting the shots he takes the most. He's making 48 percent of his midrange shots; LeBron, 42 percent.

Tom Haberstroh, Heat Index: LeBron. Is Kobe scoring more? Yes, by a hair. But that is largely a product of relentless shot-taking. In every other facet of the game, LeBron has him beat, which explains why Mo Williams is closer to Kobe in PER than Kobe is to LeBron.

David Thorpe, Scouts Inc.: LeBron. If now means any one play, it's a dead heat, as Kobe is just as capable of incredible plays as Bron. If now is one quarter, one half, one game or even one week, ditto. Kobe can easily put together an amazing game or stretches of games.

But for the last time, over the course of a season, while Kobe is still great, LeBron is the greatest now. There is no metric available that says otherwise, and my eyes and instincts concur.

Brian Windhorst, Heat Index: LeBron. Kobe is putting up incredible scoring stats so far, even though he's volume scoring. But LeBron is having the best offensive season of his career and continues to be one of the best defensive players in the league. LeBron is having the better season, but that is not to say Kobe won't have the last laugh. He usually gets the last laugh in the playoffs.
---
2. Who will finish higher in the MVP voting: Kobe or LeBron?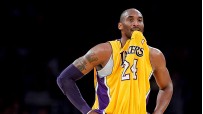 Abbott: Kobe. If the voting ended today, Bryant would be tough to beat. Last season's vote played out as anyone but LeBron. If that's still the sentiment ... well, LeBron won't win. This horse race will tighten up, though: It's almost unprecedented that a player Bryant's age would keep up this workload. When he sits more, his per-game averages will fall.

Adande: Kobe. Because two factors can come into play: ongoing resentment of LeBron (which really needs to end) and a desire to rectify Kobe's way-out-of-whack ability-to-MVP ratio.

Haberstroh: Kobe, but there's so much ball left. At this point, I think Kobe's resurgence is a more captivating story than LeBron's general dominance, and the narrative typically drives the media vote -- right or wrong.

Thorpe: LeBron. By season's end, it's far more likely that LeBron will, but it is not scripted. Bron has to play to his potential and not lose confidence if and when he has bad quarters, halves or games. This is an area where Kobe definitely outranks Bron.

Windhorst: Kobe. The media vote for MVP, and the media like a good story. Kobe's resurgence after this experimental knee surgery plus his playing through a seemingly significant wrist injury are a better story. Also, it would seem wrong for Bryant, who probably will go down as one of the greatest players ever, to have won only one MVP. This could be the season to adjust that.
---
3. Who would you want with the game on the line: Kobe or LeBron?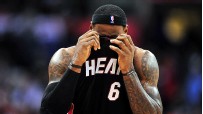 Abbott: LeBron. Not because he's the better solo scorer -- he's not. But because he's slightly more likely to actually run a play instead of attacking the double-team. That's evident in his better results with the game on the line over his career, by all measures. For instance, Bryant is 7-of-25 with playoff games on the line, while James is 5-of-12. Far better, though, is either guy's open teammate.

Adande: Kobe. He lives for those situations, and if the play breaks down or the defense smothers him, he's the best bad-shot-maker of all time.

Haberstroh: LeBron. Despite all the hysteria over LeBron's shortcomings in the clutch, he's still shooting better than Kobe in clutch time (40.4 percent versus 37.7 percent) since he got to Miami. Aside from a bizarre Finals, LeBron can bring it defensively in crunch time, too. Just ask Derrick Rose.

Thorpe: That's a trick question! Are they on offense or defense, and who's on the floor with them? If I can have the Kobe who happily fed Derek Fisher for the winning shot the other night, it's a coin flip. If it's the LeBron who couldn't get out of his own way in the Finals, I'll go with Kobe. But generally speaking, as of now, I'd take either, and neither would be my first choice among all NBA players.

Windhorst: Is this a serious question? One man has a deep résumé, and the other is battling a stigma that he's got an entire fourth-quarter problem. Kobe may have missed more game-deciding shots than LeBron has ever taken, but there's a reason for that.
---
4. Who has been more fun to watch this season: Kobe or LeBron?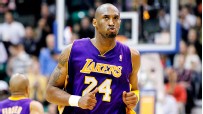 Abbott: Kobe. The man puts on an amazing show.

Adande: LeBron. Heat games have a much better flow than Lakers games, and he's a big reason. Kobe can't generate as many highlights as LeBron anymore. Plus, LeBron's best games never make you wonder whether they're coming at the expense of another teammate.

Haberstroh: Kobe. You have to marvel at what Kobe is doing at 33 years old, even if he might shoot the Lakers out of some games. Guess how many players in history have averaged 30 points at Kobe's age? None. LeBron has been playing better than ever, but Kobe's run has elicited more gasps of awe.

Thorpe: For the whole package, I say LeBron.

Windhorst: Kobe. It's always more fun to watch a guy hit a leaning 3-pointer over two defenders than to watch a guy draw a foul in the post. Even if one is clearly the better basketball play.
---
5. Whose team would win a seven-game series: Kobe's or LeBron's?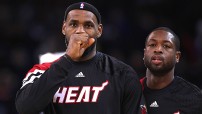 Abbott: LeBron's. The Heat have played better in the early going and would have home-court advantage. But the Lakers are starting to figure out what works under coach Mike Brown, and Thursday's game will be a great peek at a potential Finals matchup.

Adande: LeBron's Miami Heat. They're a better team, more athletic. The Heat's point differential is double L.A.'s. The Lakers can eke out wins; the Heat can crush opponents.

Haberstroh: LeBron's. I never said that Kobe's outrageous scoring was good for the Lakers. Until Brown or Kobe realizes "Hey! Pau Gasol plays for this team!" that offense will continue to rank below average. Seriously, the Nets and Jazz rank better offensively than the Lakers do right now. Getting Pau some shots every once in a while might help.

Thorpe: If it started today, I'd pick L.A. But by June, I'd probably favor Miami.
The Heat can let the rookies develop, let the season beat up Andrew Bynum and Kobe, and get Dwyane Wade back at full strength.

Windhorst: With a healthy Wade, the Heat are probably a better overall team right now than the Lakers.

ESPN.com and the TrueHoop Network
J.A. Adande, Henry Abbott, Tom Haberstroh, David Thorpe and Brian Windhorst cover the NBA for ESPN.com.

• Follow the NBA on ESPN on Twitter | On Facebook | On Google+