Is Dwight Howard the answer to what ails the Lakers this season? Is Andrew Bynum enough compensation for the Magic? Our 5-on-5 breaks down the big questions facing L.A. and Orlando heading into Friday night's prime-time matchup (8 p.m. ET, ESPN).
1. Fact or Fiction: The Lakers can win a title as currently constructed.
Kevin Arnovitz, ESPN.com: Fact. It won't be easy, but there isn't a team in the league that doesn't have serious flaws. Whether that's a function of a compressed season, the haphazard assembly of rosters or sheer chance, there isn't a team with an enormous advantage over the Lakers -- or about 8-10 other teams, for that matter.

Andy Kamenetzky, ESPN LA: Fiction. The Lakers play championship-caliber defense, and a big three of Kobe Bryant, Pau Gasol and Andrew Bynum is about as good as it gets. But offensively, they're a mess. A lack of wings capable of creating has left them rudderless, and the 3-point shooting is miserable. Perhaps the Mavericks would be willing to trade back Lamar Odom?

Zach McCann, Page 2: Fiction. Even assuming that the veteran Lakers' legs don't wear down and Andrew Bynum stays healthy, there's not enough depth on this team to defeat the Miami Heat. No matter how much hero-ball Kobe Bryant plays, the Lakers aren't getting enough from the small forward position, the point guard position or the second unit.

Eddy Rivera, Magic Basketball: Fiction. The Lakers have a number of issues: There's no consistent perimeter scorer on the roster outside of Kobe, there's no 3-point shooting outside of Steve Blake, points in transition are a rarity and there's a lack of quality depth. As such, Kobe, Gasol and Bynum are being relied upon a lot, and that can't bode well in a truncated season.

Darius Soriano, Forum Blue and Gold: Fact. Mind you, everything must go right, including Kobe, Pau and Bynum playing in peak form, bench players stepping up to levels above their heads and some of the Lakers' main challengers faltering. But in the words of Lloyd Christmas, I'm saying they have a chance.
---
2. Fact or Fiction: Bynum is adequate trade compensation for Howard.
Kevin Arnovitz, ESPN.com: Fiction, though he's probably the most talented player offered for Howard. It's impossible to get fair value for a superstar in a midseason trade.

Andy Kamenetzky, ESPN LA: Depends. If by "adequate," you mean "equal," then fiction. If by "adequate," you mean "a talented but injury-prone center who's probably the best consolation prize out there," then fact. Honestly, if they don't get a suitable offer, I think the Magic would be best served letting Howard walk and entering "rebuild" mode with boatloads of cap space. However, not many teams ever do that.

Zach McCann, Page 2: Fiction. Bynum's beginning to realize his potential, but besides free throw shooting, he's still inferior to Howard in every way. The Magic know this. The Lakers need to find another impact player -- either from their own team or a third team -- to make a trade happen.

Eddy Rivera, Magic Basketball: Fiction. Outside of LeBron, nothing is adequate trade compensation for Howard. In any case, ownership for the Magic has mandated that if Howard is traded, veteran pieces are needed in return. Let's ignore the foolishness in that strategy for a second. Bynum serves as merely the appetizer in a trade package. There needs to be more dishes being served to Orlando.

Darius Soriano, Forum Blue and Gold: Fact. After Howard, Bynum's the best center in the league and the best centerpiece Orlando could acquire in a trade for Howard. As an approximate to what Howard provides the Magic, Bynum's as good as it gets for the Magic.
---
3. Fact or Fiction: Bynum can be the main man on a title contender.
Kevin Arnovitz, ESPN.com: Faction. Bynum could serve as an Option 1 or Option 1A on a title contender, but he couldn't return the Magic to the top of the mountain with the surrounding cast that's currently situated there.

Andy Kamenetzky, ESPN LA: Fact-ish. In theory, Drew might be a legit franchise player. He's quite talented on both sides of the floor and sets high standards for himself. He's also unafraid of that responsibility. However, Bynum has yet to prove he can handle being a true No. 1 option, physically or mentally.

Zach McCann, Page 2: Fiction. Besides the injury factor -- you can't build around a guy who's missed 124 games since '07 -- Bynum isn't productive enough on offense, never averaging more than 15 points per game, to be the man on a Finals-contending team.

Eddy Rivera, Magic Basketball: Fiction. Bynum's defense and rebounding aren't the issues. But can he be efficient with an increased workload offensively? Can he learn to consistently beat defenses that key in on him? This season, as he's become more of a focal point on offense, there are hints that "no" is the answer to both questions. But health issues aside, Bynum could grow into that role.

Darius Soriano, Forum Blue and Gold: Fact-ish. Titles are won by teams, typically ones with a great one-two punch. Bynum can be one of those two, even if he's not clearly the best every night.
---
4. Fact or Fiction: A Dwight-Pau-Kobe core would win multiple titles.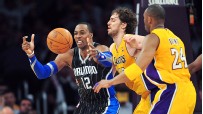 Kevin Arnovitz, ESPN.com: Fact, so long as there was additional help along the perimeter -- both in marksmanship and defense.

Andy Kamenetzky, ESPN LA: Fact, assuming the Lakers can eventually land even a B-list point guard to help get these guys the ball and a spot-up shooter of reasonable reliability. In other words, role players every contender has (save the Lakers, of course). But on paper, Kobe-Dwight-Pau is pretty scary.

Zach McCann, Page 2: Fact. Because of his great ability to pass from the post and sink open jumpers, Gasol may be the perfect power forward to complement Howard. And how do you double-team Howard with Bryant hanging out on the opposite wing? Even with questionable depth, this trio would contend until Kobe's legs fall off.

Eddy Rivera, Magic Basketball: Fiction. Replacing Bynum with Dwight does nothing to change the current set of problems in Tinseltown (see Answer 1). His strengths -- defense and rebounding -- as a player overlap with Los Angeles' strengths. OK, so Dwight could add more scoring in theory. But would Kobe be willing to defer to him? Kobe and Gasol aren't getting any younger, by the way.

Darius Soriano, Forum Blue and Gold: Fiction. If that said "could win," I'd say "fact." However, winning a single title requires more than three players, even ones as good as these guys. Winning multiple titles relying on an aging Kobe in a league with young, talented teams like the Thunder and Heat is simply too much to make any kind of guarantee.
---
5. Fact or Fiction: Howard will end up with the Lakers.
Kevin Arnovitz, ESPN.com: Fiction. Howard will have one of those posh lockers in Dallas come next fall.

Andy Kamenetzky, ESPN LA: Fact. Howard wants out, and like I said earlier, I doubt Otis Smith would let him walk, even if certain situations might make that the most sensible form of action. Looking around the league, nobody has a better chip than Bynum. On a related note, I'm glad the lockout put to bed the "big names forcing their way onto a more preferred franchise" issue. That was time well spent.

Zach McCann, Page 2: Fact. Of the three teams Howard has expressed interest in signing an extension with, the Lakers are the one team the Magic could trade with this season. Neither the Nets nor the Mavericks have the assets to entice the win-now Magic management. L.A. will have to throw in Pau Gasol or a player from another team for the Magic to bite, but the Lakers can get a trade done before the March trade deadline.

Eddy Rivera, Magic Basketball: Fact. There's no question that the Lakers hold a trump card in Bynum, a player that the Magic front office likes since he's the type of "win now" asset the team desires. It seems sensible that a trade will bear fruit sooner or later. The wild card is if Orlando keeps winning. Do the Magic roll the dice and keep Dwight past the deadline?

Darius Soriano, Forum Blue and Gold: Fact. I'm still not convinced Orlando has the fortitude to let Howard walk for nothing at the end of the season, and the Lakers still have the most attractive trade pieces. At some point, GMs Mitch Kupchak and Otis Smith will come to a fair deal.

ESPN.com and the TrueHoop Network
Kevin Arnovitz and Andy Kamenetzky cover the NBA for ESPN.com and ESPN LA. Zach McCann writes for Page 2. Eddy Rivera and Darius Soriano contribute to the TrueHoop Network.

• Follow the NBA on ESPN on Twitter | On Facebook | On Google+