Our team of five hits the headlines to give their takes on some of the biggest news stories in the NBA today.
1. Fact or Fiction: The Lakers should sign Gilbert Arenas.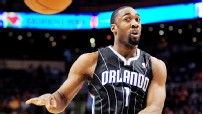 Danny Chau, Hardwood Paroxysm: Fiction. Every year in the last four years, Agent Zero has been reported to have looked "in shape" and "explosive." Like we haven't seen him crumble over the years. Like nostalgia counts for everything. Gilbert Arenas was an incredible player -- was -- but he won't take the Lakers to the heights they need to reach now.

Dan Feldman, Piston Powered: Fact -- but surprisingly, for his defense. The Lakers are, by far, worst in the league in forcing turnovers, and that partially explains their middling offense. Arenas' defense improved in Orlando, where his steal percentage (2.2) would have led this year's Lakers. With a strong fundamental defense behind him in L.A., Arenas could gamble for steals and create easy offense.

Zach Harper, Daily Dime Live: Fiction, right? I know Derek Fisher isn't exactly turning back the clocks, but there is no way the Lakers are desperate enough to grab Gilbert Arenas, right? Wouldn't the better play be to scour the D-League for someone who can actually contribute without risking the chemistry of the team? Wouldn't that be a better use of their time and energy?

John Krolik, Cavs: The Blog: Fiction. Derek Fisher is the captain, and Steve Blake is quietly having a strong season. The Lakers shouldn't risk messing that up for a player who is four exits past washed up.

Chris Palmer, ESPN The Magazine: Fact. It could be the shot in the arm that the Lakers need. The Fisher-Blake backcourt is simply not the answer. Arenas will want to make good with his last shot in this league, so there's a huge incentive for him to play well.
---
2. Should Knicks fans be concerned about Amare's and Melo's return?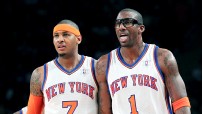 Danny Chau, Hardwood Paroxysm: Maybe, but hopefully no one is losing any sleep over it. Amare and Melo are both incredibly talented players. The Knicks have been playing miraculous basketball lately, but when they begin their descent from the heavens, they'll need Amare and Melo as landing cushions. The Knicks need rest and extra bodies. Can't hurt if the extra bodies are perennial All-Stars.

Dan Feldman, Piston Powered: Sure, but they have no choice. Melo and Amare might disrupt the Knicks' chemistry and make them worse, but without the two stars, New York doesn't have a shot to compete in the playoffs. I appreciate Jeremy Lin's story, but I haven't completely caught the Linsanity Lyndrome. He can't carry a team deep in the playoffs.

Zach Harper, Daily Dime Live: I don't think they should be concerned about their return. I just think they should be creative with how they're going to utilize these two. Amare should fit in pretty seamlessly, considering he's been a point guard away from being placed in positions to succeed on the court. Melo is trickier because he needs to fit the offense more than the offense needs to fit him.

John Krolik, Cavs: The Blog: No. There may be some chemistry risks in the short-term, but even if Lin keeps up this level of play, which would be a small miracle considering his insane midrange shooting numbers, the team isn't going far with Jeremy Lin, Tyson Chandler and The Pips.

Chris Palmer, ESPN The Magazine: Their concern should be if they don't return. Let's not forget that Carmelo is a top-10 player in this league. He still represents the Knicks' best shot at success. And Lin is just what Stoudemire needs -- a pick-and-roll point guard who's looking for his bigs.
---
3. Fact or Fiction: Bulls should be more cautious about Rose's health.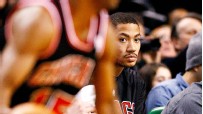 Danny Chau, Hardwood Paroxysm: Fiction. Obviously, the Bulls should be cautious with their star player, but the injuries Rose has dealt with this season haven't been too serious. Rose has gone through constant physical therapy and has been given time to rest. That's really all that can be done.

Dan Feldman, Piston Powered: Fiction. It appears they're already being pretty cautious, which is the smart move. Derrick Rose's main advantage over other elite point guards is his ability to play heavy minutes. An extra few minutes with Rose on the floor, rather than his backup, makes a big difference. The Bulls don't want him to lose that.

Zach Harper, Daily Dime Live: All of the fact. Coach Tom Thibodeau has done a phenomenal job in his short time running the Bulls' roster, but he plays his starters deep into blowouts when they should be resting on the bench. It's unwise to risk injuries to your starters during a meaningless moment, and in such instances, the coach should be trying to protect Rose in bubble wrap.

John Krolik, Cavs: The Blog: Fiction. I'm going to assume that the Bulls' training staff understands the risks of putting their franchise player on the court better than I do from my couch with my creative writing degree.

Chris Palmer, ESPN The Magazine: Fact. Can you ever really be too cautious about the health of your franchise player? The Bulls have been winning without him, but if he can't go in the playoffs, that's a wrap. I don't mind if Rose sits against the Nets and the Wizards of the world until he returns to where he needs to be.
---
4. Should J.R. Smith sign with the Knicks, Clippers or another team?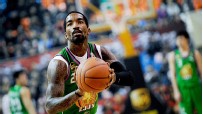 Danny Chau, Hardwood Paroxysm: J.R. Smith's joining the Knicks would easily make them one of my favorites, but I suppose Iman Shumpert and J.R. Smith on the same team would be a bit redundant. The Clippers could use another scoring option to make up for Chauncey Billups' absence. Also, I'm absolutely fascinated with my new fantasy of watching Smith run the pick-and-roll with Clippers bigs.

Dan Feldman, Piston Powered: Clippers. The Knicks need him more, but why sign with a mediocre team? The Clippers are the NBA's most exciting team, and they're capable of winning a title. Add his former Denver teammates, Kenyon Martin and Chauncey Billups, and Los Angeles appears to be an elite destination.

Zach Harper, Daily Dime Live: The Clippers. I know Smith and Melo have worked well together before, but the Clippers have a real chance of building something significant here. They need a 2-guard after Chauncey Billups' injury, and Smith could team up with Chris Paul again. Plus, it just adds to the lob possibilities.

John Krolik, Cavs: The Blog: I'll go with the Clippers. Yes, there are risks, but Billups is out and Smith can't be that much worse than Randy Foye. Plus, Smith is an underrated passer when he's in the mood to be one. The Knicks don't need another ball-stopper.

Chris Palmer, ESPN The Magazine: Clippers. He's the ultimate shoot-you-in-a-game or shoot-you-out player, but the Clips need more firepower in their backcourt with the loss of Billups, and they're too good for Smith to shoot them out of a game. With a point guard like Paul, Smith could really shine.
---
5. Fact or Fiction: Ben Wallace is a Hall of Famer.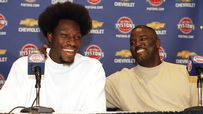 Danny Chau, Hardwood Paroxysm: Fact, though it's close. In Detroit's contending years, the team was built around Wallace, which seems ridiculous considering he's averaged fewer than 6 points per game in his career. He doesn't have the gaudy stats to back up his brilliance, but the influence he had on the league defensively will surely be remembered and celebrated.

Dan Feldman, Piston Powered: I've given up predicting what John Hollinger calls the "College Coaches Hall of Fame" will do. But should Wallace be? Absolutely. He's one of the greatest defenders of all time, and he was a good offensive player, too. (Offense is more than shooting.) Now that Dennis Rodman is in the Hall, Wallace might be the most underrated player ever.

Zach Harper, Daily Dime Live: Fiction. Ben Wallace had a good run for half a decade, but there should be stricter criteria to get into the Hall of Fame than just five good seasons. A couple of those DPOY awards were bogus. Some will compare him to Dennis Rodman, but I don't see how a few good seasons and distinctive hair is enough.

John Krolik, Cavs: The Blog: Yes. Best player on a championship team and best defender and rebounder of his era. That should be enough to get you to Springfield.

Chris Palmer, ESPN The Magazine: Fact. Defensive Player of the Year four times. End of story.

ESPN.com and the TrueHoop Network
Chris Palmer writes for ESPN The Magazine. Danny Chau, Zach Harper, John Krolik, Dan Feldman contribute to the TrueHoop Network.

• Follow the NBA on ESPN on Twitter | On Facebook | On Google+