With the second half of the season set to begin, our 5-on-5 crew looks ahead at five big storylines to watch:
1. LeBron or Durant: Who has the inside track on the MVP award?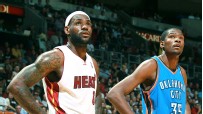 J.A. Adande, ESPN.com: LeBron. He's better than ever, including that astounding 55 percent shooting from the field. The MVP is a regular-season award, so his late-game shortcomings in the playoffs -- and even the All-Star Game -- shouldn't count against him here.
D.J. Foster, ClipperBlog: LeBron. He's better statistically. He's better defensively. The only thing Durant has on LeBron right now is that people like backpacks more than decisions. Will MVP voting devolve into a popularity contest? Maybe I'm being naive, but I'd like to think not. LeBron should definitely have the edge.
Beckley Mason, ESPN.com: LeBron James by a beard length. It's impossible to ignore the charm in Durant's game and personality, but James is simply playing better on both ends of the court. Also, the Thunder have won a bunch of close games, which usually suggests a future letdown. But if they can keep pace with Miami, Durant's weaker supporting cast may strengthen his MVP argument.
Rob Peterson, Hardwood Paroxysm: LeBron, but it's a slim lead for two reasons: One, LeBron has entered MJ territory where he's head-and-shoulders above everyone else and it's boring to give him MVP; and two, KD is the anti-LeBron. Durant announced his contract extension over Twitter, he stayed with the team that drafted him and he's never won an MVP. It should be LeBron, though. While Durant is having an MVP-level season, LeBron is having one of the best seasons in the history of the NBA.
Ethan Sherwood Strauss, HoopSpeak: Durant. MVP is about story just as much as it's about performance, and a new story is better than an old one retold. KD might win because he's new, but might deserve it on account of a new game. If you think he still depends on others for shots, take note: Only 45 percent of his buckets have been assisted this year. Last season, he was at 62 percent.
---
2. Clippers or Lakers: Who wins the Pacific Division?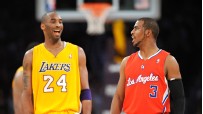 Adande: Clippers. They have the more difficult road itinerary left, but the Lakers face tougher opponents, including three games vs. the Spurs in the final seven. Plus, the Clippers have a better team.
Foster: I'll take the Clippers winning the Pacific Division by the narrowest of margins, but the Lakers as the team with the better playoff outlook. The Clippers' offense is spectacular and Chris Paul will win close games, but teams that rank 22nd in defensive efficiency historically don't make deep playoff runs.
Mason: Clippers. Paul and the Clips already own a three-game head start over the Lakers in the loss column and also boast a clearer sense of their team's identity. More troubling than the Lakers' 6-12 road record is that even with Gasol, Bryant and Bynum playing well, they have yet to sustain an offensive rhythm for more than a few quarters.
Peterson: Clippers. If the Lakers were still running the triangle, I'd pick the Lakers because of their depth and, ahem, experience. But the NBA belongs to point guards, and when it comes to comparing Derek Fisher, a fine player representative, versus Chris Paul, the finest player at his position, it's no contest. Paul will be the difference between the Clippers finishing first and the Lakers finishing second.
Sherwood Strauss: Clippers. When in doubt, choose the team that isn't dangling a star over the fishing pier. Also: World Peace, Derek Fisher, Troy Murphy and Steve Blake.
---
3. Sizzle or Fizzle: Does the Jeremy Lin story have legs?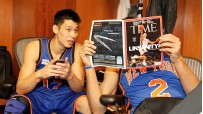 Adande: Sizzle. The question is does Jeremy Lin have legs himself after being thrust into a major role? Carmelo's return should help preserve Lin's fuel; Lin hasn't had a 20-shot or 40-minute game since Melo came back.
Foster: Sizzle. Lin isn't going back to crashing on couches anytime soon. The staple of every NBA offense is the pick-and-roll, and Lin has already proven to be dominant in that setting. The weaknesses of Lin's game, like his non-existent left hand, can be fixed. His strengths, like his vision and fearlessness, can't be taken away. He's the real deal.
Mason: Simmer. The frothing boil of Lin storylines will die down as the novelty wears off and the focus in New York shifts a bit onto Carmelo Anthony. But Lin isn't going anywhere -- he'll be starting in the playoffs -- and his brand will move merchandise around the world.
Peterson: Sizzle. If he played in Milwaukee or Indiana or Utah and tailed off as the season progressed, Lin's story could fade away. But he's in New York. He made the Knicks better. He's become a sensation. There's no going back now, especially not with a fan base as desperate for success as the Knicks. Pass or fail, he's the story.
Sherwood Strauss: Sizzle. The story has legs like a centipede. It's a story if he plays well, plays badly, if the team wins despite his bad play, or if the team loses despite his great play. In the Internet age, the novelty of anything ceases to wear off -- it just perpetuates layers of more novelty.
---
4. Staying or Going: Will Dwight Howard be traded by March 15?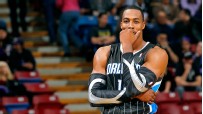 Adande: Staying. It's tough to accelerate from a mindset of wanting to keep Howard to trying to trade him in just two weeks (see Newton's law of inertia) so the Magic will ride out the season with him.
Foster: Going. Howard has muddled the perception of things by playing both good cop and bad cop with the media, but he'll be out of Orlando soon. If the Magic can get Howard out of the division and get a young star at his position, they almost have to do it.
Mason: Staying. There's a strong argument for the Magic getting as much as they can for Howard in a trade, but I've yet to see anyone explain why an 85-year-old owner would trade a franchise cornerstone capable of winning a championship right now.
Peterson: Going. He needs to go. The Magic aren't going to win a championship this season. Or the next. Instead of working piecemeal and picking up spare parts here and there, it's time to blow apart the roster and start over. Otis Smith should get as much as possible in a trade (draft picks!) before Dwight bolts this summer as a free agent.
Sherwood Strauss: Staying, which is a shame if that isn't what he wants -- and it seems like Howard does crave a scenery change. The new CBA bribes him to stay in this bad situation, surrounded by mediocre talent. The cash incentivizes a loyalty facade, which is a penny-wise, pound foolish direction for the league.
---
5. Title or Bust: Which will it be for the Miami Heat this season?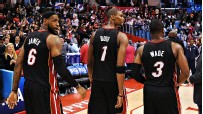 Adande: Title. Every so often the NBA champion becomes obvious early, and this is one of those seasons ... as long as they give the ball to Dwyane Wade in crunch time.
Foster: Title. What's Miami's biggest weakness? If you say it's LeBron in the fourth quarter, fair enough. But if Miami's biggest problem is that they have to rely on some guy named Dwyane Wade for crunch-time scoring, well, that's a pretty nice problem to have. Miami is the least flawed of the title contenders and should hoist the trophy this summer.
Mason: Title. The Miami Heat have the best player, roster and offense in the league, but to me their defense is the most entertaining thing going in the NBA. Each possession is like watching a pack of cheetahs hunt and take down some poor antelope.
Peterson: Title. I think last season, and how it ended, embarrassed them. It should have. I think they realize they have to work for a title and that it won't be handed to them. This year, when I watch the Heat, I see a ton of effort. Marry that determination with the talent they have and they'll be tough to beat.
Sherwood Strauss: Bust. I'll take the field over the legitimate favorite (Miami). What the field lacks in quality, it makes up for in chances.

ESPN.com and the TrueHoop Network
J.A. Adande writes for ESPN.com. D.J. Foster, Beckley Mason, Rob Peterson and Ethan Sherwood Strauss contribute to the TrueHoop Network.
• Follow the NBA on ESPN on Twitter | On Facebook | On Google+