The Mike D'Antoni era is over in New York. Was it the right move? Will the Knicks be better with more Melo? What's next for Linsanity? Our writers tackle big questions in the Big Apple.
1. Fact or Fiction: The Knicks were wise to want Mike D'Antoni out.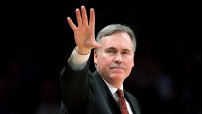 Henry Abbott, ESPN.com: Fiction. They get an A for decisiveness, but an F for inspirational leadership. Somewhere in Florida Pat Croce is ready to tell you stories about the great lengths he went to in order to keep Allen Iverson and Larry Brown on the same page long enough to make the Finals. That's not Jim Dolan's style.
Mike Kurylo, KnickerBlogger: Fiction. D'Antoni had his problems (most prominently late-game strategy), but the poor production from Carmelo Anthony and Amare Stoudemire was the true culprit. When a team is struggling, the first person to go is the coach, because you can't fire the players. This is a scapegoat firing.
Robert Silverman, KnickerBlogger: Fiction. I don't think anyone with a semi-functioning cerebral cortex is allowed to use "wise" and "the Knicks" in the same sentence. D'Antoni's a good coach given the proper players. The franchise never gave him the tools to succeed and created a situation where his failure was nigh inevitable. That's not wisdom, that's a self-fulfilling prophecy.
David Thorpe, ESPN.com: Fact. After seeing the Knicks in person on Sunday, it was clear that the team was not "feeling" him. Once a player checks out, it's hard to reel that player back in. When five-plus players check out, it's time for a change.
Brian Windhorst, ESPN.com: Fiction. I don't think anyone believed he'd be back next season, let's make that clear. But there was reason to want him to finish out this season and see if he could get the Knicks back on track. It is true the team has been struggling and there was friction. History shows us, though, that interim coaches are often viewed as substitute teachers by veterans and it is rare for a midseason change to result in long-term success. Especially in a season like this where playoff seeding might not mean as much as normal years.
---
2. Fact or Fiction: More Melo will be good for the Knicks' offense.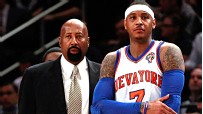 Abbott: Fiction. Better than half-Melo, half-D'Antoni maybe, but nowhere near as good as the D'Antoni/Lin pick-and-roll spacing and shooting show.
Kurylo: Fiction. Anthony's isolation style would have been great for those '90s Knicks. However, that style of play doesn't complement the rest of this team, especially Amare and Landry Fields. Besides, Carmelo has the highest usage rate on the Knicks (31.1 percent), how much "more" can he get?
Silverman: Fiction. You mean they'll improve by giving even more shots to a high-usage, volume shooter who can barely crack 40 percent from the field? Yes, by all means, let's burn the entire village to the ground to cater even further to Melo's every whim. That'll work like a charm. And if he doesn't deign to play defense? Tosh! Defense is for der kleine leute! Melo's a STAR!
Thorpe: Fiction. Amare is the key, because if they can get him going then Melo can use fewer possessions but be more productive.
Windhorst: Fiction. We have about a year of seeing Melo in a Knicks uniform. While he's had his moments, perhaps the most notable was in a playoff series where the Knicks got swept. His scoring generally has not led to the Knicks being consistent winners. This team has been at its best when the point guard has been able to create for his teammates. That's when the Knicks have won. Melo had his best season, as far as team success, when strong point guard Chauncey Billups arrived in Denver.
---
3. Fact or Fiction: Linsanity is history.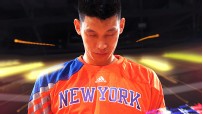 Abbott: Fact. What was once Linsane will now be merely Linteresting.
Kurylo: Fact. Linsanity as a craze is yesterday's news. He's turnover prone and, by taking away his right hand, teams are preventing him from making those huge outbursts. But Lin has shown he can be productive on the NBA level, and he'll keep his starting job for the Knicks over the likes of Baron Davis, Iman Shumpert, Mike Bibby and Toney Douglas.
Silverman: Fact. That's not to say that Jeremy Lin isn't a good, developing PG (who is for all intents and purposes a rookie) who can probably average 15 ppg, 8 apg and 45 percent from the field the rest of this season, though I fear what Woodson's iso-centric offense will do to his burgeoning game. But the giddy joie de vivre that permeated the entire franchise? That's been chucked deeper into the dustbin of history than the Ark of the Covenant was by Top Men ...Top Men.
Thorpe: Fact, because it is unlikely that the Knicks will ever trot out the kinds of lineups that were playing when Lin was doing his thing. He also still has holes in his game that defenses are locking in on more and more.
Windhorst: Fact. The reason it was referred to as a derivative of insanity is because it was an unexpected and unexplainable period. Lin is probably mostly out of the surprise business. He is no longer surprising opponents, the scouting has caught up with him. He is a player who needs the ball and he'll likely never put up the same numbers he did when so much of an offense is run through Melo. But it isn't just about Melo's return, there are so many other factors. Especially expectations.
---
4. Fact or Fiction: The Knicks will make some noise in the playoffs.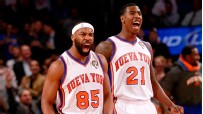 Abbott: Fiction. That's no particular knock on this talented team. It's just that the East is so top-heavy and the Knicks are on the bubble. That's a recipe to face the Bulls or Heat, which is doom.
Kurylo: Fiction. New York beat up on some bad teams during its last win streak, but recently lost against Eastern Conference playoff teams like the Sixers, Bulls, Celtics and Heat. For the Knicks to have a chance to win a series, they'll need to move up a few spots. With the season two-thirds done, that isn't very likely.
Silverman: Fact. Sources say that after the Knicks crash and burn in the last 24 games like the Hindenburg, every Knick not named Carmelo Anthony plans to travel from playoff game to playoff game, armed to the teeth with vuvuzelas. They're noisy!
Thorpe: Fiction. They may qualify because the East is weak, but Miami or Chicago will make quick work of them.
Windhorst: Fiction. They'd be facing a matchup with the Bulls or Heat if they're able to make it. Those teams are so good defensively that they'll just feast on the Knicks' shortcomings. New York has enough talent to create a scare or two but I just can't see it pulling that sort of upset.
---
5. Fact or Fiction: Phil Jackson will and should be the next N.Y. coach.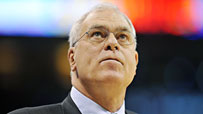 Abbott: Fiction. The lesson of that revolving door is that it doesn't matter who works in the organization. James Dolan does what he wants. So long as that's so, why not just let Herb Williams be coach for life?
Kurylo: Fiction. Since James Dolan took primary control of the Knicks, the head coaches to start the season were Jeff Van Gundy, Don Chaney, Lenny Wilkens, Larry Brown, Isiah Thomas and Mike D'Antoni. Considering how they ended their respective tenures in New York, I don't imagine Jackson would want to risk sullying his legacy.
Silverman: Fiction. You think Phil Jackson will knowingly step into a situation that's so dysfunctional it makes "The Jersey Shore" look like "The Cosby Show"? Ain't gonna happen. There's only one man on the planet capable of coaching this team. ME!
Thorpe: Fiction. I'd wait to see what Orlando does. If SVG is available, I'd back up the proverbial truck. And I'd see if he could recruit his brother to be his defensive coordinator. Coaching next to your brother is about the coolest thing two men can do and they would be terrific together. If not, I'd seriously consider Dave Joerger, the assistant in Memphis who had great success as a minor league coach before helping the Grizzlies have perhaps the best coaching staff in the game.
Windhorst: Fiction. I'm sure Jackson has considered it and I'm sure the Knicks will reach out to him. It is easy to say that Jackson "doesn't like rebuilding projects" and leave it at that. But the Knicks are hardly a rebuilding project. However, it is a big, tough job that will take lots of energy and doesn't have a huge margin of error. Why deal with that when your legacy is beyond secure? Of course the Knicks remain an attractive job, but looking at the list of coaches who have tried and failed since Jeff Van Gundy left, it is a wonder why an established coach would want to put his neck on the line with the current mismatched roster in place.

ESPN.com and the TrueHoop Network
Henry Abbott, David Thorpe and Brian Windhorst write for ESPN.com. Mike Kurylo and Robert Silverman contribute to the TrueHoop Network.
• Follow the NBA on ESPN on Twitter | On Facebook | On Google+