After a third loss in as many games, their ninth L in March alone, the Clippers are starting to feel the heat. Is a coaching change the answer to their problems? Our team debates:
1. Who or what is most to blame for the Clippers' skid?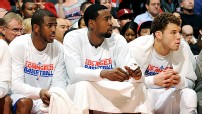 Kevin Arnovitz, ESPN.com: A lack of imagination, direction, leadership, defensive system and offensive system. There are no signs this team has matured since Christmas night.
Larry Coon, ESPN.com: Bad luck, a tough second-half schedule, Chauncey Billups' injury, a lack of consistent play from their bigs, coaching and coming back down to Earth following the CP3 honeymoon. I think it's a little bit of everything, but if I had to pick one factor I'd say it's Chauncey's injury. In addition to his play, he also provided experience, leadership and stability. Without those things, the team's other flaws became more apparent.
D.J. Foster, ClipperBlog: No one is innocent. You can point the finger at the coaching staff for the lack of progression, the overly simplistic schemes, or the failure to hold players accountable. You can blame the players for their apathetic views toward defense. Whatever it is, though, don't make excuses for this team. They should be better than this.
Arash Markazi, ESPN LA: The easy answer to the who is Vinny Del Negro, and the slightly more complicated answer to the what is the Clippers' offense, which has been nonexistent recently. The Clippers have now gone nine games without scoring 100 points and have hit the century mark only twice in the past 14 games. We already knew the Clippers were a bad defensive team, but now they're just as bad offensively.
Chris Palmer, ESPN The Magazine: Take your pick: a one-dimensional offense, a discombobulated defense or a coach in over his head. Their losing is a combination of all these things. If they have tuned out Vinny Del Negro, that means they aren't responding to the little coaching they're getting, and it shows. They simply do not look like a well-coached basketball team.
---
2. Should the Clippers fire Vinny Del Negro now?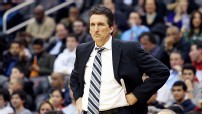 Arnovitz: Probably. For a team that's never had a chance to jell, it's a risk. But Del Negro won't be back next season anyway, so why prolong the inevitable?
Coon: Kevin Arnovitz made a very astute point: This is not what they hired Del Negro for. The expectations are different now that Paul is a Clipper. The Clippers' biggest concern should be that they have Paul signed for just one more season and can't afford to waste any time while the clock is ticking. They need to make a move now, both for "basketball reasons" and to prove to CP3 that they're committed to him and to winning.
Foster: Yes. Del Negro is a motivator ... who can no longer get his team to play hard for him. He's a player developer ... who can't get his young star to play a lick of defense. What's left? A whiteboard-deficient, awful game manager who is nothing more than a lame-duck coach at this point.
Markazi: I said no before the Clippers lost to the now 12-35 Hornets on Thursday and scored only 11 points in the fourth quarter. Now it has to be an emphatic yes. It's not that this one game changed my opinion of Del Negro. I still don't think a coaching change will alter the Clippers much with 19 games left in the season. It is clear, however, that the Clippers have stopped playing for Del Negro, and a change needs to be me made now to salvage what's left of this season.
Palmer: No. Let him ride it out and try to right the ship. His game plan isn't the most effective, but I'd be hard-pressed to believe he isn't giving it everything he's got. Firing VDN at this point could likely throw the Clips into a further tailspin.
---
3. Who should coach the Clippers in 2012-13?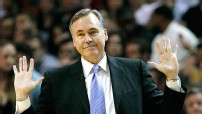 Arnovitz: Rick Adelman, but he has the unfortunate quality of being employed elsewhere. Mike D'Antoni, accompanied by a very serious defensive coordinator, would be intriguing. Kelvin Sampson would be another interesting choice.
Coon: My Twitter feedback on this topic was led by three names: Mike D'Antoni, Nate McMillan and Jerry Sloan. While the idea of Chris Paul running a D'Antoni offense is intriguing, I just don't think they're the right match for each other. I like the idea of Sloan better, but would he inherit a situation much different than the one he left in Utah? I think Nate McMillian is the best choice -- a player's coach, one likely to be very simpatico with Paul.
Foster: Pick a Van Gundy, any Van Gundy. The Clippers need a defensive-minded coach the players can trust. If Orlando is foolish enough to part ways with Stan Van Gundy, he'd be the top choice for his proven ability to maximize talent on both ends of the floor.
Markazi: In a dream world it would be Phil Jackson. In a delusional world it would be Larry Brown or Jerry Sloan. Since those candidates all seem unlikely at best, I'll go with Nate McMillan. He's a respected head coach with a defensive background and will likely be able to win over Chris Paul and Blake Griffin this summer as an assistant coach on Team USA.
Palmer: Let's say the Clippers are bounced in the first round (if they make the playoffs at all); that would mean VDN's days in L.A. are over. The first name I always throw out when there's a coaching vacancy is Jeff Van Gundy. I think he could thrive in any situation. If you're talking new blood, I'd say Brian Shaw could be a good fit. The key is that it's got to be someone who clicks with Paul. Nothing is more important.
---
4. Will the Clippers make the playoffs?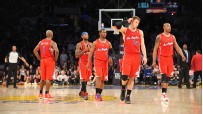 Arnovitz: Yes. For all the turmoil and teetering, they're still sitting in the sixth slot.
Coon: What an ironic question, given their lofty expectations at the start of the season! They're reeling right now, but I think they can right the ship in time to save the season -- especially with a coaching change. Perhaps only with a coaching change, as the team is showing signs of tuning Del Negro out.
Foster: Yes, but just barely. The Clippers should be able to sneak in on the backs of Chris Paul and Blake Griffin, but they'll be exposed as a gutless defensive team in short order once playoff time rolls around.
Markazi: Yes. I know only four games separate the fourth-place team and the 11th-place team in the West and the Clippers are currently just one game better than the ninth-place Utah Jazz, but I don't see the Clippers completely missing out on the playoffs. More than likely the Clippers will end up being a 6-, 7- or 8-seed and will be bounced in the first round.
Palmer: Tough to say. The difference between the sixth seed (their current spot) and ninth place is one game. Utah will knock someone out. If the Clippers don't make the playoffs, you're now talking about an all-time epic collapse considering they were tops in the Pacific in the beginning of February. Paul would very slowly start packing his bags.
---
5. Should the Clippers be concerned about losing Chris Paul?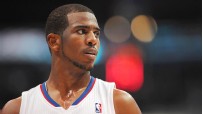 Arnovitz: Of course they should be concerned. The best remedy? Start winning basketball games.
Coon: He likes it here, he likes his teammates and he wants to win. If the Clippers convince him they're doing their part to field a winning team, he's likely to stay. The Clippers should be concerned with losing Paul, and that should be the motivation they need to act with the appropriate urgency.
Foster: Absolutely. Who gives you a better chance to win games: Blake Griffin or Dwight Howard? That's an easy one, and Paul will be aware of that come 2013, when both his and Howard's contracts expire. Call me crazy, but aren't there more alluring people to work for than Donald Sterling?
Markazi: Sure. If they miss the playoffs or get bounced in the first round, this season will be viewed as a complete failure to Paul. He could have done that had he stayed in New Orleans. He came to Los Angeles to be part of a winner. Now the Clippers will have only the 2012-13 season to prove they are a franchise worth sticking with long-term, or they'll show they're nothing more than the cursed team they've always been.
Palmer: Highly concerned. I'm not in Paul's head, but outside of having a young talented core, there isn't much that looks good for the Clippers. They're very much still pretenders right now and it's awfully hard to get a marquee first-teamer to commit to a pretender. And don't forget, Paul wanted to be a Laker. If the Clippers miss the playoffs and start off slow next season, they should just trade him because he's gonna walk.

ESPN.com and the TrueHoop Network
Kevin Arnovitz, Larry Coon and Chris Palmer cover the NBA for ESPN.com and ESPN The Magazine. Arash Markazi covers the Clippers for ESPN LA. D.J. Foster is part of the TrueHoop Network.
• Follow the NBA on ESPN on Twitter | On Facebook | On Google+