The final stretch of the regular season is under way. Which of these four teams is in trouble before the postseason begins? Check out our takes before Friday night's ESPN doubleheader featuring the Mavericks and Magic (8 p.m. ET), and the Trail Blazers and Clippers (10:30 p.m. ET).
1. Fact or Fiction: The Mavs will finish with a top-four seed in the West.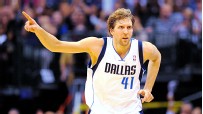 Henry Abbott, ESPN.com: Fiction. To do that, they'd have to finish ahead of two of these teams: the Lakers, Clippers or Grizzlies. Not impossible, but not likely, and trickier still when you look at schedule toughness.
Kevin Arnovitz, ESPN.com: Fiction, but I don't think it matters to Dallas all that much. If the Mavericks are going to make a serious run this spring, winning a first-round game in Memphis or at Staples Center over the Clippers shouldn't be an insurmountable hurdle.
Myles Brown, A Wolf Among Wolves: Fact. With much of the league's strongest schedule behind them, Dallas is only 2½ games behind the third-place Lakers. Two of the Mavericks' next five games are against the fifth-place Grizzlies, sandwiching a matchup with the fourth-place Clippers. Dallas hasn't done much to earn our trust this season, but we don't have to count on them to succeed. Just wait for someone else to fail.
Zach Harper, Daily Dime Live: Fact. Lamar Odom seems to be playing better, Dirk is still himself and the rest of the team appears to be getting relatively healthy in time for the stretch run. Dallas also has quite a few games against "tanking" franchises the rest of the way. I'd imagine they can slip past the Clippers if they can take advantage of their two games against Memphis.
Beckley Mason, ESPN.com: Fiction. I don't expect Dallas to find its rhythm in time to make a push past Memphis, which I think is starting to put it together with Zach Randolph back in the fold. But more than anything, I worry about the Mavericks' brutal schedule down the stretch: only four games against teams that won't make the playoffs. Their two tilts with Memphis will be vital if they want to secure home-court advantage in the first round.
---
2. Fact or Fiction: The Knicks loss showed Orlando can't contend.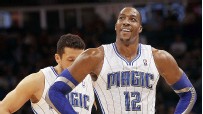 Abbott: Fiction. I mean, Orlando will not win a title this year, period, because there are so many better teams. But one game is just one game.
Arnovitz: Fiction. Orlando isn't a contender this season, but not because of an anemic loss in late March at Madison Square Garden. When the Magic made their run in 2009, they were at or near the top of the NBA in defense, shooting and getting to the line. That's not the case anymore, and the issues run deeper than a single loss.
Brown: Fiction. The Knicks loss was just the whip cream on this schadenfreude-flavored sundae. Didn't the 86-57 loss to Boston back in January already prove the Magic aren't contenders? Or the 85-59 loss to Chicago just two weeks ago?
Harper: Fiction. I think the makeup of the team and the season-long play of everyone not named Dwight Howard and Ryan Anderson showed that Orlando can't contend for a title. This team turns the ball over like it's in a rookie-sophomore game. If they were contenders before, we're all contenders for the NBA title. Well … not you, Charlotte.
Mason: Fiction. We didn't need to see the Magic dirtied in the Garden to know they won't contend; a simple look at the roster would suffice. Jameer Nelson, Hedo Turkoglu and Jason Richardson all play about 30 minutes a night, and all three have below-average PERs. They can put it together for 48 minutes, but not consistently enough to win four games against an elite team.
---
3. Fact or Fiction: The Clippers are back on track.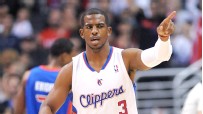 Abbott: Fiction. They're back to being an interesting, pretty good team with potential to make noise. But they're still nowhere near their potential.
Arnovitz: Fact. The storm cloud has passed for the time being. The Clippers are no longer losing games at home against inferior opponents and the defense definitely has more bite, but we'll have a better idea next week when they travel to Dallas, then host the Lakers.
Brown: Fiction. The Clippers are beating teams they should. Convincingly, yet still unsurprisingly. The Clippers are still a 2-guard short of contention and more importantly, the Clippers are still coached by Vinny Del Negro. With games against the Mavs, Lakers, Thunder, Grizzlies and Wolves still to come this month, it'd be wise to wait and see if this train stays on the rails much longer.
Harper: Fact. They're definitely back on track to still not being a contender. The Clippers don't have good wing scorers and their team defense is like cutting through butter with a soldering iron. I really want to believe Chris Paul is enough to take this team into contention, but they can't seem to stop anybody unless Reggie Evans and Kenyon Martin are playing together. That's not a recipe for rings.
Mason: Fiction. The cure for what ails the Clippers won't come overnight, or by the end of this season. The Clippers have a relatively gentle schedule down the stretch and could sneak into the fourth seed in the West, but I think it's too late to dramatically improve their team defense. Finals expectations have been tempered, but getting out of the first round is still far from guaranteed.
---
4. Fact or Fiction: Portland was right to take a step back at the deadline.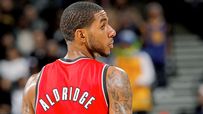 Abbott: Fact, if you can embrace uncertainty. Moving forward, the franchise is LaMarcus Aldridge, Nicolas Batum, Wesley Matthews, Elliot Williams, two lottery picks and double-digit cap space. To be determined: everything else, including players, owner, coach and general manager.
Arnovitz: Fact. Since there's little incentive for a noncontender to play competitive basketball for their fans, why not clear the roster of assets, trade away fan favorites, fire coaches and generally dumb down your product so that you can position yourself better for the draft lottery? Under the current system, they're geniuses.
Brown: Fact. As is often said, you either want to be really good or really bad in this league; hovering around that eighth seed was the dreaded middle ground. Clear some cap space, regroup and start anew.
Harper: Fact. They managed to keep Aldridge and Batum while acquiring two potential lottery picks (New Jersey's and their own) in a supposedly loaded draft. If they draft well and use their cap space for a good free agent, they'll be far ahead of where we thought they were three months ago. While people seem to hate tanking right now, it's a brilliant strategy for hitting the reset button. Just look at what Utah did.
Mason: Fact. The Trail Blazers didn't make any moves that will take years to recover from. They retained their favorite young players -- LaMarcus Aldridge, Nic Batum and Wes Matthews -- while clearing space to bring in free agents that better fit their team and securing better draft picks. They'll be right back in the thick of the playoff hunt next year.
---
5. Which of these four teams will go furthest in the postseason?

Abbott: The Magic, but only because the others are likely to have very tough first-round opponents.
Arnovitz: The Mavericks. Once the final standings are broken down into brackets, the oldsters usually have a leg up in seven-game series. Ask yourself this: Which team would you least like to see on the other bench this time next month?

Brown: The Blazers aren't even going to make the playoffs. The Clippers are currently first-round bait. Orlando isn't likely to last past the second round. Then again, neither are any of the other candidates. Given the unclear seeding out West, the safest bet is Orlando.
Harper: Has to be the Mavericks. Not just because they won the title last year, but because they have the best team and system of everybody discussed here. They can defend with a bunch of old, slow guys. They can move the ball and bury you from the outside. And they have this guy named Dirk Nowitzki, who has made a decent name for himself in big games.

Mason: Dallas Mavericks. The Mavs and Magic will both win a playoff series, and Dallas will win more games in their second-round loss than will Orlando.

ESPN.com and the TrueHoop Network
Henry Abbott, Kevin Arnovitz and Beckley Mason cover the NBA for ESPN.com's TrueHoop blog. Zach Harper is the host of Daily Dime Live. Myles Brown writes for the TrueHoop Network.
• Follow the NBA on ESPN on Twitter | On Facebook | On Google+