College hoops season ended with top draft prospects on display in the NCAA title game. What to make of Anthony Davis, Michael Kidd-Gilchrist, Thomas Robinson and other future pros? We turn to our panel of experts.
1. Who would you rather have: '09 Blake Griffin or '12 Anthony Davis?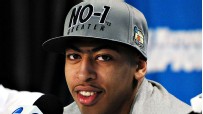 Danny Chau, Hardwood Paroxysm: Anthony Davis. He doesn't have the offensive polish that Blake Griffin had then, but the mishmash of skills from his guard-to-center transition should serve him well in the future. But on the other end, Davis is light-years ahead of Griffin (today) in defensive fundamentals, intensity and technique. Already. Davis is a year younger than Griffin when he declared. That's frightening.
Brett Koremenos, NBA Playbook: Anthony Davis. Griffin's entertainment value largely hides the fact he is a one-dimensional player. Davis, meanwhile, has the ability to be devastating defensively and, at the very least, a solid jump-shooter on offense. Even if the current version of Griffin was allowed back into this upcoming draft, I'd still pick Davis. His ceiling could be one of the top 20 or so players of all time.
John Krolik, Cavs: The Blog: I think Davis is the best pure prospect we've seen since LeBron James, with the possible exception of Greg Oden if he had been healthy his freshman year. With Griffin, there were questions about his size and length, especially considering his lack of a perimeter game, and his ability to be a game-changer on both ends of the floor. But Davis should be a hyper-efficient offensive center from Day 1 and could become one of the five best defensive players in the NBA sooner rather than later.
Ethan Sherwood Strauss, HoopSpeak: Anthony Davis. For all his great qualities, Griffin is a balky shooter and an extremely undersized defender. My ideal frontcourt players can defend and hit a standard pick-and-pop jumper. Davis can certainly do the former, and he's demonstrated the potential to do the latter. And if AD does the latter, his ceiling is higher than a ladder can reach.
David Thorpe, Scouts Inc.: '09 Griffin is the better player overall, but I'd rather have Davis going forward. His value on defense trumps Blake's power and skill on offense. I also score Davis higher on attitude.
---
2. Who's the second-best NBA prospect in the college game?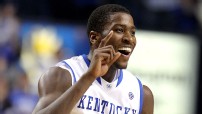 Chau: Michael Kidd-Gilchrist. Never mind his strength, athleticism and incredibly versatile skill set; his energy alone is franchise-changing. His two biggest weaknesses -- consistent shooting and a stronger handle -- can be improved. But there isn't a player in the nation (other than Anthony Davis) who can lead by example through defense, work ethic and desire as well as Kidd-Gilchrist can.
Koremenos: Thomas Robinson. Kansas bigs are just so well-coached and solid, and Robinson is no exception. He can score inside and out, has a great motor and, by all accounts, is a great kid despite facing a ton of personal tragedy in his young life. A David West-like career seems like a great possibility for him.
Krolik: I like Thomas Robinson. He managed to score a lot and efficiently for Kansas, and his rebound/block/steal totals suggest a good motor. Plus there's the 7-foot-1 wingspan. Yep, I just mentioned length and motor. It must be draft season.
Strauss: It's Michael Kidd-Gilchrist, though I'm a bit worried by his underwhelming statistics. Like the Memphis version of Derrick Rose, MKG is a one-and-done terror of an athlete who happens to fling a jumper shakier than a paint mixer in an earthquake. You have to draft him at No. 2 and just hope he becomes the D-Rose of off-guards.
Thorpe: It's becoming a less-than-stellar class, that much is certain. But I am very taken with Thomas Robinson. He displays incredible quickness for a man his size, an extremely valuable tool in the hands of a good defensive coaching mind. And Jared Sullinger, if he follows the Kevin Love conditioning program, will be an All-Star. But that's a big if.
---
3. Better NBA career: Marquis Teague or his brother Jeff?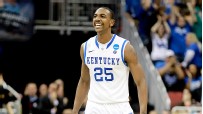 Chau: Marquis. Aside from Jeff's enormous wingspan, there isn't much else he has over his younger brother, especially when comparing the two at 19. Marquis shares similar flaws on offense (mechanical issues on his jumper and an overall recklessness with the ball), but has shown the ability to be a better defender and more naturalized distributor.
Koremenos: Jeff. I have watched two or three games with Marquis and sometimes wonder whether he will even stick in the league. Jeff, on the other hand, has carved out a solid role for Atlanta and looks like he'll hang around the league for quite some time. Not sure that same fate awaits his younger bro.
Krolik: Um, pass? Jeff Teague isn't lighting the world on fire in the NBA, but his brother's 41.2/31.2/71.6 shooting percentages, as well as the 4.8/2.8 assist-to-turnover ratio, are major red flags. I tend to be a "performance scouting" guy when it comes to guards -- it's very rare that you see a guard learn to take better shots and make better decisions passing the basketball once they start playing against NBA competition.
Strauss: Jeff Hawks-worthy. Credit to Marquis for using the tourney to salvage his draft stock, but the other games matter. MT is fast, but his decision-making can't catch up to his incredible pace.
Thorpe: Equal in talent, depends on who they get as coaches for most of their careers. It's a coin flip.
---
4. Which North Carolina prospect will be the best NBA player?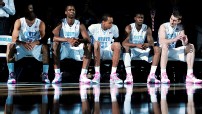 Chau: My heart says Kendall Marshall, but it'll probably be Harrison Barnes. His stinker of an NCAA tournament exacerbated our fears for his future, but he's still a graceful athlete with excellent scoring instincts. Barnes might not be who we thought he was, but there's a dearth of quality wings in the NBA. He can fill that void for a team.
Koremenos: Kendall Marshall. His game probably has the least style of any of the UNC players coming out, but I wouldn't be shocked if Marshall ended up having a 15-year career. It's incredibly difficult to teach his ability to read the game and deliver passes with impeccable timing and pace. If he improves the consistency of his jump shot, he could very well make himself a longtime NBA starter.
Krolik: I'm still a believer in Harrison Barnes. He won't be a true No. 1 option or a great playmaker in the NBA, but he knows how to put the ball in the basket and could be a very solid third option for a team with a good point guard. Luol Deng comparisons might seem like faint praise for the former No. 1 recruit, but Deng is a really good basketball player, and I think Barnes has a decent chance at a Deng-like career.
Strauss: Had Brandan Wright and Ed Davis worked out better, we might bestow more hype on John Henson. But at only 50 percent shooting, he worries me. Actually, their whole draft class worries me, and I'd bet against any of these guys making an All-Star Game. I'll hold my nose and take Kendall Marshall here.
Thorpe: I sound like a broken record, but John Henson can be a game-changer on defense. He needs to play for the right coach and system, but if he does we'll be seeing him make big plays in the postseason for years. And he'll be a better scorer in the pros as well, thanks to a far more open lane.
---
5. After Anthony Davis, who's the best center in the draft?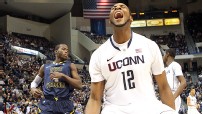 Chau: Andre Drummond? His physique and potential scream NBA star, but his underwhelming freshman campaign and seriously underdeveloped offensive game make a solid counterargument. Still, his length, sturdiness and explosiveness are ambrosia for teams and scouts alike. He'll need to land in the right system, but his immense NBA potential is enough to put him over the Zeller brothers.
Koremenos: Tyler Zeller. I have trouble buying into Andre Drummond's potential and believe that Zeller's fantastic offensive rebound rate and overall skill set will allow him to be a slightly bigger version of another UNC product, Tyler Hansbrough. Even if his younger brother declared, I'd worry about Cody landing in a spot that's a bad fit, potentially derailing his career. With Tyler, there's not the same upside, but there are indicators of solid production at the next level.
Krolik: I'm torn between Cody Zeller, who plays smart, aggressive basketball on offense but has a T-Rex 6-8 wingspan, and Andre Drummond, who's been an impact defender in college but hasn't been nearly as productive offensively as Zeller has. Since I'm a defense-first guy, I'm going to go with Drummond, but I'm not thrilled about it.
Strauss: It's Andre Drummond, and whichever GM selects him will probably look as forlorn on draft night as Rashard Lewis did in the '98 green room. Drummond has all of the tools and has demonstrated little command of those gifts. You can't teach sizeleticism (Sizeleticism: From the draft Latin for "freakish.")
Thorpe: Robinson can play some center. Andre Drummond has the most upside, but he has big bust potential, too. Cody Zeller, if he is indeed in the draft, probably has the most upside with the smallest downside.

ESPN.com and the TrueHoop Network
David Thorpe is an NBA analyst for Scouts Inc. Danny Chau, Brett Koremenos, John Krolik and Ethan Sherwood Strauss contribute to the TrueHoop Network.
• Follow the NBA on ESPN on Twitter | On Facebook | On Google+