The Magic's kingdom is crumbling. In the latest drama out of Orlando, coach Stan Van Gundy said Dwight Howard wants him fired. So, now what? Who should management choose? How long can Superman and SVG coexist? We turn to our experts for answers.
1. Who should Orlando try to keep: D12, SVG, or both?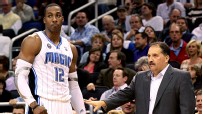 J.A. Adande, ESPN.com: Dwight Howard. There are plenty of guys who can coach in the NBA. It's a lot harder to find someone who can get a 40-point, 20-rebound game.
Israel Gutierrez, ESPN.com: Both. Howard is obviously an elite player despite how poorly he's handled the business side of the game over the past year. And good luck to the Magic if they think they'll find a better coach than SVG. Awkward relationships have worked before in the NBA, and if the Magic improve the talent around D12, this could still work.
Marc Stein, ESPN.com: The Magic can no longer keep Stan. It's not just an untenable coach/star relationship anymore. It's an untenable coach/management relationship, too. The Magic better hope Dwight decides that staying in Orlando for the long term is his only PR salvation out of this mess, or else they'll end up losing both. But it's Dwight Or Bust now.
David Thorpe, ESPN.com: Both, if possible. If it's one or the other, it's SVG over Dwight because he (A) can be trusted to commit to both short-term and long-term success in Orlando and (B) can be trusted to coach this team to terrific success with even just above-average talent.
Michael Wallace, ESPN.com: Obviously, Howard. You don't sacrifice a once-in-a-generation-type player for a dime-a-dozen NBA coach. No disrespect to Van Gundy; he's a bit better than that. But still, the truth is Orlando could very well end up without both.
---
2. Can Dwight and Stan coexist until the end of the season?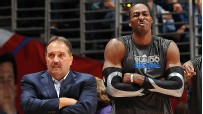 Adande: Yes. It's not as if their relationship has changed; our knowledge of the dynamics has changed. They've coexisted this long, they can put up with each other for another few weeks.
Gutierrez: SVG knows how to coach basketball, and he'll do it regardless of how uneasy the relationship is with Howard. So the question of them coexisting is essentially on Howard's shoulders. If he plays hard, you won't even notice there's a problem at all between them.
Stein: Cue my best Jim Mora indignation voice: "End of the season?" Count me among those who don't think they can make it through Thursday night. Make Patrick Ewing interim coach immediately, and let's see what he has. It's over.
Thorpe: They have been coexisting for a long time already. It's an incredibly awkward situation that has gone mostly unnoticed, thanks to the coach's talent at wringing wins from a dispirited and disappointed group. Stan knows that Dwight's ship has sailed, mentally more than physically perhaps, but he still has this team playing well often.
Wallace: Yes. Van Gundy's comments Thursday only brought to the forefront some trust issues and discord that had permeated this franchise on some levels for at least the past year. They've coexisted that long, so what's another month or two?
---
3. Is it OK for a player to ask a team to fire a coach?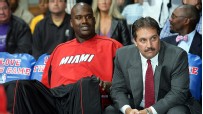 Adande: Yes. Magic Johnson did it with Paul Westhead; Shaquille O'Neal did it with Van Gundy and Kurt Rambis. The key is having a better choice in mind. In Shaq's case, he upgraded to Pat Riley and Phil Jackson and the teams prospered. Who would Dwight's choice be?
Gutierrez: There are situations in which it's a fair request, but this isn't one of them. Van Gundy isn't underperforming as a coach. In fact, he has helped this team overachieve some this season. If Howard thinks getting along with a coach will make the Magic a better team, he's in for quite a shocker.
Stein: In our idyllic vision of what we think pro sports should be, we'd all love to believe this would never, ever happen. But let's be real: It's a move about as common in the NBA as a pick-and-roll play. If a star is going to make that request, though, that star better be Magic Johnson-esque. Capable, in other words, of delivering rings and charming away the "coach killer" stain. So good that the label of undisputed champion overrides all other labels. Or else they won't be too happy with the resulting legacy.
Thorpe: Absolutely, in theory. In practice, not in this case. The theory is that a totally committed, mature and fantastic player is playing for a team with a brilliant GM but a coach who has failed to get his team anywhere close to its potential. So, then, it's obvious that the coach needs to be removed. The Magic situation fails all three of those mandates.
Wallace: It's OK for a coach to approach a GM about trading a player, right? Even a marquee one. So really what's the difference? Don't fool yourself into thinking this doesn't happen occasionally. Legends Pat Riley and Phil Jackson had doors open, thanks in part to discord between a star player and an outgoing coach.
---
4. Stan Van Gundy ...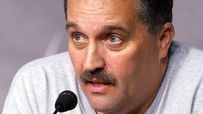 Adande: ... leaves with his credibility intact but his job options diminished. He comes off as the most honest person in the entire organization. However, now that he's had two superstar centers sour on him, how can a team with championship-caliber talent afford to take a chance on him?
Gutierrez: ... wouldn't mind one bit if he gets fired. Van Gundy's peers around the league know he's an excellent coach, and if he wanted to could have his choice of any vacant jobs in the coming offseason. But it's more likely Van Gundy would collect his money and enjoy a life away from the spotlight for a good while.
Stein: ... is surely going to get another good job after he leaves the Magic, because he's a top-notch coach. But I also suspect he's hurt his reputation/marketability with some teams as well. Owners and GMs who consider hiring him in the future will undoubtedly be asking themselves: "Can we really trust this guy to actually keep in-house business in house?" It's one thing for Phil Jackson to be a loose cannon with 11 rings. Van Gundy hasn't won one yet.
Thorpe: ... has impressed the hell out of me in his effort to be the coach he knows he should be while honoring Dwight's (and others'?) request to alter his style some. Lesser coaches would have refused and been wrong to do so. Listening to your players is a key part of the profession, and Van Gundy has honored that aspect of his job with dignity.
Wallace: ... should be applauded for his brutal honesty and candor in recent weeks. Sometimes he goes a bit too far and is borderline unprofessional and inappropriate. But there's never any doubting where he stands -- even if it's soon a short stint in the unemployment line.
---
5. Dwight Howard ...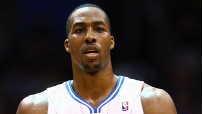 Adande: ... is turning into a toxin. He has undercut his coach and is still handcuffing the organization because he won't make a long-term commitment. How can he be the face of the franchise when that face is seen as indecisive and duplicitous? Van Gundy signed his exit papers with his honesty at Thursday's shootaround, but Howard damaged his brand by trying to deny what Van Gundy had just confirmed.
Gutierrez: ... needs to get his priorities in order. Of all the issues Howard has, SVG should be far down his list. His general manager, Otis Smith, is a bigger problem. His free throw shooting and overall offensive game still need work. And it wouldn't hurt if he played with more of a competitive edge. Pulling a power move like this is nonsense.
Stein: ... has proven that just when you think you've seen it all in this league, some superstar takes us to a whole new soap-opera stratosphere. LeBron and The Decision. Then Carmelo Anthony's Melodrama. Then Chris Paul getting traded to both L.A teams. And now Dwight Howard and The Indecision ... also known as The Dwightmare. There's a reason I've been telling friends for 20 years that this the best beat in North American sports writing.
Thorpe: ... is really just like so many young stars in all careers -- Bill Gates, Mark Zuckerberg, Steve Jobs, LeBron James and Kobe Bryant. Young men with enormous talent and a promising future, forced to grow up faster than they are prepared to do. Mistakes in judgment are made, and sometimes emotions ugly things up for a while. But I am sure that over time things will get better for him as he matures.
Wallace: ... simply can't be trusted professionally. He's been too flaky throughout this ordeal and hasn't hesitated to roll his ex-CEO, GM and coach under the proverbial bus. But he's a franchise player flexing his power and influence.

ESPN.com and the TrueHoop Network
J.A. Adande, Israel Gutierrez, Marc Stein, David Thorpe and Michael Wallace cover the NBA for ESPN.com.
• Follow the NBA on ESPN on Twitter | On Facebook | On Google+