The Bulls and Heat have been the top two teams in the Eastern Conference during the regular season. Which squad will have a better playoff run?
Our 5-on-5 crew weighs in.
1. Will the Bulls or Heat go further in this year's playoffs?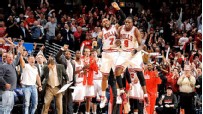 Henry Abbott, TrueHoop: Bulls. Brainwashed by star power, I want to say the Heat. Brainwashed by how damn hard I have seen the Bulls play, though -- they have been playing playoff ball for months, which explains their record despite all the injuries -- I'll say Chicago.
Tom Haberstroh, ESPN.com:
Heat. Can't move past the fact that Derrick Rose hasn't been able to stay on the floor since early January. Rose's greatest weapon is his jetpack of explosiveness. Without that, the Bulls don't stand much of a chance to go far. As the rotation shrinks, so does the margin for error on Rose's health.
Brett Koremenos, Hoopspeak:
Bulls. The Bulls have some issues with health right now, but assuming they hang on to the top seed in the East, they should go further. It's really, really tough to pick against the best player on the planet, but the Heat's inconsistencies, possible lack of home-court advantage in the conference finals and likely first-round matchup with the Knicks provide a much tougher challenge than Chicago's probable path.
Matt McHale, By The Horns:
With Rose's health status still up in the air -- I honestly can't remember the last time Rose played as many as two games in a row -- I have to go with the Heat.
Michael Wallace, ESPN.com: Heat. Despite a couple of obvious flaws, there are three reasons I can't see anyone in the East beating the Heat four times in seven games over two weeks: LeBron James, Dwyane Wade and Chris Bosh. Are the Bulls a better team than they were last season? Perhaps. But considering the injury and rhythm concerns with Rose and Rip Hamilton throughout the season, I'm still not convinced they've shown enough of a knockout punch to deck the Heat with a trip to the Finals at stake.
---
2. Why would the Bulls be better prepared for the Heat this year?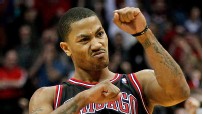 Abbott: A year ago, Rose and Luol Deng were among the league leaders in minutes played. For whatever reason, teams with stars like that haven't won a title in almost a decade. Thanks largely to some injuries (weird phrase!), that's simply not true this time around. Also, Tom Thibodeau's effective defensive system was new to the Bulls last season.
Haberstroh: I'm not sure they are. Rose's health is an Omer Asik-sized question mark and their lack of a dependable No. 2 scorer becomes even more glaring. The Bulls could potentially be looking at Kyle Korver and C.J. Watson as go-to scorers in the playoffs. That's not a step forward from last season.
Koremenos: Aside from the fact that Hamilton was brought in to replace the much-maligned Keith Bogans, Watson, Korver, Taj Gibson and Carlos Boozer have all improved from last season. Combine that with their superb second-year coach having a full playoff run under his belt and there's been enough internal improvement to expect a different result should the two teams meet again.
McHale:
The injuries to Rose -- and, to a lesser extent, Deng and Hamilton -- have forced other guys to step up their games on a nightly basis. This team is battle-tested and every player is ready, willing and able to make significant contributions on any given night.
Wallace: In theory, you'd think the Bulls have spent enough time playing -- and winning -- without Rose that the team's overall confidence and chemistry can only make them better prepared this time around. Defensively, Chicago hasn't missed a beat, and its depth can be overwhelming on any given night. The Bulls have done everything in their power to put themselves in position to match up better with the Heat. Regardless of the seedings, the Bulls know the road to the Finals runs through Miami.
---
3. Why would the Heat be better prepared for the Bulls this year?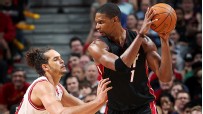 Abbott: I doubt they will be. For all the talk of the Heat's playoff failings last year, they were borderline legendary in the Eastern Conference finals, losing the first game and then rattling off four straight, including an amazing come-from-behind scramble in the clincher. The same lady luck who frowned on the Heat in the Finals was walking hand-in-hand with them against the Bulls.
Haberstroh: As bad as they've looked this season, Mike Miller and Udonis Haslem aren't complete zombies like they were in the Eastern Conference finals last season. Remember, Haslem and Miller both played through injuries and returned to give big minutes against the Bulls. I mean, their body parts were welded together with Scotch tape back in June. Anything above that is progress.
Koremenos: One word: LeBron. After a down year and forgettable Finals, LeBron has rebounded to post MVP-worthy numbers. At his current level of play, he can single-handedly win a playoff series, and that's not even factoring in Mario Chalmers' improvement from last season or Mike Miller's (slightly) improved health.
McHale: Health. Miami's Big Three are all reasonably healthy and playing at or near the top of their respective games.
Wallace: Last season, the Heat weren't healthy, lacked significant depth and overcame a subpar series from Wade to dismiss the Bulls in five games. That included two victories in Chicago, which had home-court advantage. Miami will be challenged more this time, but the addition of Shane Battier could be huge against the Bulls. Miller and Udonis Haslem are healthy. And the Bulls still must show they can counter James, Bosh and Wade with a legit answer when Rose is bottled up.
---
4. What's the X factor for the Heat heading into the postseason?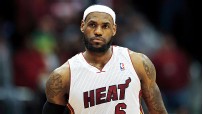 Abbott: In no way do I believe this team or James has a crunch-time problem -- they perform just fine. But if the Heat believe the mean-spirited hype ... that could be a problem.
Haberstroh: I'm going with a XX factor, giving it a tie between Bosh's play and the floor-spacers. The Heat might as well put a finger on the Big Three detonator button if Bosh plans to loaf under the rim. And if Battier, Miller and Chalmers shoot 33 percent from downtown, as they have since the All-Star break, the Heat's chances are no less toasted than the buns on a Cuban sandwich.
Koremenos: The Wade-James dynamic. LeBron's Finals meltdown last year could be partially attributed to an uneasy on-court relationship between the two, and this season he has been markedly better with Wade off the court. It will not only be interesting to see how Erik Spoelstra organizes his rotations, but how the two function should they suffer a few poor crunch-time performances.
McHale: That Eddy Curry may want to show up his old team? Kidding. Like last season, it may well end up being LeBron's defense on Rose in critical situations.
Wallace: Chris Bosh. It's that simple for Miami. When Bosh is playing like an All-Star on both ends of the court, the Heat are pretty tough to beat. And when Bosh takes his game up another notch from there and performs like a top-10 talent, it's essentially impossible to beat Miami. I've said it before: LeBron and Wade can cover for one another and pick up the slack when one of them is having a bad game. But the Heat have no answers when Bosh is having one of those pedestrian nights.
---
5. What's the X factor for the Bulls heading into the postseason?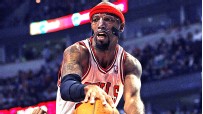 Abbott: Rose's health. As someone who loves seeing Rose at his best, I would love to learn that some of these injuries have been trumped up to buy him rest. It would be a shame if he's really entering this part of the season too banged up to play.
Haberstroh:
Fred Tedeschi. For those who don't know, that's the name of the Bulls' head athletic trainer. Everything rests on the health of the Bulls' core. Until that's cleared up, Chicago can't be considered a legitimate contender. No pressure or anything, Fred.
Koremenos:
Health. Deng is nursing a rib injury. Rose has been in and out of the lineup all season and Boozer and Joakim Noah aren't exactly known for being ironmen. The Bulls have great depth, but they need to be at full strength to have a realistic shot of beating the Heat in a seven-game series.
McHale: Quality big men. The combination of Noah, Gibson, Omer Asik and, yes, even Boozer should be able to outplay Miami's center/power forward combo platter.
Wallace: Luol Deng. Can he be the Scottie Pippen to Rose's Michael Jordan act? Of course, this is assuming Rose can revive his game after missing a chunk of the season with nagging injuries. The Bulls and Heat have at least one thing in common: They both can get to the conference finals on talent alone, meaning their "B" game is good enough to win two playoff series. The Bulls can count on their bench, and you assume Rose will regain his form. But who can they trust beyond that to consistently step up in the clutch? It has to be Deng.

ESPN.com and the TrueHoop Network
Henry Abbott, Tom Haberstroh and Michael Wallace cover the NBA for ESPN.com. Matt McHale and Brett Koremenos cover the NBA for the TrueHoop Network.
• Follow the NBA on ESPN on Twitter | On Facebook | On Google+