Who's made the best and worst moves of the summer thus far? Where do we go from here? Our panel breaks things down just four days into an active NBA offseason.
1. What's the best offseason move thus far?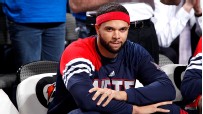 J.A. Adande, ESPN.com: Easy: Nets re-sign Deron Williams. It solidified their franchise and justified their bold move to acquire him last year. That's a lot of "-ied." We once thought there would be a three-star free-agent class of 2012 featuring Williams, Dwight Howard and Chris Paul. Only one became a free agent, and the Nets got him.
Kevin Arnovitz, ESPN.com: The Nets sign Williams for five years and $98 million. Outside of the rookie scale, a superstar maximum deal (provided the player is a true superstar) is still the best value contract in the NBA. Williams is a top-three point guard, and he chose to be a Net at the watershed moment in the franchise's history.
Zach Harper, Daily Dime Live: Can the Hawks' fire sale count as one move? Atlanta may be selling a bit low on two of its pieces (Joe Johnson and Marvin Williams), but the importance of roster and cap flexibility is much higher than just being a second-round-and-out team every year. GM Danny Ferry is clearing the deck and giving this team direction. The Hawks will probably step back before they step forward, but at least they're not standing in place.
Justin Verrier, ESPN.com: Hawks' trade of Johnson. Atlanta got out of the most constricting contract in the league, and as a result got out from under the clearly defined ceiling it's operated with the past few seasons. Taking a big step back is a risky move, especially for a club that lived in the lottery not even five years ago, but hope is easier to sell than complacency.
Brian Windhorst, ESPN.com: The easy call is to say the Williams re-signing because the Nets were under such pressure. But the more remarkable move, in my opinion, was the Hawks' ability to trade Johnson for contracts that expire next year. Normally you would not praise trading an active All-Star. But Johnson's numbers suggest he might be on the downside, and his salary will be in the top five for the next four years. Moving him while they still could, for anything, was a vital move for the Hawks' future.
---
2. What's the worst offseason move thus far?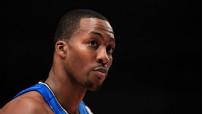 Adande: Dwight Howard's trade request. It has further damaged his reputation, weakened the Magic's leverage and overwhelmed the NBA news cycle after news cycle. Make. It. Stop.
Arnovitz: There hasn't been a real stink bomb yet because we haven't reached the desperation stage of free agency, when teams start to worry about being left without a prom date. After missing out on Steve Nash, the Raptors might come to regret the three-year deal they extended to Landry Fields. The Nets, while keeping Williams, have made some odd smaller decisions. But we probably haven't yet seen even one of the three worst moves of the offseason.
Harper: I don't mind re-signing Gerald Wallace to be on your team, but giving him four years seems like a terrible decision. He relies on his athleticism to maximize his play on the court, and he turns 30 this month. What are the odds that he's still as effective three years from now? What are the odds he's as effective two years from now? The per-year salary number is often more manageable than adding extra years.
Verrier: The Nets' signing of Wallace. Instead of using what could be their last lottery pick for some time on Harrison Barnes -- a cheap, young potential star who, at worst, could serve as trade bait -- Brooklyn's trade-deadline deal afforded it the right to tie up its finances and overpay Wallace, a soon-to-be 30-year-old wing whose player efficiency rating (PER) has dipped in each of the past three seasons.
Windhorst: The poison pill offer sheets. I have yet to hear a legitimate rationale to pay a one-way player like Omer Asik $15 million in the final year of his contract. Or Fields $9 million. I understand that's about their average salaries, etc., but that's easy to say now. Try to manage your cap and improve in two years when you've got role players making that kind of money. Also, despite short-term popularity, the Raptors going all-in on a 38-year-old Nash was smart basketball business on what planet?
---
3. Who's the best under-the-radar free agent on the market?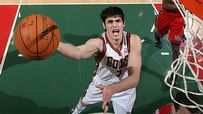 Adande: I thought we'd be hearing a lot more about Ersan Ilyasova at the outset of free agency. After last season, he set himself up to be a classic "They gave him how much?" guy. But he seems to be a market recipient, not definer.
Arnovitz: 25-year-old Ilyasova will be a very useful power forward, whether for Milwaukee or someone else. He is stretchy and has started to hunt shots at the rim, and he became a legitimate rebounder last season. On many nights, he was the biggest matchup nightmare on the floor.
Harper: I'll say Carl Landry. Landry can be a fantastic weapon as a sixth man. He can score, brings good energy and throws his body around. A lot of contenders could do worse than having Landry as their first big off the bench, and I'm curious to see who scoops him up. I think he still has a lot more to offer than what he showed in Sacramento and New Orleans.
Verrier: Tim Duncan! Did you even know he was available? Technically, he is. There's less than a 1 percent chance Duncan leaves the only franchise he's known in his 15-year career -- because, after all, his Punisher knee brace matches so nicely. Even at 36, he had the best 2011-12 PER of any unrestricted free agent.
Windhorst: Brandon Bass. He had an excellent year playing an important role for the Celtics and has shown good development over the last couple seasons as he's learned to be a more versatile player. I wish he could rebound a little better, but he can be had if you move now. With Boston working on Ray Allen and Jeff Green, Bass is not top a priority there.
Honorable mention: Courtney Lee. He's a starter-quality shooting guard who could really help a good team, and he just became unrestricted thanks to Houston's desire to throw poison around.
---
4. Should the Hornets match the Suns' max offer to Eric Gordon?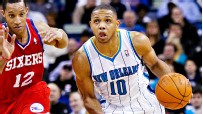 Adande: Yes. He's not your prototypical max-contract guy. But think of the message it will send to Anthony Davis and Austin Rivers. The Hornets have a new ownership group, and they can set a tone for how seriously they want to spend to be a contender.
Arnovitz: Gordon is an awfully nice player, a double threat who can bowl his way to the rim and launch that shot-put ball from long distance. But a max-level shooting guard needs a steady handle, sublime vision and durability -- three assets Gordon lacks. The Hornets will have plenty of opportunities over the next few seasons to add alluring pieces at the right price. If this train leaves the station, there will be another one along shortly.
Harper: I think they have to. They're still rebuilding, so being able to run out two-guard lineups with Gordon and Rivers (or three-guard lineups including both of them and a more traditional point guard) will be helpful. They're good experiments to throw out there. If you feel that Rivers is going to surpass Gordon during the life of the contract, you can deal Gordon. If not, you pray Gordon is healthy.
Verrier: Yes. The price is high, sure, but good 2-guards are almost as rare as good centers these days. Gordon is only 23 and was more efficient than Joe Johnson the past two seasons. Ben Gordon is making over $12 million next season. Fourteen-and-a-half doesn't seem so bad now, huh?
Windhorst: I don't care if his heart is in Phoenix, his rights belong to New Orleans. I'd be surprised if Gordon even signs the Suns' offer sheet. The smarter business move is to try to talk to the Hornets and get them to go a little higher, which they can do without using a full max slot on him. If that does indeed break his heart, then he's more than welcome to sign the one-year qualifying number at any time and become unrestricted next year. Coming off a knee injury, I'd call his bluff on that one.
---
5. Whom should the Heat pursue?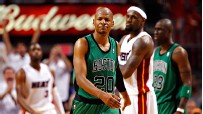 A. Ray Allen
B. Marcus Camby
C. Rashard Lewis
Adande: A. Ray Allen -- if for no other reason than the drama every time the Heat play the Celtics next season. After winning a championship, it's harder to cast the Heat as villains. Instead, they're a team that accomplished what it set out to do. Not much harm in that. But Allen could be the ring-chasing bad guy. At least when the Heat play the Celtics.
Arnovitz: A. Ray Allen. If the Heat are truly committed to using LeBron James as their power forward and Chris Bosh at center (and they should be), then Allen is their best choice, particularly if Mike Miller doesn't return. If small-ball was merely a contingency plan during a chaotic postseason, then they'll need some more size. Camby can't give them much offensively, but he's still a premier rebounder who can defend the paint.
Harper: B. Marcus Camby. The Heat proved they don't need a more traditional big man, but it would be a nice option for them to have at their disposal. A shot-blocker who can grab rebounds allows their perimeter defense to be more aggressive. That's kind of a terrifying thought for the rest of the league.
Verrier: A. Ray Allen. With James Jones and Mike Miller slowly slipping out of the league, the Heat need all the reliable shooters they can get their hands on. Miami can find centers on the cheap for the 10 or so games a season it needs one, and stealing Allen from the rival Celtics and bringing him over to the dark side is too good to pass up.
Windhorst: A. Ray Allen. The Heat's position has been rather clear. Their top priority is Allen and they have proceeded as such. On Thursday, they'll host him, as if Allen doesn't know what the Heat have to offer. If he chooses to stay in Boston or sign for more money and a clear role with the Clippers -- both options quite possible -- I would suspect the Heat would move on and attempt to win Lewis' services with their $3 million exception. Camby is further down the list.


ESPN.com and the TrueHoop Network
J.A. Adande, Kevin Arnovitz and Brian Windhorst cover the NBA for ESPN.com. Zach Harper is the host of Daily Dime Live. Justin Verrier is an NBA editor for ESPN.com.
Follow the NBA on ESPN on Twitter | On Facebook | On Google+