It's opening night in the NBA! The Miami Heat will receive their championship rings in front of the rival Boston Celtics, Ray Allen will face his former Boston teammates for the first time since he left Boston for Miami, and 5-on-5 is back with a preview of tonight's East battle:
1. Fact or Fiction: The Heat-Celtics rivalry is as bitter as ever.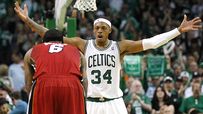 Chris Forsberg, ESPNBoston.com: Fact. When could the rivalry have possibly been bitterer? When KG elbowed Quentin Richardson in the playoffs a couple of years back? When Sherman Douglas was trading one jersey for the other in the early '90s? Rivals in each other's way + Ray Allen's defection = Bitterest rivalry in the league right now.
Israel Gutierrez, ESPN.com: Fiction. It was at its bitterest before LeBron ever played a playoff game against the Celtics in a Heat uniform, with Quentin Richardson calling out Paul Pierce and Kevin Garnett, and with Udonis Haslem calling Pierce a "studio gangster." Now, it's more Boston-on-Boston beef, with Ray Allen against his former teammates. The on-court anger needs to be ramped up.
Tom Haberstroh, Heat Index: Fact. After being booted out of the playoffs by Boston twice in his career, LeBron James has returned the favor over the past two postseasons and now has a ring to show for it. Dwyane Wade? He's faced the Celtics in each of the past three postseasons and something tells me Celtics fans haven't fully gotten over that Rajon Rondo dislocated elbow incident two years ago. Oh, and that whole Ray Allen thing. Yeah, it's bitter.
Beckley Mason, ESPN.com: Fact! This rivalry is about as personal and high stakes as they come. What's the bitterest thing in the world? Raw vinegar? Bitter gourd? Rhubarb? Let's go with rhubarb. This is the all-rhubarb matchup. I may need to work on that name.
Brian Windhorst, Heat Index: Fact. Rivalries, of course, are born in the postseason but the Allen defection certainly pushes it to a new level, especially because it taps into a new seam of dislike among Boston fans. I've heard some compare it to Johnny Damon going to the Yankees, though in that case there was a money proponent at play that is not here. I also feel like the public animosity we've seen between Allen and his teammates is just the tip of the iceberg from what was really going on behind the scenes.
---
2. Fact or Fiction: Boston is better off with Jason Terry than Ray Allen.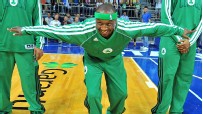 Forsberg: Fact. The Celtics are going to miss Ray Allen's quiet offensive consistency, particularly those clutch 3-pointers that were taken for granted. But Allen's defense had become a liability and, offensively, he struggled to create shots for himself. Terry will emerge as the (willing) sixth man that Boston has desperately craved, and Boston is overflowing with shooting guard versatility with Courtney Lee, Avery Bradley (when healthy) and Leandro Barbosa.
Gutierrez: Fiction. Allen might be older, but just look at the numbers. Allen shot 45 percent from 3-point range last season on a bum ankle and averaged 14.2 points. Terry was a point better but his percentages, particularly from 3 (38 percent), were significantly lower than Allen's. Those easy assists Rondo got from feeding Ray won't be as easy this season.
Haberstroh: Fiction. It's easy to say that the Celtics are better off with Terry because of all the fallout with Allen, but Allen knew the Celtics' system front to back and was far more efficient with his shot than Terry last season. While it's hard to imagine a better veteran replacement for Allen than Terry, I'm not willing to say Terry is necessarily an upgrade. It's close.
Mason: Neither. For the Celtics' purposes, Terry is a more useful player than Allen because, though he isn't quite as good of a shooter, he can handle backup point guard duties and is a bit more effective in pick-and-rolls. But the collateral damage, Allen going to chief rival Miami, makes this a wash for me.
Windhorst: Fiction. That is not the proper comparison, it should be Jason Terry and Courtney Lee. They make the same money together as Allen made last season and most likely will combine to produce at a higher level than Allen did last season. Also, it clears the way for Avery Bradley to get time when he returns from injury. I suspect Boston, at the moment, has no regrets from a basketball standpoint.
---
3. Fact or Fiction: Rondo is more valuable to BOS than LeBron is to MIA.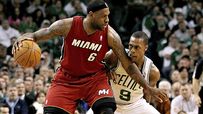 Forsberg: Fiction. James is the league's most valuable player for a reason. Rondo might legitimately put himself into the conversation for that award this season, but you can still make the case that Kevin Garnett is more important to Boston overall given what he brings to the defensive end. Heck, the Heat are hoisting a banner because of James and his transcendent Game 6 effort last season in Boston.
Gutierrez: Fiction. This isn't discounting Rondo's importance, because he makes the Celtics go, and they'd have a hard time winning without him. But LeBron is the reason for the Heat's entire identity, the whole "position-less" thing, and he's Miami's best defender at four different positions. The Celtics still lean on Garnett to set their defensive tone.
Haberstroh: Fiction. James is head-and-shoulders above the league in terms of value, but with respect to each other's team? It gets a little trickier. Rondo facilitates everything the Celtics do offensively, but they'd get nowhere if they lost Kevin Garnett's outrageous defensive efforts. Rondo might be an MVP candidate if the Celtics surprise folks this season, but James gets the nod here.
Mason: Fiction. The most important player on the Celtics is still Kevin Garnett, especially now that Boston has a reliable backup point guard in Terry. No one in the league bears the burden that James does on both sides of the ball.
Windhorst: Fiction. I'm one of the biggest Rondo supporters out there but it is borderline lunacy to compare him to LeBron in any sense.
---
4. Fact or Fiction: Miami improved more in the offseason than Boston.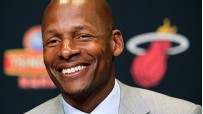 Forsberg: Fiction. Allen and Rashard Lewis are nice additions, but Danny Ainge put on his hard hat this offseason. Boston had only four players under contract at the start of the summer, but plucked Jared Sullinger from the draft; re-signed Kevin Garnett and Jeff Green; and added not only Terry, but Lee by utilizing a creative sign-and-trade (in exchange for what amounted to three waived players and three second-round picks). Boston has added a staggering amount of depth.
Gutierrez: Fiction. Miami actually did most of its improvement starting in Round 2 of last season's playoffs, when the Heat finally figured out the formula that works best for them and perfected it by the Finals. Adding Allen and Rashard Lewis helps them play that formula better, but the Celtics getting Jeff Green back, adding Terry, Jared Sullinger, Courtney Lee and Darko Milicic gives them a depth they didn't have last season.
Haberstroh: Fiction. The Celtics may have added Jeff Green, Jason Terry, Courtney Lee and Darko Milicic (gulp) in free agency, but the real boon was getting Jared Sullinger and Fab Melo so late in the draft. The Heat punted on draft night, but grabbed Allen and a may-be-washed-up Rashard Lewis. While the Heat mostly tinkered, Boston had the resources to reload. And it did in a big way.
Mason: Fiction. With a caveat: If Wade did enough work on his jump shot to make him a reliable 3-point threat then it's "advantage Miami." Boston became deeper and younger, and while I like the Allen acquisition and the fact Chris Bosh is hitting 3s, I have very low expectations for Rashard Lewis.
Windhorst: Fiction. The Celtics got Jeff Green back and that's the biggest addition between the two teams. They also got deeper with their free-agent moves. I'm not quite sold on Jared Sullinger yet but I guarantee he'll have a bigger impact than the Heat's first-round pick, who doesn't exist.
---
5. Fact or Fiction: Boston will retire Ray Allen's number one day.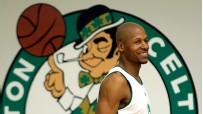 Forsberg: Fiction. Sure, there were moments like the 2008 title and Allen leapfrogging Reggie Miller as 3-point king over five win-filled seasons with the Celtics. But that might not be enough in history-rich Boston, where multiple titles are your ticket to the rafters. Even after the sting of Allen's defection wears off, it's likely he wasn't around long enough to retire that No. 20.
Gutierrez: Fiction. Just a hunch, really. Ray built up a heck of a résumé before he ever got to Boston. He spent only five seasons there, and while he won a title, he wasn't that team's best scorer or defender. And if he wins one or more titles elsewhere, it might not feel like Boston was his primary home. He does deserve to have his number retired somewhere, though.
Haberstroh: Fiction. Hard to have perspective with all the hand-wringing going on right now, but I suspect Paul Pierce and Kevin Garnett's jerseys will hang in the rafters. I think Brian Scalabrine has a better chance of having his jersey retired than Allen at this point. But time heals all wounds.
Mason: Fiction. Few players of Allen's talent play on four different teams while they are still productive. Other franchises haven't won 17 titles with some of the most legendary players of all time. The Celtics have, and Allen doesn't make the cut for that crew.
Windhorst: Fact. I know relations are beyond strained right now but the decision isn't being made right now. Cooler heads will prevail in the future and everyone will apologize for this recent behavior, even if they don't really mean it. Allen is a Hall of Famer and the defining years of his career came in Boston, when he helped raise a banner. This is a no-brainer.


ESPN.com and the TrueHoop Network
Israel Gutierrez is a senior writer for ESPN.com. Tom Haberstroh and Brian Windhorst write for the Heat Index. Chris Forsberg covers the Celtics for ESPN Boston.
Follow the NBA on ESPN on Twitter | On Facebook | On Google+