Big questions abound for the four teams squaring off in the national spotlight on Wednesday. Are talented newcomers the answer in Philadelphia and New Orleans (ESPN, 8 p.m. ET). Just how good are the Spurs and Clippers (ESPN, 10:30 p.m. ET)?
Our panelists survey the scene heading into the big doubleheader.
1. Fact or Fiction: The Spurs are the best team in the NBA.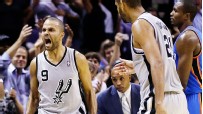 Henry Abbott, ESPN.com: Fiction. Crushing the Pacers was impressive. Beating the Thunder is always big. And Tim Duncan's fountain of youth may be the story of the young season. They darned near lost to the Hornets, however. Let's talk again in a month before handing them any hardware.
Jovan Buha, ClipperBlog: Fiction. The Miami Heat, until dethroned, are still the league's best team. That doesn't mean the Spurs won't win the most regular-season games or post the best point differential; I just can't bring myself to bet against LeBron James and his South Beach crew. The best out West sounds more reasonable.
Joe Gerrity, Hornets 247: Fiction. The Spurs might be playing better ball than anyone so far this season, but in a seven-game series for keeps I'll take the Heat all day.
Graydon Gordian, 48 Minutes of Hell: Fiction. The Spurs haven't skipped a beat and look poised to finish the season with the league's best record. But the defending champs are the most talented team in the NBA. Their casual attitude regarding the regular season has never been a good reason to doubt them.
Tom Sunnergren, Philadunkia: Fiction. As much as I'd love to reward the Spurs' persistent, stubborn greatness with a small slap on the back here, no matter how hard I squint at this thing, I just don't see it. If the criterion is who's played the best basketball since Oct. 30, my answer is the Knicks. If I'm making a more holistic judgment, it's still the reigning champs.
---
2. Fact or Fiction: The Clippers have reason to worry right now.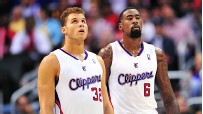 Abbott: Fiction. The season is so long a couple of losses just don't matter. Beating the Grizzlies in the season opener is evidence enough this team has high potential. Redemption is only a game away. Beat the Spurs and they're on top of the world again, despite those stinkers against the Cavaliers and Warriors.
Buha: Fiction. Give them time. The Clippers' identity will be different this season: a little less 3-point shooting and a lot more depth. In the early going, Chris Paul and Jamal Crawford have had to do too much, while Blake Griffin has struggled playing through a burst bursa sac. If they're having these hiccups in February, it's time to panic.
Gerrity: Fact. They're the second-best team in their own market both in terms of talent and popularity, paying DeAndre Jordan $11 million a year was a mistake, Chris Paul could potentially leave (although I don't think he will), and they're still owned by Donald Sterling. If you're a Clippers fan you should be permanently worried.
Gordian: Fiction. Things will smooth out and they'll be comfortably in the playoffs by season's end. They are still not title contenders, but that shouldn't worry the Clippers. The franchise has young talent and a bright future.
Sunnergren: Fact. CP3 could be house-hunting in seven months, Lamar Odom arrived, Vinny Del Negro never left, and Blake Griffin has as many disconcerting injuries as the team does wins. The Clips are talented enough that things could break their way, but yes, worry is an appropriate reaction to this situation.
---
3. Fact or Fiction: The 76ers will regret trading for Andrew Bynum.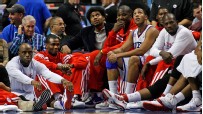 Abbott: Fiction, with trepidation. If he's hurt all the time then this could be a nightmare. That team will miss Andre Iguodala. But we don't know about all that yet. Let's let him play a few games before we call him a bust.
Buha: Fiction. With Andre Iguodala and a slew of overlapping pieces, the 76ers were headed for a half-decade of mediocrity. Opting to swing big and nab a franchise center was the correct move. Barring a miracle, contention is out of reach, but if you can trade for a top-15 player, you have to do it.
Gerrity: Fiction. Bynum will be locked up long-term, eventually realizing his potential in a 76ers uniform. The franchise, as a result of having one of the top big men in the league, will have an opportunity to truly compete. That's something they never had with Iggy.
Gordian: Fact. Bynum is a talented player, but he's never had to bear the load he'll need to shoulder in order for the Sixers to succeed. In addition, I'm skeptical that, as the season wears on, his relationship with Doug Collins will remain stable.
Sunnergren: Fiction. Even if Bynum's tenure in Philly continues on its remarkably depressing trajectory, there's no way such a thoroughly mediocre franchise (since the start of the '05-06 season, the Sixers have won more than 41 games, or fewer than 35, exactly once) could reasonably second-guess a trade for a 24-year-old franchise center. When you have a shot like that, you have to take it.
---
4. Fact or Fiction: Anthony Davis will be the rookie of the year.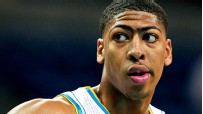 Abbott: Fiction. Damian Lillard is winning fans with an infectious style of play, while Davis is a defensive specialist who is out hurt. Davis is an eye-popping prospect, but if the early season is any predictor, Lillard is the favorite.
Buha: Fact, but he'll have to score a lot. Since the beginning of the modern era (1979), only four ROY winners have averaged less than 15 points per game. This is an offense-driven league. Damian Lillard has the advantage because he'll have more on-ball opportunities, but Davis' rebounding and defensive numbers will likely sway voters.
Gerrity: Fact. NBA concussion policy permitting, Davis will wind up putting up enough production on both ends of the floor to earn a decisive victory in the ROY race.
Gordian: Fiction. Anthony Davis is an immensely talented player. He has the potential to define his generation. But Damian Lillard is the real deal and will make the kind of palpable offensive impact that will swing the rookie of the year vote in his favor.
Sunnergren: Faction. While I expect Davis to be the most productive rookie in basketball, my "narrative momentum" sensors are already picking up very strong readings around Damian Lillard. I'd use space to rant about this if Lillard weren't so tremendous in his own right.
---
5. Fact or Fiction: The Spurs and Sixers will win Wednesday.
Abbott: Fact. Because what kind of guy would call every single thing you say fiction?
Buha: Fiction. The Clippers will be motivated after two embarrassing home losses to non-playoff teams, but the Spurs have L.A.'s number and will leave Staples Center victorious. I'm not so sold on Philadelphia. The Sixers' offense has been anemic and their defense putrid, so I'm going to go with New Orleans, regardless of whether they have the Brow or not.
Gerrity: Fiction. The Clippers will squeak out a win in from of their home crowd, ending San Antonio's quest for a perfect season. The Hornets will win in convincing fashion against the Sixers.
Gordian: Fiction. The Spurs' depth and offensive efficiency will overwhelm the Clippers. But the Hornets and their young talent don't appear easily intimidated by the strength and speed of the pro game. The Hornets will successfully defend their home floor.
Sunnergren: Fact. Predictions are tough. Because Nate Silver didn't answer my email before press time (probably because he doesn't know who I am), I'm going with my gut here: The Spurs outclass the Clippers at Staples, while Jrue Holiday and Dorell Wright do just enough to eke Philadelphia by a potentially Brow-less Hornets team I'd have more confidence in if Austin Rivers was still at Duke.


ESPN.com and the TrueHoop Network
Henry Abbott is a senior writer for ESPN.com. Jovan Buha, Joe Gerrity, Graydon Gordian and Tom Sunnergren are part of the TrueHoop Network.
Follow the NBA on ESPN on Twitter | On Facebook | On Google+