The NBA season is young, but some early trends are starting to develop around the league. Which teams have been the most fun to watch and which have caused fans to shake their heads in frustration?
Our 5-on-5 crew weighs in.
1. Which Eastern Conference team is most entertaining?
Kevin Arnovitz, ESPN.com: Occam's Razor ... also known as the Miami Heat. It's incredible to think there was a time in early 2011 when the Heat were unwatchable, but it's true. Then LeBron James was sold on harnessing his talents to their fullest, the court opened up and we began to see the speed and skill game we expected from the Heat.
Danny Chau, Hardwood Paroxysm: The Knicks. While the Cleveland Cavaliers' backcourt of Kyrie Irving and Dion Waiters has made quite a statement in their first five games, they just can't compete with the thrill of watching Rasheed Wallace play again. As of this morning, the Knicks are undefeated at 3-0. Wallace has played in all three games. I don't think that's a coincidence.
Hayes Davenport, Celtics Hub: The Knicks. The combination of Carmelo Anthony liking basketball again, Steve Novak throwing up Discount Doublechecks, a 35-year-old Argentine rookie, and the bewildering presence of Rasheed Wallace has been difficult not to enjoy. It's also important to note that they're playing J.R. Smith, a player criticized basically for being too entertaining.
Dan Feldman, PistonPowered: The Knicks have played excellent basketball so far, which is entertaining enough. But looking at this ridiculous roster, it will be even more entertaining when a larger sample exposes the Knicks for what they are: a mediocre playoff team. Oh, and they have Rasheed Wallace -- which makes them No. 1 regardless of anything I wrote above.
Ian Levy, Two-Man Game: The Cleveland Cavaliers. Kyrie Irving is officially a must-watch from now until age robs him of his wits or physical capabilities. Amazingly, the overweight and overwhelmed summer league version of Dion Waiters has evaporated, replaced with a dynamic and efficient young guard. They may lose as often as they win this year, but a glimpse of the future is tough to turn away from.
---
2. Which Western Conference team is most entertaining?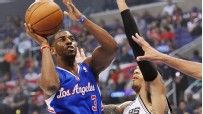 Arnovitz: What happens if I say the San Antonio Spurs? Do a couple of guys in ski masks come to my house and rip NBA League Pass out of my satellite receiver? I'll risk it because I love watching high-grade basketball without wasted possessions. Tony Parker and Tim Duncan are the best pick-and-roll tandem in the game and Manu Ginobili's game is infectious.
Chau: The Clippers. Expectations are never high enough in a city like Los Angeles, and both franchises have suffered a bit as a result. Still, the Clippers are nothing if not highly explosive. As both Chris Paul and Blake Griffin enter ho-hum territory with their jaw-dropping plays, the recent play of DeAndre Jordan and Eric Bledsoe has kept the excitement fresh.
Davenport: If you like the best living point guard running the league's fastest offense, then I guess it's the Clippers. Now that Steve Nash isn't allowed to dribble or shoot anymore, Chris Paul runs the most entertaining attack in the game ... and Nash never had Blake Griffin.
Feldman: I'm a sucker for good defense, and the Spurs always have that. If Gregg Popovich is still committed to running, San Antonio should please all aesthetic tastes. Plus Pop's between-quarter interviews are quite the treat (as long as you're not the sideline reporter).
Levy: The Dallas Mavericks. With an eye toward entertainment, the Mavericks have it all: tales of redemption, heroes, villains, grit, intensity, sparkling synergy and superb offensive execution. Their play may not be as aesthetically appealing as others, but they are living out some of the most interesting narratives in the West.
---
3. Which NBA team is most confusing?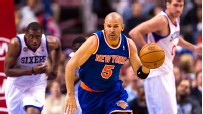 Arnovitz: The New York Knicks. Is this thing sustainable? Are they crafting an identity or just putting up obscene numbers during a jackrabbit start? Have they bettered what was already a pretty sound defensive team with the addition of Ronnie Brewer, or are they the beneficiaries of the Sixers' anemia? Can Carmelo make himself a home at the 4 or will this experiment implode when things get rocky, which they inevitably will? I have no idea.
Chau: The Knicks. It wasn't too long ago that age jokes dominated the Knicks discourse. And while they haven't stopped, the team has been stellar despite (or because of) their bad hips and creaking knees, playing a devastatingly slow brand of basketball with sage-like precision. But there is something bugging me: Should their success deter us from making jokes?
Davenport: The Mavericks. Without Dirk Nowitzki, they've put together the league's third-highest offensive efficiency and a conference-best point differential. They've done it with a 13-man rotation mostly composed of unappreciated young players, castoff veterans and Eddy Curry. The players themselves are probably a little confused by how good they've looked.
Feldman: I can't quite figure out the Warriors (beat the Clippers, lost to the Kings?) or the Hawks (lost to the Rockets, beat the Thunder?). Andrew Bogut is good enough, when healthy, to lead a Warriors turnaround, but their winning record comes without him playing a ton. And Joe Johnson was so integral to the Hawks' identity, I don't know who they are now that he's in Brooklyn. I'm just too confused to even answer this question with only one team.
Levy: The Denver Nuggets. How can a team with this much talent continuity start the season so poorly? Everything they did well last season has seemed completely out of reach. Their rotations are still baffling, and most amazingly, they are playing at a league-average pace. The "whats" of their struggles are all right there, but I'm not sure about the "whys."
---
4. Which NBA team is most frustrating?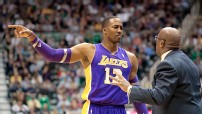 Arnovitz: The Los Angeles Lakers. Mike Brown has crafted some of the better defensive units of the past decade, but he's getting nothing out of his team at the start of the season despite two of the better defensive wings of the past 15 years, Dwight Howard and plenty of length. The Lakers are and will continue to score efficiently, but the defense shouldn't be this bad considering the principles guiding it.
Chau: It's impossible to avoid the Lakers' failure of a regular season thus far. While I'm of the opinion that all of this turbulence will be forgotten come March, it's been frustrating to see the gulf between expectation and reality remain as vast as it's been. Steve Nash's injury and ineffectiveness in the first two games makes it all worse.
Davenport: The Lakers. There's not much more frustrating in this life than Steve Nash playing off the ball and getting six shots per game, and that's not the only way this team is misapplying its talent. But to be honest, if schadenfreude counts, the Lakers probably belong under "most entertaining."
Feldman: The Lakers -- because too many observers ignored how old this team is -- were overrated entering the season. But I never expected them to be this bad. The Princeton offense is robbing us of a chance to watch another fringe contender compete. Call more Steve Nash pick-and-rolls, and the Lakers could become a lot more intriguing in a hurry.
Levy: The Indiana Pacers. They're playing without Danny Granger but still have too much talent to be struggling this much. They can't make entry passes. They can't run a pick-and-roll. They can't dribble forward without plowing over a defender. The Pacers were looking to do a 2003-04 Pistons impersonation, but look a little too similar to this year's Pistons for my liking.
---
5. So far this season, nothing comes close to ____________________.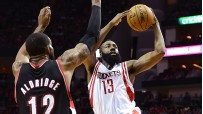 Arnovitz: The James Harden saga. This was the most dramatic personnel move to occur late on a Saturday night since Nixon fired Cox. Before Harden even had time to unpack in Houston, he'd dropped 82 points in two games. NBA fans had to come to grips with the fact that Thunder U has been unaccredited. And nearly two weeks later, the debate over the deal continues.
Chau: Watching James Harden's emergence. His last few games show a regression, but there was no way he was going to be able to keep up with the ridiculous standard he set in his first two games as a Rocket. In a league sorely lacking in starpower at the wing, Harden has stepped up to the plate in a big way.
Davenport: The rookies. After two years of middling classes, this year's group could provide the influx of new stars that the league requires for its long-term health. Damian Lillard, Anthony Davis, and Dion Waiters have actually looked dominant at times, and Jae Crowder has already emerged as a second-round steal. Apart from Thomas Robinson's elbow, they're the season's best storyline.
Feldman: The Knicks' dominance. They're the NBA's only undefeated team. They're on pace to go 82-0. Even Pythagorean wins, which should have somewhat of a leveling effect, projects New York to win 78 games. Of course, I don't expect it to go quite this well all season, but it's remarkable how great the Knicks have been. Just don't forget the two words above: so far.
Royce Webb, ESPN.com: The Knicks. They've been the NBA's best team, with one convincing win after another. Of course, this is where we remind everyone that there are about 100 games to go before a team is crowned. But so far, so great.


ESPN.com and the TrueHoop Network
Kevin Arnovitz covers the NBA for ESPN.com. Danny Chau, Hayes Davenport, Dan Feldman and Ian Levy are part of the TrueHoop Network.
Follow the NBA on ESPN on Twitter | On Facebook | On Google+