The Lakers have hired Mike D'Antoni to be their new coach, leaving Phil Jackson stunned, according to a source. Did L.A. make the right decision? How will the move affect the Lakers' title chances? We examine Hollywood's latest turn of events:
1. Lakers passing on Phil Jackson: Good move or bad move?
J.A. Adande, ESPN.com: Bad move. Especially after the fans were so jacked up with the possibility of getting him. The spin was going to be that he was asking too much, but if the Lakers are that desperate to get another banner, there's no such thing as too much.
Kevin Arnovitz, ESPN.com: All things being equal it's a bad move because Jackson stands alone among active (and available) coaches. But if Jackson was truly asking for the moon, then it's understandable because celestial bodies are hard to reel in from Los Angeles, even if you have a gazillion-dollar television deal.
Brian Kamenetzky, ESPN LA.com: If, as has been reported, the Lakers sat down and unanimously decided D'Antoni was a better fit with the roster now and going forward, it was a good move. If the Lakers had concerns over Phil's battery level and whether he really, truly wanted to coach the Lakers again, it was a good move. But if they were concerned over the other stuff -- how much money he'd cost, what it would look like pulling the emergency Bring Back Phil! parachute cord again, and so on? Less good.
Marc Stein, ESPN.com: Good move. If the only options are that absolute, I'm going with good. If you could guarantee that the Lakers would be getting vintage Phil, my answer would be different. But there are too many questions about how much Phil really wants to embrace the coaching grind at 67. Missing road games in the Lakers' current state, for starters, is not an option. It's also fairly evident that hiring Phil would have cut into Mitch Kupchak's authority after Kupchak had one of the best GM-ing summers in history. Bringing Phil back would have restored a level of front-office tension that the Lakers don't need right now with so much work to do on the court.
Justin Verrier, ESPN.com: Good move. Here's the dirty little secret of this coaching search: Anyone was going to be successful, even Bernie Bickerstaff (2-0, baby!). The Lakers have four future Hall of Famers and the new hire was going to have all the support and time that Mike Brown didn't. Phil's return makes for the best story, but even his vast library of self-help mumbo-jumbo couldn't bring L.A.'s top-heavy team a title in 2010-11.
---
2. Lakers hiring Mike D'Antoni: Good move or bad move?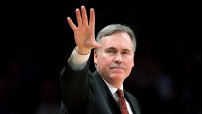 Adande: A good move only if the Lakers deemed Phil completely unfeasible. Over Phil? No. After Phil? Yes. At least D'Antoni will bring exciting offense, and that matters to Jerry Buss.
Arnovitz: Good move. Critics will carp that the system D'Antoni installed in Phoenix to great success won't translate to the current Lakers roster. They'll point out that he couldn't push the Knicks forward. But good coaches learn and they can adapt their systems to different personnel.
Kamenetzky: Good move. He has the respect of every principle member of the roster, plays a system that will allow all of them to return a little joy to the floor, and has enough stature in the game to step into the void in a way Mike Brown couldn't. He'll have to adjust to a roster different from those he had in Phoenix (fewer shooters, less speed, etc.) but he can. His biggest problem? The Lakers created enormous expectation among the fan base that Phil would be back. Now that's the guy D'Antoni will be measured against.
Stein: Good move. As stated Friday, D'Antoni was the only choice to fill this vacancy if they weren't bringing Phil back. He has the relationships with Kobe and Nash that will give his program an early foundation that Mike Brown couldn't establish. And he'll install an offense that'll kick-start the Kobe-and-Nash partnership, energize the other players and deliver the most entertaining ball they've seen in Lakerland since the days of Showtime. Which is something Jerry Buss has craved for ages.
Verrier: Good move. Although the hire seems as much for Jim Buss' ego as the Lakers' long-term benefit, bringing D'Antoni in is still a game-changer. Inevitable questions will be raised about the roster's apparent ill fit to their new coach's new style -- chief among them how a team that already looked old and worn revs up the tempo beyond electric scooter levels -- but Jackson's Triangle would elicit just as much second-guessing.
---
3. Will the players be happy to have D'Antoni as coach?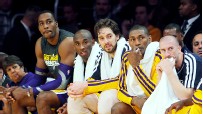 Adande: You know Steve Nash will be ecstatic. Kobe clearly wanted Phil, but he'll accept D'Antoni and is too fixated on winning a championship to pout over not getting his first choice. Dwight's need for image rehab will keep him from complaining ... and at least this gives him the opportunity to do something Shaq hasn't done: Win a championship with Mike D'Antoni. Winning with Phil would've been too ... precedented.
Arnovitz: Kobe Bryant is a pragmatist at heart and probably realizes there are worse consolation prizes than D'Antoni. Nash will be ecstatic, as will Pau Gasol, who should see 5-10 wide-open face-up jumpers a game. And if Dwight Howard can master being the roll man in a drag screen -- a role he was born for -- he'll be his usually smiley self.
Kamenetzky: Nash will obviously love it. Kobe would have preferred Phil, but D'Antoni is a decent consolation prize. (Jim Buss and Mitch Kupchak would be wise to explain what happened, though. Quickly.) Howard has spoken well of D'Antoni, as well, and with him there's a chance for the next Lakers superstar to build a relationship with a head coach he can have for years to come. I certainly don't think this hurts the team's chances of keeping him.
Stein: Yup. Nash will obviously be thrilled and I suspect Kobe -- like Nash was approaching the prospect of Phil's return -- will relish the opportunity to try something new that he's watched from afar with admiration. Pau and Dwight are the wild cards here, but I'd only expect resistance from the Spaniard if D'Antoni's arrival generates a new rash of Gasol trade rumors. Howard's the one for whom missing out on the chance to work under the ultra-successful Jackson presumably ranks as the biggest letdown, but he knows D'Antoni from Team USA dealings and will be treated with the utmost reverence by the new coaching staff because L.A.'s playoff success likely hinges on Dwight's ability to be the defensive game-changer the staff never had in Phoenix.
Verrier: Most likely. He may not have rings, but D'Antoni still has considerable clout -- and now he also has a big cheerleader who can speak to his process in Nash. A curmudgeon like Kobe has to relish the fact former rivals keep joining his side. And Howard seems too shell-shocked by his rotten-tomatoes ending in Orlando to make any type of power play this season, at least publically. (Pau, meanwhile, is pretty much cool with everything.)
---
4. Will the fans be happy to have D'Antoni as coach?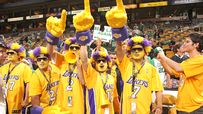 Adande: The courtside season-ticket holders I talked to were excited for the return of Phil. The fans in the upper reaches of Staples Center chanted "We want Phil!" The Phil Factor overshadowed everything, including this hire. As @MarkQuest tweeted to me: "Mike Brown to D'Antoni...great! Mike Brown to Phil Jackson to D'Antoni...questionable."
Arnovitz: Lakers fans don't define happiness by who's coaching the team, but by the Ringzz. If D'Antoni can get a banner in the rafters, Lakers fans will erect a 12-foot bronze replica of D'Antoni's mustache on the corner of Figueroa and 11th streets.
Kamenetzky: Do they win a title? How close do they get? How do they play defensively? Answer these questions, and then I'll tell you. Again, if the Lakers thought they could go down this road, they did a bad job tempering the whole "Phil's back!" vibe among fans and media. Nobody was chanting "We want Mike!" at the past two home games. But assuming D'Antoni's system works and the team wins, they'll come around. They'll be having too much fun not to.
Stein: Nope. Not at first. Not when they thought they were getting Phil and his 11 rings. Not when so many around town are already so testy about the limited availability of Lakers games on local satellite providers. The Lakers are going to have to win early, often and with some style to calm the masses at a time they're as testy as they've ever been.
Verrier: They will be once they see his offense in action. Based on Staples Center's constant "We want Phil" cries this past weekend, it's safe to say fans will initially be bummed that they won't be able to get their Zen on again. But D'Antoni's style is as fan-friendly as it gets. Having him back in the game is a win for basketball.
---
5. How does this hire affect the Western Conference title chase?
Adande: Nominally. The Lakers will have a smoother-flowing offense, but I don't see how hiring a coach who's never won a conference championship vastly increases the chances of winning a conference championship. What will help will be getting Steve Nash back on the court.
Arnovitz: The Lakers were never down and out, so the net effect is marginal from my perspective. But D'Antoni's hire does make the basketball a lot more interesting, and a Spurs-Lakers conference semifinal would be electric.
Kamenetzky: A better fit as coach puts the Lakers squarely back in the conversation. That was accomplished with either Jackson or D'Antoni. There's less of a learning curve with D'Antoni's system, which could help, but overall this team is too talented not to be a player near the end. I had them winning the conference in the preseason, and still think they will.
Stein: The Lakers have 70-plus games to get themselves together. Their season starts now and they still have a good bit of time to build up suitable momentum for the playoffs. The lack of internal buy-in on Brown's vision -- beyond the concerns about age, health and bench -- was among the biggest threats to L.A.'s success this season. And that's now removed.
Verrier: It makes it more fun, but little has changed. In a league driven by individual talent, the Lakers were too good not to be a factor in the playoffs. Now instead of grinding out Princeton sets, L.A. will be able to match the Thunder's dynamic offense in a still-expected West finals.


ESPN.com and the TrueHoop Network
J.A. Adande and Marc Stein are senior writers for ESPN.com. Kevin Arnovitz writes for ESPN.com. Brian Kamenetzky writes for ESPN Los Angeles. Justin Verrier is an NBA editor for ESPN.com.
• Follow the NBA on ESPN on Twitter | On Facebook | On Google+