Get ready to feast on some pre-Thanksgiving hoops as the Thunder host the Clippers on Wednesday night (7:30 p.m. ET on ESPN).
Which team is better at this point in the season? Who would you rather have: Chris Paul or Kevin Durant? And who goes deeper in the playoffs?
Our 5-on-5 crew breaks it all down.
1. Clippers or Thunder: Who's better right now?
Henry Abbott, ESPN.com: Thunder. The Thunder are playing at home, so on this day I'll take OKC. But it's a credit to Chris Paul and the Clippers that they're playing the conference champs and it's a close call.
Kevin Arnovitz, ESPN.com: Clippers. The Clippers have played only two games away from Staples Center, but the Thunder haven't really beaten anyone worth noting -- so neither team has set a real benchmark yet. That said, with the exception of a couple of hiccups, the Clippers are getting exactly what they want on both sides of the ball. We haven't seen that (yet) from the Thunder.
D.J. Foster, ClipperBlog: Clippers. The Clippers' body of work this season has been unmatched by any other team, as they've already beaten the Heat, Grizzlies, Lakers and Spurs (twice!) -- in convincing fashion more often than not. That doesn't mean the Clippers are actually better than the Thunder, but rather that they belong in the same conversation.
Arash Markazi, ESPN Los Angeles: Clippers. It's early, but I have to go with the Clippers simply based on who they have beaten. The Clippers have defeated the Spurs twice, the Heat, Grizzlies, Hawks and Lakers. Not only have they beaten these teams, but they've beaten most of them pretty handily. The Clippers' opponents have a combined .583 winning percentage, the second-highest in the NBA, while the Thunder's opponents have a combined winning percentage of just .441, the third-easiest schedule played to date
Beckley Mason, HoopSpeak: Clippers. The Clippers are slightly better right now, in no small part because Chris Paul is directing the show. The Thunder seem to still be seeking their rhythm and identity in the wake of the James Harden trade; the Clippers know exactly what they're doing possession-to-possession. That the Clippers are playing honest-to-goodness tough defense seals it.
---
2. CP3 or KD: Which player would you want this season?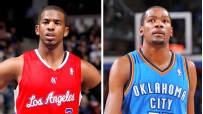 Abbott: Durant. Who could possibly complain about either one? The perfect scoring machine versus the perfect point guard, and both are candidates to be the best teammates in history. If I had to pick one, I'd probably pick Durant simply because history suggests he's more likely to avoid injury.
Arnovitz: Paul. This is like choosing between water and oxygen. I'll take Clippers point guard Chris Paul because the NBA is now a point guard's league, and he has the uncanny ability to turn average teammates into producers. That makes Durant the sports world's most valuable consolation prize.
Foster: Durant. KD, mostly for positional scarcity reasons and not those "basketball reasons" David Stern loves so much. There seems to be an abundance of great point guards in the league (Raymond Felton might not even be a top-20 point guard, and look at the Knicks), but elite wing scorers are a little harder to find these days.
Markazi: Durant. It's hard to go against Durant here. Outside of LeBron James, there isn't another player I would rather have on my team than KD. Paul is the quintessential leader and the best point guard in the game, but Durant is the most prolific scorer in basketball. Not only did he lead the league in scoring the last three seasons, but he has continued to refine his game and has now added a solid post-up game to his arsenal this season.
Mason: Durant. While I think Paul is a better player right now, Durant has already shown intriguing improvement from last season. If he can continue to cultivate his playmaking skills and defensive focus, the Thunder can reap major rewards come spring.
---
3. Crawford or Martin: Which sixth man is more important to his team?
Abbott: Martin. What has happened in this season's first few games won't matter at all if it doesn't keep happening. And here's where you'd expect both to trend toward their historical norms ... where Martin would be expected to remain one of the most efficient scorers in the league, while Clippers guard Jamal Crawford typically rides over-aggressive shot selection into Monta Ellis territory.
Arnovitz: Martin. Only because the Clippers are so deep on the wing and at the point that they can absorb a loss, even one as prominent as Crawford. Martin came into a nearly impossible situation -- he was the guy who broke up the band -- but has responded beautifully. He's been one of the league's 15 most efficient offensive players and is scoring at will.
Foster: Martin. The Clippers could certainly survive without Crawford, with guys like Eric Bledsoe and Chauncey Billups stepping up, but if the Thunder lost Martin? No third scorer, and no proven depth behind him. Martin means more.
Markazi: Crawford. Nothing against Martin, who has been better statistically so far this season than James Harden was last season, but Crawford is one of the biggest reasons the Clippers are a legitimate championship contender now. Crawford leads the NBA in bench scoring this season, averaging 19.7 points, and has recorded six 20-point games off the bench, the most in the NBA. He is also the biggest reason why the Clippers currently lead the NBA in bench scoring with an average of 42.2 points per game.
Mason: Martin. It's very, very close, but I'll take Martin, because his ability to hit open 3s is so important to both the bench squad and units that feature Durant and Russell Westbrook. And though Crawford is scoring more, Martin has been a better rebounder, passer and shooter.
---
4. Griffin or Westbrook: Better second star?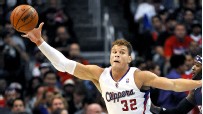 Abbott: Griffin. Barely. You can't argue with his sheer production -- last season he was top-10 in PER in the league. That stat lacks defense, which by reputation might be a place for Thunder point guard Russell Westbrook to close the gap, but it's hard to find data that show the Thunder play their best D with Westbrook on the floor.
Arnovitz: Griffin. By a razor-thin margin. Griffin and Westbrook are oddly similar for two guys who play different positions. It's amazing how many times you'll see each get to the rim, and then when you rewind the tape, you'll find nothing flawed about the defensive strategy or effort. Both are simply that explosive -- but I'll take Griffin because that quality is more rare in a power forward.
Foster: Griffin. Westbrook's development going forward will be more about maturity, making better decisions, and working on his timing. Griffin's development will be more rooted in actual skill, like shooting and screening better. I'll take Griffin's greater level of consistency now, and bank on that higher ceiling going forward.
Markazi: Griffin. Griffin is, marketing-wise, still the biggest star on the Clippers and one of the biggest in the NBA, but that's not why I'm going with Griffin here. I felt Griffin was one of the 10 best players in the league last season before his shooting from the free throw line and the field dropped off. After working with a shooting coach, he has improved from the charity stripe (61.5 percent) and is developing a midrange game. Griffin is 10-for-21 (47.6 percent) from midrange in his last three games. He shot just 9-for-30 from that distance in his first seven games.
Mason: Griffin. This is a tough one to judge given the context: Westbrook always has the ball, whereas Griffin must be fed the majority of his opportunities. I might reverse this decision midway through the year, but Westbrook's shot selection seems to hurt his team more than anything Griffin does, now that he's morphed into a solid defender.
---
5. Clippers or Thunder: Who will go further in the playoffs?
Abbott: Thunder. Maybe my head's stuck in the 2012 Finals, but to me the Thunder have something very special going on -- so special that the Clippers' uprising won't touch it over seven games this spring. What happens Wednesday night, though, is anybody's guess.
Arnovitz: Thunder. I'll stick with the Thunder for one more season. They've been through the grueling exercise of a conference final, while the Clippers are still discovering their identity and refining their schemes.
Foster: Thunder. Sample size still needs to be considered, even though the Clippers have done just about everything asked of them so far. Relatively recent history sides with the Thunder here (NBA Finals, anyone?), but talk to me in another month or two.
Markazi: Clippers. I'm feeling an all-L.A. Western Conference finals at the moment, so I'm going to have to side with the Clippers. I picked the Thunder to make the Western Conference finals before the Harden trade and still think they can get there, but after what I've seen from the Clippers so far this season and what I think I'll see from new Lakers coach Mike D'Antoni and a healthy Steve Nash, the class of the West is in L.A.
Mason: Thunder. This is looking like a potential Western Conference matchup, and I'm sticking with the Thunder. The Clippers are better now, but I'm still willing to buy relatively low on the Thunder, the team with more room for growth.


ESPN.com and the TrueHoop Network
Arash Markazi is a writer for ESPN Los Angeles. Henry Abbott, Kevin Arnovitz, D.J. Foster and Beckley Mason are part of the TrueHoop Network.
• Follow the NBA on ESPN on Twitter | On Facebook | On Google+