A Seattle investor is reportedly interested in buying the Kings. Could an NBA franchise really be returning to the Emerald City? What would a new Seattle team be called? What would become of the history of the Kings? Our panel discusses the hottest topics surrounding Sacramento's potential move.
1. If the Kings move to Seattle, should they blow up the roster?
Danny Chau, Hardwood Paroxysm: Yes, a scorched-earth policy singeing the trail from Northern California to the Washington coast would be best for a prospective Seattle team. These franchise-altering shifts always warrant a fresh start. Outside of hometown hero Isaiah Thomas and probably DeMarcus Cousins, the organization should actively pursue as many transactions as possible.
James Ham, Cowbell Kingdom: The Kings have some pieces to build around, but a good portion of the roster needs upgrading. They are a lottery team again this season, but youth is not what they need. What they need is a new ownership group with the financial strength to pay free agents. Can you imagine DeMarcus Cousins in a city where it rains over 300 days a year?
Mark Haubner, The Painted Area: No. This is still a very young team, which is on pace for a solid eight-game improvement (and only two games behind the Lakers!), though there's still obviously a lot of roster-shaping to be done. Blowing it up would entail dumping DeMarcus Cousins, who's too talented to give up on at age 22. But jettisoning Tyreke Evans should definitely be on the table.
Beckley Mason, ESPN.com: The Kings haven't won more than 25 games in four years so I'm not sure there's much to "blow up." Once new management figures out if Cousins wants to stick around, they should consider pretty much every other player on the roster expendable and think long term.
Royce Young, Daily Thunder: Yes. If there's ever a time a fan base is going to be forgiving, it's right after a move. That was part of the reason the Presti Plan was so successful in Oklahoma City. Fans never got disgruntled about the terribleness of the team because they were just excited to have basketball. And a new team in Seattle would have that same luxury. Fresh city, fresh start, fresh roster.
---
2. If the Kings move, what should a new Seattle franchise be called?
Chau: If the deal goes through, I can't envision any scenario in which Seattle doesn't reclaim the Sonics moniker. There's a lot in a name, and a new one implies years of building trust and community from the ground up. But there is a Sonics nation lying dormant just waiting to be aroused. I like the sound of "Seattle Anoraks," though.
Ham: There is no reason a new team in Seattle shouldn't be called the SuperSonics. But there are plenty of Sacramento Kings fans who would prefer the Seattle Hypocrites or maybe something sporty like the Seattle Bandits.
Haubner: SuperSonics. All one word, capital "S" in the middle. No other choice.
Mason: The Seattle SuperSonics! And The Presidents of the United States of America should play at halftime of the first game.
Young: Though I think "SuperKings" sounds amazing and would immediately be the best nickname in sports, the name has to be SuperSonics. It just makes far too much sense and still is one of the coolest nicknames in all of sports.
---
3. If the Kings move, what happens to the Kings' and Sonics' histories?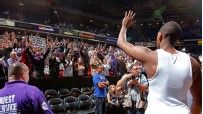 Chau: Seattle should opt to take control of the Sonics' identity. If it's a dual ownership with Oklahoma City, so be it. Sacramento should be able to suspend the Kings' history and keep it in hopes of a future team adopting the legacy. The Kings have been in Sacramento since 1985. Their fans deserve the rights to the history, at least.
Ham: The Kings' history should stay in Sacramento and the Sonics' history should return to Seattle. A team's history is for the fans who cheered and the players who played there. I can't imagine a Chris Webber or a Vlade Divac jersey hanging from the rafters in another city.
Haubner: It seems uncontroversial that the Sonics' history should be returned to Seattle. I can't imagine Thunder fans' desire to have Gary Payton holding their franchise records any more than Sonics fans do. The Kings' history should be placed in the custody of Sacramento mayor Kevin Johnson until he can bring a team back to the city.
Mason: I'm sure Oklahoma City fans would gladly get rid of the Sonics' history so they can be free of the ugliness associated with their team's relocation. What to do with the Kings' history is a trickier question -- could that iconic history just float in limbo until it finds a home, or maybe (gulp) have a museum in Sacramento?
Young: I suspect the Thunder will move to sort of distance themselves even further from their shared history with the Sonics, opening the door for Seattle to rightfully claim all of it and ignore Sacramento's history. But what do you do with the Kings' history and record books? That's an excellent question. Return it all to Rochester, I guess? I really don't know.
---
4. How should Seattle fans feel if they get another city's team?
Chau: A conflicted joy. It's OK to be excited. Seattle basketball is a big deal, and after the Sonics' unceremonious departure, Seattle should be elated. But a period of reflection, of empathy, for a city that is going through a familiar heartbreak is absolutely something worth taking time for. A pitiless, eye-for-an-eye mentality has never done the world much good.
Ham: Seattle fans have been through this pain, and it is something they shouldn't wish upon another NBA city. If they wait another season or two, they will have a new building and most likely a brand-new expansion team with zero guilt. If it happens this way, they will always be the city that lost Kevin Durant and stole the Sacramento Kings.
Haubner: Thrilled that their beloved Sonics would be returning, sympathetic to Sacramento fans who would be losing their beloved Kings in all-too-familiar fashion, frustrated that they were put in the position of having their team stolen and then having to steal another team. And still avoiding Starbucks a little bit longer because of what Howard Schultz did.
Mason: The short answer is happy, so long as the stadium deal isn't exploitative of taxpayers. There will be plenty of hand-wringing and emotional confusion -- no one knows better what Sacramento fans are going through. But ultimately the city should and will respond with enthusiasm and joy for their own good fortune.
Young: Conflicted, but ecstatic. There's really no need to apologize for a team moving into your city. It's just part of the professional sports world. But there's an obvious hypocrite factor with all the venom that was spewed by Seattle at OKC for what it perceived as "stealing" its team. And now Sacramento is going through the same heartache, so maybe keep the gloating at a minimum.
---
5. If the Kings move, will it be a good day for the NBA?
Chau: Probably not until opening night in Seattle, when the fan response in the city becomes something palpable. But if the deal goes through, those months prior to the season opener will be clogged with negative reports and a general outrage from one of the NBA's most dedicated fan bases in Sacramento. It'll be ugly, just as it was in 2008.
Ham: No way. You don't right a wrong by creating another wrong. Seattle lost its team because the city's elected officials gave up. If Sacramento loses its team, it is because David Stern and his Board of Governors failed to protect some of the best fans the NBA has ever known from unscrupulous owners. It's a sad day for the NBA if a city does everything right and still loses.
Haubner: Net negative. One great fan base returns, while another great fan base is lost, with the cost of a second ugly story of franchise relocation in five years. Positive trends would be that Seattle taxpayers fended off being held hostage to end up with an arena financed with essentially no currently existing public money, and that the Maloofs would hopefully be gone forever.
Mason: Yes, Seattle is a bigger TV market in a more prosperous city. That said, the way the Maloofs would be backing out on a city and fan base that worked so diligently to keep the team is deplorable. Though we should be wise to the game at this point, their actions (but not the $500 million sale price -- yowza!) reflect poorly not just on the NBA but professional sports generally.
Young: Yes. But also no. I don't really see a right answer here. Yes in the sense that the NBA returns to a city that very much deserves a franchise, but no because the NBA leaves a city that very much deserves a franchise. It's such an impossible situation and one that's both devastating and wonderful at the same time.


ESPN.com and the TrueHoop Network
Beckley Mason covers the NBA for ESPN.com. Danny Chau, James Ham, Mark Haubner and Royce Young are part of the TrueHoop Network.
• Follow the NBA on ESPN on Twitter | On Facebook | On Google+