The Pacers and Grizzlies are more than holding their own in the East and West, but do they have enough to contend this season? Check out what the numbers say in Monday's Per Diem, then read our panel's takes before the clubs square off Monday afternoon (ESPN, 1 p.m. ET).
1. Fact or Fiction: The Grizzlies should trade one of their core players.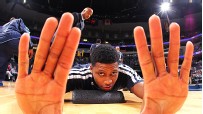 Kevin Arnovitz, ESPN.com: Fact. The Grizzlies are $4 million into luxury-tax territory, and it will only get worse next season unless they get out from under one of their high-dollar deals. If the Griz projected as a No. 1 or No. 2 seed, you could make the case that they should go for broke with this core. But Memphis isn't seeing a Western Conference finals with its leaden offense. So the Grizzlies can find a taker for Rudy Gay's oversized contract and get an affordable floor-spacing wing in exchange, they should act.
Danny Chau, Hardwood Paroxysm: Fact. The Grizzlies are a very good team, but their financial burden will soon catch up to them and only become more pronounced if their offensive woes persist. Breaking continuity is never the preferred option for a team built on chemistry, but the Grizzlies should be looking for cost-cutting measures that might also help add new offensive dimensions.
Red Coleman, 3 Shades Of Blue: Fact. The question is: Rudy or Z-Bo? Financially, the Grizzlies have to make a move involving one of those two guys. I think they'll wait until the offseason and make a trade leading up to or during the draft.
Ian Levy, The Two Man Game: Fact. Without putting too fine a point on it, the player who should be traded is Gay. He has plenty of value but makes for a poor offensive fit. The Grizzlies are starved for spacing, and it's a crushing body blow to their offense every night having 36.9 of their small forward minutes going to a player who shoots 33.5 percent from beyond 15 feet.
Jared Wade, 8 Points, 9 Seconds: Fiction. I suppose I understand Memphis' desire to move the underperforming Gay, and the team certainly needs to find a way to recapture its early-season success. But moving Gay, unless the Grizzlies can make a clear upgrade, is not the answer.
---
2. Fact or Fiction: The Pacers should trade one of their core players.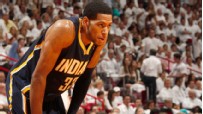 Arnovitz: Fiction, but no team should be unconditionally opposed to making a deal because you never know when you're going to find mutually beneficial scenarios on a trade market -- or just a sucker. The Pacers don't have anything too unsightly on their books, but they should at least explore whether they can fetch some immediate firepower for Danny Granger, as long as it doesn't compromise their long-term flexibility.
Chau: Fiction. Granger's tradability has soared as a result of Paul George's emergence as a potential All-Star, but why would the points-starved Pacers want to trade their most consistent scorer? Obviously the team wouldn't want to inhibit its budding star, but Granger's skill set is adaptable and will be crucial for any kind of postseason run.
Coleman: Fiction. At least not until Granger returns and shows he is healthy. David West is the only player with true trade value, and most of that is because his contract is expiring even though he's still putting up solid numbers.
Levy: Fiction. To me, the Pacers' roster looks less like a rock-solid foundation than a delicate feng shui configuration. They aren't good enough to stand pat in the long term, but removing a piece right now could collapse the entire structure. At this point I think they're better off waiting on Granger's return and being patient with long-term planning.
Wade: Fiction. The Pacers have a good core, but the whole bench is suspect. The emergence of Lance Stephenson means that the bench unit should improve once Granger returns, but at this point they need everyone they have.
---
3. Fact or Fiction: The Grizzlies are a dark horse to win the West.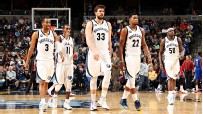 Arnovitz: Fiction, but I'm not convinced that Memphis' offensive issues are terminal. There isn't a lot of depth, and the Grizzlies have a serious deficit from the outside, but does this roster really look like it should feature the league's 22nd-ranked offense? A couple of strategic upgrades could elevate the team to dark-horse status, but there's still the pesky matter of the Spurs, Thunder and Clippers.
Chau: Fact, although the chances are slim. The Grizzlies' defense is as intimidating as it's ever been, but the offense has gone through a dry spell. The driest spell. The team hasn't hit the 90-point mark in a game since Jan. 11. Defense may win championships, but putting the ball through the hoop is pretty important, too.
Coleman: Fact. Despite the recent slide, the Grizzlies have proved that they can play with anyone this season. We're still waiting to see what they can do in the postseason with a healthy team -- something they haven't been the past two years.
Levy: Fiction. Could they win the West? Sure. But as the seeding looks now, the Grizzlies would have to go through the Warriors, Thunder and then either the Clippers or Spurs to win the West. The Clippers, Thunder and Spurs have been terrific all season long, motoring ahead on smooth seas. The Grizzlies still seem a step behind, frantically shoveling coal into the engine.
Wade: Fiction. Right now, the Thunder, Clippers and Spurs just look to be a class above the Grizzlies.
---
4. Fact or Fiction: The Pacers are a dark horse to win the East.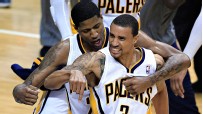 Arnovitz: Fiction. The Pacers' offense is some rugged machinery that makes the Grizzlies' offense seem prolific in comparison. True, the competition isn't nearly as stiff in the East, but a team with this kind of offensive hardship can't last until June -- and I'm not sure a healthy Granger can reverse that.
Chau: Fact. After what happened during last year's playoff series against the Miami Heat, it's tough to discount their odds completely. Of course, the team is nowhere near what it was on the offensive end last season, but Granger's return should alleviate the problems significantly. An improved offense combined with the league's best defense? Sounds promising enough.
Coleman: Fact. When you play the kind of suffocating defense that the Pacers do, you always have a shot to beat teams perceived as better than you. If they get Granger back and Roy Hibbert regains his offensive form, they're a matchup nightmare for most of the East.
Levy: Fiction, at least without Granger. Their defense is elite and can keep games close against almost any opponent. But their offense is so blunt and unimaginative that scoring points in the playoffs could be a monumental challenge. They have as good a chance as anyone in the East of knocking off the Heat, but they desperately need Granger's offense to make those chances anything other than slim.
Wade: Fact. There are three types of teams in the East: bad teams, teams fighting for the 2-seed and Miami. It is exceedingly unlikely that anyone knocks off the Heat, but the Pacers are just as likely to do so as are the Knicks, Nets, Hawks or Celtics. And because Indiana has something to hang its hat on -- defense -- it might have a leg up on the flashier New York-based teams.
---
5. Grizzlies or Pacers: Which team is better positioned for future success?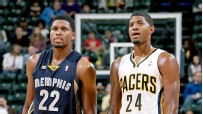 Arnovitz: Grizzlies. The Pacers definitely have a friendlier salary-cap situation, but Mike Conley is a more advanced point guard than George Hill, Marc Gasol is a better long-term bet than Roy Hibbert at center, and Indiana's most productive offensive player, David West, will be a free agent on July 1. Advantage: Memphis, with the assumption the Grizzlies will make the right decisions while cleaning up the balance sheet.
Chau: Grizzlies. Their core may be a bit older than the Pacers', but many of their centerpieces are mere inches from their prime seasons. The team has a concrete identity that can survive even with major roster changes and could stand to improve if it keeps the entire core intact.
Coleman: Pacers. This is a tough one, but I'm leaning toward them because their salary-cap situation isn't as alarming as Memphis' and they have better overall balance on offense from their core players. Also, the East isn't quite as daunting as the West.
Levy: Pacers. I lean this way simply because of George's potential for two-way brilliance. Still, a surprising amount of luster has come off both teams since the season began. Watching each struggle to turn offensive talent into offensive production makes both futures seem a little dimmer.
Wade: Pacers. Both teams have solid cores and should remain competitive for the foreseeable future. But in this league, you still need a superstar to win a title, and in this day and age it really helps if that person is a perimeter player. Memphis doesn't have anyone like that. Indiana might in Paul George. If he continues to evolve into an upper-echelon All-Star, the Pacers could be a top-tier team for years to come.


ESPN.com and the TrueHoop Network
Kevin Arnovitz covers the NBA for ESPN.com. Danny Chau, Red Coleman, Ian Levy and Jared Wade are part of the TrueHoop Network.
• Follow the NBA on ESPN on Twitter | On Facebook | On Google+