ESPN Insider has ranked the top 25 players under the age of 25 in the NBA game. But how will they fare pitted one-on-one with a fellow top young star? Our panel gives their takes on five head-to-head matchups.
1. Better player under 25: Russell Westbrook or James Harden?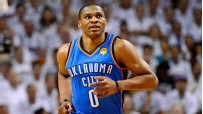 Dan Feldman, PistonPowered: Russell Westbrook. This is a nice season for Harden, whom the Thunder spurned for players like Westbrook. But there's still a reason Oklahoma City chose Westbrook. Point guards -- yes, Westbrook is one -- tend to have more value than shooting guards, because they have more responsibility. That's especially true of point guards (Westbrook) who turn the ball over less often than shooting guards (Harden).
Andrew Han, ClipperBlog: Westbrook, even though he's not a prototypical point guard and is unfairly criticized because he plays with Kevin Durant. Westbrook is the better defender, and when you factor in his lower turnover percentage, higher rebounding rate and similar field goal and 3-point percentage, Westbrook narrowly edges Harden.
Danny Nowell, Portland Roundball Soc.: Harden. I think this is nearly a toss-up, and Harden's efficiency edge over Westbrook is mitigated somewhat by the OKC dynamo's higher usage rate, but I'll take the Beard. He's got Russ on win shares, shooting of every kind and he's a year younger.
Michael Wallace, ESPN.com: Russell Westbrook. But this is as close as they come, and I've gone back and forth a couple of times between them. If it comes down to having to make one play to win a game, I fear Harden more because of his smoother offensive game. But overall, Westbrook gets the nod because when he's engaged defensively, he dominates his position at both ends.
Royce Young, Daily Thunder: Westbrook. Harden has nights when his scoring efficiency and playmaking will almost blow your mind. But Westbrook's toughness and competitive spirit are special, and something that sets him apart. Plus, I think we're pretty much witnessing Harden's potential. Westbrook has yet to realize his.
---
2. Better player under 25: Blake Griffin or Kevin Love?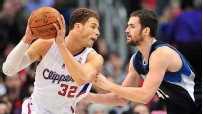 Feldman: Blake Griffin. What happened to Love? He amazed me for being quirky good, doing things like offensively rebounding at an elite level while hanging out beyond the arc enough to be a good 3-point shooter. But even before his latest injury, he made just 20 of 92 3-pointers this season. That could just be the product of a small sample size, but Love has never made fewer 3-pointers in any 92-attempt set. Rather than trying to figure out why he has slipped, I'll take Griffin, who can create basketball's most efficient shot more often than anyone else in the league.
Han: Kevin Love, with the caveat that Blake Griffin could be the better player once they're 25 and older. Love is a better rebounder, but Griffin is the better passer and, after improving this season, the better defender. And for all the complaints about Griffin's jumper, they both shoot in the high 30 percent on midrange shots. Really the only thing separating them is Love's 3-point range.
Nowell: Griffin. These two are even more neck and neck than Harden and Westbrook -- they, in fact, have the same win shares per 48 exactly -- so I'll give the edge to Griffin. He's a year younger, and a little more experienced playing for playoff teams. Otherwise, this is close to a wash.
Wallace: Kevin Love. Yes, Blake Griffin is far more flashy and athletic. However, the bottom line for me is that Love gives you more boards and hits the occasional 3-pointers and free throws. Griffin is more durable and flat-out terrorizes opponents in transition. But Love has a far more complete skill set that allows him to punish teams in a more subtle, yet effective way.
Young: Love. Outside of the highlights and athleticism, Love is superior to Griffin in almost every way. Griffin's game is still raw and developing, while Love is a mostly polished inside-out offensive player. Touch from 25 feet to go with maybe the best rebounding instincts in the game -- that's a special kind of package.
---
3. Better player under 25: Derrick Rose or Kyrie Irving?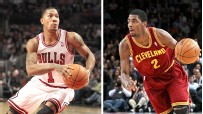 Feldman: Derrick Rose. This answer could look really bad in a few months, because it's foolish to assume Rose's athleticism will return after an ACL tear. But as well as Irving has played this season, Rose has already had two seasons better than the one Irving is having. Keep in mind, Rose is four years older than Irving, so, injuries aside, he should be ahead of him.
Han: Irving, due to Rose's uncertainty after injury. Body of work, Rose is the better player, but no one knows whether that Rose still exists. Couple that with Irving's razzle-dazzle ball skills and smooth shooting stroke and the 2012 rookie of the year edges out the 2009 iteration.
Nowell: Right now, Rose. But I think Irving is destined to be the league's second-best point guard. Provided he comes back close to his former level of production, Rose should once again become one of the most dynamic guards in the league, but Irving's balanced game will eventually give him the edge.
Wallace: Derrick Rose. In a vacuum, Irving's the answer. He's the better shooter, scorer and defender. So I fully admit to making this pick out of respect for what I've seen Rose do over the course of his career in leading his team in far more meaningful moments. If Rose is able to regain close to what he had before the knee surgery, he lifts the Bulls into title contention.
Young: Rose. We haven't seen him in almost a year, so it's kind of easy to forget what a ridiculously good offensive player he is. And there's the unavoidable question of how he's going to respond to his injury. Will it change him? Will he stop exploding and cutting and slashing the way he did? If he returns to what he was, he'll not just reclaim his perch as a premier point guard, but among the top players in the league.
---
4. Better player under 25: Serge Ibaka or Brook Lopez?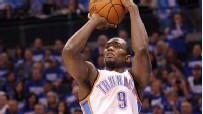 Feldman: Serge Ibaka. This was the toughest choice. Both are having career years, and both have confusing reputations. Ibaka, though he's an excellent shot-blocker, hasn't always been an excellent defender -- a distinction often not recognized. And how quickly we forget Lopez ranked 14th in Bill Simmons' trade-value list in 2010. I'll take Ibaka, because his so-far career year more closely resembles his norm than Lopez's.
Han: Ibaka. Lopez has a clear advantage as a post player, but Ibaka is a better rebounder, more versatile defender and better shooter. Brook Lopez might be the most offensively skilled center in the league, but Ibaka just does too many other things to ignore.
Nowell: Ibaka. I'm no fan of Lopez-bashing, and as a scorer with such a high usage rate he's very impressive, but this one is less close than it appears. Ibaka is more efficient, younger, more of a contributor on defense and a better rebounder even with Lopez's recent improvement.
Wallace: Serge Ibaka. If you want traditional, post-up play, Lopez is your guy. But in today's NBA, where defensive versatility is more valued than low-post footwork, Ibaka is the better overall value. Neither is as assertive as their respective skill sets would allow them to be. But Lopez is featured in Brooklyn. Ibaka isn't in OKC. Yet their numbers are similar. That says it all.
Young: Ibaka. I'm not so sure there's a more talented offensive center in basketball than Lopez. He's a true 7-footer that has pick-and-pop ability and a quality post game. That's rare in today's NBA. But Ibaka is one of the league's best midrange shooting bigs, is insanely active on the glass and is the best shot-blocker in the world. Lopez has big-time offensive gifts, but Ibaka is a more impactful end-to-end player.
---
5. Better player under 25: Stephen Curry or Jrue Holiday?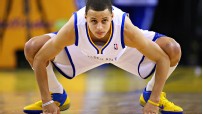 Feldman: Stephen Curry. I like Holiday's potential, but this was the easiest answer of the bunch. Curry is an elite offensive player thanks to great 3-point shooting and plus passing, two skills that make his Warriors teammates even more effective. Curry is on pace to have the best 3-point percentage ever by a player averaging 20 points and 6 assists per game. Plus, his steals make him at least a decent defender.
Han: Curry, with the dreaded "if healthy" tag. Holiday has a great all-around game, but Curry being a shooting savant gets the edge. He could already be a perennial candidate for the 50-40-90 club, and the only thing holding him back is the threat of ankle injury. Combined with the overall defensive improvements of a surprising Golden State squad, it's tough to not pick Curry.
Nowell: Curry. This comparison really hammers home how amazing Curry has been; even with Holiday's career year, this is not close. Curry shoots better, at a higher usage rate, somehow rebounds at a slightly better rate and trails Holiday only slightly in assist rate. Holiday is younger, and should turn his physical advantage into real defensive disruption, but right now, Steph's the man.
Wallace: Jrue Holiday. Curry's durability is a major concern. That said, his upside offensively makes him well worth the risk. But Jrue has shown this season he's capable of getting a triple-double any given night. He's required to do more for Philly, but he's answered the challenge. Nothing about his game is flashy. He just seems to do a little of everything well on both ends.
Young: Curry. As goes anything with Curry, this is contingent on those ever-rickety ankles. Assuming they stay sturdy, he's a threat for multiple seasons of 20-plus points a game, shooting 50-40-90 percentages. That's elite offense.


ESPN.com and the TrueHoop Network
Michael Wallace covers the Heat and the NBA for ESPN.com. Dan Feldman, Andrew Han, Danny Nowell and Royce Young contribute to the TrueHoop Network.
• Follow the NBA on ESPN on Twitter | On Facebook | On Google+