What do we make of the four teams heading into Friday night's national spotlight (ESPN, 7 p.m. and 9:30 p.m. ET)? Our team thinks deep about the Heat, Lakers, Pacers and Timberwolves, as well as the league at large.
1. The Miami Heat are __________.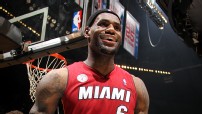 Danny Chau, Hardwood Paroxysm: Counting down the days until April. If there is any team with a legitimate on/off switch, it's the Heat. The team has the fourth-best record in the league, but it feels like a disappointment. But when the playoffs arrive -- when the team will be able to devise team-specific strategies and matchups -- we'll start seeing the genius of last season emerge again.
Aaron McGuire, Gothic Ginobili: Coasting. Some defending champions emerge from their championship primed to obliterate the league in their title defense. Miami is emphatically not one such team; they prefer the Phil Jackson route. Of course, it barely matters. They're still great enough to take half the nights off and stay healthily atop a poor Eastern Conference. Still coasting, though.
Benjamin Polk, A Wolf Among Wolves: Biding their time. The season is long; the Eastern Conference is soft; the champs know this. As these Heat jaunt through the playoffs, I would not be the least bit surprised to see their defense slowly become the suffocation machine that it was last season.
Jared Wade, 8 Points, 9 Seconds: The only team in the East worth taking seriously. The Knicks were great early, the Nets have been riding a wave since they canned Avery Johnson, the Pacers have a world-class defense, and the Bulls could beat anyone if Derrick Rose comes back healthy. But all these "contenders" are a clear tier below the reigning champs.
Michael Wallace, ESPN.com: Right on schedule. What other team that has been in first place in either conference this season has been as criticized as much as the Heat? Yes, the defending champs will have bouts of boredom, stints of less-than-stellar play and a few mind-boggling losses. But as long as they remain relatively healthy through the rigorous regular season, they're fine.
---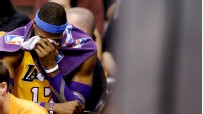 Chau: Making some riveting television. Kobe has assumed a new character, and things were going remarkably well with the increased ball movement. But like any good drama, it never lasts, and the last few minutes are never predictable. Every game has become a matter of life or death in the standings and it's must-see TV, no matter where your allegiance lies.
McGuire: Blundering. What else do you call a team that thoroughly outplays the West's best team one night and gives up a 21-4 run to squander a 13-point fourth-quarter lead against one of the worst teams in the league not two days later? Inconsistent, incoherent and tough to crack.
Polk: Really hoping that Dwight Howard's shoulder is OK. It's true that Howard is nowhere near the MVP-caliber destroyer he was before his back surgery and also that he hasn't exactly assimilated into the cutthroat, grim-faced culture of Kobe Bryant. But its also true that, without Howard, the Lakers' defense goes from mediocre to nightmarishly bad.
Wade: Toast. If they weren't in the West, they might have a chance to turn this around, limp into the playoffs and advance to the conference finals. But even if the Lakers do play a postseason series in April, it will be against a heavyweight team they can't beat.
Wallace: Disjointed. Disappointing. Disturbing. Pick a word that starts with "d" and it probably applies. Well, with the exception of "defense." At this pace, the Lakers will produce the most disappointing season in recent pro sports history, based on expectations. When Michael Beasley is lighting you up, all hope is gone.
---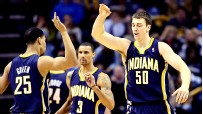 Chau: Ready for Danny Granger to return. There's no guarantee his incorporation will be a smooth one, but the team needs him. Whether it means Lance Stephenson -- a pleasant surprise for Indiana this season -- being demoted to sixth man, or Granger assuming that role himself, the Pacers are in dire need of a boost in their weak second unit.
McGuire: Plodding, above all else. The Pacers have been many things this season. Disappointing to shocking. A punching bag to an elite unit. Dominant to docile. Through it all? They've been one of the slowest-paced teams in the entire league, a plodding bunch that grinds out tough wins and kills their opponents' spirit.
Polk: In desperate need of a little offensive jolt. They say that defense wins championships. "They" will, in the Pacers' case, be wrong. This team, after all, is fifth-worst in effective field goal percentage and 28th in offensive efficiency. They play slow, they don't move the ball and they turn it over. Even the Association's most bruising D can't solve those problems.
Wade: Who we thought they were. Their stature within the Eastern hierarchy took a hit when they lost three of four on their recent road trip, but a shellacking of the Pistons helped reinforce the fact that they may be the only team in the conference other than the Heat with anything to rely on.
Wallace: An enigma. There's no team in the league that goes from dominant one night to dormant the next quite like the Pacers. This team plays to the extremes, so much so that they are equally capable of stunning Miami and winning the East as they are of falling out of the playoff race. Indiana has the talent, but lack the consistency to be trusted.
---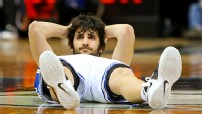 Chau: Cursed. There's probably a better explanation for the crippling injury bug they've faced all season, but I'm sticking with this one. Their offense has fallen off a cliff, though it's understandable considering their rotational continuity hasn't lasted much longer than a week at any point this season. It's just a sad, regrettable reality for a team with serious potential.
McGuire: Cratering. The season's over halfway through and neither Love nor Rubio have played more than 20 games. Now Pekovic's injured, Rubio's shot has gone missing and their hopes of a playoff berth are virtually gone. This team was built for playoff basketball. Unfortunately -- for them and the NBA as a whole -- their bodies had other plans.
Polk: Having a real bad trip. Kevin Love, Ricky Rubio, Brandon Roy, Chase Budinger, Nikola Pekovic, Alexey Shved, Rick Adelman: all of the above have missed serious time with illness and injury. They started the season 5-2; in December they beat the Thunder at home; last weekend they lost consecutive games to the Wizards and Bobcats. Hello, lottery, thy old friend.
Wade: Cursed. At this point it's probably for the best that neither Kevin Love nor Ricky Rubio appear to be heading to Houston for All-Star Weekend. The way things are going health-wise, I presume they would just get run down by a rogue rodeo bull, hit by a space shuttle or drown in a barrel of oil.
Wallace: Snake-bitten. Just when they get one star back from a serious injury, they lose another. That has been the case for the better part of two seasons for Minnesota, which always seems to be without either Kevin Love or Ricky Rubio. And it's a shame, because when healthy, they can contend for a playoff spot in the West.
---
5. The NBA is __________.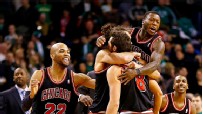 Chau: About to round into shape. Signs point to key players in the East -- such as Derrick Rose, Andrew Bynum and Granger -- returning to their respective teams soon, which should have serious playoff seeding implications. The trade deadline should also create new opportunities for teams making a push. It'll be exciting to see how the incoming additions will change the landscape.
McGuire: Booming. It's not just the ratings, the globalization or the glut of talent in the league. It's the cash. Want a 17-30 team with flagging attendance? That'll be $525 million, thanks. Yes, much of that pays off Maloof debt and relocation fees. But that doesn't make the total any less staggering.
Polk: Weirdly lopsided. The Western Conference boasts three teams with legit title chances (Thunder, Spurs, Clippers) and a handful of intriguing darkhorses (Grizzlies, Nuggets, Warriors). The East, on the other hand, can claim the Heat, the Knicks' pick-and-roll and … the dream of a healthy Derrick Rose.
Wade: Fan-tastic. Nothing beats the NFL for a weekly gathering with loved ones, and Major League Baseball offers an in-stadium experience like none other. But on a night-to-night basis, no sport offers more excitement -- and season lasts for what seems like 13 months a year.
Wallace: Can't-miss TV. Not a night goes by when something spectacular or flat-out disturbing doesn't happen. The storylines have been as intriguing as the games -- from the Lakers' malaise to surprising campaigns from teams such as Golden State. There already have been big trades and season-altering injuries, too, and we've yet to reach the All-Star break.


ESPN.com and the TrueHoop Network
Michael Wallace covers the Heat and the NBA for ESPN.com. Danny Chau, Aaron McGuire, Benjamin Polk and Jared Wade are part of the TrueHoop Network.
• Follow the NBA on ESPN on Twitter | On Facebook | On Google+