The Los Angeles Lakers head to Boston Thursday to face the Celtics in the first rendition of the NBA's big rivalry this season. But thanks to injuries to key players like Pau Gasol and Rajon Rondo, swirling trade rumors and general malaise, neither of the league's marquee franchises look up to snuff for a change.
What do we make of the once-mighty Lakers and Celtics moving forward? Well, our panel is glad you asked ...
1. Gasol or Rondo: Whose injury hurts more?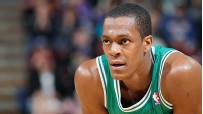 Jim Cavan, KnickerBlogger: Rondo. Both teams were unlucky enough to have their biggest injury happen at arguably their weakest position. But severity has to serve as a factor here, and that alone makes Rondo's torn ACL -- where the difference between "recovery" and "return to form" can be many months -- the much tougher pill to swallow.
Beckley Mason, ESPN.com: Rondo. Though the Lakers may be hurt more in the short term, Rondo's injury forces Boston's entire franchise to re-evaluate its direction and its timetable for moving on from the Paul Pierce-Kevin Garnett era.
Aaron McGuire, Gothic Ginobili: Rondo. While L.A.'s depth is thin enough that a Gasol injury calls for big minutes from Robert Sacre, Rondo has been Boston's sole offensive catalyst for quite some time. He has vastly improved its offense over the past three seasons and has tantalizing upside that Gasol can't match.
Michael Pina, Celtics Hub: Gasol. Rondo's injury impacts the Celtics greatly, but in a weak East their deep backcourt (Jason Terry has gladly accepted more offensive responsibilities) should help steady their ship of lowered expectations. Gasol's injury, combined with the loss of Jordan Hill and Dwight Howard's shoulder/back issues, has suddenly turned the Lakers' great strength -- their size -- into a legitimate weakness.
Darius Soriano, Forum Blue and Gold: Rondo. Though the Celtics have more depth to compensate for Rondo's loss than the Lakers do for Gasol's, it's their respective roles that tip the scales. As valuable as Gasol is to the Lakers, he's only a cog in their machine, while Rondo is the Celtics' engine.
---
2. Fact or Fiction: The Lakers should trade Dwight Howard.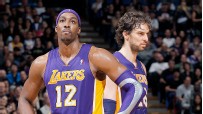 Cavan: Fiction. Howard's injuries should be enough to give any GM pause and could dull the haul L.A. gets in return. If I'm Mitch Kupchak, I'm banking on SoCal sunshine and Lakers mystique being enough to keep D12 in tow. If he walks, go after a free agent or two this summer. It's not the Class of 2010, but it ain't fish chum, either.
Mason: Fiction. Howard's value is probably at an all-time low and there is almost no Dwight trade the Lakers could pull off that would make them a contender right now. Kobe Bryant may not agree, but it makes zero sense for the Lakers to make decisions with only this season in mind.
McGuire: Fiction. Although he has had a nightmarish season and it's hard to tell whether he'll ever truly be back to full form, he has still been a productive player with nights that flash at former glory. His possible return to form represents the Lakers' best shot at putting together a new-age contender.
Pina: Fiction. Giving up on Howard made little sense for the Lakers before Gasol's injury, and it makes even less sense now. Even if Kupchak was adamant about making a deal, how many serious buyers can there be? Apart from Daryl Morey and the Rockets, how many organizations are willing to trade several talented, healthy players for less than half a season from one free-agent-to-be center who's currently operating at 75 percent of his ceiling?
Soriano: Fiction. Even with Howard tap dancing around questions regarding his future in L.A., the Lakers could never receive equal value in a trade, and any deal for lesser pieces is likely to decrease the team's financial flexibility in future seasons. Better to gamble that Howard stays long term than to sacrifice future flexibility in a trade.
---
3. Fact or Fiction: The Celtics should trade Kevin Garnett.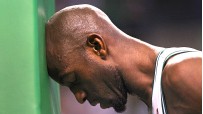 Cavan: Fact. The combination of KG's age and no-trade clause means any team desiring his services would have to be one piece away from true contention -- the Clippers, for instance, who could offer Eric Bledsoe in return. It's probably the end of the KG era in Boston anyway, so even if you have to take on an ugly expiring contract, what's the difference?
Mason: Fact. This comes with the usual caveats about needing the right deal, but the Celtics are going to need to make moves if they want to rebuild quickly -- high draft picks are a long ways off and when's the last time a high-profile free agent chose to move to Boston?
McGuire: Fiction, but only because it's hard to get much back. While Garnett is still an excellent player, he's a 36-year-old center with more than $24 million remaining on his contract. Any trade has to bring a lot of dead-weight salary back to Boston, and it's hard to come up with enough offsetting value to make that worth it.
Pina: Faction. If, say, Utah is willing to surrender Derrick Favors? Sure. Oklahoma City wants to give up Toronto's lottery pick? Cool. But anything less than a high draft pick or young stallion still on a rookie deal isn't worth it. Rondo or no Rondo, the Celtics still boast an elite defense with Garnett as their starting center.
Soriano: Fact. The Celtics' future doesn't involve Garnett and it's better to shape that future through assets obtained in a trade of KG than to gamble that they can turn cap space into the players they'll need to build a contender around Rondo.
---
4. Fact or Fiction: The Lakers will make the playoffs.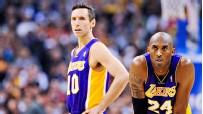 Cavan: Fiction. Kobe & Co. need to rip off an epic string of wins to catch the Rockets, whose cartoonishly fun offense and fast-jelling young core has them humming. That leaves current seventh seed Utah -- and its faulty minus-0.5 point differential -- as the real target. It's not out of the realm of possibility, but I still say the Lakers are hitting the links come April 18.
Mason: Fiction. But I won't be surprised if they do -- the bottom of the Western Conference playoff picture seems as though it could fall out at any moment. They'll have a good shot at getting back in the hunt if Houston struggles in its next 13 games, nine of which are on the road.
McGuire: Fiction, but it's a remote possibility. People piled on about the perceived impossibility when they were 17-25, but that was quite premature. The eighth seed is likely to require just 41 to 43 wins in the West, giving L.A. a decent chance of snagging it if Utah or Houston ends the season sliding. I'd take the field, but L.A. isn't dead yet.
Pina: Fiction. Before Gasol went down it looked like the Lakers would eventually leap one of the inconsistent teams immediately in their path (Utah, Houston or Portland). But with no Gasol for the foreseeable future, Los Angeles is forced to do battle with a frail front line and absolutely no margin for error.
Soriano: Fact. Gasol's injury hurts their chances severely. However, the teams in front of them aren't running away from them. With the Lakers finding a winning formula and Howard set to return to the lineup at some point, they can still make a run.
---
5. Fact or Fiction: The Celtics will make the playoffs.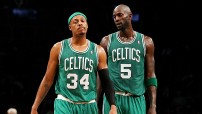 Cavan: Fact. With four games between them and the still Bynum-less Sixers -- plenty of cushion for Doc the Mad Scientist to alchemize an offensive scheme -- Boston has a much easier path in the top-heavy East. Rivers rattled off three straight winning seasons in Orlando with Darrell Armstrong, Troy Hudson and Grant Hill as his point-guard-by-committee. Pretty sure he can figure out this puzzle.
Mason: Fact. A point guard's role is to bring out the most of his team offensively. Ironically enough, losing Rondo, the league's assist leader, has done just that for guys such as Courtney Lee and Jason Terry. Unless Bynum is dominant when he returns, whenever that is, the Celtics should be able to hold on to their playoff spot.
McGuire: Fact. Like the Lakers, it's almost a coin flip for Boston. The field is extraordinarily weak (even for the East), but all it will take is a four- or five-game slide near the end of the season to level the playing field and give Detroit, Toronto and Philadelphia a fighting chance to snag the spot.
Pina: Fact. There are several variables in play (such as whether Atlanta trades Josh Smith and how effective Bynum can be when/if he returns to Philadelphia), but above all else, the conclusive reason they will is that the East isn't very competitive. Having a creme de la creme defense should also help.
Soriano: Fact. Even with its injury woes, Boston has enough depth in the backcourt, enough diversity in the frontcourt and the combination of coaching and experience to hold on to a bottom seed in the East.


ESPN.com and the TrueHoop Network
Beckley Mason covers the NBA for ESPN.com. Jim Cavan, Aaron McGuire, Michael Pina and Darius Soriano contribute to the TrueHoop Network.
• Follow the NBA on ESPN on Twitter | On Facebook | On Google+