Midway through the season, the Clippers and Heat are at or near the top of their respective conferences. What are the chances they meet in June? Our panel discusses that and more ahead of their Friday night showdown (8 p.m. ET, ESPN).
1. What are the odds of a Clippers-Heat NBA Finals?
Danny Chau, Hardwood Paroxysm: 15 percent. As it currently stands, the Clippers are third in the West, behind the Spurs and Thunder. However, if healthy, they arguably have the second-best shot of making it to the Finals after OKC. The Heat are clear favorites for the East, but the Clippers will need to rely on a good bit of fortune for that particular matchup.
D.J. Foster, ClipperBlog: 15.6 percent. While the Western Conference feels like a real rock-paper-scissors situation among the Spurs, Thunder and Clippers, Miami has to be the heavy favorite to return to the Finals, especially with Dwyane Wade rounding back into form. And no, I'm not sure how I got that number, either.
Fred Katz, ClipperBlog: 15 percent. The Eastern Conference still looks as though it goes through Miami, but the Clippers might be only the third-best team in the West with Chris Paul. Oklahoma City and San Antonio will be rough to get through.
Brett Koremenos, HoopSpeak: 30 percent. The Thunder are the clear front-runners in the Western Conference, but before Chris Paul was sidelined with his knee injury, it was the Clippers who were the class of the conference. With that said, it's hard to imagine a healthy Oklahoma City team led by Kevin Durant succumbing to anyone before the Finals.
Michael Wallace, ESPN.com: 25 percent. The Heat are likely to get back to the Finals for a third straight season, but I give Paul and the Clippers a 1-in-4 chance of meeting Miami there. It's been two seasons, and the Clippers have yet to get to full strength for any sustained period. They've proved to be a contender, but Heat-Thunder or Heat-Spurs are far more likely.
---
2. LeBron or the field: Who ya got for MVP?
Chau: The field. That's almost painful to say when LeBron James has essentially chiseled his already-chiseled self into the perfect basketball player. But Durant is in his periphery and surging. As alarmingly efficient as LeBron has been, Durant has kept pace. If narrative plays a role in the decision, Durant should take it, especially if the Thunder finish as the league's best.
Foster: Give me the field. Voters get bored handing the award to the same guy year after year, and it's not as though Durant will be an unworthy candidate. If Durant can be the first player in NBA history to lead the league in scoring with 50-40-90 percentage marks, he might get a "triple crown"-type nod and win it over LeBron.
Katz: LeBron. For some reason, we are not acknowledging that James has turned into a wonderful outside shooter. Pair that with his league-leading 78.2 percent field goal percentage at the rim, and he is more efficient than anyone else in the league. Now consider phenomenal passing ability and unparalleled defense, and that should be enough to lock up the award.
Koremenos: LeBron. Whether it's his 40 percent mark from behind the arc or his streamlined post game, James has almost made excellence boring. He's dominating the league, and you get the sense watching him that he's not fully engaged, either. With the way the voting is conducted, there's a chance he may not win it, but it won't change the fact that he should.
Wallace: LeBron. In a season when he's conquering every doubt about his game, James will also eventually overcome any voter fatigue. I respect the improvements Durant has made, and Paul is the only other logical choice. But the debate comes down to this: LeBron already has three MVPs and never had a year this good across the board.
---
3. Go for it or stand pat: What should the Clips do at the trade deadline?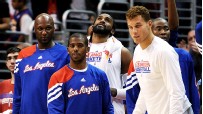 Chau: Go for it! If there is anything to last week's Kevin Garnett rumors, the Clippers should be trying their hardest to turn that pipe dream into a reality. The Clippers are remarkably better on defense this season than last. With the team's newfound commitment on that end, who better to help reinforce core principles?
Foster: Stand pat. You only gamble what you can afford to lose. If the Clippers go all-in and trade Eric Bledsoe or DeAndre Jordan and it doesn't result in a title, what would Paul have to come back to outside of Blake Griffin? I'm not sure the Clippers need to make a move anyway -- when fully healthy earlier in the season, the Clips rattled off 17 straight wins.
Katz: Stand pat. The Clippers are good -- really good -- when they're at full strength. Bledsoe's trade value is only increasing and if they trade him -- their only real asset -- that means there is no more flexibility to improve in the offseason if they are, in fact, ousted in the first or second round of the playoffs.
Koremenos: Stand pat. There is enough talent on that roster that they can still win the title without a major move for someone like Garnett. It seems as though Bledsoe and/or Jordan can bring back a lot more than a 36-year-old big man who still may not lead them past both OKC and Miami. The only way it makes sense for them to make a move is if Paul demands it in exchange for his long-term future.
Wallace: Stand pat. Unless they can sucker someone and land a reliable go-to option in the post. The Clippers apparently tried this with Boston, but the smart Celtics didn't bite by sending Kevin Garnett. The Clippers could also use a spot-up 3-point shooter to feed off CP3 and Blake Griffin. But more than anything, they just need to all get healthy.
---
4. Fact or Fiction: Eric Bledsoe will be a top-10 point guard.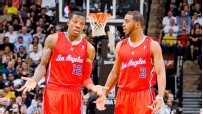 Chau: Fiction, which is more a statement about the sheer amount of unbelievably talented point guards than a dig at Bledsoe. His manic defense is a joy to watch, but when he gets his opportunity to lead a team as a starter, can that energy possibly be sustained on both ends? That's something I worry about; his jump shot, too.
Foster: Fiction … on a technicality. I truly believe Bledsoe is better suited off the ball, and I don't want to hear about him being 6-foot-1 -- it's about production, not size. Give him a head start on the wing in transition, have him cut backdoor, and allow him to better use his immense athleticism, and he'd be even more dynamic than he already is.
Katz: Fact. We have started to see what Future Bledsoe might look like over the past three games. He's maturing before our eyes, not trying to take every shot and not trying to finish off every ooh and ahh. His passing is getting better, and he actually shot 7-for-15 on jumpers outside the paint against the Magic on Wednesday.
Koremenos: Fact. Bledsoe may be the hardest player to project going forward. His production hints at the possibility that he could be a star with a little more development and a team that subsidizes some of his weaknesses. But there's also the possibility that he is just another Kyle Lowry-type: solid, but not elite.
Wallace: Fiction. Bledsoe has the talent and potential. But the opportunity to truly bloom won't be with the Clippers as long as Paul is there. Plus, the NBA is stocked with quality point guards. My top 15, in no order: CP3, Rondo, Westbrook, Parker, Rose, D-Will, Wall, Holiday, Felton, Irving, Curry, Jennings, Conley, Rubio and Lillard. I could see Bledsoe eventually surpassing four or five of them, but not the six needed to reach top-10 status.
---
5. Griffin or Wade: Who's the more important No. 2?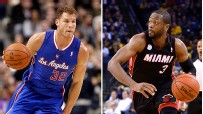 Chau: Griffin. He's the team's most reliable scorer and has become something of an all-around threat. He's finally adapting his physical gifts to the defensive end, and if the Clippers intend to shock the world in the playoffs, Griffin's ability to create opportunities for himself and others in the post will be essential.
Foster: Griffin. His post production is almost impossible to replicate on the Clippers. While no one can do a Wade impression for Miami, either, at least Ray Allen can put up some points from the 2-guard spot. Wade is a better defender than Griffin, but I'm a firm believer that frontcourt defense is much more important than wing D.
Katz: Griffin. Wade is magnificent, but when he's not working, he can sit back and let the best player in the game take over. Griffin is paired with Paul, who is more calculating than overpowering. If Griffin is irrelevant, the Clippers don't just lose their best inside presence, they also lose their second-best facilitator.
Koremenos: Wade by a hair. With as many flaws as Wade has in his game, his scoring alongside James is more vital this year than ever. And with Allen probably replacing him during any absence, Wade's defense -- when he's engaged and active -- would be sorely missed.
Wallace: Griffin. In a vacuum, the answer is Wade all day. He's the overall better player. But there are heavy outside variables to weigh, such as this: If you remove Wade, could LeBron still get a Chris Bosh-led supporting cast to the NBA Finals in the East? Probably so. Paul doesn't stand nearly the same chance to do so out West sans Griffin.


ESPN.com and the TrueHoop Network
Michael Wallace covers the Heat and the NBA for ESPN.com. Danny Chau, D.J. Foster, Fred Katz and Brett Koremenos are part of the TrueHoop Network.
• Follow the NBA on ESPN on Twitter | On Facebook | On Google+