The trade rumors are heating up as we move closer and closer to the Feb. 21 trade deadline? Which buzzed-about players should be on the move? We take aim at five.
1. Move him or keep him: Carlos Boozer.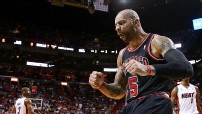 Spencer Ryan Hall, Salt City Hoops: Keep him. Despite the number of Bulls fans who tweeted variations of "You can have him back!" before Boozer's return to Salt Lake City last week, watching him go into vintage unstoppable mode down the stretch reminded me how devastatingly good the enigmatic Booz can be on offense. Not convinced a cheaper Andrea Bargnani is worth the downgrade in firepower.
James Herbert, Hardwood Paroxysm: Move him. The Bulls are desperately trying to shed salary to get under the luxury tax. With a starting-caliber power forward in Taj Gibson coming off the bench, they should see what they can get for Boozer. They have to hope his strong January (19.5 PPG, 10.1 RPG) has boosted his market value.
Jared Wade, 8 Points, 9 Seconds: Keep him. You're unlikely to get anything worthwhile in return, and Boozer still has value to a team that struggles to score at times. While he will never be the player Chicago paid him to be, the only real problem he poses is to the wallet of a thrifty owner.
Michael Wallace, ESPN.com: Move him. Boozer was recently in the midst of his best stretch of play since signing that nearly $80 million contract in free agency in 2010. So, in other words, the time might be right to part with him before his play drops back to disappointing levels. Fortunately for the Bulls, Derrick Rose is on the way back and they don't need to get desperate.
Kyle Weidie, Truth About It: Move him. Facts: Boozer is overpaid and the Bulls are better when he's on the bench (Chicago is plus-6.4 when he's on the pine, minus-1.1 when he's in the game). Boozer for Bargnani reeks of desperation, but if the Bulls can dump him off on the Nets or swing Pau Gasol in a package from the Lakers, they should do it.
---
2. Move him or keep him: Zach Randolph.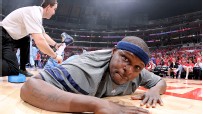 Hall: Keep him. The Memphis slide after the Rudy Gay trade shouldn't start a fire sale. The Grizz seem committed to keeping Z-Bo through the season. John Hollinger and the Memphis front office can step away from the trade machine for a minute and hope the All-Star Randolph can carry the Grizz to a successful playoff run.
Herbert: Move him. Randolph is a wonderful player, but the Grizzlies didn't trade for Ed Davis because they wanted him to be their fourth big man forever. The plan should be to trade Randolph for a young and talented wing player, whether it's before the trade deadline or in the offseason.
Wade: Keep him. Getting rid of Rudy Gay solved the franchise's salary-cap problems for now, and this remains a good roster. They probably can't realistically contend in the Western Conference, but it was increasingly looking like that was the case anyway. Still, there is nothing wrong with keeping a good team together that is fun to watch.
Wallace: Move him. The Grizzlies got off to the best start in franchise history and would have been a tremendous headache for any team in the playoffs. But this new ownership group seems committed to moving in a more efficient and economically responsible direction -- even at the expense of a deep playoff run. May as well keep the overhaul going now.
Weidie: Keep him. Memphis is clearly thinking big-picture with the change in ownership, but Randolph (with Marc Gasol) establishes a tough culture that can work. The team brass just needs to find some better surrounding instruments.
---
3. Move him or keep him: Eric Bledsoe.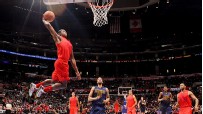 Hall: Move him. Barring a complete Clippers meltdown and early exit in the playoffs, it's probably a safe bet that Chris Paul will stay in Lob City. Now is the time for the Clippers to move Bledsoe and bring in a contributor or two. Paul Millsap and Dorell Wright, perhaps? (Pretend the Sixers can be appeased with some picks.)
Herbert: Move him, unless he's going to play more shooting guard. Bledsoe is too good to be playing less than half the game, and with Chris Paul playing point for the Clippers, that's not about to change. It'd hurt to trade a guy they've developed so nicely, but moving Bledsoe is their best opportunity to improve the team.
Wade: Move him. Bledsoe has all the physical tools to be an excellent player, but he remains unproven, and the Clippers have a decent point guard already, I hear. If the haul is right, sell high now on a guy who will never have the role he needs in Los Angeles.
Wallace: Keep him. It would be completely irresponsible for the Clippers to do anything with Bledsoe until they know exactly what Chris Paul is going to do with regard to his free agency this summer. Bledsoe would be a starter on about a dozen other NBA teams. But there's too much uncertainty with Paul and Chauncey Billups to let him go right now.
Weidie: Move him. Retaining Chris Paul, and possibly getting to the Finals, is more important than keeping Bledsoe on the roster as CP3 insurance should the star PG bolt L.A. in free agency (he won't). Bledsoe's promising enough to net the Clippers a significant piece for the postseason run.
---
4. Move him or keep him: Iman Shumpert.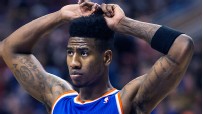 Hall: Keep him. I'm with Carmelo on this one: Who could the Knicks possibly pick up in exchange for Shumpert who would have the same upside and small contract? His haircut alone is nearly irreplaceable. Jared Dudley isn't the answer. The Knicks should continue to show patience as Shumpert recovers from last season's ACL injury.
Herbert: Keep him. He is by far New York's best defensive guard and can cover multiple positions. His athleticism stands out on a roster full of veterans and he has plenty of room to grow offensively. The Knicks need to be patient with him as he recovers from ACL surgery.
Wade: Keep him. Is there really a huge demand for Iman Shumpert? And even if there is, don't the Knicks need perimeter defense as much as anything? Plus, hipsters in Brooklyn love hi-top fades, so he will help the Knicks steal a few Nets fans.
Wallace: Keep him. I don't see an extensive supply of defensive-minded wing players on the Knicks' roster right now. Or youth, for that matter. Shumpert's role, comfort level and value should only increase as the season goes on. He's coming off major knee surgery. The only way you move him is if he just isn't willing to buy into the team's bigger picture.
Weidie: Keep him. He's a young, budding defender who's certainly playing above his weight after being selected 17th overall in 2011. (Remember when some thought Florida State's Chris Singleton was a shoo-in for New York?) The Knicks should totally keep Shumpert, but they are, after all, the Knicks.
---
5. Move him or keep him: Andrea Bargnani.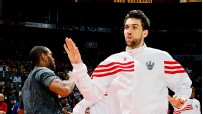 Hall: Move him. Bargnani and Toronto GM Bryan Colangelo seem to be in agreement that a change of scenery would do them both well. I'm sure Raptors fans agree. After more than 400 games with the same franchise, the only surprise involving Bargnani will be whether the Raptors can find a team willing to take on his brutal contract.
Herbert: Move him. It's been six and a half years of ups and downs and it's time for the former No. 1 overall pick to get a fresh start on a team where being the former No. 1 overall pick doesn't matter. The Raptors are creating a new identity and it makes sense to move on.
Wade: Move him. His market value is nil, but now is the time to alter the makeup of the team. The young bigs need to get all the reps on this resurgent team, and the last thing Toronto needs is Bargnani mucking up possessions that could be better used by Rudy Gay and a cast of intriguing perimeter players.
Wallace: Move him. He simply no longer fits into the Raptors' more athletic-oriented attack. Yes, the team is starving for a shooter who can stretch the floor. But Bargnani's time seems to have run out in the T-Dot. The question is whether the Raptors can fetch enough in return for a diminished Bargnani.
Weidie: Move him. But I don't know what expectations Toronto has for return value. Raps fans are desperate for better times, even after trading for Rudy Gay. Nonetheless, they are likely stuck with the 2006 No. 1 pick they gave $50 million to in 2009.


ESPN.com and the TrueHoop Network
Michael Wallace covers the Heat and the NBA for ESPN.com. Spencer Ryan Hall, James Herbert, Jared Wade and Kyle Weidie are part of the TrueHoop Network.
• Follow the NBA on ESPN on Twitter | On Facebook | On Google+