Which players should teams watch out for at the trade deadline? Kevin Pelton identified his top "sell-high" candidates in Tuesday's Per Diem. Now our panel gives its take on five players who might be worth buying.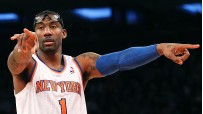 Jim Cavan, KnickerBlogger: Not buying. STAT has been "phenomenal" -- to use his favorite superlative -- since returning from a November knee injury, racking up per-36 numbers near career par and an effective field goal percentage (58 percent) that would be his second-highest ever. But two years at $45 million is still a big risk -- one that no team, save perhaps the Lakers, should put itself in a position to take.
Dan Feldman, Piston Powered: Not buying. Stoudemire is due more than $45 million the next two seasons, and considering his contract is practically uninsurable, the Knicks would have to send out multiple first-round picks just to dump him. But New York already traded its 2014 first-rounder to Denver, leaving few reasons to acquire Stoudemire.
Tom Haberstroh, ESPN.com: Not buying. Unless I can buy insurance on his knees and back, a scenario about as likely as him winning Defensive Player of the Year. The Knicks should do everything they can to move Stoudemire now that he's scoring well, but can they hide that he's not rebounding or playing D? A larger concern: He's currently set to be the second-highest paid player in 2014-15.
Rashad Mobley, Truth About It: Not buying. Amar'e's strong play since returning from injury and willingness to play off the bench would definitely tempt me if I were a GM. But his injury history, and the fact that he is owed $21 million next season and $23 million in 2014-2015, would quickly quell that temptation.
Royce Young, Daily Thunder: Not buying. His health remains a major question, and his contract is horrible. Unless you're a contender that desperately needs interior scoring and can coax the Knicks into dealing him for next to nothing, what's the point? Stoudemire is still a decent player, but he may be the most untradable one in the league.
---
2. Buying or not buying: Brook Lopez.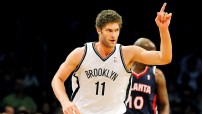 Cavan: Buying. So long as he stays healthy -- and let's remember he hadn't missed a single game before last season -- Lopez is a top-three center with upside to boot. The rebounding still needs improvement, but so long as he's paired with a high-energy rebounder-nuisance type (I wonder where the Nets can find one?) his sheer space-taking ability is an advantage.
Feldman: Buying. Lopez is having the best season of his career, and it's always encouraging when someone does that in the first year of a long-term contract. He might never be underpaid, but it's not like the NBA is full of players worth $15 million per year, and it's difficult to win without at least one of them.
Haberstroh: Buying. A 24-year-old who might be the best scoring center in the league -- where do I sign? With that bout with mono behind him, he's now an average rebounder at his position and can actually anchor a solid defense. The foot injuries are worrisome, but you can't find 7-footers who can score like he can. He has more points this season than Deron Williams -- in 468 fewer minutes.
Mobley: Buying. With Dwight Howard playing far below 100 percent, Brook Lopez and his 25.03 PER (fifth best in the NBA) is the best center in the NBA. He's not a strong rebounder and he's yet to average 10 a game in four and a half seasons, but he is a 24-year-old All-Star.
Young: Buying. Lopez has his faults, but in terms of an offensive big man, there may not be a better one in the game. He's an inside-out 7-footer, an endangered species in the NBA. He's on a max deal, but at 24 years old, it would be a solid investment.
---
3. Buying or not buying: Vince Carter.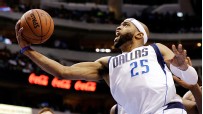 Cavan: Buying. Age aside, many teams could benefit from Vince's solid 3-point shooting and bench punch, particularly given the fairly reasonable nature of the contract (just one year at a little over $3 million after this season). Veteran presence, spot up shooting, soon-to-be expired contract -- three ingredients that still add up to a valuable recipe in today's NBA.
Feldman: Buying. Yes, Carter is 36 -- long past the age when most wing players fall off, and he could too as soon as this week. But he has aged into a quality defensive player, and as of now, he can play an important role on a good team. With only one year and fewer than $4 million remaining on his contract, the risk is low enough to pursue him.
Haberstroh: Buy. I'd love to see what he could do on a team like Denver. In one of the biggest upsets in NBA history, Carter is a really good defender at age 36 -- and not just for his age. He may not shoot about 40 percent from downtown much longer, but he'd be a fantastic presence off the bench for a contender.
Mobley: Not buying, but listening. Carter's skills and hops have diminished, and he's turned into a strong bench player on a Mavericks team where expectations are low and the playoffs are a stretch. If I'm a GM on a playoff contender, I would have concerns about Carter's play once expectations were involved. Best-case scenario, he's Grant Hill. Worst-case? 2013 Jerry Stackhouse.
Young: Buying. His best days are way, way in the rearview mirror, but Carter still packs an occasional offensive punch and is a high-level outside shooter. You'd have to pay him for next season, but he doesn't make a ton. For a contender seeking bench scoring, it'd be worth it.
---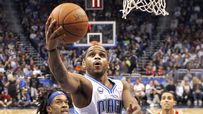 Cavan: Not buying. With the point guard position arguably stronger than it's ever been and many a young prospect on the rise, I'm just not sure what interest I'd have in Nelson -- now 31 and still mostly middling statistically -- beyond an expensive stopgap solution (owed more than $16 million the next two seasons). Even then, all the numbers scare me.
Feldman: Not buying. Nelson is averaging 14.9 points (his most since helping the Magic reach the NBA Finals) and 7.5 assists per game (his most ever), but those numbers are influenced by playing a, by far, career-high 35.5 minutes per game. His contract isn't terrible, but it's too much to invest in a 31-year-old who has a more taxing load than ever.
Haberstroh: Not buying. I could see a team desperate for backcourt help being interested in a deal that also nets them J.J. Redick (Hello, Jazz!). But Nelson hasn't been an average point guard in this league for quite a while and is getting paid like one until 2014-15. That's not good value in my book.
Mobley: Buying. In a league full of young point guards, it doesn't seem smart to trade for the 31-year-old Nelson, who is guaranteed to make $8.6 million this year and next. But as a bench player, he could dominate opposing team's second units, and if he doesn't work out, the non-guaranteed third year of his contract makes him a valuable asset.
Young: Not buying. Nelson is the kind of player caught in NBA trade limbo. His contract is just bad enough that it causes you hesitation, and he's just good enough that getting him would require giving up quality assets. Plus, he's not really in form this season, shooting below 40 percent from field.
---
5. Buying or not buying: Kyle Korver.
Cavan: Buying. When we talk about contenders adding a final piece to the postseason puzzle, a career sharpshooter leading the league in 3-point shooting and in the final year of his midlevel deal would seem like a pretty good candidate. Denver, Memphis, Brooklyn and even OKC would benefit from having a sniper of Korver's caliber rolling off the bench.
Feldman: Buying. The Hawks are probably looking beyond Korver, who has an expiring contract, when they use their cap space this summer. So if a team offers another expiring contract and a late first-round pick, that could land Korver. The teams with late first-round picks -- and, typically, defense-attracting stars -- can take advantage of shooters like Korver.
Haberstroh: Buy. Expiring contract. Steve Kerr-esque shooting chops. Sign me up. Depends on the asking price, but he'd be a steal for a team hurting in the 3-point column. (I'm looking at you, John Hollinger.)
Mobley: Enthusiastically buying. Korver has an expiring contract, he is shooting 46 percent from the 3-point line, and his presence alone stretches a defense while opening the lane for any star player.
Young: Buying. It's never wise not to at least consider adding someone that's maybe the best in the league at his craft. Korver is a 3-point specialist -- maybe the top one. His contract is up at the end of the season, so Korver would be a terrific rental for a contender.


ESPN.com and the TrueHoop Network
Tom Haberstroh covers the NBA for ESPN Insider. Jim Cavan, Dan Feldman, Rashad Mobley and Royce Young are part of the TrueHoop Network.
• Follow the NBA on ESPN on Twitter | On Facebook | On Google+