Who made the right moves before the 3 p.m. ET trade deadline? Whose moves were off the mark? Our panelists discuss.
1. Which team made the best move at the trade deadline?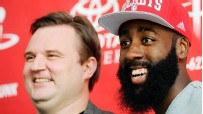 Kevin Arnovitz, ESPN.com: The Houston Rockets acquired a top-five pick in Thomas Robinson and trimmed $1.5 million off their spreadsheet for next season -- a potentially crucial number if they decide to extend a max offer to a free agent. It cost them a couple of pretty good stretch forwards, but the Rockets seem to be able to develop those out of origami paper.
Jim Cavan, KnickerBlogger: Boston. The Celtics once again called in a mystery favor, nabbing Jordan Crawford for an already-sidelined Leandro Barbosa and the seldom-used Jason Collins. Much ink will be spilled over whether Doc Rivers and Kevin Garnett can guide Crawford -- a player as renowned for his streaky jumper as his cagey disposition -- down a more primrose path, but for the moment this is as low-risk as it gets.
Spencer Ryan Hall, Salt City Hoops: The Milwaukee Bucks. When J.J. Redick is the biggest name involved in trades, deadline day is officially a non-event. However, Redick is a nice addition for Milwaukee and should make a potential first-round matchup with the Miami Heat a little more interesting.
Ethan Sherwood Strauss, HoopSpeak: The Houston Rockets beat the paralytic Sacramento Kings pinata, and ingested its contents. My word. A top-five pick for the likes of Patrick Patterson, Cole Aldrich and Toney Douglas? The terrible Kings situation just never finds a way to finally hit "bottom."
Jack Winter, WarriorsWorld: The Orlando Magic received two promising pieces -- Tobias Harris and Doron Lamb -- to further their rebuilding efforts in exchange for J.J. Redick. Getting value for Redick before he hit free agency this summer was paramount to the Magic, and while Harris and Lamb aren't blue-chippers, each offers a verifiable NBA skill that all teams covet -- the ability to shoot and score.
---
2. Which team made the worst move at the trade deadline?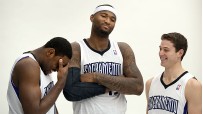 Arnovitz: Sacramento, which gave up on Robinson, a guy it rated as high as No. 2 in the 2012 draft, for a savings of $3 million. We spend a lot of time handicapping teams, transactions and players, but quality ownership begets a quality organization -- and the flip side is also true, as the Kings have proved in recent years.
Cavan: The Kings. From a PR perspective, you can't get much more cynical than cutting ties with a lottery pick in his rookie season. The fact that the Maloofs admitted to it being a deal done to save a buck -- $3 million, to be exact -- won't go over well, either. To boot, the basketball benefits are virtually nonexistent; adding Aldrich, Douglas and Patterson does nothing to address the Kings' fundamentally dysfunctional makeup.
Hall: The Washington Wizards. Crawford wasn't happy in Washington -- and fans weren't thrilled with his shot selection -- but sending his cheap contract to the Celtics in exchange for the expiring contracts of Collins and Barbosa (and Barbosa's blown-out knee) doesn't do much to improve D.C.'s outlook.
Strauss: The aforementioned Maloofs should be feeling shame, and would be feeling shame were they capable of such emotions. Teams don't draft a guy that high, only to deal him for cash within the season. That's what an ABA owner might have done, not an NBA owner in 2013.
Winter: Sacramento kicked deadline festivities off Wednesday night in typically confounding fashion. Trading Robinson to Houston for a package built around Patterson makes the Kings better now, but that hardly matters for a team well out of playoff contention. Robinson's potential far outweighs Patterson's realized status as a fringe starter/quality rotation player, and Sacramento didn't get near enough cap relief or cash considerations to balance things out.
---
3. Which team that didn't make a move should have?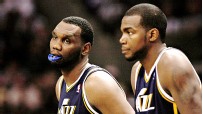 Arnovitz: The Utah Jazz have a smart front office, so if they stood pat, there's good reason to assume there wasn't much to fetch for Al Jefferson or Paul Millsap. Still, with their surplus of valuable frontcourt players, it's strange that no move was made at the deadline. That might say more about the market than any stubbornness on Utah's part.
Cavan: Utah. The Jazz's frontcourt logjam needed to be broken up. With the free-agent crop of point guards looking pretty bleak, Utah could've dealt one of either Millsap or Jefferson -- both expiring -- for a point guard who is, how do I put this ... better than Jamaal Tinsley? While also cleaving open some rotational breathing room for Enes Kanter and Derrick Favors.
Hall: Easy answer is the Jazz, but only because it would have made so much sense. Without knowing right now what was offered or available, we'll find out this summer whether Utah made a big mistake by procrastinating on its big free-agency roster decisions. With Redick headlining the trades, it doesn't appear there were many teams ready to wheel and deal.
Strauss: The San Antonio Spurs should have swung for the fences and gotten Josh Smith. It's an easier risk to take from my couch, but a Stephen Jackson-Tiago Splitter package for Smith's services would be the right play here. San Antonio has a knack for improving jump shots (See: Kawhi Leonard and Richard Jefferson), and a sweeter-shooting Smoove could be a devastating force. A Tony Parker-Manu Ginobili-Leonard-Smith-Tim Duncan team would be my favorite to win the West.
Winter: This deadline was supposed to be the fork in the road for Utah's quartet of quality big men. Instead, the Jazz stood pat and thus face the disheartening prospect of losing Al Jefferson and/or Paul Millsap this summer with nothing to show for it. Let's hope Utah makes peace with losing one or both rather than doubling down on a mistake and re-signing them to lucrative contracts.
---
4. Which player's outlook improved the most at the trade deadline?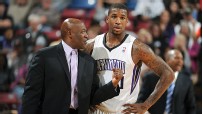 Arnovitz: Eric Maynor. He pulls himself out of the crypt at the end of the Oklahoma City Thunder's bench and will get meaningful minutes as the Portland Trail Blazers' new backup point guard for their playoff drive. He'll also have the green light in the second unit, something he'll enjoy immensely.
Cavan: J.J. Redick. Assuming Monta Ellis or Brandon Jennings bolts this summer -- which is probable -- Redick will have the leverage to both (A) get paid and (B) slip seamlessly into the starting lineup. If Milwaukee's direction doesn't suit him, Redick -- whose unique combination of relative youth, career-high production and desirable skill set -- can choose to bolt for greener pastures (Chicago?).
Hall: All the former Kings (Robinson, Francisco Garcia, Tyler Honeycutt), who make a fortuitous escape from the nonsense in Sacramento. Robinson will have a chance to redeem his rookie year and join an exciting, young Houston team. The former No. 5 draft pick should shine with the Rockets.
Strauss: Thomas Robinson will finally get to play for a competent organization. Draft picks don't develop in Sacramento, at least, in recent history. Robinson now gets to work on his craft for a smart franchise, and a coach in Kevin McHale who just might know a thing or two about playing power forward.
Winter: Thomas Robinson should be thrilled to abandon the ever-sinking ship that is the Sacramento Kings. Assuming he's with Houston for the long haul -- hardly definitive considering Dwight Howard and Josh Smith hit the market this summer -- Robinson joins a group that's clearly on the rise, and he gets to step in and play major minutes for a likely playoff team.
---
5. Which player's outlook declined the most at the trade deadline?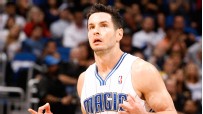 Arnovitz: Poor Toney Douglas. He played himself into a meaningful role this season in Houston after being misused in New York. Now he goes to a dysfunctional franchise in Sacramento that features an active roster of 25 guards who all want to shoot.
Cavan: Brandon Jennings. The Bucks' mercurial point guard has never been terribly enthused with playing in Milwaukee anyway, but it's looking more and more like he'll be staying. Jennings was never the subject of much substantive trade talk, but now he has to hope that someone throws him enough loot this summer to keep the Bucks from matching -- which, if Ellis bolts, they're probably more apt to do.
Hall: Ronnie Price? Portland's abysmal backcourt picked up Price's former Jazz teammate Eric Maynor from the Thunder, possibly portending waivers for Price. Maynor will probably get a chance to show that he's recovered from his knee surgery and can be a solid backup to Damian Lillard.
Strauss: I feel for J.J. Redick, who now must wrestle Ellis and Jennings for shots. That's harder than running through five screens on every possession. Next year, Redick will get paid, possibly not by the Bucks. Until then, he should be wary of getting iced out by Milwaukee's tiny, shot-happy tandem.
Winter: This was the Josh Smith trade deadline. Except a trade never happened, and now Smith is stuck in Atlanta for the rest of the season and will likely be forced to take a less lucrative deal this summer to play elsewhere. For a player that made his desire to be traded clear and heard rumors of a deal to organizations like Boston, Dallas and Houston, staying put surely elicits a sour taste that won't go away anytime soon.


ESPN.com and the TrueHoop Network
Kevin Arnovitz covers the NBA for ESPN.com. Jim Cavan, Spencer Ryan Hall, Ethan Sherwood Strauss and Jack Winter are part of the TrueHoop Network.
• Follow the NBA on ESPN on Twitter | On Facebook | On Google+