What's in store for the NBA's stretch run? Our panel takes a look at the dark-horse contenders for the playoffs and the MVP award, and the current playoff-bound teams most likely to bottom out before the regular season ends.
1. Which dark-horse contender has the best shot in the East?
D.J. Foster, ClipperBlog: Chicago. Defense travels well. The Bulls have the best road record in the Eastern Conference, and any successful postseason trips to South Beach will require some serious perimeter defense. The Bulls have that covered with Luol Deng and Jimmy Butler, but they'll need to find a way to score consistently. Paging Derrick Rose?
Curtis Harris, Hardwood Paroxysm: Atlanta. One can never trust the Hawks, but they are beginning to establish themselves as the best East team flying coach. Retaining Josh Smith obviously buoyed their hopes. But Al Horford's amazing February and Jeff Teague's continued improvement have truly elevated Atlanta recently.
Andrew McNeill, 48 Minutes of Hell: Atlanta. Truthfully, this race is down to the Heat and if they let themselves be beat, but the trade deadline has passed and Josh Smith is still a Hawk. Maybe now the Hawks can rekindle some of the early-season magic they had and make a run come playoff time.
Eddy Rivera, Magic Basketball: New York. If there's any team in the Eastern Conference with a puncher's chance of beating the Heat in a seven-game series and derailing their seemingly predestined Finals trip, outside of the Indiana Pacers (the trendy pick), it's the Knicks. If New York can get back to playing defense like it did earlier this season, it has the offensive firepower to make things interesting.
Michael Wallace, ESPN.com: Boston. Everything about the Celtics says they're on their last legs, fading into a massive rebuilding process. But every once in a while, Boston puts it together and shows it's still a team to be reckoned with. The Celtics are a feisty, veteran squad led by champions in Paul Pierce and Kevin Garnett who aren't to be taken lightly in the playoffs.
---
2. Which dark-horse contender has the best shot in the West?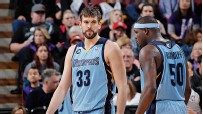 Foster: Memphis. How quickly we forget. Just two years ago in the playoffs, the Grizzlies raged against the machine and took down the Spurs, then pushed the Thunder to seven games -- all without Rudy Gay. Write them off at your own risk.
Harris: Memphis. The Grizzlies shouldn't be a dark horse, but after the Rudy Gay trade, many left them for dead. They are 7-2 since the trade and their offense has looked more cohesive with their true shooting percentage taking a nice bump without Gay.
McNeill: Golden State. The Warriors have a lot of talent, but some question marks to go along with it. Can they count on Andrew Bogut? Will they have enough time to get into a rhythm with Bogut? Is Stephen Curry going to stay healthy? The right answers could mean a hot streak at the perfect time in late April.
Rivera: Memphis. Nearly everyone expects either the Spurs or Thunder to win the always wild, wild West, given that they're clearly the two best teams in the conference. But if the Grizzlies' offense can improve just enough after unloading an offensive albatross (Rudy Gay), with their championship-caliber defense, anything is possible.
Wallace: L.A. Lakers. Strange as it is to cast a team with Kobe Bryant, Dwight Howard and Steve Nash as a dark horse, they'll squeeze into the eighth seed out West. To do that would require getting into some sort of desperate rhythm. Should that happen, it's not out of the question that they could be a tough out for either the Spurs or the Thunder.
---
3. Which current East playoff team is most susceptible to a big drop off?
Foster: Brooklyn. The new coach honeymoon is over, and the Nets play 16 of their last 25 games away from home. With Joe Johnson banged up and Deron Williams regressing back to his brutal early-season shooting form, the Nets might end up limping into the playoffs.
Harris: New York. The Knicks are living on the edge. A roster with just one player under the age of 25 is beginning to show the wear and tear from the long season. Coupled with much of their early success based on hot 3-point shooting that is faltering, the Knicks could stumble the rest of the way.
McNeill: Brooklyn. Their offensive and defensive efficiency rankings are positively mediocre and now there are concerns about Deron Williams' ankles. As good as Brook Lopez has been this season, I don't have faith in him to carry the Nets. Anytime a team doesn't have a good defense to fall back on when things get tough, they're on thin ice.
Rivera: Brooklyn. You could make a case for a number of teams in the Eastern Conference, but let's go with the Nets. Right now, they're the No. 4 seed, but the Chicago Bulls and Atlanta Hawks have a higher efficiency and point differential. Meaning that Brooklyn isn't as good as its record indicates and is vulnerable to regressing to the mean (and in the standings).
Wallace: New York. Mike Woodson has essentially put out an APB for that sharp-shooting, fun-loving, defensively dominant team that opened the season. The Knicks haven't been that way for a long, long time. It's almost as if their age is starting to catch up with them. Amar'e Stoudemire's return hasn't provided a spark for this disjointed outfit.
---
4. Which current West playoff team is most susceptible to a big drop off?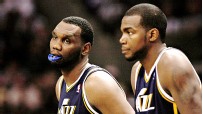 Foster: Utah. A negative point differential and a 22nd-ranked defensive efficiency mark aren't the traits of a typical playoff team, so it's not hard to imagine Utah's defense contributing to a late-season collapse. The lack of adjustments made by management and the coaching staff won't help, either.
Harris: L.A. Clippers. The Clippers live and die by CP3. With Chris Paul on the floor, they are a legitimate title contender. However, his knee has been troublesome lately, causing him to miss action. Even when on the court recently, he hasn't been as dynamic. The Clippers will hold on to a great record, but it'll be a mirage if Paul isn't totally healthy for the playoffs.
McNeill: L.A. Clippers. When Chris Paul missed nine games earlier this season with a mysterious bruised kneecap, Los Angeles looked fairly pedestrian. There's not enough of a foundation around Paul, and anytime he's not on the floor for the Clippers in the playoffs, Los Angeles will be at risk of losing.
Rivera: Utah. According to Hollinger's Playoff Odds, there's only one team in the Western Conference in any sort of danger of losing their playoff spot: the Jazz (63.8 percent of making postseason). As Kevin Pelton of ESPN Insider noted yesterday, there is an "outside chance" the Los Angeles Lakers could beat out Utah for the West's No. 8 seed.
Wallace: Golden State. Having dropped six of its past 10 games, Golden State is the best candidate to take the biggest plunge. The Warriors were one of the best stories in the league the first three months of the season. But a different brand of ball is played after the All-Star break heading into the stretch run. And Golden State will have to overcome its lack of experience.
---
5. Which dark-horse player has the best shot at MVP?
Foster: Tony Parker. The narrative is gaining steam, and Parker's per-36-minute numbers and advanced stats blow Derrick Rose's MVP-winning numbers from 2010-11 out of the water. With the Spurs playing 17 of their next 24 at home -- where they've lost twice all season -- Parker could win the MVP simply by being the best player on the league's best team.
Harris: Tony Parker. He has been masterful in keeping the Spurs atop the Western Conference. Despite Tim Duncan missing some games with knee problems, Parker has averaged a robust 26.5 points on 55 percent shooting in February. LeBron James or Kevin Durant will still take home MVP honors, but Parker is the leading dark horse.
McNeill: James Harden. Now, Harden's not going to win the award, but if the Rockets make the playoffs, score an upset in the first round and the Thunder crash out earlier than people expect because Kevin Martin can't get it done, I think we'll see a lot of people come out proclaiming Harden as an MVP after the fact.
Rivera: Tony Parker. It would take a miracle at this point for Parker to be named the MVP, given that LeBron James is rightfully the prohibitive favorite to win his fourth MVP award, but Parker's in the midst of putting together his best season as a pro and deserves an honorable mention (after Kevin Durant and Chris Paul). In particular, his wizard-like command of the pick-and-roll has been a sight to behold.
Wallace: Tony Parker. He's the best player on the team with the league's best record. Nothing about that should say "dark horse." But therein lies the never-ending dilemma when it comes to the Spurs. This is LeBron's award, with Kevin Durant and Chris Paul still in the discussion. But it's time Parker got a word in edgewise.


ESPN.com and the TrueHoop Network
Michael Wallace covers the Heat and the NBA for ESPN.com. D.J. Foster, Curtis Harris and Andrew McNeill are part of the TrueHoop Network.
• Follow the NBA on ESPN on Twitter | On Facebook | On Google+