The season is starting to wind down, and Derrick Rose has yet to hit the floor for Chicago. How will the former MVP's ailing knee affect the Bulls going forward? Our crew tackles that and other pressing questions heading into the stretch run of the Eastern Conference playoff race.
1. Fact or Fiction: If healthy, Derrick Rose should return this season.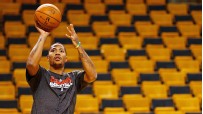 Kevin Arnovitz, ESPN.com: Faction. Healthy-unhealthy isn't a binary thing -- it's a continuum. Derrick Rose shouldn't do anything to compromise the long-term health of his knee because coming back 100 percent in 2013-14 is a much better proposition for him and the Bulls than pushing all-in with a month or so left in the regular season looking at a No. 4 or 5 seed.
Jim Cavan, KnickerBlogger: Fact. There is no universe wherein adding Rose makes you worse. Nor was Chicago's identity so fundamentally altered in his absence that such a transition should risk being an awkward one. Even if the goal is future chemistry, suiting up D-Rose -- if and when he's 100 percent -- is something Bulls fans wouldn't be alone in welcoming joyously.
Curtis Harris, Hardwood Paroxysm: Fact, but strongly stressing "if healthy." No athlete should be forced into rushing back from any injury, especially one as difficult as an ACL tear. However, if Rose is able to play without pain and without unreasonable risk of injury, Rose should suit up for the Bulls.
Matt McHale, Bulls By The Horns: Fact. The key words being if healthy. Assuming his knee is (as he would put it) 110 percent, he absolutely should play. Not because his return would put the Bulls over the top -- nobody in the East is beating Miami this season -- but because it would be both a relief and a reward to his fans and teammates. And, frankly, it's never too early to start building toward next season.
Jared Wade, 8 Points, 9 Seconds: Fact. If there is minimal reinjury concern, Rose should definitely return. His comeback could lift Chicago to the conference finals, and if nothing else, it would help him reacclimate to the speed of the NBA and his spot at the center of the Bulls' universe sooner rather than later.
---
2. How far can the Bulls go in the playoffs without D-Rose?
Arnovitz: I like them to win a first-round series against Brooklyn or Atlanta. But if the Bulls fell to the No. 6 or No. 7 seed by mid-April, that would have meant they'd struggled down the stretch and would be a big underdog against Indiana or New York.
Cavan: As with every East team not named Miami, Chicago's fortunes will depend largely on seeding fortune. If the Bulls can hold fast to the four-spot, winning Round 1 is totally feasible. If they fall to, say, sixth, a matchup with the Knicks would be upset-ripe (3-0 this season versus the Knicks), while drawing the Pacers (0-3) could mean an early exit. In short, put the over/under at one series.
Harris: Chicago is such a catastrophic defensive force for opponents that I can reasonably see the Bulls upsetting any team in the first round outside of Miami and Indiana. But a first-round upset is their limit without a healthy and explosive Rose.
McHale: Until they have to play the Heat or Pacers.
Wade: Second round. The Bulls can certainly win one series. Right now, I would even consider them a coin flip to beat any team other than the Heat, Knicks or Pacers.
---
3. Fact or Fiction: The Heat need home court throughout the playoffs.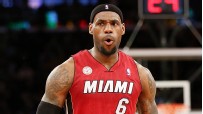 Arnovitz: Fiction. The Heat didn't have home-court advantage in 2010-11 when they beat the Bulls in the conference finals, and they didn't have it in 2011-12 when they beat the Thunder in five to win the title. No team is less concerned about playing big games on its home court in the postseason than the Heat.
Cavan: Fiction. They didn't need it when following up a Game 1 loss in OKC by picking apart the upstart Thunder in four straight a season ago. At seven games ahead in the East, Miami can probably afford minute limits and shifting to neutral -- exactly what it did in dropping six of its final 13 ahead of its title run a season ago. Also: LeBron James.
Harris: Fiction. Games could be in Miami, Indiana, Tonga or Antarctica. Doesn't matter. The only things the Heat need throughout the playoffs are a healthy LeBron James, Dwyane Wade and Chris Bosh.
McHale: Fiction. With all due respect to the Spurs and Thunder, the Heat are the league's best team, and they also have the league's best player at the top of his game. Home or road won't matter.
Wade: Fiction. The Heat have one need: LeBron playing like he did throughout last season's playoffs. Or better yet, he could just keep playing the way he has this season.
---
4. Which current lower seed is most likely to pull off a Round 1 upset?
Arnovitz: I'm pretty sure we'll see "chalk" prevail in the Eastern Conference bracket this spring, but the Celtics have a history of siccing their defense on unsuspecting playoff opponents, so they've got a puncher's chance. I can't get on board with the Nets because they couldn't defend a blanket fort.
Cavan: Boston. They've sputtered a bit lately, but the Celtics' combination of veteran moxie and cleverly bolstered depth makes them a first-round nightmare for just about anyone. The tempered playoff pace suits the C's perfectly, as does any whiff of Kevin Garnett farewell magic. Basically, I'm looking at a Celtics upset as a given.
Harris: Boston. Rajon Rondo's out, Leandro Barbosa's gone and the team struggles offensively, but this club finds a way to surprise us every season. Much like Chicago, if the C's draw Miami or Indiana, I don't see any upset happening. However, a Paul Pierce series-clinching jumper from the left elbow at Madison Square Garden sounds highly plausible.
McHale: Boston. Maybe I'm a sucker who's feeling a little too much nostalgia, but I can't help but feel like Garnett and Pierce have one more strong playoff run left in them.
Wade: Boston. Pierce doesn't always have it, but at his apex, he can still be the best offensive player in a series against every East team save for Miami or New York. And with Garnett nearing the end of his career, nobody should be shocked if he leads a short-term charge to push this defense toward its former heights.
---
5. Pacers or Knicks: Which team is likely to advance farther?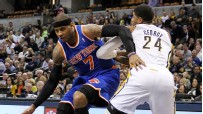 Arnovitz: Pacers. They have the league's top-ranked defense, and that tends to come in handy in the postseason. The Knicks can score in bundles -- even against length -- so they're dangerous. Truth be told, the team that emerges with the home-court advantage in that No. 2-No. 3 matchup is probably the best bet, and the Pacers have the easier sked during the final month of the season.
Cavan: Pacers. I don't know how much weight to grant Indiana's post-All-Star thumping of New York a few weeks back, but it's obvious the Pacers fit the profile the Knicks most fear: tough, disciplined, and -- worse yet -- fully indoctrinated by a history of mutual hatred. New York might have the higher ceiling, but right now the Pacers are standing on the joists.
Harris: Pacers. If the Knicks are firing on all cylinders, their ceiling is higher than that of Indiana. But the Pacers are more of a sure thing. They don't hit dizzying highs or stark lows. They just go out on the court to bruise opponents and cruise to victory. The Heat are going to have their hands full dispatching the Pacers in the conference finals.
McHale: Pacers. Indiana is trending upward (12 wins in its past 15 games) while the Knicks are trending downward (six losses in their past 11). Plus, the Pacers are three spots higher in Hollinger's Power Rankings, and they're the best defensive team in the league. Right now, Indy is the better team.
Wade: Pacers. The Knicks have picked it up lately, but Indiana has something it can truly rely on: forcing the opposition to miss shots. And unlike New York's 3-point shooting, Frank Vogel's defense doesn't go through slumps.


ESPN.com and the TrueHoop Network
Kevin Arnovitz is an NBA writer and editor for ESPN.com. Jim Cavan, Curtis Harris, Matt McHale and Jared Wade contribute to the TrueHoop Network.
• Follow the NBA on ESPN on Twitter | On Facebook | On Google+