The Miami Heat routed an Indiana Pacers team Sunday that had beaten them twice already this season. What lies ahead for the defending champs who carry an 18-game win streak?
1. What's the biggest takeaway from the Heat's 18-game winning streak?
Danny Chau, Hardwood Paroxysm: Teams play in the image of their star player, so it shouldn't come as a surprise that the Heat are winning in every way imaginable. They've been an incredible offensive team all season, but have recently ramped up their defense, creeping into the top 10 during the streak. They've held their opponent under 100 points in 13 of the 18 games.
Brett Koremenos, HoopSpeak:
That LeBron James is really good at basketball. Obviously that fact wasn't all that obscure before this, but James has been incredible during Miami's run. His stats since the start of the streak on Feb. 3 (27.2 points, 7.7 rebounds, 7.4 assists per game) are almost comically good and you get the feeling he still has another gear left.
John Converse Townsend, Truth About It: The biggest takeaway is that this team is good, really good, and took advantage of playing 11 of the past 18 games in Miami -- they're plus-10.2 in plus-minus at home, plus-4.1 on the road this season. They've already clinched a playoff berth, and they must be dreaming about home-court advantage.
Jared Wade, 8 Points, 9 Seconds: That the Eastern Conference is a one-team race. The Pacers seemed like the only possible contender, but the final score of their final matchup of the season makes a playoff upset seem implausible.
Brian Windhorst, ESPN.com: Their long-term plan to implement versatility has reached symbiosis. They win playing fast, slow, big, little, home, road, on high-energy nights, on low-energy nights, with LeBron at point guard, with LeBron at power forward, when LeBron scores 40, when LeBron scores 10. I could go on for a while.
---
2. What's been the key to the Heat's streak?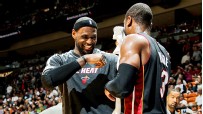 Chau: James' unbelievable February played an enormous role in the current winning streak. From Feb. 3 to the end of the month, LeBron became the founder and sole member of the ridiculous 60-40-80 club (field goal percentage/3-point percentage/free throw percentage). They're still winning even with James' numbers taking a dip in March because, well, the rest of the team is pretty good, too.
Koremenos: Their offense. Since the streak started, Miami's offensive rating has been 113.9 -- a mark that would rank in the top 20 all time should it hold up for an entire season. That number becomes even more impressive given players such as Udonis Haslem, Norris Cole and Joel Anthony see meaningful minutes every night.
Townsend: LeBron's command over the game of basketball. He has averaged 27.2 points, 7.7 rebounds and 7.4 assists during the Heat's 18-game streak. But let's not forget about Dwyane Wade, who, since February, has shot better than 60 percent from the field in the fourth quarter.
Wade: The best player alive. LeBron James has valued possessions and exerted his unparalleled talents on both ends of the floor in a remarkable way during this run. The rest of the team has followed his cue, and the result has been a Miami team that now refuses to take quarters -- let alone games -- off.
Windhorst: Erik Spoelstra would talk about more effort and discipline on defense. But the Heat's offensive efficiency, especially their shooting, over the past six weeks has been completely astounding. On Sunday, their starters shot 63 percent -- and that was on a night when LeBron shot just 50 percent. Other than James making "only" half his shots, that performance is not an outlier in this streak.
---
3. When will the Heat's streak end?
Chau: Soon; nine of their next 12 games are on the road. Perhaps as soon as next Sunday against the Toronto Raptors, which would end the streak at 21. The Heat would obviously be looking ahead to the Celtics game the day after, but the Raptors could reap the rewards of what might be a trap game.
Koremenos: March 31 at San Antonio, which would end the streak at 29. It's a game that comes at the tail end of a four-game road trip, and the Spurs -- even without Tony Parker -- are tough to beat at home.
Townsend: The streak ends at 23 games, at the hands of the Boston Celtics. The C's have taken better care of the ball in a spread offense since losing Rondo to an ACL tear, as Brian Robb of CelticsHub noted, which has helped increase their offensive efficiency. Pair that with the league's fifth-best defensive rating and you might just have the one-two punch to take down the Heat.
Wade: As good as this team is, winning on the road consistently is difficult. With an afternoon tip-off the day before in Toronto, the Heat will have to fly to Boston and try to win their fourth straight game away from home on March 18. That's where it ends -- after 22 wins in a row.
Windhorst: Friday in Milwaukee. The Heat have trouble with the Bucks -- their possible first-round opponent by the way -- especially in Milwaukee. But it'll get to 20 in a row first.
---
4. Fill-in the blank: The Heat are the best team since ___________.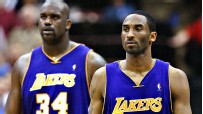 Chau: Last season's Miami Heat, though they're different. The 2011-12 edition finished as the league's fourth-best defense, but they've been on the outside looking in on the top 10 this season. But it's picking up and the Heat have time to round their defense into championship form. Their offense, which has never looked this good in the past, is more than keeping them afloat.
Koremenos: The 2011-12 Heat. To put this streak in perspective, the 2007-08 Houston Rockets -- hardly a dynasty -- won 22 in a row. Miami is obviously far superior to that Rockets team, but proclaiming them better than the Shaq and Kobe Lakers or Jordan's Bulls seems a little hasty.
Townsend: The 2004-05 Miami Heat, to keep it in the family. LeBron, Wade and Chris Bosh's franchise-best 47-14 start edges out the Shaq-era Heat's 45-16 record through 61 games. Miami's 2004-05 team, coached by Stan Van Gundy, put together a 14-game winning streak and finished 59-23.
Wade: Shaq/Kobe Lakers. No other team has had a duo that can dominate like LeBron and Dwyane Wade, and as great as James played in the playoffs last season, we might not have even seen his best postseason run yet. Right now, James looks as dominant as Shaq in his prime and as talented as Jordan in his prime. This team is frightful.
Windhorst: Not applicable. You can't compare a total season to a partial season. They'd have to finish 19-2 to equal LeBron's personal best regular season, which was with the 2008-09 Cavs. They'd have to finish 20-1 to equal the best regular season of the last decade by the 2006-07 Mavericks, who did it in a tougher conference.
---
5. Which team presents the biggest challenge to the Heat's repeat bid?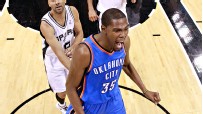 Chau: San Antonio. It's a matter of staying healthy and staying energized, but the Spurs definitely have a good shot if they can make it out of the West, especially if there are no setbacks with Tony Parker's injury along the way. And I'm still not ready to count out the Thunder, despite the Heat's 2-0 record against them this season.
Koremenos: Oklahoma City. The Thunder are the only team in the league that can match Miami's potent combination of star power and athleticism.
Townsend: San Antonio. The Thunder have the horses to run with Miami, but not (yet) to win a best-of-seven series. So, it'll have to be the Spurs, who have Gregg Popovich's beautiful basketball mind, a frontcourt that can cause the Heat problems and a roster deeper than San Antonio's Natural Bridge Caverns.
Wade: Oklahoma City. Really, Oklahoma City and San Antonio seem to be the only challengers to Miami, and I give the nod to the team led by Kevin Durant and Russell Westbrook.
Windhorst: Probably San Antonio. I say this because of the unknown; there's very little data on this Heat team versus the Spurs. They played only once last season and it was a wild game, the Spurs blowing an 18-point lead when the Heat got crazy hot from 3-point range. In their meeting earlier this season, Popovich sent his All-Stars home. It's hard to judge this matchup.


ESPN.com and the TrueHoop Network
Brian Windhorst covers the NBA for ESPN.com and the Heat Index. Danny Chau, Brett Koremenos, John Converse Townsend, Jared Wade are part of the TrueHoop Network.
• Follow the NBA on ESPN on Twitter | On Facebook | On Google+