Seven months after being traded to Los Angeles, Dwight Howard returns to face the team with which he played his first eight NBA seasons. Are the Orlando Magic better off without Dwight? Is Dwight better off without the Magic? Our panel discusses Howard's past, present and future.
1. Fact or Fiction: Dwight Howard should have stayed in Orlando.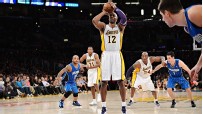 Andrew Han, ClipperBlog: Fiction. If anything, Dwight should have been moved at the 2012 trade deadline. But for whatever reason, he insisted on waiving his early termination option. Howard was unhappy in Orlando and that was a relationship that had run its course.
Danny Nowell, Portland Roundball Soc.: Fiction. I know Dwight had a great thing going in his heyday with Stan Van Gundy, and if he had been inclined to keep the band together I doubt a better situation could have been found. But he wanted to leave for several reasons, some involving his capriciousness and some organizational mismanagement, so "should" is sort of moot.
Eddy Rivera, Magic Basketball: Fiction. Howard had every right to leave. Thanks to poor personnel decisions by former general manager Otis Smith, the team got progressively worse after reaching the Finals in 2009 and wasn't getting better. The funny thing is that Magic fans were sympathetic to Howard's cause. They didn't blame him for wanting to leave. They blame him for how he left.
Darius Soriano, Forum Blue and Gold: Fiction. Dwight's final 18 months with the Magic created an irreparable rift that necessitated a departure. From his general displeasure with playing for Stan Van Gundy to what came off as a strong desire to play in a larger market, it was time for him to move on.
Michael Wallace, ESPN.com: Fiction. Although I think Dwight probably didn't miss what he had in Orlando until he was gone, he was eventually going to bolt anyway. Finally bringing an end to the drama last summer was the best thing for the Magic as they begin the long road to rebuilding. Still, I'm not certain Dwight knows what he wants right now any more than he did last year.
---
2. Fact or Fiction: Orlando's better off having parted ways with Howard.
Han: Fact. Certainly no team is better off losing a talent like Howard, but unless the Magic could brainwash Dwight into loving Orlando again, they were better off cutting the cord and starting fresh.
Nowell: Fiction. He was the best center in basketball, and I believe that when his back improves he will be again. Of course, I can't guarantee that will happen, but if it does, there are only two more influential players in the NBA. It's hard to be better off without the third-best player in the league.
Rivera: Fact. The marriage between Howard and the Magic had run its course after eight years. Howard did everything in his power to help Orlando win a title. However, Smith failed to do his part in helping Howard make that dream a reality. When it became clear Howard wanted out, a divorce was necessary, even if it got messy at the end.
Soriano: Fact. While it's never a good thing to lose one of the league's best players, if that player isn't fully invested in being there it's better to cut bait and acquire usable assets toward rebuilding the franchise. The Magic did exactly that by trading Howard and have positioned themselves well for the future.
Wallace: Fiction. No, the Magic aren't in a better place. But they are in a rebuilding place, and it's going to take quite some time before they can recover from this. Eventually, the Magic always seem to land on their feet. The combination of great weather, no state income tax and a beautiful new arena will attract top-level free agents to play with their high draft picks.
---
3. What one word best describes your feelings about Howard?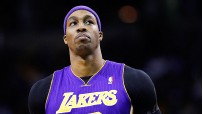 Han: Sympathetic. Howard seems like a mid-20-something who simply wants to be liked. Unfortunately, his exceeding skill and occupation in a zero-sum industry precludes that from universally happening. By no means do I feel sorry for him, but it's probably difficult to face criticism no matter what you do.
Nowell: Regret. Dwight used to be one of my very favorite players to watch. He controlled the game on both ends as the league's premier defender and a master of manipulating defenses with his movement off the ball. Health and media saturation have robbed us of a unique and brilliant player.
Rivera: Nostalgic. The fact of the matter is that Howard made the Magic relevant again after T-Mac and Grant Hill failed to do so themselves. And Howard brought the franchise to greater prominence than Shaq and Penny. Coming out of high school, one of Howard's goals was to put the city of Orlando back on the map and he did just that.
Soriano: Complicated. I'm in awe of Howard's talent and ability to impact both sides of the floor as a player. And I admire him for playing through injury in an effort to help his team. However, his attitude, demeanor and interactions with the media can be off-putting and those things are difficult to ignore.
Wallace: Fickle. What you see is often not quite what you get from Howard. He is far from mean-spirited and is actually a pretty fun guy to be around. But he's got a major childish streak in him, and it prevents him from really taking responsibility for his faults. I'm not sure he'll ever find a team that will make him completely happy for the long term.
---
4. Fact or Fiction: Howard peaked in Orlando.
Han: Fiction. Granted, Dwight Howard has not looked quite like his otherworldly self this season, but he's still only 27 years old, recovering from back surgery and nursing a torn labrum in his shoulder. Determining whether it's time to eulogize Howard's best days is probably still at least a couple of years away.
Nowell: Fact. I don't believe his best days are behind him necessarily, but his game was a blend of athleticism and savvy that won't be any easier to recapture as he ages. The fact is that even if he gets fully healthy, he was such an unparalleled defensive anchor it's unlikely he'll top his Orlando run.
Rivera: Fact. It's no secret that Howard has been a shell of himself with the Lakers so far. But assuming he fully recovers from back surgery and a torn labrum, I still have a hard time believing Howard will ever play better than he did in 2011 when he won an unprecedented third consecutive defensive player of the year award and was the runner-up for MVP.
Soriano: Fiction. Dwight may never get back to the level of physical dominance he had in Orlando, but with several prime years still in front of him I see him continuing to improve his mental approach and refining his game to the point where he's a more effective player even with diminished athleticism.
Wallace: Fiction. As dominant as he was over his last three seasons in Orlando, there's still another level Dwight can take his game to if he continues to work on his offensive skills in the post. He has gotten away from some of the initial work he did with Patrick Ewing and Hakeem Olajuwon, but he's young enough to keep expanding his game as he gets healthier.
---
5. Fact or Fiction: The Magic should retire Howard's jersey.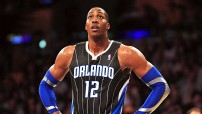 Han: Fiction, but it's close. Howard spent eight seasons with the Magic and made one Finals appearance. But he wasn't quite "Dwight Howard" yet during his first two years and his last season was mired in drama. Does five seasons of bliss make for a retirement ceremony? Probably not anytime soon, and Magic fans probably will make it known Tuesday night.
Nowell: Fact. This is a no-brainer to me. Other Magic players may have had more talent or promise, but none had as good a career with the team. He didn't fill it up on offense like Shaq, Penny or T-Mac, but he was the cornerstone of a relatively stable, legitimate contender until the messy end.
Rivera: Fact. He's arguably the best player in franchise history. He led the Magic to their lone Finals win (despite a 4-1 series loss to the Lakers in 2009). He's the franchise leader in nearly every statistical category. He made NBA history by winning three consecutive defensive player of the year awards. I can go on. To not retire his jersey would be petty and wrong.
Soriano: Fact. Howard is the best player in franchise history and reached a level that no other Magic player reached. He was a fixture on the All-NBA first team, won multiple defensive player of the year awards and led the organization to one of their two NBA Finals appearances in franchise history. Not retiring his jersey would reek of sour grapes.
Wallace: Fact. A strong case can be made that he has had a greater impact on the franchise than Shaq. At the end of the day, Orlando is a happy place. It's a big playground filled with transplant fans who lack the deep-seated resentment others might carry elsewhere. In other words, Dwight will get booed, as he should. But this ain't Cleveland.


ESPN.com and the TrueHoop Network
Michael Wallace covers the NBA for ESPN.com and the Heat Index. Andrew Han, Danny Nowell, Eddy Rivera and Darius Soriano are part of the TrueHoop Network.
• Follow the NBA on ESPN on Twitter | On Facebook | On Google+