It's been two seasons since a blockbuster trade sent Carmelo Anthony from the Mile-High City to the Big Apple. Which team is better off now? Which has the brighter future? Our panel breaks it all down ahead of the Knicks-Nuggets showdown (10:30 p.m. ET, ESPN).
1. Knicks or Nuggets: Who won the Carmelo Anthony trade?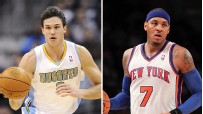 Jim Cavan, KnickerBlogger: Nuggets. Be the measure simple (the Nuggets are 99-57 since the trade, the Knicks 88-67) or ethereal (Denver's tight chemistry versus the Knicks' wild fluctuations), Denver is one of the NBA's feel-good stories. In the battle of "win-now" and "build smart," it's hard not to take the latter.
Matt Cianfrone, Roundball Mining Co.: Nuggets. Denver added rotation pieces in Danilo Gallinari and Wilson Chandler, eventually turned Raymond Felton into Andre Miller, and used the pick they got as part of the package for Andre Iguodala. Melo is great, but the Knicks have yet to make noise in the playoffs, while the Nuggets are younger, better and still possess a first-round pick in a loaded 2014 draft.
Jared Dubin, Hardwood Paroxysm: Nuggets. Throughout Carmelo's Nuggets tenure, the team won 58.5 percent of its games. Since the trade, that number has jumped to 63.5 percent. After tanking and clearing cap space for two years, the Knicks had a 51.8 winning percentage on Feb. 22, 2011. New York has won 56.7 percent of its games since. With both teams receiving nearly identical five-percent bumps, the edge goes to Denver because few expected it to get better post-deal.
Beckley Mason, ESPN.com: Nuggets. Judging by degree of difficulty, no team that has pre-emptively moved its star player has recovered as quickly and as gracefully as Denver. Judging by on-court success, it's closer to a draw, although the Nuggets have won more games in a tougher conference since the trade.
Tom Sunnergren, Hoop76: Nuggets. Team wins are a blunt instrument for measuring individual transactions -- even big ones -- but this is a tough fact to shake: Since the ostensible superstar changed hands in February 2011, the Knicks have gone a respectable 88-67, while Denver has run off a 99-57 record. Advantage, Masai Ujiri.
---
2. Fact or Fiction: The Nuggets are better off without Melo.
Cavan: Fact. The past few seasons have yielded more than a few cautionary tales of restless superstars. Denver's unique combination of peaking talent and long-term flexibility -- only Ty Lawson exceeds an $11 million salary after the 2015-16 season -- makes them a true test case for finding balance under the new CBA. The Knicks, meanwhile, have a high title tightrope ahead of them.
Cianfrone: Fact. Melo is great, but fitting a contending roster around him takes a lot of time, patience and money. The smaller-market Nuggets just don't have those things. With the pieces they got from the trade, they are better off now than when he was with the organization.
Dubin: Fact. George Karl's team plays fast and loose, and though Melo had a good deal of success playing that way when he was in Denver, he much prefers to stop, slow down and survey the defense before attacking. The current Denver roster suits Karl's sensibilities perfectly: it's quick, long, versatile and relentlessly efficient.
Mason: Fact. As a star, Melo wasn't the right fit in Denver, and no amount of building around him or tailoring the playing style to his liking would change that. Best to move on, acquire talent and assets, win a bunch, and hope to one day land a superstar who buys in.
Sunnergren: Fact. Not nearly enough space here to unpack the whole Carmelo thing, but here it goes: Anthony has tremendous skills and is one of the game's true ice-water-in-the-veins clutch scorers, but superlatives aside, it's difficult to build a great team when more than $20 million of your cap space is tied up in a guy whose value comes almost exclusively from the offensive end, but whose true shooting percentage is just a tick above league average.
---
3. Knicks or Nuggets: Which team will go further this season?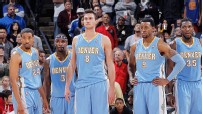 Cavan: Push. Assuming Melo's leg doesn't fall off (he's currently day-to-day with a sore knee), the Knicks are good for a round. Ditto Denver, which still has a shot at a top-four seed in the West. That's probably where both end up bowing out, however -- New York because of age and matchup problems, and Denver because the West is just cartoonishly stacked.
Cianfrone: Knicks. Denver is a better team, but the Knicks play in the East. To get to the conference finals, the Nuggets probably need to beat the Clippers, Thunder or Spurs, while the Knicks probably need to beat the Pacers, who just are not as good as the Western three. That alone gives the Knicks a better shot to go farther.
Dubin: Knicks. The stark difference in Denver's performance at and away from the Pepsi Center means it'll likely need home-court advantage in the first round to advance, and it is currently three games behind Memphis in the loss column. Meanwhile, New York will likely secure at least one home-court series against a low seed.
Mason: Knicks. As rough as the Knicks have looked in recent games, they'll have home-court advantage and won't have to play the Clippers or Grizzlies in the first round.
Sunnergren: Knicks. Denver has the rough-and-tumble Western Conference to contend with and a transition-oriented attack that will likely struggle to generate points when the game slows in the postseason. It's hard to see the Nuggets advancing past Round 2, and they might not even get that far. The Knicks, on the other hand, are a very strong candidate to be swept by the Heat in the East finals.
---
4. MVP or title: Which is Anthony more likely to win in his career?
Cavan: Title. Judging by his recent, cryptic comments ("I don't think I'll ever be 100 percent ..."), the bodily breakdown seems nigh. With LeBron James' heroics approaching planet-eating status and Kevin Durant's game still ascending, Melo's MVP window may be closed for good. That doesn't mean he can't be a cornerstone or savage second fiddle on a title-winning team. More than possible.
Cianfrone: MVP. I doubt either happens, but the recipe for MVP seems easier. A great scorer combined with a big market and voter fatigue after LeBron and Durant trade off a couple of MVPs just seems more likely than the Knicks winning a title anytime soon based on the way the roster looks now.
Dubin: MVP. This Knicks group has only three shots at a title, but with James standing in its way just to get out of the East, let's just say it's not likely it'll get one. However, voter fatigue could conceivably swing an MVP race away from Biscayne Boulevard, and Melo has as good a shot as anyone not named Kevin Durant at dethroning the King.
Mason: Title. It's more likely that he'll team up with other great players and win a title than there ever will be a consensus that he is a more valuable player than LeBron James, Kevin Durant or Chris Paul.
Sunnergren: MVP. As recently as December, when the Knicks were bulldozing teams and deadline-bound scribes were scrambling for good stories about what was going on, Carmelo was being floated as a dark horse MVP candidate. Could that happen over a full 82 games? Maybe. Plus, voting for LeBron every year is already getting boring.
---
5. Knicks or Nuggets: Who's more likely to make a Finals this decade?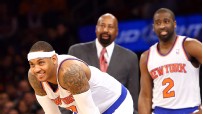 Cavan: Knicks. For all their pluckiness, the Nuggets remain a couple of cogs short of true contention. Meanwhile, the Knicks' cap situation isn't a complete disaster -- though it's close -- so some fringe retooling, coupled with a well-timed Miami collapse, could be window enough. Assuming Mike Woodson doesn't run Melo into vapor.
Cianfrone: Nuggets. Denver is better right now and has a much younger core and more flexible roster (for instance, a Wilson Chandler trade seems possible). Add in the emergence of Ty Lawson and the Nuggets' future looks bright. The Knicks, meanwhile, are the league's oldest team with seemingly little roster flexibility.
Dubin: Knicks. Neither is exceedingly likely, so this is a pure odds play. Denver still seems like a middle-of-the-pack Western Conference team, and while New York is in the same boat out East, the East is the weaker conference. The Knicks also have a clean cap sheet in 2015 to reload, and by that point, Miami's Big Three may be a thing of the past.
Mason: Nuggets. LeBron James will be getting old at the end of the decade, but so will Carmelo Anthony. Meanwhile, it's likely the Spurs and Grizzlies will slide some, perhaps creating room for a sneaky run from the still-young and flexible Nuggets.
Sunnergren: Knicks. The Nuggets are the smarter franchise, but the Bockers have more resources, greater cultural cachet -- the list of free agents clamoring to end up in Denver is a short one -- and New York plays in an Eastern Conference that, north of Miami, doesn't look terribly imposing.


ESPN.com and the TrueHoop Network
Beckley Mason is an NBA contributor to ESPN.com. Jim Cavan, Matt Cianfrone, Jared Dubin and Tom Sunnergren contribute to the TrueHoop Network.
• Follow the NBA on ESPN on Twitter | On Facebook | On Google+