Is this the end of the road for Andrew Bynum in Philadelphia? Our panel weighs in on what's next for the Philadelphia 76ers and their center after it was announced that he'll have season-ending surgery on both knees.
1. Fact or Fiction: Trading for Bynum was the right move for the Sixers.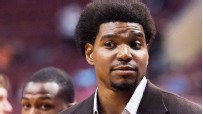 Eric Goldwein, Hoop76: Fact. It wasn't the wrong move. They took a risk and gave up a lot -- probably more than was realized at the time. Still, there was an incredibly high reward if it paid off. A franchise center is an incredibly valuable building block.
Beckley Mason, ESPN.com: Fact, assuming there was no gross negligence in their medical screening. The Sixers had a rough offseason with some of their other moves, notably excercising their amnesty rights on Elton Brand. But making a move for Bynum was a reasonable risk.
Darius Soriano, Forum Blue and Gold: Fact. Bynum, when healthy, is one of the few franchise-altering big men in the NBA. His injury history was a risk, but one worth taking considering his ability to help transform a team from a playoff team to a contender. It didn't go the Sixers' way, but they'd still be far from a contender if they'd stood pat.
Tom Sunnergren, Hoop76: Fact. The Sixers, a hard-luck, middle-of-the-road organization, had an opportunity to get a then 24-year-old franchise center who'd won championships and was coming off a career season. There were risks involved, yes, but the potential rewards were much greater. Regardless of the outcome, given what we knew this summer, they did the right thing.
Jack Winter, Warriors World: Fact. Andre Iguodala's Sixers squad topped out last season as a perennial first-round playoff threat but nothing more. Superstars win big in the NBA, and a healthy Bynum is easily the closest thing Philly has to such a player. Health risks not withstanding, acquiring Bynum was the prudent move with present and future in mind.
---
2. Fact or Fiction: The Sixers should try to re-sign Bynum this offseason.
Goldwein: Fiction. Of course this depends on how much money he demands. I absolutely would not sign him to a long-term deal, but a short-term contract could be worth the investment.
Mason: Fact. One assumes no team has more information about Bynum's health than the 76ers. If they think he can come back, they should go for it.
Soriano: Fact. Assuming Bynum is projected to make a full recovery, it's not crazy to gamble on his talent. The risk for injury will always be there and should give them pause, but the reasons they traded for him in the first place should still be used as a guide for their approach this summer.
Sunnergren: Fact. If the price is right, which is a rather large if, it's worth bringing him back. The Sixers can sign Bynum to short-term deal, give him an opportunity to rehabilitate himself, then ink him long-term if/when he returns to form. And if he doesn't bounce back, it's no huge loss for the franchise. The Sixers just suffer a few lost seasons and get some high lottery picks to show for it. They can rebuild while they wait for him to recover.
Winter: Fact. Look at the league's best teams: They all boast top-shelf individual talents to achieve sustained success. With Bynum and a still-improving Jrue Holiday, the Sixers have a chance to lock up an elite inside-outside tandem. No matter how disappointing Bynum's time in Philly has been thus far, that's an opportunity that can't be passed up.
---
3. What would you offer Bynum this summer in free agency?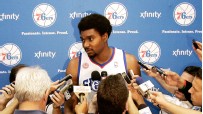 Goldwein: Two years, $16 million, with a team option for a third year. It's more about years than dollars. I'd structure the contract so it is team-friendly and I'd be sure to get a lot of insurance on those knees.
Mason: I'd be willing to offer a lot of money; say, $10 million per year. But the guaranteed years would have to be short -- no more than two -- until he proves he can stay on the court.
Soriano:Three years, $45 million, with the third year a team option. If Bynum is healthy and producing at his pre-injury level, he's locked into a reasonable contract on par with other top big men but still below a max salary. If he doesn't recover fully, he can be traded or released after two years.
Sunnergren: It's difficult to say given how little we know about his projected recovery from surgery at this early stage, but a two-year, $20 million deal feels right to me. If there's even a chance Bynum returns to form, and I still think there is, that's a risk worth taking for most teams.
Winter: I'd offer $44 million over four years, the same contract Stephen Curry signed with Golden State in October. A healthy Bynum is easily worth maximum money, but the perpetual injury issues and off-court maladies drive his real value below what the market will likely dictate. The Warriors and Curry showed compromise in getting a deal done despite health scares and little on-court success; ideally, Bynum and his new front office would do the same.
---
4. Greg Oden or Andrew Bynum: Which center would you take a risk on?
Goldwein: Bynum. It's unclear if either will make an impact again, but as long as I'm getting an incredibly injury-prone player, I'll take the one with the higher upside.
Mason: Bynum. Both big men have knees of chalk, but at least Bynum has shown he can make it through a whole season and be productive. Bynum is no ironman, but Oden's body appears simply not made for NBA basketball.
Soriano: Bynum. While Oden will surely cost less, he has never proven he can play more than a handful of games at a level that Bynum has over his past few (healthy) seasons. Oden arguably has the lower ceiling and the lower floor at this point of their respective careers. Give me Bynum even with his recent health issues.
Sunnergren: Bynum. While his future is certainly murky, we have empirical evidence that Bynum is capable of playing high-level NBA basketball for enough games to make an impact. In Oden's case, we still don't know that.
Winter: Oden. Not only would Oden come cheaper than Bynum, he'd also bring offer far fewer expectations and thus chances to disappoint. His development has been forever stalled by those balky knees, but Oden -- at the very least -- could anchor a defense's back line and eat space on the other end.
---
5. Fact or Fiction: Doug Collins should return as Sixers head coach.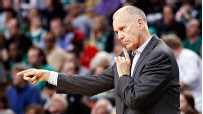 Goldwein: Fiction. He's a solid defensive coach and he did a great job turning the team around a few years ago when he replaced Eddie Jordan. However, he runs a painfully inefficient offense and he doesn't seem like the kind of coach who is going to change his style any time soon. They can do better.
Mason: Fiction. Coaching doesn't seem to be making Collins happy this season, and he has a reputation for losing teams in his third season. Philadelphia plays hard most nights, but it's probably time for the franchise to try a new voice.
Soriano: Fiction. Collins has never been able to stay with one job for longer than a few seasons, and I fear he's already starting to be tuned out in Philadelphia. He's a very good tactician, but as a motivator his message seems to get old quickly and that seems to be the case here.
Sunnergren: Fiction. Doug Collins is a tremendous defensive coach, and a top-shelf turnaround artist, but no. No, no. no. He runs a backward offensive system (irrationally conservative, enamored of the midrange game), is bad at handling players and exercises too much control on the personel front. His time has come and gone.
Winter: Fiction. Both Collins and his players desperately need a change; look no further than his postgame diatribe after a late February loss to Orlando. Plus, his coaching history indicates it's time to move on: Collins has never coached a team past a third season; next season in Philly would be his fourth.


ESPN.com and the TrueHoop Network
Beckley Mason covers the NBA for ESPN.com. Eric Goldwein, Darius Soriano, Tom Sunnergren and Jack Winter are part of the TrueHoop Network.
• Follow the NBA on ESPN on Twitter | On Facebook | On Google+