The Heat already have made minor history with their red-hot play of late, tying the 2007-08 Rockets for the second-longest winning streak in NBA history (22). But the big record -- 33, held by the 1971-72 L.A. Lakers -- isn't too far off. How likely is it? We break down the pressing questions heading into the Heat's showdown in Boston (ESPN, 8 p.m. ET):
1. More impressive feat: Winning 33 in a row or winning a second title?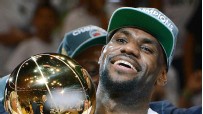 Danny Chau, Hardwood Paroxysm: Winning 33 in a row. While the distinction ultimately doesn't carry as much weight as an NBA championship, it's a matter of exclusivity for me. There are a number of teams that have won multiple championships but there is only one team with a 33-game winning streak ever. It's history that hasn't been rewritten for more than 40 years.
Andrew Han, ClipperBlog: A second title. Ten teams in NBA history have strung together at least back-to-back championships. Those are generally considered to be the greatest teams in the history of the league. How often are teams discussed in relation to the length of streak they've put together? Great streaks rely a good bit on luck and scheduling as much as talent of the team.
Michael Pina, Red94:
A second title. A winning streak, no matter how long, can show dominance during the regular season, but it's ultimately meaningless if not bookended by a championship. If the Heat win the rest of their games but fail to reach the Finals or win it all once they get there, the streak will live in the record books as a black mark of shame instead of useful evidence in a "best team of all time" argument.
Brian Robb, Celtics Hub: 33 in a row. This one is pretty simple in my book. Several teams have won back-to-back titles, yet just one has put together a 33-game streak in NBA history. While there's no doubt most teams would prefer a second title, the longest winning streak in NBA history puts you on a higher perch in the record books.
Michael Wallace, ESPN.com: A second title. Championships are what matter. Running off 33 consecutive wins is a remarkable feat. Heck, winning about half that many games in a row takes a special combination of skill, luck and timing. But if you gave me a choice of 33 straight, a 72-win season or a title, I'm taking the one that comes with a ring.
---
2. What are the Heat's chances of winning 33 games in a row?
A. Very good
B. Good.
C. Poor.
D. Very poor
Chau: A. Very good. In fact, I'm not sure if the schedule could have been more kind for the Heat. Seven of the next 11 games are against some of the league's worst teams. These history-chasing streaks tend to end in unexpected, anticlimactic ways, but if the Heat stay in character, the next 11 games should theoretically be a cakewalk.
Han: B. Good, mostly because there's not a conflagration of great opponents lying in wait. Of their next 11 games, only four teams have records better than .500. And of the four, only the Spurs are ranked in John Hollinger's top eight -- San Antonio also being the reason why the Heat's chances are only "good" and not "very good."
Pina: C. Poor. At the end of March, the Heat have four straight road games against the Magic, Bulls, Hornets and Spurs. (On its first game back from that road trip, Miami will face a Knicks team that could have an active Carmelo Anthony and Tyson Chandler on board.) San Antonio stands out as most likely to end Miami's streak, but the longer it goes on, the more committed each opponent will be with snuffing it.
Robb: C. Poor. A favorable schedule for the upcoming 11 games makes it a possibility, but the combination of luck, skill and good health for the next few weeks to get it done will be a tall task. Still, the extra incentive of needing to play well to secure home-court advantage in the NBA Finals down the stretch could help the Heat push through.
Wallace: C. Poor. Let's be real here. The Heat are 11 consecutive wins away from matching the Lakers' all-time streak mark. Before this current streak, the Heat had won that many in a row only one other time in the LeBron-Wade-Bosh era. There is absolutely no shame in falling short of the record. None. I still think it's a bit premature to raise the possibility.
---
3. '07-08 Rockets or '12-13 Heat: Whose streak is more significant?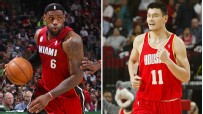 Chau: '12-13 Heat. Houston's streak was improbable, but couldn't catapult it higher than the fifth seed in an extremely close Western playoff race. For Miami, the streak comes off as an assertion of superiority, as if to silence earlier doubts when the team appeared to be trudging through the regular season.
Han: '12-13 Heat. The Rockets' 22-game streak felt more Cinderella-like, in part because a stretch came without Yao Ming. It was a little fluky and a lot of feel-good. But Miami's streak forebodes a larger thing to come -- a potential repeat champion.
Pina: '12-13 Heat. The Rockets own the most unlikely win streak in NBA history, but that season they failed to be relevant once the playoffs started, losing in six games against the Jazz in a rough opening-round series. Holding a historical winning streak and winning the title might make this year's Heat one of the best teams ever. We could be talking about this team for a long, long time.
Robb: '12-13 Heat. No question about it. As the defending champions, Miami has had a bull's-eye on its back for nearly every game this season, in sharp contrast to a Rockets squad in '07-08 that wasn't considered a serious contender. By taking every team's best shot each night of the streak, the Heat have separated themselves.
Wallace: '12-13 Heat. Despite Houston's great stretch, I don't recall there ever being serious discussions about the Rockets being solid championship contenders. The Heat, on the other hand, have used this blitz through the NBA schedule to distance themselves from just about any other major threat in their conference and perhaps the entire league.
---
4. Fact or Fiction: Boston will be the best challenge yet to Miami's streak.
Chau: Fact, if only because at this point, each ensuing game will be the toughest challenge in keeping the streak alive. That said, the Celtics are indeed a legitimate threat. While the rest of the East is slipping, Boston is surging. They've won seven of their past 10 games, a figure surpassed in the East only by Miami's perfect 10.
Han: Fiction. Indiana and Memphis have been the strongest competition the Heat have faced since this streak developed any meaning. And the Spurs, even without Tony Parker, likely will be the toughest challenge of the season if the Heat don't fall before arriving in San Antonio.
Pina: Fiction. The Celtics don't like the Heat and would enjoy nothing more than disallowing their entrance into the record books. But Boston is not Oklahoma City, a title-contending team Miami steamrolled back on Valentine's Day.
Robb: Fiction. A healthy Kevin Garnett may have caused me to change my tune on this, considering LeBron James is still winless in Boston as a member of the Heat during the regular season. With a limited or inactive Garnett however, the Celtics won't be able to recreate the same resistance they exhibited in their win over Miami on Jan. 27.
Wallace: Fiction. I still say the Heat's streak should have ended a week ago when the Orlando Magic had them beat in Miami. But thanks to a handful of favorable calls down the stretch and a game-winning score from LeBron with three seconds left, they escaped. The only way to pose a bigger threat than that is to actually beat the Heat.
---
5. Fact or Fiction: Miami's winning streak will end against the Celtics.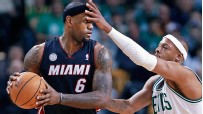 Chau: Fiction, though coincidence and serendipity seem to favor the Celtics. Between yesterday being St. Patrick's Day and today being the five-year anniversary of the Celtics ending the Rockets' 22-game winning streak in the first year of the Kevin Garnett era, all signs are pointing to a Celtics victory. Wow, time flies, doesn't it?
Han: Fiction. Even with a fully healthy team, and Rajon Rondo is included in that scenario, the Celtics would have a 50/50 chance versus the Heat. In reality, it's just a gamble of when "streak fatigue" sets in for the Heat and they slip up. With their recent history, though, it seems unlikely that it happens against Boston.
Pina: Fiction. Without a healthy 35 to 40 minutes of Kevin Garnett anchoring its defense, Boston has very little chance at slowing down Miami's myriad offensive weaponry. It'll be close, because the Celtics will be ready with a loud home crowd behind them, but in the end, LeBron James should once again turn their supportive followers into a helpless audience.
Robb: Fiction. It won't be easy, but the Heat will find ways to exploit Boston's defense, what with Garnett likely playing at less than 100 percent or not at all. LeBron James and company also will use their athleticism to exploit a subpar Boston rebounding team, allowing them to escape with their 23rd consecutive win.
Wallace: Fiction. The way things have been going lately, there's a better chance the streak ends in Cleveland later in the week than in Boston. The Heat typically rise to the challenge in games that catch their attention like this. The Celtics have done plenty of talking. It's no coincidence the Heat's biggest scares came against the Cavs, Kings, Magic and Sixers.


ESPN.com and the TrueHoop Network
Michael Wallace covers the NBA and the Miami Heat for ESPN.com. Danny Chau, Andrew Han, Michael Pina and Brian Robb are part of the TrueHoop Network.
• Follow the NBA on ESPN on Twitter | On Facebook | On Google+