It's LeBron's world. Now we stack him up against it.
Just like last year, we put James up against the field for some of the NBA's biggest honors, for this season and beyond.
1. LeBron or the field: 2012-13 Most Valuable Player.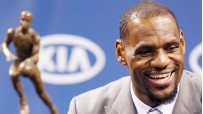 Brett Koremenos, HoopSpeak: LeBron. It seems crazy to think there's a runaway candidate in a field featuring a new and improved Kevin Durant and one of the best point guards we've seen in two decades in Chris Paul, but LeBron's numbers (26.5 PPG, 8.2 RPG, 7.1 APG) are absolutely video game-like. It's a total sham if he doesn't win.
John Krolik, Cavs: The Blog: LeBron. I could give you 1,000 words on how Kevin Durant is having one of the best offensive seasons ever and has grown leaps and bounds in passing and defense, but he's still not touching LeBron this season. My three criteria for MVP are size of role on team, efficiency in performing said role and success of team. LeBron and KD are essentially in a dead heat in the latter two categories, but nobody does anything close to what LeBron does for Miami every game.
Marc Stein, ESPN.com: LeBron. Don't know exactly how much longer Miami can make this win streak last. Don't know yet if the Heat can repeat as champs. But the only source of mystery in the NBA's MVP race, at this point, is whether LeBron wins it unaninmously or not.
Ethan Sherwood Strauss, ESPN Insider: LeBron. Usually, there's no better player than "the field," except when the other guy is LeBron James. Media consensus right now is with "James for MVP," and there isn't enough time to truly shake that. Also, the second-best win streak of all time makes for a compelling case. Also, he deserves the award.
Tom Sunnergren, Hoop76: LeBron. While Kevin Durant might -- again, might -- be the better scorer, LeBron has a mammoth edge in every other facet of the game. And now that he's added a 23-games-and-running win streak to his 30 PPG/60 percent shooting stretch from earlier this winter, he's also wrested the narrative momentum from his only plausible competition. Make it four out of five.
---
2. LeBron or the field: 2012-13 Defensive Player of the Year.
Koremenos: The field. LeBron is a total beast at the defensive end of the floor, but too often during the regular season he picks his spots to put forth max effort. With big men like Kevin Garnett, Tim Duncan, Joakim Noah, Marc Gasol and even Roy Hibbert anchoring elite defenses every single possession, he may be hard-pressed to win this one.
Krolik: Very interesting. No player makes more of an impact on defense than LeBron when he's fully engaged and locking down the other team's best scorer while helping everywhere, but he generally goes at about 80-90 percent on that end for the first 43 minutes of the game (understandably, but still.) Since no perimeter player has been named DPOY since the hand-check rules came into effect in 2004-05 and the Heat are still "only" No. 9 in defensive efficiency, I have to give the edge to the field here.
Stein: The field. Just don't think the voting body, as a whole, is searching for nuance enough to see LeBron as a leading contender here. It's going to be someone from one of the league's top defenses: Chicago's Noah or Memphis' Gasol or Indy's Hibbert.
Strauss: The field will get and deserves this one. I believe that a wing player can provide immense defensive impact, but bigs tend to be more important. They occupy more space and do so in the area closest to the hoop. LeBron's great, but I side with the defensive impact of guys like Tim Duncan, Marc Gasol and Noah.
Sunnergren: The field. Dwight Howard's subpar season has left the DPOY race unusually unsettled, but Bron still seems a long shot. Though he's probably capable of playing at a higher defensive level than anyone else in the sport, the Heat have taken a step back on that end of the floor this season, and their star might suffer for it at the ballot box.
---
3. LeBron or the field: 2013 NBA Finals MVP.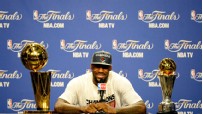 Koremenos: LeBron. Miami is the team to beat (again) this year, and if the Heat take home the Larry O'Brien trophy, it's hard to foresee James not being the catalyst.
Krolik: OK, this is where playing the odds gets tricky. LeBron has a much better chance of winning the award than any one player, but the Heat would have to win four straight playoff series, and then there's still around a 20 percent chance that Dwyane Wade will be red-hot in the Finals. So I'll play the probabilities and say the field. But betting against LeBron right now is scary. Can I take a pass here?
Stein: LeBron. Given that the Heat might not be seriously pushed until they get to the Finals, where they'll have the freshness edge over whoever survives the West's steel cage, who could conceivably beat out LeBron for this trophy, assuming Miami repeats? D-Wade is the only other possibility, and even that sounds like a stretch.
Strauss: The field. This is a tough one! I'd suspect that Miami is roughly a coin flip to win it all, but if it does, there remains the slight chance that Wade gets this award. Wade outplayed James in the 2011 Finals, and while he's not the better player, a secondary guy occasionally takes Finals MVP (See: Tony Parker, in 2007).
Sunnergren: LeBron. The Heat are the best team in the NBA (by a wide margin) and LeBron is their best player (by an even wider one). As strong as the Western Conference looks - -and the Thunder, Spurs, Clippers, and maybe even Denver could credibly be called contenders -- at this point, it would be a shock if the Miami didn't win and James wasn't the reason why.
---
4. LeBron or the field: Best player of the past decade (2003-2013).
Koremenos: The field. James has been incredible from 2008, but during the entire time frame, Kobe Bryant, Tim Duncan, Steve Nash, Dirk Nowitzki and Kevin Garnett have been racking up wins, titles, Defensive Player of the Year Awards and MVPs. And as ESPN's own Amin Elhassan pointed out to me, even Manu Ginobili -- with a sterling international résumé on top of his NBA success -- has a strong case for the honor. James may have a better stretch from 2008 to 2018 than those players have had for this past decade, but his six-year run of brilliance doesn't quite top the accomplishments of the players on that list.
Krolik: LeBron: 3 (almost certainly 4) regular-season MVPs, 1 Finals MVP, 1 ring, unquestionably better night-in, night-out production. Kobe: 1 regular-season MVP, 2 Finals MVPs, 2 rings. If LeBron doesn't win the championship this year, it comes down to production on paper versus team success, and history has been more favorable to those with the rings, although arguments could be made. If LeBron does lock down his second ring, this particular debate is over, but if not, Kobe probably gets the nod.
Stein: The field. A challenging one at last. But if we're looking specifically at the past 10 seasons, even if we assume that LeBron's second ring is forthcoming in June, strong cases are readily made for Duncan or Bryant. So LeBron is outnumbered.
Strauss: LeBron. If we're talking 2000-2010, it's a trickier topic. LeBron's about to snag his fourth MVP award over this period, a feat nobody else in the running has come close to. Duncan and Bryant have their arguments, but so many of their best moments happened before 2003. The span of LeBron's career trumps.
Sunnergren: LeBron. James has led the league in win shares the past five seasons, PER the last six, and appears poised to take his fourth MVP in five seasons. He's objectively the best player in the sport and has been for some time. Show me a GM who would trade LeBron's last 10 years for anyone else's and I'll show you a guy who'll be looking for work soon.
---
5. LeBron or the field: Best player ever at the end of his career.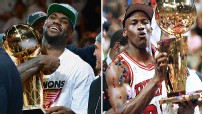 Koremenos: LeBron. James can score like Jordan, pass like Magic and shoot like Bird. If he stays hungry and continues to bring home championships, he will go down as the best ever when he hangs up his jersey.
Krolik: The field. LeBron needs five more Finals MVPs to match Jordan and three more to even be in the conversation. That's a lot of stuff that has to go right, especially when you consider that most of Miami's roster is on the wrong side of 30. I think he breaks the regular-season MVP record of six and will have the stats to match anybody's, but if he doesn't get those five extra Finals MVPs, nobody is going to give him the benefit of the doubt in a Jordan comparison, considering whom he's playing with.
Stein: The field. I'm that annoying guy in the back of the room who keeps raising his hand to say that Michael Jordan doesn't automatically hold the rights to this crown as we speak over the greatest winner ever (Bill Russell) and the two NBA saviors (Magic and Larry) who, unlike Mike, had to constantly butt heads with an equal in his prime. So the bar is higher than folks ever acknowledge ... and LeBron's gotta get past Timmy and Kobe first.
Strauss: The field. For such a difficult accomplishment as "best ever," it's wise to take the field against even the most promising of careers. Jordan was transcendent in an era when we had more reverence for athletes. His shoes still sell out quicker than anyone else's. He also happened to be as great or greater, relative to the competition, than LeBron is now. I'm picking "the field" with MJ in mind.
Sunnergren: The field. Jordan never let us down. Once he arrived -- once the name "Michael Jordan" took on something like the meaning it carries today -- he was effectively perfect, an unstoppable winning machine. Too much has happened for LeBron to take on that stature in the public imagination; too much baggage, too much disappointment, too much attention too soon. He still might become better than Jordan, but he'll never be greater.


ESPN.com and the TrueHoop Network
Marc Stein is a senior NBA writer for ESPN.com. Ethan Sherwood Strauss writes for ESPN Insider. Brett Koremenos, John Krolik and Tom Sunnergren contribute to the TrueHoop Network.
• Follow the NBA on ESPN on Twitter | On Facebook | On Google+