These guys know about winning. Our crew takes a look at the two streaks dominating the NBA conversation: the Miami Heat's 27-gamer, and the end of the Denver Nuggets' 15-gamer.
1. Heat or Nuggets: Which team's streak was more surprising?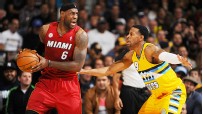 Matt Cianfrone, Roundball Mining Co.: Heat. They beat everyone the Nuggets beat and more. The Nuggets had a great run but the Heat are in the middle of the second-best run of all time and, as defending champs, they were getting everyone's best shot to begin with. This one was pretty easy.
James Herbert, Hardwood Paroxysm: The Heat. Even though each individual win feels routine, making history is always surprising. Earlier in the season, they played down to their competition some nights and lost games they shouldn't have. Now Miami might mess around for a half. Then it will decide to destroy.
Aaron McGuire, Gothic Ginobili: Denver's. Nobody can predict a 27-and-counting long streak, but Miami is experiencing a comprehensible perfect storm. The Heat are the best team in their conference by a country mile; they've faced a relatively low-stress slate of games; and they've lacked injury. Denver, on the other hand? The Nuggets are the third- or fourth-best team in their conference; they've experienced back-to-backs and rough games aplenty; and they missed stars for periods. Shocking streak.
Danny Nowell, Portland Roundball Society: The Heat's. The Nuggets found a consistency of excellence that their detractors might not have realized existed, but Miami is the answer here. They're winning games of every style, exorcising all the remaining baggage of their early time together, and demonstrating that it is somehow possible to tune out the maelstrom of feedback in their environment and focus on winning games.
Brian Windhorst, ESPN.com: Nuggets. I'm surprised, of course, that the Heat have the second-longest winning streak in history when in January they were in full blasé mode. But to put together a double-digit winning streak, you have to pull a few road games out you probably shouldn't have won plus be able to defend at a reasonably high level. I wasn't sure Denver fit that bill until the Nuggets pulled this off, but it was certainly impressive. We knew the Heat had that in them.
---
2. What's been the key to the Heat's winning streak?
Cianfrone: LeBron James. Having the best player in the world makes everything possible. LeBron has been great this year, and the streak is just another addition to the list of accomplishments. Near triple-doubles, that incredible month of February, it all has come in the streak and been a pleasure to watch.
Herbert: LeBron James is the key. Of course he is. He sets the tone for the team, he brings them back from deficits, he dominates defensively when he needs to. Dwyane Wade and Chris Bosh have been phenomenal, the 3-point shooting essential, but it all starts with James' otherworldly talent combined with his focus.
McGuire: Dwyane Wade. LeBron is the best-in-class engine that makes the Bugatti hum, but Wade's fantastic reversal of his serious early-season swoon has pushed Miami to a new level. A one-man team can do only so much -- Wade's re-emergence has simultaneously lessened LeBron's stress and given the champs a nearly unbeatable X factor.
Nowell: It's getting boring to talk about LeBron's excellence, so let's say the resurrection of Wade. I was one of the observers who thought he had lost his fastball, so it's been fun to be proved wrong and see how truly devastating he is as a sidekick. His athleticism and cunning are the perfect complement to LeBron's towering dominance.
Windhorst: Health. Their defense is much better than it was in November and December, but their advantage on the league has been multiplied by the injuries that have ravaged the already suspect Eastern Conference. Wade has taken the past two games off, but they've been against the two worst teams in the league.
---
3. What did the winning streak prove about the Nuggets?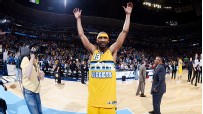 Cianfrone: That they were better than a lot of people thought. You don't go on 15-game winning streaks by accident, and the Nuggets proved in this run that they are a threat to anyone. The combination of depth, a better-than-expected defense and Ty Lawson showed this team has more than a one-and-done ceiling.
Herbert: It proved they're an elite team, with two wins over Oklahoma City and one over Memphis standing out in particular. It proved that, when they can control tempo, they're as good as any team in the West. It also proved Ty Lawson is an All-Star-caliber player.
McGuire: Denver's streak hasn't proved anything about its playoff durability yet, but it has proved something important about the franchise as a whole. Whether the Nuggets suffer an early exit or not, Masai Ujiri's roster machinations have built a shockingly fun team that can, at least for stretches, play dominant basketball. The experiment works.
Nowell: For a long time, I think many assumed the Nuggets were passive competitors; if a certain mix of things went right, they were a tough out, but dogged teams could knock them off their stride. That might still be true to some small degree, but any streak like this proves a team can impose the right circumstances for its success.
Windhorst: I'm not sure it's proved anything. The Nuggets are who we thought they were. They're a team that thrives on an up-tempo game that spreads out the scoring and can be good defensively in spurts. They are a devastating home team but much closer to average on the road. This scouting report was true a month ago, as well.
---
4. How many games will the Heat's streak last?
Cianfrone: 35. If the Heat get by the Spurs on Sunday, there is no one on the schedule that I think can beat the Heat before the record. Sunday is a 50/50 game, but my personal wish to see history makes me lean Heat. A Boston team that always plays Miami tough will snap things, but I think history will be made.
Herbert: 29. Ending a road trip in San Antonio is not easy for anyone, even this juggernaut. The Spurs have lost only four games at home all season, fewer than any team aside from -- you guessed it -- Miami and Denver. The heart says the Heat will take care of business and keep chasing 33; the head says San Antonio will snap the streak.
McGuire: It ends at 29, with the Heat losing a close back-and-forth game with the Spurs in San Antonio. It's the last game in a four-game road trip, and it's against a team built with an aim to combat Miami's weaknesses. It could end sooner -- bad nights can happen to anyone, even the Heat. But I'm guessing they'll hold up until the 31st.
Nowell: 39. Let's take it to the end of the season. And why not? It looks from my vantage point as if the Heat are truly dialed in to keeping this thing rolling, and I'm not betting on an opponent of theirs for a while. Plus, it's the most fun outcome for me to root for.
Windhorst: I should be disqualified to answer because I didn't think it would survive the last road trip. I'd love to know what Gregg Popovich intends to do with Sunday's game in San Antonio. Will he go all out to attempt to score a high-quality victory in front of the home fans, or will he keep his best cards in his sleeve in case of a potential meeting later? If he goes all out, I say the Spurs will win one for the 1971-72 Lakers.
---
5. How many rounds will the Nuggets last in the playoffs?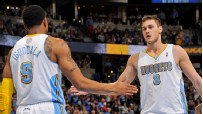 Cianfrone: One. I think the Nuggets will end up in the 4-seed and defeat the Grizzlies in Round 1 of the playoffs, but, because of a bad matchup with the Spurs, that is probably where things will end. If Denver is able to draw OKC in the second round, though, a trip to the WCF is possible.
Herbert: Incredibly tough to say because of the lack of separation between them, the Grizzlies and the Clippers. Let's say it depends on home-court advantage. If they finish third or fourth in the West, they'll likely go two rounds, maybe more. If they're fifth, forget about the streak -- everything could go pear-shaped quickly.
McGuire: If they can leapfrog L.A. and Memphis and snag home court in the first round, I see them getting to the second. No further, though. Which isn't to say they're bad -- a few lucky bounces and they certainly could upset the Thunder or the Spurs. But it's much more likely they'll bow out in the second. Perhaps even the first, if home court proves elusive.
Nowell: I'll say the conference finals. I'm not positive they'll get there, of course, because the West is so loaded -- my answer is more a declaration that I believe they're a caliber of team that could reach that stage more than a team that definitely will.
Windhorst: I could talk myself into picking them to win a round. They've played well against the Grizzlies and the Clippers in the regular season and this group really pushed the Lakers to the brink last year, so these Nuggets have some experience playing in the postseason together. I'd like to see everyone's health heading into the playoffs before pinning myself down on this one, though.


ESPN.com and the TrueHoop Network
Brian Windhorst covers the NBA for ESPN.com. Matt Cianfrone, James Herbert, Aaron McGuire and Danny Nowell contribute to the TrueHoop Network.
• Follow the NBA on ESPN on Twitter | On Facebook | On Google+