It's not all about MVP and rookie of the year. Members of our panel cast their votes for the other trophies set to be handed out during NBA awards season.
1. Who's the 2012-13 most improved player?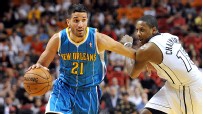 J.A. Adande, ESPN.com: Paul George. George is the reason the Indiana Pacers have not been devastated by the absence of Danny Granger most of the season. George blossomed into an All-Star, a go-to guy late in games, someone who could hold his own against LeBron James. There's a case to be made for James Harden, too, but it's hard to think of him as "developing" into an elite player after he'd already been selected to the Olympic team and given an $80 million contract before the season started.
Dan Feldman, Piston Powered: Greivis Vasquez. Only Rajon Rondo and Chris Paul average more assists per game, and Vasquez's assist-to-turnover ratio is better than Rondo's. Like many players who win this award, Vasquez made a major jump from two seasons ago to last season that went largely unnoticed and required an extra year to draw attention. Unlike many winners, he made another big jump from last season to this season.
Andrew Han, ClipperBlog: Nikola Vucevic. Puzzled would be a kind way to phrase reactions when word broke that one of Magic GM Rob Hennigan's targets in the Dwight Howard trade was Vucevic, a seemingly mediocre rookie. But after three 20-point, 20-rebound games, a 30-point, 20-rebound game and a bevy of double-doubles, Vucevic's season has made people made people take notice, to say the least.
Danny Nowell, Portland Roundball Soc.: Vasquez. I assume Paul George will take this award, but that's a case of a premier talent developing a bit better than projected. Vasquez, however, has transformed himself from waiver wire material into a starting-caliber point while providing the bulk of the distribution in an often moribund offense.
Brian Robb, Celtics Hub: Larry Sanders. While the shot-blocking has remained intact, Sanders has stepped up nearly every other facet of his game this season. His scoring and rebounding are up, he's fouling less and he's dramatically improved his free throw shooting. All of this has allowed him to morph into one of the best centers in the Eastern Conference.
---
2. Who's the 2012-13 defensive player of the year?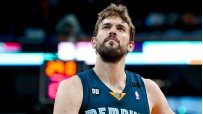 Adande: Tim Duncan. One of the reasons the Spurs look more like the Spurs defense we've seen in the past is Duncan's increased effectiveness. He's averaging an extra rebound and extra blocked shot per game compared to last season and is back atop the defensive rating list, a spot he held for three consecutive years from 2005-07. Maybe a combo award -- most improved defensive player -- is in order.
Feldman: Marc Gasol. Simply playing 12 more games and defending about 1,000 more possessions gives Gasol the edge over Joakim Noah. Both excellently guard the interior and deftly help outside it, and I'd argue Noah does both slightly better. But when grading impact this season, Gasol gets the edge because he stayed healthy.
Han: Gasol orchestrates the second-best team in defensive efficiency. He calls out coverages, cleans up rotations and is one of the best big men at stymieing the pick-and-roll. The Grizzlies are also 6.6 points per 100 possessions better defensively when he's on the floor.
Nowell: Gasol. The true quarterback of one of the league's stoutest units, Gasol gets my vote because he so thoroughly commands every aspect of defense. He's great as a post defender, his rotations are immaculate and he understands how to control space with his size.
Robb: Gasol. While the Grizzlies have several defensive weapons, Gasol is the anchor, doing the little things to keep an imposing Memphis defense firing on all cylinders. Whether it's shutting down a post player or cutting off an open lane to the hoop, the versatile center has been the best defender in the league this season.
---
3. Who's the 2012-13 sixth man of the year?
Adande: Jamal Crawford. It's between him and J.R. Smith, similar players in that "When they're hot ... when they're not ..." category. It comes down to Crawford's ability to generate scoring on his own, often without the benefit of playing along Chris Paul, plus remembering that Smith's lows can be lower (like a stretch when he shot below 40 percent in 10 out of 11 games in January).
Feldman: Kevin Martin. Smith scores more than Martin (17.9 points per game to 14.0), but unlike Smith, Martin actually raises his team's effective field-goal percentage. That difference means even more considering the Thunder shoot better than the Knicks. In fact, Martin would raise the eFG% of any team, and Smith would lower the lowly Pistons'.
Han: Jamal Crawford. Hyper-efficiency would call for Kevin Martin, but Crawford and J.R. Smith have been too strong this season. They are fourth and ninth in fourth-quarter scoring, respectively, and have both played significant roles on teams beset with injuries. Crawford, though, gets the edge with the better true shooting percentage (55.8 to Smith's 51.9).
Nowell: J.R. Smith. The Knicks have gone from viable contenders to upset fodder to contenders again, and Smith's play has been a huge reason why. I'd love to have an unexpected name who plays out of the New York spotlight, but it's hard for me to slot someone else in after Smith's past six weeks.
Robb: Smith. The transformation in recent weeks from a primarily high-volume jump shooter to a player determined to aggressively take the ball to the basket earns Smith the honor. His offense has carried a short-handed Knicks squad several nights this season, but it's Smith's below-the-radar contributions (rebounding, low turnover rate) that separate the shooting guard from the pack.
---
4. Who's the 2012-13 coach of the year?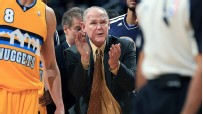 Adande: George Karl. As explained more fully in my Coast to Coast debate with Israel Gutierrez, Karl has developed that NBA rarity: an elite team without a superstar. The mixture includes everything from 37-year-old Andre Miller to the ultimate wild card, JaVale McGee, and it's working.
Feldman: Mark Jackson. Perhaps only Gregg Popovich got more from young non-stars, but it's easier to put those players in position to succeed when they're playing with Duncan, Tony Parker and Manu Ginobili rather than Stephen Curry, David Lee and Jarrett Jack. Jackson -- who has started 22-year-old Klay Thompson, 20-year-old Harrison Barnes and 23-year-old Festus Ezeli -- helped Warriors make major strides in player development and on-court success.
Han: George Karl. After a brutal opening schedule featuring 17 of 23 games on the road, Karl has the "starless" Nuggets squarely in place to capture the three seed in the West. But digging back a little farther, in 25 seasons as a head coach, Karl has only had a sub-.500 season three times. The last time he failed to coach a winning team? 1987-88.
Nowell: Erik Spoelstra. Spoelstra has taken a team of otherworldly (but not always complementary) talent and accomplished nothing less than transforming ideas of what a team can play like. That's all while posting the league's best record.
Robb: George Karl. The Nuggets now reside among the elite teams in the Western Conference, and a lot of the credit for that has to go to the mastermind coach of one of the most explosive offenses in the NBA. The progression of young stars like Ty Lawson and Kenneth Faried also speaks volumes about the impact Karl has made in Denver.
---
5. Who's the 2012-13 executive of the year?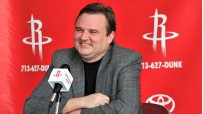 Adande: Pat Riley. I'm in favor of giving him this award on an annual basis until further notice. After cornering the free-agent market in 2010, Riley followed up with less-heralded, yet perfect supplementary parts such as Shane Battier last season and Chris Andersen this one. And how many other teams could have sold the all-time 3-pointer shooter, Ray Allen, on the premise of being a sixth man?
Feldman: Daryl Morey. Acquiring Harden should win Morey the award. Add crafty signings like Jeremy Lin and Omer Asik and an unheralded signing of Carlos Delfino, and Morey has done a great job of getting the Rockets into the playoffs after a three-year drought.
Han: Masai Ujiri. After guiding the Nuggets through the tumultuous task of trading Carmelo Anthony, Ujiri seemingly has done nothing but make savvy, CBA-aware moves in building the best team sans the luck of landing a top-10 player. It typically takes a few years for front-office maneuvers to truly manifest on the court, and this year it's looking like every risk Ujiri took paid off.
Nowell: Morey. Morey put to rest any doubts about his ability to turn data into wins when he turned a portion of his considerable talent cache to land Harden. Couple that with clever deals for Lin and Asik that priced his competitors out of the market, and the answer is clear: Morey has done more for his team than any other exec.
Robb: Morey. The Rockets' general manager was extremely aggressive prior to the season, and his hard work has paid dividends in Houston's return to the postseason. With a potential franchise player in place, a collection of strong building blocks and plenty of cap space to boot, Morey has positioned his team well for the present and the future.


ESPN.com and the TrueHoop Network
J.A. Adande is a senior NBA writer for ESPN.com. Dan Feldman, Andrew Han, Danny Nowell and Brian Robb contribute to the TrueHoop Network.
• Follow the NBA on ESPN on Twitter | On Facebook | On Google+