We don't know where they'll end up this offseason, but where they should sign is a different question. One we pose to our team of intrepid NBA followers on five of the most intriguing players hitting the market this summer.
1. Which team should Monta Ellis sign with this summer?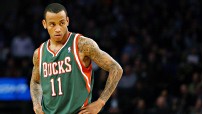 Kevin Arnovitz, ESPN.com: Phoenix Suns. The Suns probably aren't going to sniff the playoffs for a couple of seasons and need a ton of help after ranking 29th last season in offensive efficiency. With Phoenix, Ellis will help with the "offensive," not so much with the "efficiency."
Jim Cavan, KnickerBlogger: Dallas Mavericks. There are so many moving parts in this scenario it's almost painful to think about, but two things are clear: O.J. Mayo will likely decline his $4.2 million player option, and the Mavs desperately need a second scorer next to an aging Dirk Nowitzki. Milwaukee reportedly prefers Ellis to Brandon Jennings, but even it wouldn't match a deep Mark Cuban pocket reach.
Danny Chau, Hardwood Paroxysm: Memphis Grizzlies, in a signing that would shake the analytics community to its core. It would be the most un-Hollinger acquisition John Hollinger could make, but it could work. Ellis would have to leave his as-good-as-Dwyane-Wade delusions in Milwaukee, but he would be an ideal sixth man if he arrives with an open mind and a willingness to adapt.
Ethan Sherwood Strauss, ESPN Insider: Houston Rockets. Because it seems as though Dwight Howard likes Monta's game, perhaps Houston should consider an offer? It'd be mildly amusing to see an analytics-conscious organization put in for Monta's inefficient ways, and it's sometimes worth it to cater to a superstar's irrational wants. Personally, I'd stay away from Ellis. His style shouldn't age well and it's not clear that he's a help to teams right now.
Jack Winter, WarriorsWorld: Atlanta Hawks. By opting out of his contract and reportedly turning down Milwaukee's extension offer, Ellis has made it clear he wants a change of scenery. Whether or not he'll be happy in the role smart teams will afford him, though, is another thing entirely. He's a good fit in Atlanta as a sixth man, where his scoring talents combined with Al Horford's defensive ability fills a team need and fixes an individual problem. Good luck, Monta.
---
2. Which team should J.R. Smith sign with this summer?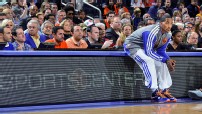 Arnovitz: New York Knicks. Theoretically, a team with money to burn could swoop in and offer Smith more than the $5.5 million or so the Knicks could offer as the holder of his early Bird Rights, but Smith won't find a better situation than New York, where shooters around Carmelo Anthony have an enormous role -- and where there's a certain tolerance for Smith's shortcomings.
Cavan: Knicks. Save for the Suns, talk of making a run at Smith has been pretty muted. Indeed, the truly putrid month of basketball that followed Smith's Sixth Man award coup should give any team pause. Expect New York to use familiarity, comfort and -- yes -- Manhattan's "fringe benefits" to entice J.R. to return, even if it's at something of a discount.
Chau: Knicks. If New York is bound to a certain postseason fate with no realistic chance of advancement, it might as well keep the journey as entertaining/frustrating as possible. For better or for worse, Smith belongs with the Knicks. It just wouldn't be right if he went to another team at this point in his career.
Strauss: Knicks. New York lacks guys who can create their own shot and Anthony certainly isn't going to focus intensely on creating shots for others. J.R.'s wild decisions somehow fit nicely into that paradigm. I don't get why he'd want to leave, considering how the New York spotlight (laughably) got him some All-Star consideration.
Winter: Knicks. If it ain't broke, don't fix it. Smith's net impact is still debatable and he's not the player he was in March and April, but he remains a cog in New York's sometimes baffling offense. He could perhaps get more money elsewhere, but a bigger salary surely won't come with the fan goodwill and playing latitude Smith has built up since becoming a Knick.
---
3. Which team should Al Jefferson sign with this summer?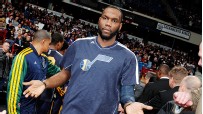 Arnovitz: Mavericks. Jefferson is an endangered species in the NBA -- an old-school, paw-in-the-air, back-to-the-basket post force, and the Mavericks could use some production down low. That said, it's hard to see Dallas extending Jefferson more than a two-year deal because the league is trending toward a spacing-first, perimeter-oriented approach.
Cavan: Hawks. Assuming Boston's reported Josh Smith gambit falls short, Atlanta would be an ideal fit for Jefferson: Plenty of cap space and an All-Star caliber power forward (Al Horford) who'd like nothing more than a return to his natural position. All without Utah's infamous big-man logjam.
Chau: Milwaukee Bucks. It will undoubtedly be a long, long summer for Al Jefferson. Where he ends up will largely be subject to the movement of other free agents. I wouldn't bet on it, but Milwaukee seems like a team that might appreciate Big Al's offensive consistency, especially alongside their defensive ace, Larry Sanders.
Strauss: San Antonio Spurs. I think San Antonio can optimize Jefferson's talent, as it has been able to coax productivity out of slower, bigger frontcourts. Jefferson has been miscast as an offensive focal point, where he'd probably be better used as a peripheral contributor. So as long as he plays alongside a much better defensive big, he's an acceptable addition.
Winter: New Orleans Pelicans. Jefferson has been mislabeled a franchise cornerstone at every stop in his career thus far. With Anthony Davis and Eric Gordon aboard in New Orleans, Big Al can be the awesome third banana his game has always suggested. He's from the area, Davis could theoretically mask his defensive deficiencies and the Pelicans have the cap room to boot. Perfect fit.
---
4. Which team should Tyreke Evans sign with this summer?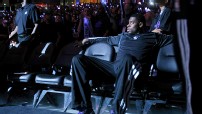 Arnovitz: Hawks. Ownership, management and culture might change in Sacramento next season, but Evans could use a change of scenery. Mike Budenholzer, Gregg Popovich's longtime protégé, could do wonders for Evans' game and confidence.
Cavan: The Detroit Pistons are one team that could go beyond Sacramento's $7 million-ish qualifying offer. The Pistons have shelled out beaucoup bucks for free agents in the past, and they could use an insurance policy on the shaky Brandon Knight experiment. Still, I think the Kings will match. A roster in the midst of yet another upheaval needs some semblance of stability, after all.
Chau: Hawks. Or anywhere but Sacramento, really. Atlanta will need some scoring punch, assuming Josh Smith bolts elsewhere. Evans is versatile enough to cover a few needs on the team, and could work well with Jeff Teague if he stays on board. If there is any interest outside of Sacramento for Evans' talents, he has to make that jump.
Strauss: Spurs. When it comes to optimizing talent, San Antonio is as good as it gets. If it managed to help Kawhi Leonard forge a working jump shot, perhaps it could do the same for Evans. Manu Ginobili is near the end of his career, and the Spurs could use another wing to pair with Leonard.
Winter: Mavericks. Assuming Mark Cuban misses out on Chris Paul and Dwight Howard, he may deem it most prudent to make Dallas' biggest free-agency splash next summer. Evans, a talented but mercurial player without much of a market, is a nice contingency plan for now, though. The structure and guidance of this organization could well be the medicine that revives his once-promising career.
---
5. Which team should Brandon Jennings sign with this summer?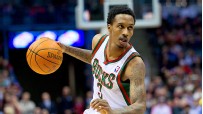 Arnovitz: Bucks. It's clear Jennings is far from enchanted with the market and despised playing under Jim Boylan during the latter days of last season. But if he looks around the league, where there are already solid point guards firmly situated on most rosters, he probably stands to make the most money and have the most impact with the Bucks, at least for the foreseeable future.
Cavan: Utah Jazz. Yes, the idea of Jennings conducting the Jazz offense sounds absurd. But it's equally true that the Jazz will likely be (A) up to their necks in cap space, and (B) still in desperate need of a point guard. Jennings has always been something of a flawed facsimile in regard to the latter, but this might be the best situation for him.
Chau: Mavericks. Like Mayo has discovered before him, maybe Dallas is the refuge for players whose overbearing hype has waned over the years. The Mavs certainly aren't in love with their point guard rotation, so the starting position is there for the taking. It's also a bigger market than Milwaukee. Jennings would appreciate that.
Strauss: Bucks. I like his current location, provided Ellis leaves town. There's a lot that Jennings needs to improve, and he'll get the necessary reps, post-Monta. I'm sure Jennings would love to play in his hometown of Los Angeles, but the opportunity for that likely doesn't exist.
Winter: Bucks. Jennings wants a max contract and a bigger market. He won't get either by re-signing with the Bucks, but Milwaukee -- especially with Ellis exploring his options -- has incentive to offer him money above market value and a place in the franchise other teams don't. Jennings' greatest chance for the success he craves is by staying the course ... whether he likes it or not.


ESPN.com and the TrueHoop Network
Kevin Arnovitz covers the NBA for ESPN.com. Ethan Sherwood Strauss is an ESPN Insider. Jim Cavan, Danny Chau, Danny Nowell and Jack Winter contribute to the TrueHoop Network.
• Follow the NBA on ESPN on Twitter | On Facebook | On Google+