Free agency is off and running, and the intel is already piling up. But how would some reported and rumored talks actually pan out? For that, we turn to our panel ...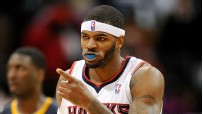 Jared Dubin, Hardwood Paroxysm: Good fit for Josh's bank account, but bad on-court fit for the Pistons. The spacing problems presented by a Smith-Greg Monroe-Andre Drummond frontcourt would be hellacious, and would almost certainly offset the potential defensive gains made by pairing Smith with Drummond.
D.J. Foster, ClipperBlog: Bad fit. Detroit's best player (Greg Monroe) is a power forward. Andre Drummond needs time at the 5. Josh Smith, he of the 28 percent career average from 3-point land, is not a small forward. But aside from insulting the concept of spacing? Well, it's still awful. Can Joe Dumars really overspend in free agency again when his roster isn't ready to compete? It's Groundhog Day in Detroit.
Tom Haberstroh, ESPN.com: Bad fit. Did the Infamous Summer of 2009 not teach Dumars anything? Cap space to Detroit is like a bright light to a mosquito: It looks cool, but it doesn't get you anywhere. As a non-glamour market, the Pistons often find themselves egregiously overpaying free agents (see: Ben Gordon and Charlie Villanueva). Better to let Greg Monroe and Andre Drummond blossom than have Smith poison the frontcourt with horrible shots.
Brett Koremenos, HoopSpeak: Good fit ... maybe. It all depends on how the Pistons utilize Smith and shore things up at point guard following his signing. If Detroit keeps Smith strictly as a 4 (his best spot) and rotates Monroe and Drummond around him, the Pistons will make huge strides. If Smith gets bounced back and forth between the forward spots and the Pistons can't find a suitable point guard, this signing could turn out to be a mess.
Jeremy Schmidt, Bucksketball: Bad fit. Detroit is set at the 4 and 5 for the next four or five years with Drummond and Monroe. They are going to need room to operate. That's where Smith fails to come in. He'll be a non-3-point shooting 3 instead of a very versatile small-ball 4.
---
Dubin: Good fit. Evans quietly turned in the best shooting performance of his career last season (though he still shot only 33.3 percent from 3-point land) and is versatile enough that he can play small forward next to a Jrue Holiday-Eric Gordon backcourt as well as some shooting guard with bench-heavy units. For a team whose current small forward rotation last season consisted of Al-Farouq Aminu and Lance Thomas, this is a perfectly reasonable move to make.
Foster: Bad fit for now. Add up last season's usage percentages for Gordon, Holiday, Evans, Ryan Anderson and Anthony Davis, and the total number is 124.1 percent. Unless the Pelicans get to play with two balls as a parting gift from David Stern, that's going to leave some folks unhappy with their touches. Trade Gordon and it's a decent fit, but it's a bad one as is.
Haberstroh: Good fit. Not a fan of the reported price tag of four years, $44 million, but as long as Evans is on board with a role off the bench and possibly playing a little small forward, I give this move two big thumbs up. Also consider the fact that Eric Gordon has an iffy health record, and Evans can serve as insurance at 2-guard. Another big thing: Anything's better than Austin Rivers.
Koremenos: Is interesting an option? Hard to say whether Evans will be a good or bad fit without seeing what his role is and who plays next to him. A Holiday-Gordon-Evans lineup has a lot of offensive potential, but if Evans balks at playing the 3, it would have probably been better for New Orleans to spend its money on someone who winds up being more than a sixth man.
Schmidt: Good fit. The Pelicans have the luxury of one of the best shooting big men in the NBA in Andersen. If any team can get away with a nonshooter at the 2 or 3, it's them. Evans will also have a clearly defined role next to Holiday that he never seemed to have in Sacramento.
---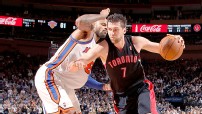 Dubin: Bad fit doesn't even begin to describe it. Bargnani is a 7-footer who plays zero defense and rebounds like a shooting guard (Iman Shumpert grabbed a higher percentage of available rebounds last season). This is being sold as the acquisition of a floor-spacing big man, but Bargnani has made just 32.3 percent of his 3-pointers over the past three seasons combined. The Knicks were the league's third-most-efficient offense last season but struggled defensively, so it's difficult to figure out how Bargnani improves the on-court product in any real way.
Foster: Good fit with a caveat. So long as the Knicks always use the buddy system with Tyson Chandler, this can work. We all know Bargnani needs a ton of help on the defensive glass, and Chandler, who was fifth among starting centers in defensive rebounding percentage last season, can help him there. The Knicks' system is right for Bargnani, but the personnel has to match, too.
Haberstroh: Bad fit. Can't defend? Check. Shot-taker, not a shot-maker? Check. Expensive? Check. Poor health record? Check. On second thought, maybe he's actually tailor-made to play for the Knicks.
Koremenos: Bad, terrible, no-good fit. The Knicks basically had the current version of Bargnani on their roster in Chris Copeland, only four inches shorter. Bargnani might make New York marginally better on offense, but playing him for huge minutes will likely make the Knicks far worse defensively.
Schmidt: Bad fit. He could force the Knicks to move Carmelo Anthony back to the 3 whenever they share the court. With Anthony at the 3, Bargnani at the 4 and Chandler another year older, New York's defense takes a big step backward and its offense may not improve enough to cover for it.
---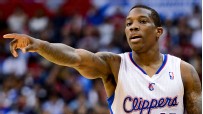 Dubin: Good fit. If you wouldn't want to see Eric Bledsoe and Larry Sanders play defense together, we can't be friends. In this scenario, the Bucks would also be able to let either Brandon Jennings or Monta Ellis walk (or both), which would likely amount to addition by subtraction.
Foster: Good fit. I'm a believer that Bledsoe can play either guard spot, so I'll have a hard time believing he doesn't fit just about anywhere. Whether the Bucks retain Jennings, Ellis, J.J. Redick or none of the above, Bledsoe can be a difference-maker defensively and add value offensively without the ball, which is a trait that meshes with all of the previously mentioned names and many more.
Haberstroh: Great fit. If Milwaukee takes the keys away from the woeful Jennings-Ellis pairing and hands them to Bledsoe, Bucks fans should be doing cartwheels. Bledsoe would be a great pickup for his suffocating defense alone, but throw in the 14.9 points, 5.4 assists and 5.2 rebounds per 36 minutes he averaged last season and you're looking at a star in the making.
Koremenos: Good fit. Bledsoe and Jeff Teague are probably the two best options to be had, and of the two, Bledsoe has far more upside. Even the current version of Bledsoe is a dramatic upgrade over Brandon Jennings and Monta Ellis, so the Bucks should be doing everything they can to make that deal happen.
Schmidt: Good fit. Milwaukee's barren roster presents ample opportunity for any guard talented enough to claim the open real estate. Bledsoe would give the Bucks a point guard to add shooting around and a nice fit with an athletic frontcourt of Larry Sanders and John Henson.
---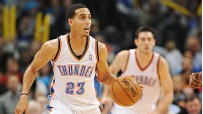 Dubin: Good fit, provided Minnesota can figure out how to hide Martin defensively. The Wolves made only 30.5 percent of their 3-point shots last season, good for the fifth-worst conversion rate of any team since 2000. K-Mart is a career 38.5 percent 3-point shooter, and made 42.6 percent of his 3s last season in Oklahoma City. At the very least, he can draw defenders away from Kevin Love, Ricky Rubio and (provided he re-signs) Nikola Pekovic.
Foster: Good fit. The Timberwolves as a team shot a hair over 30 percent from behind the arc last season, worst in the league by a large margin. Martin, meanwhile, shot 42.6 percent last season with the Thunder. Martin fills a big need, and he loves playing in Rick Adelman's system.
Haberstroh: Good fit. Can't imagine a better spot for Martin than a reunion with Rick Adelman, next to Ricky Rubio and Kevin Love. Martin will never be a plus defender, but the 30-year-old scored more points per touch than just about anybody last season, according to SportVU cameras. As far as efficiency goes, Minny would be hard pressed to do better at its eternal void at the 2.
Koremenos: Bad fit. Martin's skills are certainly something the Wolves could use, but the 30-year-old guard isn't getting any younger, is a liability on defense and will likely come at a price that isn't fair value. Minnesota would be better off finding and developing a young player with a solid outside stroke to grow with its current core.
Schmidt: Good fit. No team needs a 3-point shooter quite the way the Timberwolves do, and Minnesota never really got the shooting guard position figured out last season, often tossing an aging Luke Ridnour out there.


ESPN.com and the TrueHoop Network
Tom Haberstroh covers the NBA for ESPN Insider. Jared Dubin, D.J. Foster, Brett Koremenos and Jeremy Schmidt contribute to the TrueHoop Network.
• Follow the NBA on ESPN on Twitter | On Facebook | On Google+