It's Decision Day for Dwight Howard. ... Well, maybe. After meeting with five teams earlier in the week, the All-Star center is expected to pick one on Friday. Before he does, we break down all the latest angles: from Golden State's willingness to deal Harrison Barnes and Klay Thompson to Kobe Bryant's big "pitch."
1. Should the Warriors be willing to move Barnes and Thompson?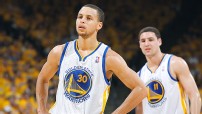 Rahat Huq, Red94: Those are two great young pieces who are both on the cheap for a few more years and will make up the Warriors' nucleus for the next decade. On the other hand, the mere chance at the game's most dominant big man doesn't come around often, especially while still keeping one's best player. We've seen teams overvalue their young players, but if it came down to it, I just don't think I could make that trade.
Darius Soriano, Forum Blue and Gold: Holding on to at least one of them should be their preference, but if pressed they should strongly consider giving up both. While they are very good players on favorable contracts, pairing the league's best center with the game's premier shooting threat is a fantastic foundation for a contending team.
Ethan Sherwood Strauss, ESPN Insider: The preference should be to move Thompson, as Barnes can work wonderfully as a small-ball power forward alongside Howard. If the price is both players? I say yes, but only if the Warriors are willing to eventually shop David Lee as a means of adding more pieces and increasing flexibility going forward.
Justin Verrier, ESPN.com: No. The possibility of a Stephen Curry-Howard tandem is certainly tantalizing, but dealing from their young core creates the same problem priced into the offers from the Lakers and Mavericks: You're punting a title chance next season for the hope, not likelihood, of finalizing a contender in 2014-15. Try to clear space for him, obviously, but waiting for next year's stacked free-agent class isn't the worst option.
Brian Windhorst, ESPN.com: Yes. Because as promising as those two young players are, neither is a superstar. They are supporting parts -- good supporting parts -- but they are replaceable. Howard is rare enough that you make that sort of deal even if it hurts. As Bill Simmons says, four quarters doesn't make a dollar in the NBA. Barnes and Thompson are quarters; Howard is a dollar.
---
2. Would a Curry-Howard combo be better than Harden-Howard?
Huq: No. It'd be devastating, no doubt, but James Harden is both younger and healthier than Curry, and more importantly, Harden meshes better with the big man's skill set. Yes, Curry's shooting would open things up on the inside, but Harden is the best pick-and-roll player in the sport while Dwight is just a few years removed from being the best pick-and-roll finisher.
Soriano: No, but they'd be on par, which is good enough. Curry's shooting and playmaking make him a perfect offensive partner for Dwight. But Curry's injury history gives me pause, and Harden has at least flashed very good defensive potential in the past.
Strauss: I favor a Harden-Howard combo because the two combined might foul entire rosters out of the game. Harden's slashing ability will be a nightmare to guard against if the threat of a Dwight Howard lob consistently haunts. And, much as I love Curry's shooting ability, that ankle is as soft as his touch from outside.
Verrier: No, but it's really, really close. Howard apparently wants to be surrounded by shooters, and Curry represents the platonic ideal. But Harden is one of the game's premier pick-and-roll ball handlers, and he comes without the inherent injury risk. Between Howard's back and Curry's ankle, the Warriors would have the potential to be next great NBA dynasty, or the next mid-2000s Trail Blazers.
Windhorst: There's a chance Howard would see it that way. He's made it clear he prefers to have the ball dumped into him in the post and have the offense run from there. Curry fits better with that than Harden, who is a more talented scorer but would need the ball more.
---
3. What's your reaction to Kobe's "honest" pitch to Howard?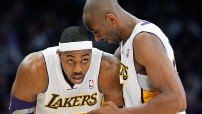 Huq: After he patronized Howard all year and accused him publicly of faking injury, I guess it makes sense to continue with that tone. Only in Kobe's mind could that possibly have been a good idea. Oh, and if it's about learning how to win championships, don't you think big man Kevin McHale would have more to offer to Howard, Kobe?
Soriano: I think, from what we know of him, that it was classic Kobe. He seemed to try to appeal to Dwight from a competitive standpoint while also giving some big-brother type of advice that comes from his own experiences. Over the past several years, this has been Kobe's M.O., and in that respect it wasn't surprising at all.
Strauss: Granted, I wasn't in the room for full context, but the pitch sounds condescending. If that's the case, I'd sympathize with Kobe's inclination to speak his mind amid those who grovel before ringless Dwight. It's just that honesty isn't always the best policy when the other guy has all the leverage. Who knows, though? Perhaps Bryant has some sort of insight on why this would work.
Verrier: It's too predictable. By all indications, Howard was hesitant to come to the Lakers in the first place because of Bryant's overbearingness. So instead of coddling him like most teams would, Kobe doubles down on MJ scare tactics and tries to will him into staying like so many late-game midrange jumpers. He knows the Kobe System isn't an actual thing, right?
Windhorst: Frankly, if Kobe wasn't going to come into the room and say he was willing to yield control of the offense to Howard, he probably should've just stayed home. Of course, this is not at all in Kobe's personality, and that's why he and Dwight were never a great team.
---
4. If you were Dwight, which team would you sign with?
Huq: Houston. In a vacuum, Golden State is one hell of an option. But the Warriors likely would lose at least one major piece to even get Howard, and they represent the worst financial option among remaining choices (no fifth year and no Texas tax benefit). Houston can get Howard without losing anything, retain flexibility to pursue childhood friend Josh Smith (as rumored) and immediately contend.
Soriano: Lakers. Their chances of contention in the short term aren't as bad as they're made out to be, and the prospect of building a team around Dwight using their spending power and franchise allure moving forward isn't just hype. Combine both and the opportunity seems too good to pass on.
Strauss: Houston. Harden combined with (a healthy) Howard means an instant, realistic chance at a title, and Texas tax law compensates for what he'd lose from leaving L.A. Golden State is the next-best choice, as that team can be competitive, and there's plenty of free candy in the famed Google cafeteria. Los Angeles? I'm not sure how you ask a player to essentially do an on-court redshirt season, even if it's the Lakers. If Howard wants a title, why would he sacrifice a season of contending for one?
Verrier: Houston. It's the only team in the running that offers a legitimate chance at contention in both the immediate and the future. Houston is probably furthest from Los Angeles among the five teams when it comes to visibility, but winning is the best way to repair his persona, and reap the branding benefits, after the tribulations of the past two years.
Windhorst: I'd sign with the team with the strongest roster possible. If the Warriors have to give up both Barnes and Thompson to get him, I think there is more potential in Houston.
---
5. Which team do you predict Howard will sign with?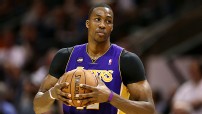 Huq: Houston. It's the only choice that is not only logistically feasible but also immediately attractive, both for the present and the future. There are no obstacles for the Rockets, no salaries to shed and no ifs contingent upon the summer of '14. The Rockets can absorb Howard directly without giving up anything and, with Harden in tow, vault upward into contention this same year. No other option presents such simplicity.
Soriano: Lakers. I've maintained the team with his Bird rights has the inside track to sign him, and I'll stick with that until proven otherwise. Plus, I'll believe a priority free agent leaves the Lakers for less money and a smaller market when it actually happens.
Strauss: Houston. Shooters, the league's best shooting guard, no state tax. It seems like the logical fit. Of course, Dwight likes to flirt with (and occasionally propose to) illogic. So there's good reason to believe Howard will eschew reason and endure a non-contending season. If that happens, I guess you could say L.A.'s the best possible place to not contend. It also helps that the Lakers have a great shot at luring free agents in 2014.
Verrier: Dallas. Golden State and Houston represent the best basketball plays, but Howard's thirst for the limelight complicates everything. I'm ready for anything after 2010, and the conspiracy theorist in me is drawn to the Mavs' combination of the Cuban factor and Dirk Nowitzki's willingness to give up being "the guy" and future salary.
Windhorst: For a while I thought this whole thing was a leverage ploy to force the Lakers to bend on some issues. But what has been reported took place in his meeting with the Lakers was not that sort of pitch. I can't believe a player in his prime would leave a franchise like the Lakers by choice. My sense of history says he stays, but my analysis says he goes to Houston or Golden State.


ESPN.com and the TrueHoop Network
Brian Windhorst and Ethan Sherwood Strauss cover the NBA for ESPN.com. Justin Verrier is an NBA editor for ESPN.com. Rahat Huq and Darius Soriano write for the TrueHoop Network.
• Follow the NBA on ESPN on Twitter | On Facebook | On Google+