With Dwight Howard locked into a decision (we hope), the free agents are now flying off the shelf. Which deals were worth the price tag? Our panel weighs in on a few notable recent transactions.
1. Good deal or bad deal: Josh Smith to Pistons for four years, $56M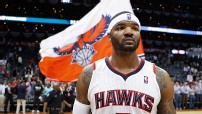 Kevin Arnovitz, ESPN.com: Bad -- but not terrible -- deal. With the right team in need of a power forward, Smith could conceivably justify an average salary of $13.5 million. But the best value on Detroit's roster is its frontcourt tandem of Greg Monroe and Andre Drummond. Smith will no doubt help the Pistons on the wing, but that's probably not the best long-term blueprint for the Pistons.
Andrew Han, ClipperBlog: Good deal. Smith might not seem like an ideal fit at first glance because Detroit has talented, young big men in Monroe and Drummond. But Drummond will be entering only his sophomore year and still needs a few more years of development. While awaiting Drummond's arrival, the Pistons have created a pretty talented frontcourt rotation that can even go big with Smith filling the small forward spot for stints.
Andy Larsen, Salt City Hoops: Bad deal. Smith has clear strengths: He's a great finisher (shooting 77 percent at the rim last season!), a good rebounder and a disruptive weakside-help defender. Those strengths dictate that he needs to be close to the basket to wreak havoc, which figures to be difficult in Detroit when playing with Monroe and Drummond.
Danny Nowell, Portland Roundball Soc.: Bad deal. Good player, and an occasionally great one, but Smoove's skills are a terrible fit with the rebuild underway in Detroit. A woeful shooter and a creative passer, Smith is a no-brainer for a team with frontcourt defensive needs and a lot of floor spacing. The Pistons are the opposite of that.
Jeremy Schmidt, Bucksketball: Bad deal. The money isn't bad. For a player with the statistical profile of Smith, it's something of a bargain. But Smith doesn't play a game that suits new bigs Monroe and Drummond very well. He doesn't exactly come across as the leader who can steer Detroit's youth movement in the right direction either.
---
2. Good deal or bad deal: Andre Iguodala to Warriors, four years, $48M
Arnovitz: Good deal. Love this acquisition for all the peripherals Iguodala offers the Warriors. An offense operates so much more fluidly when wings can handle and move the ball, especially when Steph Curry is a prime beneficiary. And Iguodala, with Andrew Bogut, gives the W's as strong a perimeter-interior defensive tandem this side of Tony Allen and Marc Gasol.
Han: Great deal. Iguodala is one of the premier Swiss army-knife players in the league: shooting, playmaking, athleticism, defense, Andre has all the tools in a utility belt. And the deal looks even better when considering all Golden State had to give up was two bad contracts and two draft picks. The odds that either of those picks would be as valuable as Iguodala in the next four years are slim.
Larsen: Good deal. While they had to give up assets to clear cap space for his signing, Iguodala makes a lot of sense for the Warriors as they seek to improve in the Western standings. Now that they're a playoff team, Golden State will need his defensive excellence to bottle up stars in long series.
Nowell: Good deal. Iguodala provides defensive flexibility, passing and a high-profile pedigree to a team that will make use of all three. Twelve million dollars a year is right on the cusp of too pricey, but for the team fit and Iguodala's talent, this seems a clear win to me.
Schmidt: Good deal. Iguodala will very naturally move into a third or fourth option offensively, and he'll team with Bogut to make arguably the league's best perimeter and interior defensive combo. Elite production on one end and serviceable production on the other is well worth $12 million.
---
3. Good deal or bad deal: Al Jefferson to Bobcats for three years, $41M
Arnovitz: Bad deal. It's too bad, because Jefferson is an endangered species, an old-school post player who pitches his tent on the left block and pivots defenders into submission. As skilled as Jefferson is, the production coupled with the liability he presents on defense doesn't demand nearly $14 million per season from a team that, as hard as it is to sustain wretchedness over several seasons, needs to be patient.
Han: Good deal. It might not be a good deal if Jefferson was intent on chasing a title, or even making the playoffs, but if he wanted to be paid a decent salary, the Bobcats were one of the few teams with the cap space to do it. From Charlotte's perspective, Jefferson immediately becomes their best player and someone who can shepherd their young roster toward maturity. The deal also gets the Bobcats over the salary-cap floor.
Larsen: Bad deal. To quote Zach Lowe: "We have almost a decade of evidence now that Jefferson's failings on defense outweigh his very real value on offense." In 2012-13, Al's defensive limitations meant that Utah had the third-best defense in the league when he was off the floor, and the fourth-worst defense when he was on the court. That's a problem.
Nowell: Bad deal. Jefferson provides a fair amount of scoring and almost no defense -- it's hard to see what he has to offer a team like the Bobcats, who remain nowhere near competitive after the move. Factor in the price of the contract, and this looks like money spent because it had to be. Not an albatross, but not a step forward.
Schmidt: Good deal. More a necessary deal than a good deal, really. Jefferson could rack up double-doubles as something of a Zach Randolph lite in Charlotte and give the Bobcats an inside scoring presence for the first time since ... Primoz Brezec? It has been a rough run. Charlotte has to take what it can get and overpay a bit to get it.
---
4. Good deal or bad deal: Paul Millsap to Hawks for two years, $19M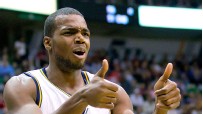 Arnovitz: Good deal. On one hand, the Hawks seemed to be poised to finish among the East's upper-middle class, a neighborhood they're quite familiar with. But both the term and size of Millsap's deal make him a nice value play and a whole lot cheaper than paying Josh Smith, who's a better defender but no more efficient as a scorer.
Han: Great deal. Millsap must have noticed that aside from Dwight Howard, all the early free agents to be picked up were wing shooters; the en vogue "3-and-D" players. The Hawks were able to swoop in and snatch one of the best power forwards available this offseason. Millsap gets a fair per-year salary and Atlanta keeps its long-term cap flexibility intact.
Larsen: Great deal. Millsap is a plus-minus superstar, earning the second-best adjusted plus-minus in the league in 2011-12. While his numbers regressed somewhat for the Jazz last season in a smaller role, his production still justified more of a payday than this. At only $9.5 million per season, the Hawks (and their fans) should be thrilled.
Nowell: Good deal. In fact, a great deal. Paying $9.5 million annually for a starting power forward of Millsap's efficiency is good. A two-year deal is good. Replacing Smith with a less volatile player for $5 million less a season is good. All those goods add up to a great.
Schmidt: Good deal. It's very difficult to give out a bad two-year deal. Even if the Hawks are still trying to figure out which pieces they want to rebuild around in February 2015, Millsap will be an expiring contract who might net Atlanta an asset. Or he'll be a useful role player on a young, budding roster. Win-win.
---
5. Good deal or bad deal: O.J. Mayo to Bucks for three years, $24M
Arnovitz: OK deal. Milwaukee paid a premium of about 20 percent, but considering the geography and the state of the facilities in Milwaukee, the Bucks are going to have to pay a premium for just about any unrestricted free agent on the market. They could join the tank brigade, but that's probably not the most prudent way to get a new building. Mayo is 25 and very durable. He's unlikely to deliver $8 million worth of annual results, but he has a high floor and should be good for 3,000 minutes.
Han: Good deal. Any preconceived hype aside, Mayo is a reliable shooter (38.2 percent 3-point career shooter, 40.7 percent last season) and, after his tenure with the Grizzlies, a smart and savvy defender. And he's still only 25. If he improves, the deal is short enough for Mayo to get a raise in the near future. If Mayo plateaus, the Bucks are paying fair value for a reliable wing player.
Larsen: Bad deal. While Mayo still has a chance to improve at age 25, the below-average production he has put up thus far in his career doesn't justify $8 million per year. A team in the Bucks' current situation (noncontending in the East) really shouldn't be spending long-term salary on middling players such as Mayo.
Nowell: Bad deal. This isn't horrific, because Mayo is worth about this much as a starting 2 with strong shooting and growing distributive abilities, but this doesn't really move the needle on an otherwise moribund Milwaukee offseason. Mayo's a good player, but not good enough to make the Bucks a good team as presently constructed.
Schmidt: Bad deal. Mayo didn't turn out a potential superstar, but he has made himself into a viable contributor as a reserve scorer-shooter type. Unfortunately, he's likely going to be penciled in as Milwaukee's starting shooting guard. Pair him with Jeff Teague or Brandon Jennings, and Milwaukee finds itself on track to repeat last season's eighth-seed finish.


ESPN.com and the TrueHoop Network
Kevin Arnovitz covers the NBA for ESPN.com. Andrew Han, Andy Larsen, Danny Nowell and Jeremy Schmidt are part of the TrueHoop Network.
• Follow the NBA on ESPN on Twitter | On Facebook | On Google+